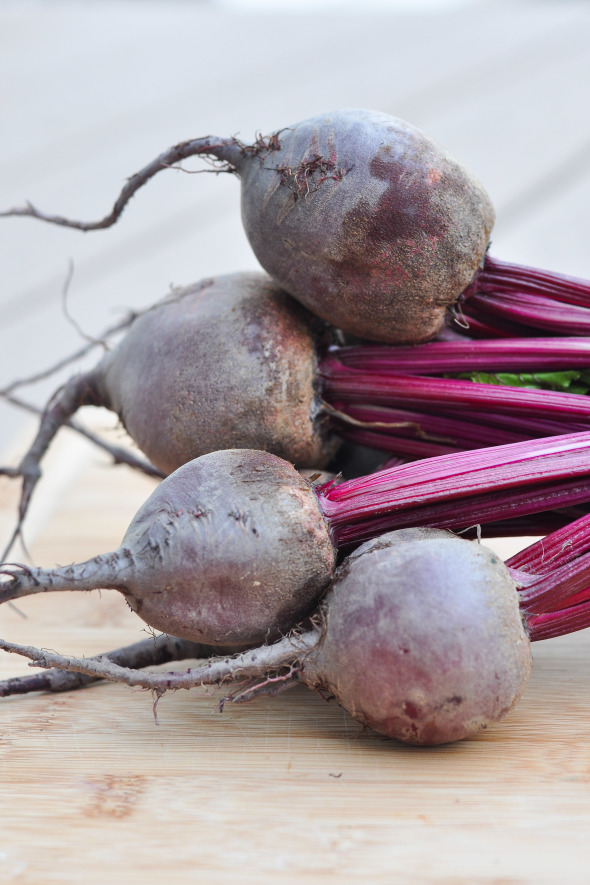 One thing I am really enjoying about this part of the country is the wonderful Farmer's Markets full of beautiful produce. I definitely missed going to them when I lived in Missouri and now I always look forward to our beautiful purchases each week.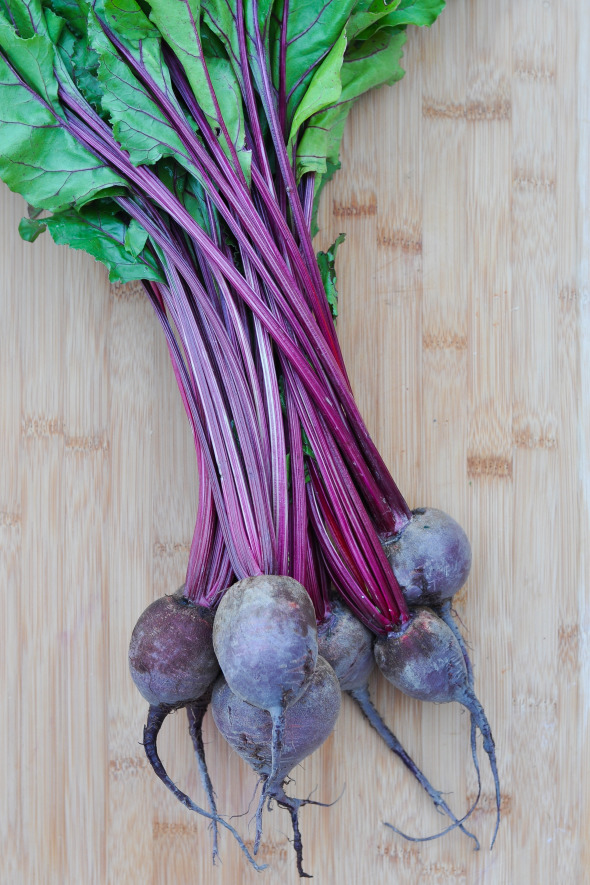 I've tried to branch out of my comfort zone when shopping at the Farmer's Markets because I can always buy spring mix and broccoli. Beets are not something that I would have put on my "like" list until recently. I always associated beets with the icky canned ones. It wasn't until ordering restaurant salads with fresh beets did I realize how good they were. When we saw the fresh beets at the Farmer's Market I knew I wanted to roast them for a salad to show you how easy and yummy they can be. If you have only tried canned beets, please give this a try!
Beautiful, yet ugly 😉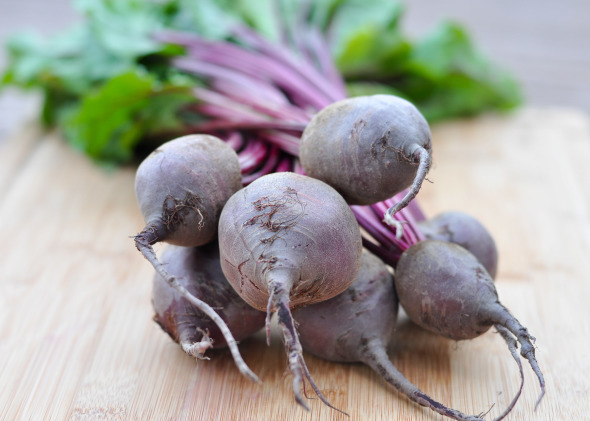 but look at the color on those stems…gorgeous!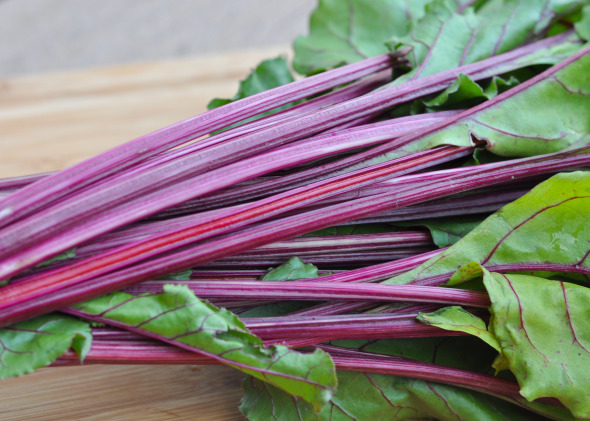 They only negative is that they take forever to roast. Definitely do this ahead of time (like over the weekend) if you don't have time in the evening or use the quicker method provided of a combo of microwave and oven. All they need before roasting is a touch salt and olive oil. Once they are tender your just peel of that skin, cut them into chunks or slices and enjoy!
A few facts about beets (please read all the way through to the last one if you planning on making these….it might save you a call to the Doctor).
high in fiber, mangenese, potassium and folate
the Greeks and Romans used the leaves for medicinal purposes and as an herb
sugar can be made from beets due to their high sucrose content
save the green tops and saute like you would spinach with a little olive oil, lemon, salt & pepper
Beets get their red color from a pigment called betalain
after eating beets many people will pass the red color through their urine and stools which can be mistaken for blood. It is not blood so do not panic!
Just cut the stems and tails (just repeat after me: this does not look like a rat's tail, this does not look like a rat's tail)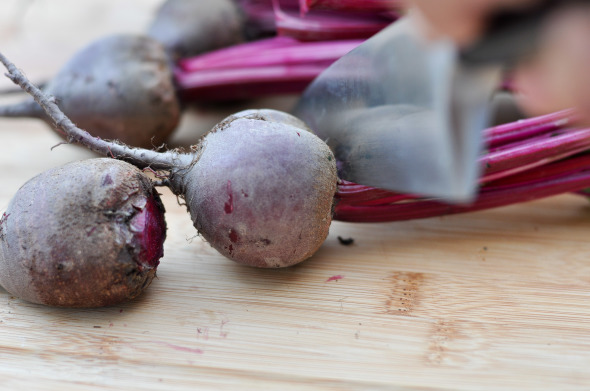 For quicker cooking method, zap them in the microwave first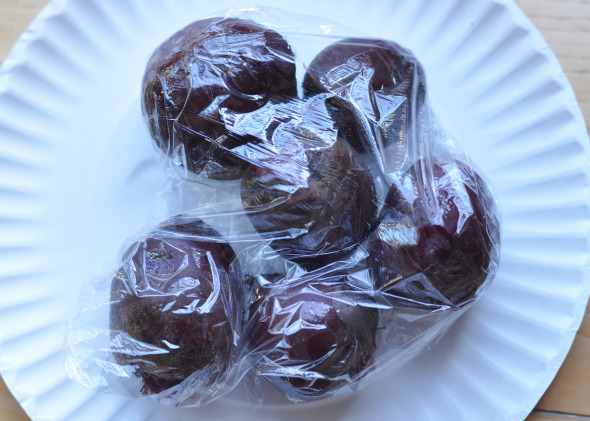 season with a little salt & olive oil before going into the oven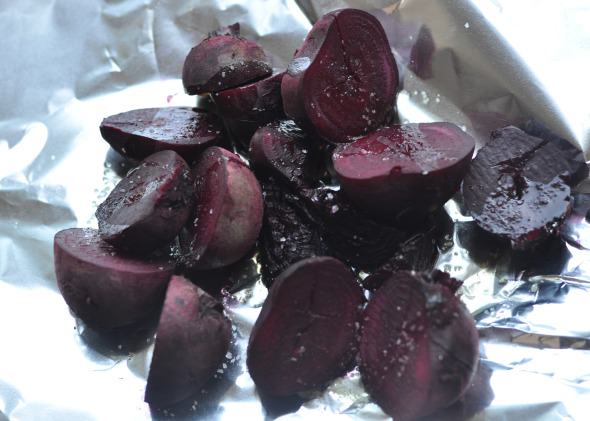 I make a little pouch out of the foil and don't have to dirty any pans. You can't tell from the pic above, but the very thin skin is still on there which you will peel off after they are done cooking.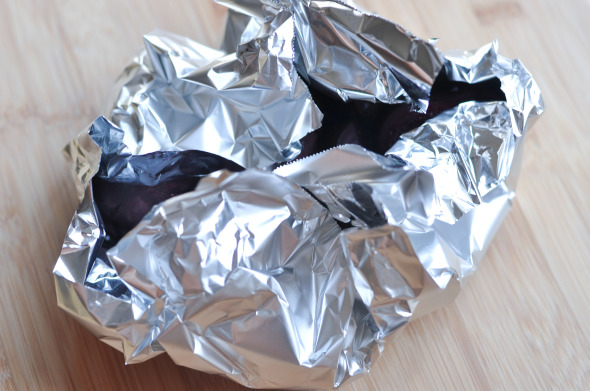 And here they are all trimmed and cut and ready to eat! They are DELICIOUS. I just love the color!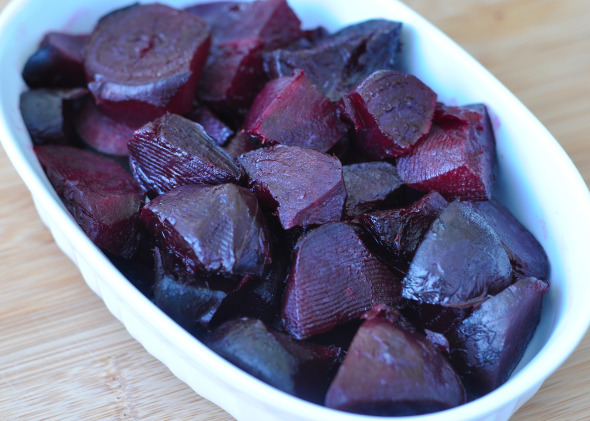 They really make your salads feel more gourmet!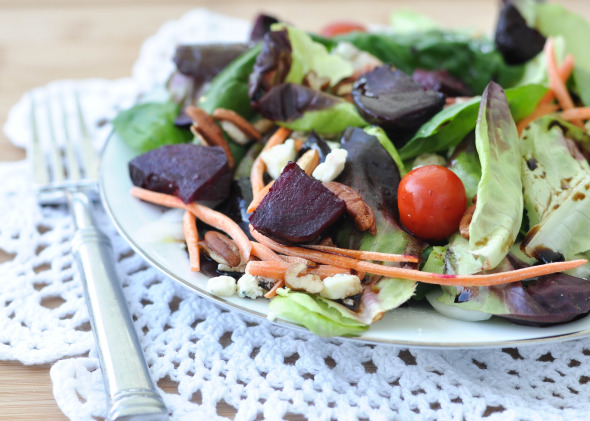 Hope you get a chance to enjoy some too! P.S. You don't need a Farmer's Market to do this. Your local grocery store should have some.
[print_this]
Roasted Beets
INGREDIENTS: 
1 bundle fresh beets (about 6 to 7 beets)
~1 tablespoon olive oil
salt
DIRECTIONS: 
1 . Preheat oven to 400 degrees. Cut off stems, leaves and tails and cut beets in half. Place beets on some tin foil. Drizzle with olive oil and season lightly with salt. Wrap foil loosely around beets to make a pouch.
2. Bake for 1 1/2 to 2 hours or until tender (less if beets are small). Remove from oven, let cool until ready to handle. Using a paring knife, peel skin from beets (it should be very thin and papery and it's ok if you don't get every bit). Cut into slices or chunks, serve in refrigerator for up to a week.
QUICK VERSION: 
1. Preheat oven to 400 degrees. Cut stems, leaves and tails from beets. Wrap loosely in seran wrap (leave a little spot open for steam to escape), place on a microwave safe plate and microwave for 3 minutes. The beets are partially tender at this point.
2. Once cool enough to handle, transfer beets to a sheet of foil, cut beets in half, drizzle with olive oil, sprinkle with salt and wrap foil around beets loosely to make a pouch. Roast for 30 minutes. Using paring knife, peel skin off beets (it should be very thin and papery but it's ok if you don't get every bit). Cut into slices or chunks and store in refrigerator for up to a week.
COOK'S NOTES: You'll know beets are ready when they are tender enough to easily cut through with a knife.
Recipe from Nutritious Eats
[/print_this]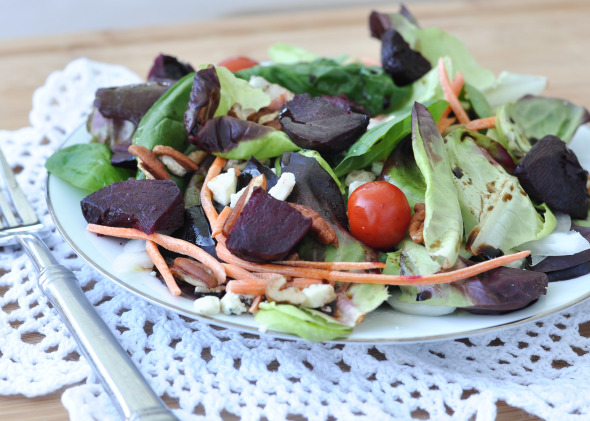 [print_this]
Mixed Greens with Roasted Beets, Pecans & Gorgonzola
INGREDIENTS:
Spring Mix
White onion slices
Shredded carrots
Roasted beets
Cherry tomatoes (optional)
Pecan pieces
Balsamic vinegar
Olive oil
DIRECTIONS:
1. Mix desired amount of salad ingredients in a bowl. Drizzle some balsamic vinegar, then olive oil on salad. Toss to combine.
Recipe from Nutritious Eats
[/print_this]
and let's not forget it's the start of a new week. Meal planning time!!
We still have two weeks until the start of school. My mom is here for a couple more days and it has finally cooled off. Would you believe that it's been over 90 degrees for several days last week? My mom visiting Washington state where the average summer temp is in the 70s and she gets 4 days of 90+ degree whether. When you don't have A/C or ceiling fans this makes for a very uncomfortable house therefore mom and I haven't been doing much cooking. Lots of salads, restaurant leftovers and just making due with what was in the fridge. Thankfully it has cooled down the past couple days and I think I will be able to with stand the kitchen again.
Sunday
Roasted Chicken & Sweet Potatoes, Veggie Tray with Ranch 
Monday
Dinner out
Tuesday
Last meal with mom- not sure yet
Wednesday
Breakfast for dinner- Green Eggs from my cyber-friend the Spicy RD, tortillas, fruit
Thursday
Lemony Spaghetti with Feta (recipe to come), Salad with Roasted Beets, Pecans and Gorgonzola 
Friday
Pizza
Saturday
Chicken stuffed with Broccoli, Cheese rice (just got this from Coscto and thought my kids would like it), Salad and Dinner Rolls
Question: Do you like beets? Have you tried them like this before? What are you cooking this week?!
I love hearing from you! Please leave a comment, ask a question or just say hi. And if you've enjoyed this post, please pin, share, tweet or stumble away so that others can enjoy eating healthy with us! Thanks for reading!