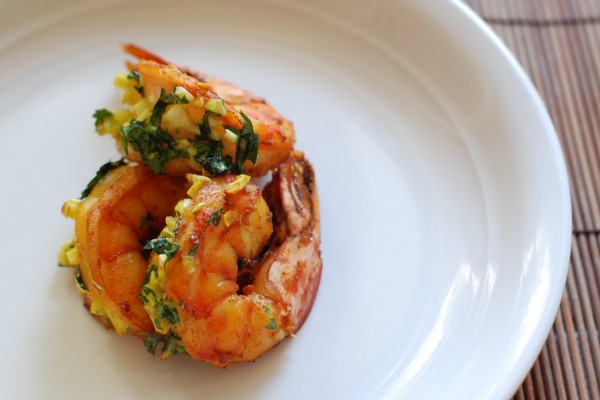 I am a huge fan of the Food Network. In fact I used to watch Rachael Ray's 30 minute meals when I lived in San Diego and I swear it helped me to be a better cook! Anyway, I love shows like Top Chef and "The Next Food Network Star". I am always so amazed at how these people can just whip up creations on the spot and in such a time constraint. It is truly impressive. So this year from the start I had a favorite. Aarti! And lucky for me, she won! This means that she has a show on the Food Network now (6 episodes) and I read on her blog that it got signed on for a second season. Yeah!
This is what she calls Friday Shrimp. She made this on the show during the Iron Chef challenge. Once I saw the picture on her blog I knew I had to try it. Super easy recipe, tasty and if you like garlic and cilantro you'll love it. Plus, shrimp are low in calories and fat and high in protein, iron, selenium, Vit B12, Niacin, Phosphorus and Zinc. Just a warning, when dealing with turmeric your fingers will be stained yellow for a day or two. Wear gloves if that doesn't appeal to you! Watch Aarti on Sundays at noon/11 CT on the Food Network for great Indian inspired recipes.
Here is the recipe:
Friday Shrimp (Turmeric-rubbed Shrimp stuffed with Cilantro and Garlic)
Recipe from Aarti Sequeria
Serves 2-3 entrees, 7 appetizer servings
INGREDIENTS:
14 large shrimp, tail on, deveined
1 teaspoon turmeric
1 teaspoon kosher salt
1/2 teaspoon coriander
2 tablespoons cilantro, chopped
10 garlic cloves, minced
olive oil for coating
DIRECTIONS:
1. Preheat the oven to 375 degrees F. Line a baking sheet with parchment paper.
2. Combine the turmeric, salt, and ground coriander in a mixing bowl. Toss the shrimp with the turmeric mixture and enough olive oil to coat.
3. Mix the garlic with the cilantro and a 1/2 tablespoon of olive oil. Slice a deep slit in the back of each shrimp from head to just above the tail. Be sure to not cut all the way through the shrimp. Stuff each shrimp with the garlic mixture and line up on the prepared baking sheet. Roast in the oven until cooked through, about 10 to 15 minutes.
I think I used a tad more cilantro and maybe a couple less garlic. 8-10 who's counting? She serves it with a simple fennel salad which I didn't make. I just ate it with some rice and a salad. Yummy! Oh and don't overcook this one, rubbery shrimp are not so yummy. 🙂