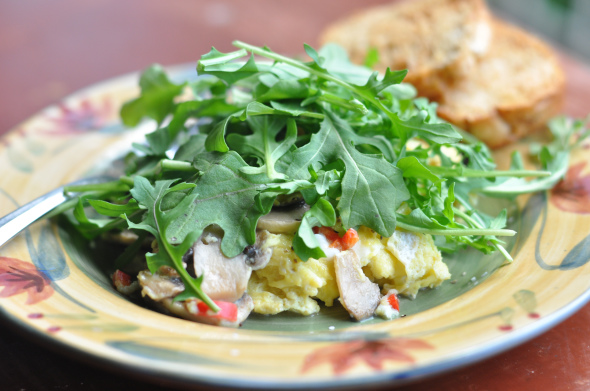 As I sort through my tons of recipes and photos waiting to be posted, I thought I'd keep it simple with a breakfast post. I have been on an egg kick lately. I think I just needed a change from the usual whole grains and fruit I used to eat. I think one of the universal questions I hear from clients is "what should I be eating for breakfast?"Although there are many answers to that question, this is a great example of a healthy, balanced breakfast and is one of my favorites because it's filling, tasty and I get a serving of vegetables in at the start of the day!
If you've tried my arugula pizza and were wondering what to do with that leftover box of arugula, this recipe is perfect for you! Although I don't have time every morning to cut up veggies, sometimes I do it the night before or save this for a weekend breakfast. It's such a filling breakfast. Also, if you are on the fence about eating eggs, please check out my "how to cook the perfect hard boiled egg" post which explains some of the benefits of eggs.
This is really one of those "no recipe" recipes. You can saute' any vegetables you'd like- peppers, spinach, jalapeno and top with any cheese you'd like. You could substitute a piece of whole wheat toast or tortilla for the crostini and if you don't have the arugula just top it with spinach. Lots of options folks!
Have a healthy, tasty breakfast to start your day off right!
Arugula and Veggie Scrambled Eggs
Ingredients
1-2 eggs (I use 1 egg and 1 egg white), beaten
arugula
red bell pepper, diced
mushrooms, sliced
onions, chopped
feta, crumbled
Instructions
Saute' the veggies for 3-4 minutes, or until slightly softened, in a small skillet coated with cooking spray. Remove veggies and set aside. Wipe skillet clean, add beaten eggs. Once scrambled, fold vegetables back into skillet and season with salt and pepper. Transfer to a plate. Sprinkle with feta and top with arugula.
Nutritious Eats Benefits: protein, Vitamin C, Vitamin K, Vitamin A