Happy Monday everyone! What kind of food blogger am I blogging Asian inspired vegetables on Cinco de Mayo?! Oops. If it makes it any better we did have Mexican food for dinner.
Well I spoke too soon about it being almost summer because it was in the 50s/60s and rainy all weekend. We really didn't do anything but had a quick trip to the library and lots of home-time for lounging.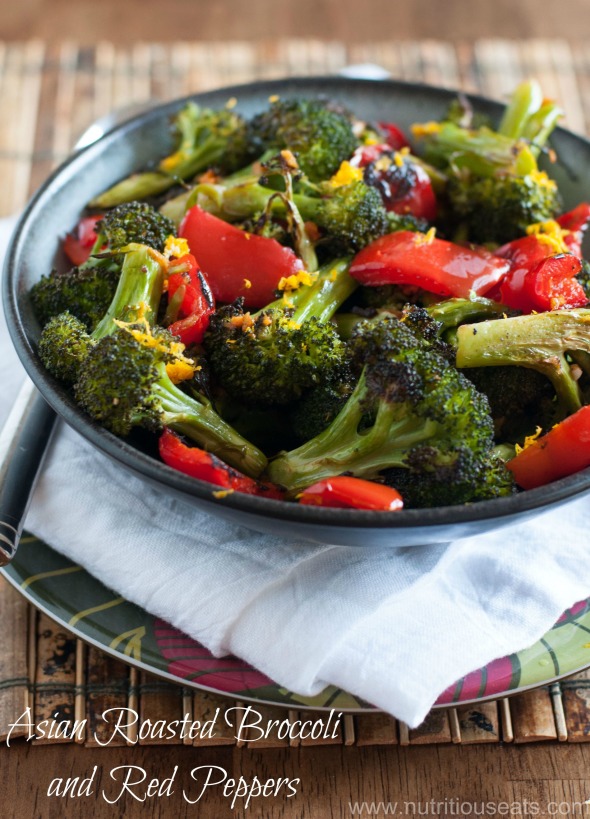 Don't you love how all the kids know about kale these days? Who ever started that kale chip trend was a genius. Now whenever I roast broccoli my kids will say "mmm, it smells like kale". They do love kale chips, but only with ketchup.
Sorry kids, no kale today. This is another recipe inspired by my CSA box- it was loaded with beautiful broccoli, bell peppers and oranges this week, among other things.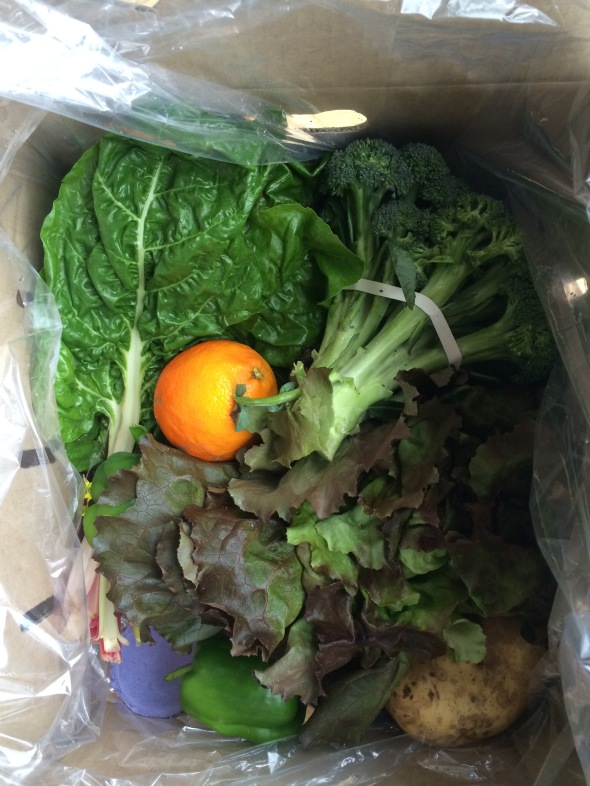 By the way, if you are one of the few people who haven't tried kale chips, here is what you do: Wash & dry kale, remove stems ( make sure leaves are really dry or they won't get crispy). Drizzle with a little olive oil ( I like to rub it in with my fingers), season with salt and  pepper. Bake at 300 for ~20 min or until crisp and crackly.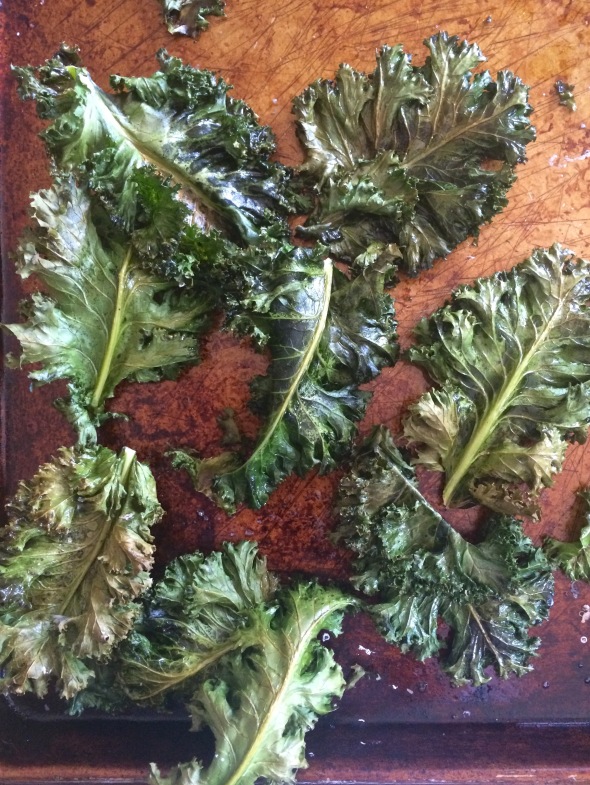 But moving onto the roasted broccoli, I love roasting it with garlic, but I thought I'd jazz it up a little. I just love the flavor that sesame oil brings! I almost always add fresh lemon zest to my roasted veggies after they come out of the oven and this time added fresh orange zest. It was a nice fresh addition! A little Sriracha in the sauce gives this a hint of spice.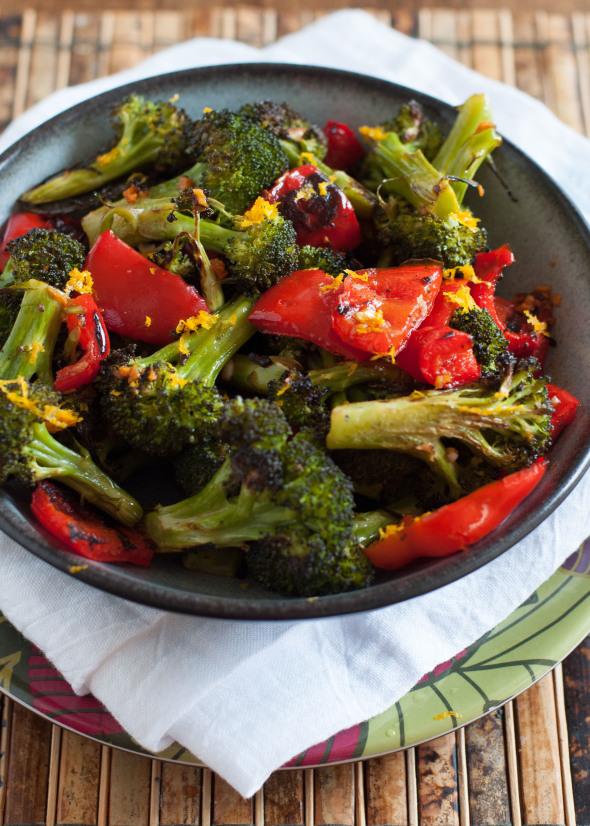 It's amazing how those raw veggies cook down to such a small amount- I could probably eat the whole bowl myself! I have a hard time stopping at just a few bites of roasted veggies. They are seriously addicting to me! If there is any left at that point, serve it as a side dish- I think it would be great with some grilled fish or add to your salad.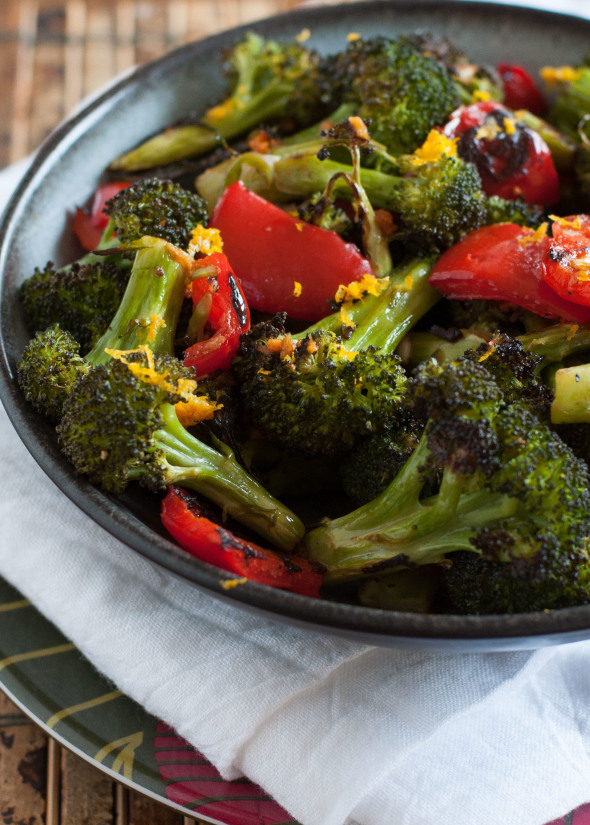 My kids do love kale chips with ketchup but they passed on this dish. Oh well, more for me!
Asian Roasted Broccoli & Red Peppers
Ingredients
2 crowns broccoli, chopped into florets
2 red bell peppers (total of 7-8 cups of vegetables)
3 garlic cloves, minced
2 teaspoons Tablespoon sesame oil
2 teaspoons Tablespoon olive oil
salt and pepper
1 teaspoon olive oil
1 teaspoon sesame oil
1 teaspoon soy sauce (gluten free if on a GF diet)
1 teaspoon honey
½ teaspoon Sriracha sauce
1 teaspoon minced fresh ginger
1 teaspoon orange zest
Instructions
Preheat oven to 425 degrees. Place vegetables on a roasting sheet. Drizzle with 2 teaspoons of olive oil and 2 teaspoons of sesame oil, season with salt and pepper. With your hands toss to combine.
Roast for 18-20 minutes or until browned, half way through roasting time add the minced garlic and stir vegetables.
In a small bowl whisk together 1 teaspoon olive oil, 1 teaspoon sesame oil, soy sauce, honey, sriracha hot sauce, ginger and zest. Pour over warm vegetables. Serve as a side dish or over rice with additional Sriracha sauce and/or soy sauce.
Notes
These are even better the next day as the veggies get a chance to marinate in all that flavor. Perfect for meal prep week.
Question: What did you do this weekend? Yay or nay on roasted veggies? Have you tried kale chips?