Snack healthy this summer with this gluten free Berry Banana Layered Smoothie. 
This post is sponsored post written by me on behalf of Van's Foods. All opinions are entirely my own.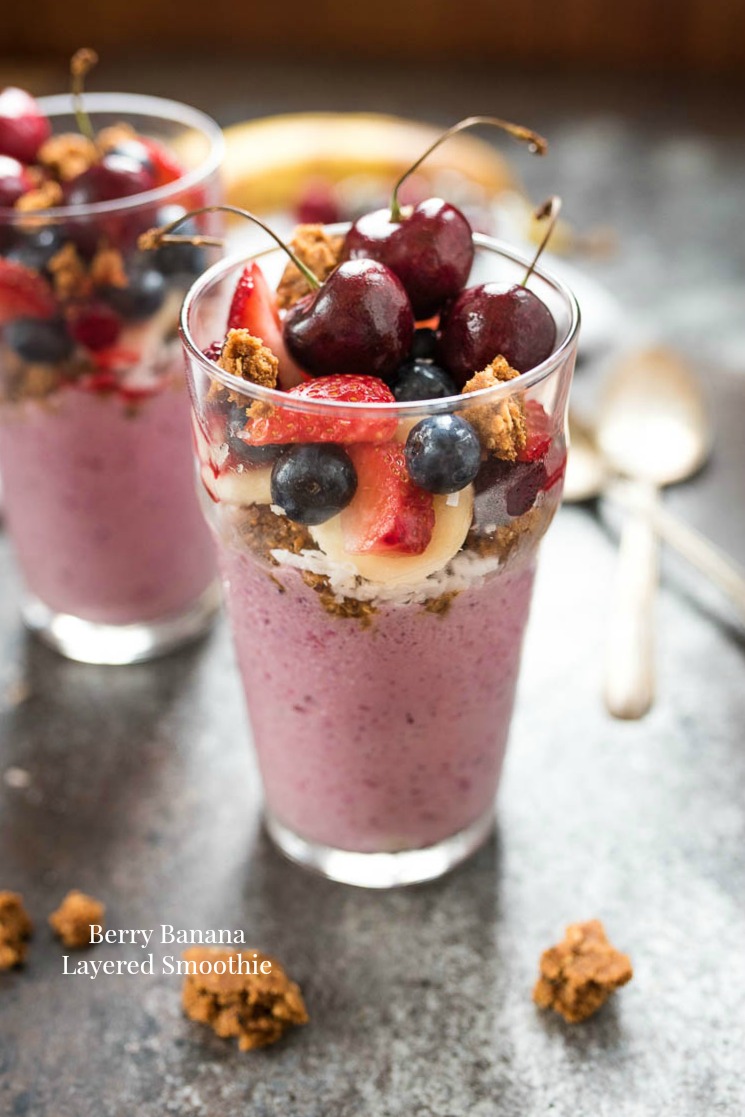 Summer is in full swing and that means a whole lot of fun like road trips, pool days and other outdoor activities. One thing is for sure, being out in the summer heat burning those calories, makes my kids hungry all the time!
I literally have to go to the store 3 times a week to keep enough food in the house. Costco where are you when I need you?! I like keeping snack bars on hand so that the kids can grab a wholesome snack on the go, which is a necessity on our beach vacation (happening right now!). It's the perfect thing to throw in your purse or beach/pool bag.
Van's gluten-free, whole grain snack and sandwich bars pack a nutritious punch without a lot a calories. These guilt-free treats keep it real with no high fructose corn syrup, artificial ingredients, hydrogenated or GMO oils and offer 10 grams of whole grains! I like that they can work for breakfast, snack or dessert.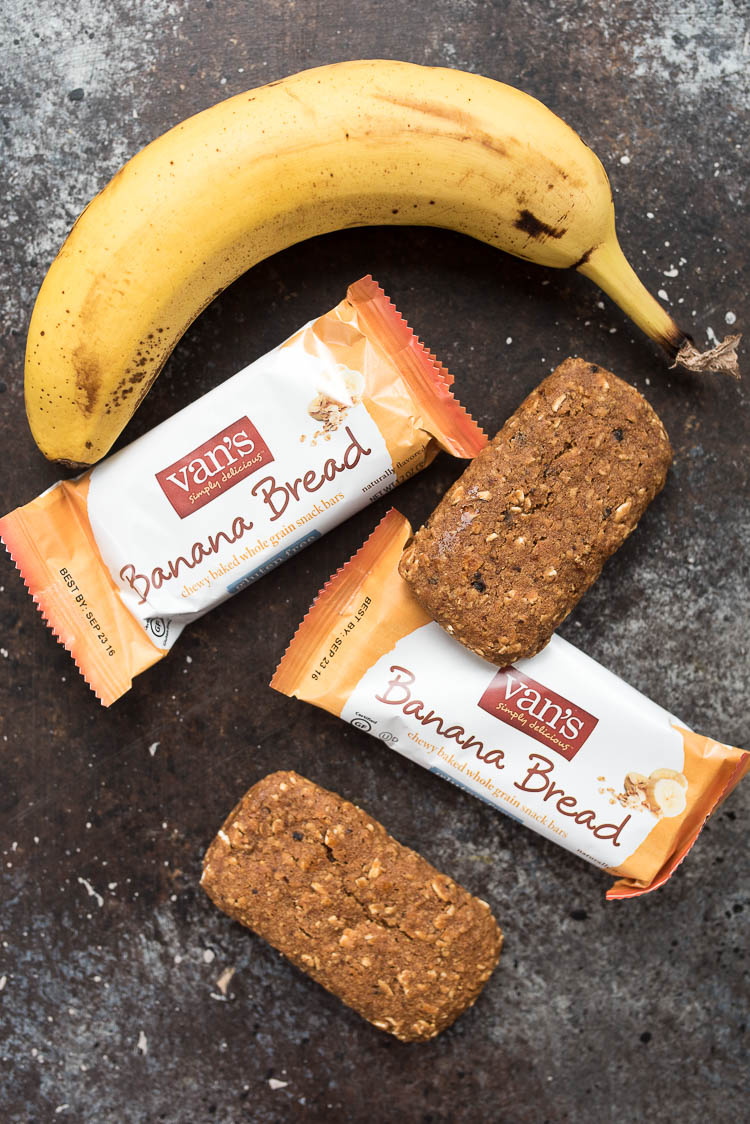 All Van's snack foods are certified gluten-free but still tasty enough for the whole family to enjoy regardless of dietary restrictions. I personally like buying things that most people can eat, including friends and family members.
If you have a little more time on your hands and are looking for something more filling, try this delicious Berry Banana Smoothie using the delicious Van's gluten-free Banana Bread Snack Bars. The Banana Bread snack bars are one of my favorite flavors and made with gluten free oats, flax and real bananas and 4 grams of fiber!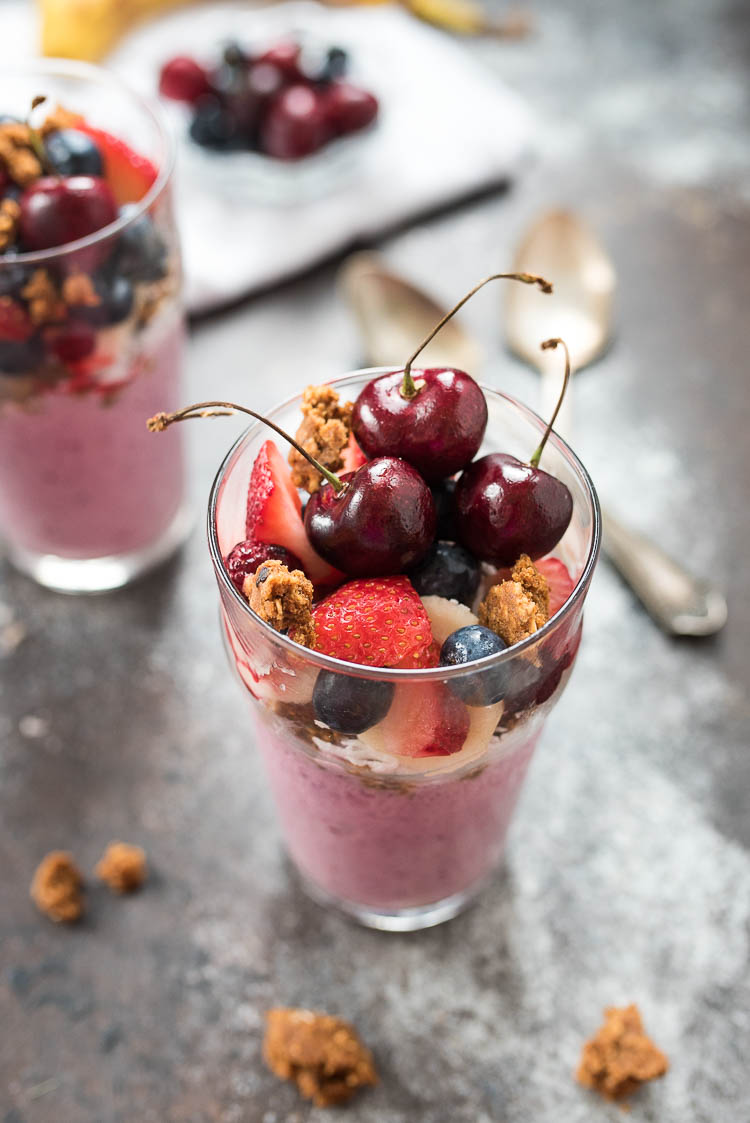 This treat is like a smoothie bowl but in a cup format which still makes on the go snacking possible. Think plastic cups, spoons, poolside. The snack bar adds great texture, a nice chew and some banana-y flavor. It pairs perfectly with the berry banana smoothie, our staple summer snack.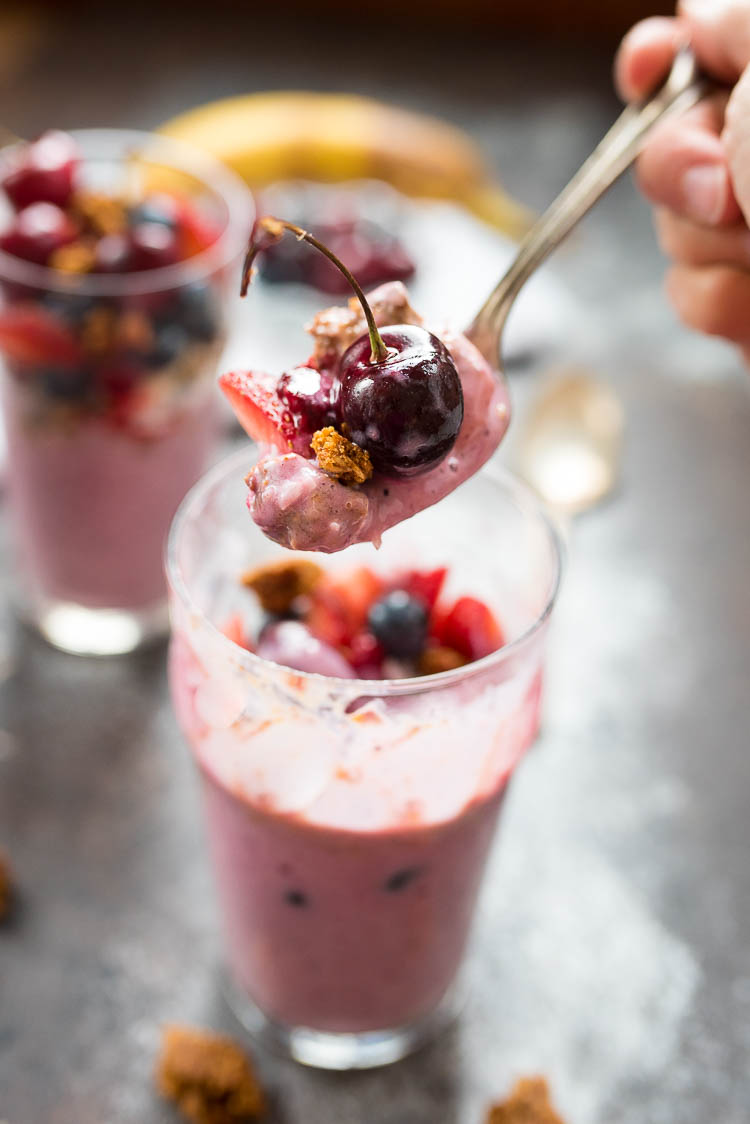 Mmmm….I think it's time to go dig in.
What is your favorite guilt-free summer snack?
Berry Banana Layered Smoothie
a hearty and filling on-the-go smoothie layered with banana bread snack bars, coconut and mixed fruit.
Author:
Melanie F. | Nutritious Eats
Ingredients
1 banana, cut into slices and frozen
1 cup mixed berries
1 cup non-dairy or regular milk
⅓ cup Greek plain yogurt
splash of orange juice (~2 tablespoons)
handful of ice
2 Van's Foods gluten free Banana Bread Snack Bars
2 tablespoons shredded unsweetened coconut
1 cup mixed fruit (blueberries, banana slices, chopped strawberries)
6 fresh cherries
Instructions
Add banana through ice in a blender and puree until smooth. Divide between two large glasses. Crumble a Van's Banana Bread Snack Bar on top. Repeat with other glass. Top with 1 tablespoon unsweetened shredded coconut, ½ cup of mixed fruit, plus 3 large cherries per glass.
GIVEAWAY:
Want to win some coupons for free Van's Snack Bars + a tote and water bottle?
To enter:
Leave a comment to enter, any comment. Have you tried Van's Snack bars before? Giveaway closes July 17th at midnight. US entries only.
For extra entries (leave a separate comment for each one you did. Each comment counts as an entry so you can have as many as one or 5 entries):
2. Follow @nutritiouseats on Twitter
3. Follow @Van's Foods on Twitter
4. Visit Nutritious Eats on Facebook
5. Visit Van's Foods on Facebook
Due to issues with Rafflecopter, I had to delete it, but if you entered already I have your information.