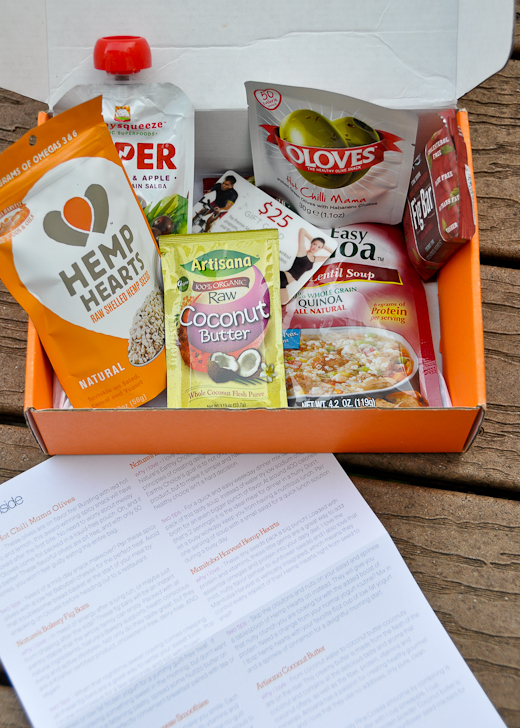 I love trying new products but am always hesitant when buying things I haven't sampled first. Blogging gives me the chance to try a lot of new things that I can in turn recommend to you all!
Today I am introducing Bestowed! A monthly care package subsciption full of 5+ amazing nutrition and lifestyle products hand picked by celebrity nutritionist and author Heather Bauer. You pay $19 for one month's box, but you don't have to commit to a certain number of months which is great. Try it once, sign up for a year. What ever works for you!
I was sent March's box and here is what was inside (lots of good stuff in my opinion):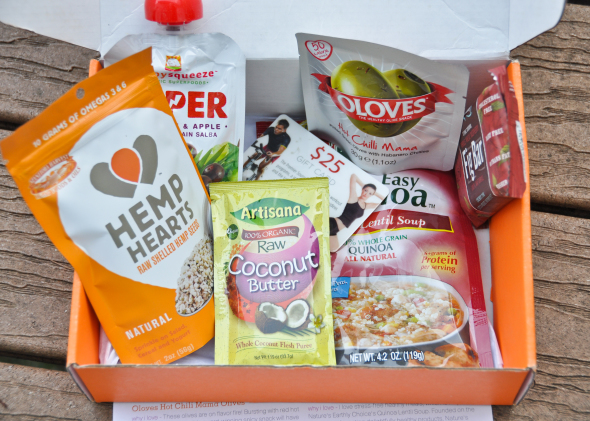 Oloves Hot Chili Mama Olives
I love spicy food but these were not spicy at all to me. They were delicious though. I found little bits of lemon in the package. Pit free and only 50 calories a pack- perfect to carry in your purse for a quick snack or pack in your lunch to add to your salad. I am buying some of these for sure.
Nature's Bakery Fig Bars
I love a good fig bar but stopped buying them a long time ago because all the ones I found were so full of junk. These were definitely healthier, they are vegan and packed with natural ingredients. I ate one plain and one with some almond butter as a mid afternoon snack.
Happy Family-Happy Squeeze Smoothies
This was a perfect snack for my 17 month old. I tasted it first and it was really good- made with organic ingredients- Acai grape & apple flavor.
iTrain $25 Gift Card
I have never heard of iTrain but love the idea. You can download exercises onto your MP3 device or computer and find some inspiration to get moving.
Nature's Earthly Choice- Easy Quinoa Lentil Soup Mix
This would make a great lunch to pack as all you need to do is add hot water. I love that the whole package has less than 150 mg of sodium per serving and ~400 calories. I am looking forward to trying this.
Manitoba Harvest Hemp Hearts
This was my first time trying raw shelled hemp hearts. These tiny seeds are loaded with protein and vitamins and taste similar to sunflower seeds. I haven't figured out how I will enjoy these most but I am thinking they'd add a nice texture to a bowl of oatmeal.
Artisana Coconut Butter
Coconut products (oil, butter, water) are on the rise. This butter is made from the flesh of the coconut and is full of fiber, protein, vitamins and minerals. It's quite delicious- tips for how to enjoy this product include adding it to a smoothie or eating it with whole grain crackers!
Once you find a product you love and want more of, you go to the Bestowed website and they tell you where to find it (I love that a lot of items are found on Amazon). Included in the box is a product sheet full of infomation on the goodies and how to enjoy them. It's really such a fun idea if you are looking to try new things but don't want to commit to purchasing large quantities first. It would also make a great gift idea.
Guess what? YOU have a chance to try Bestowed because they want to giveaway one box to a lucky reader.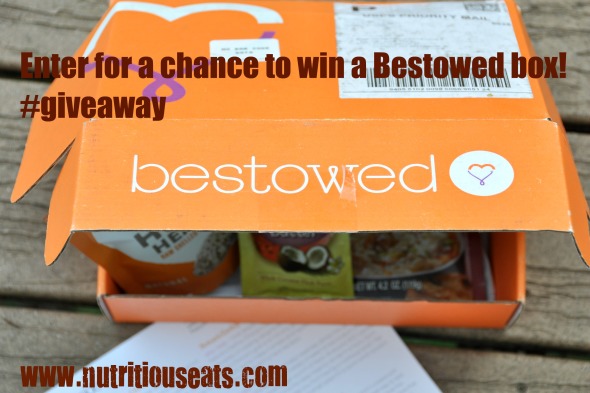 You can enter up to five times for a chance to win the Bestowed Box Giveaway. Please note this is not the exact box you will receive. You will receive April's box which I am sure will be full of fun goodies too!
The giveaway will start today Wednesday April 3rd and ends Monday April 8th at 12:00pm CST. 
 
TO ENTER: GIVEAWAY IS NOW CLOSED.
1. Leave a comment telling me why you want to win a Bestowed box (do you love fun mail, do you love healthy food, like to try new products, have a hard time finding healthy snacks, etc).
FOR ADDITIONAL OPTIONAL ENTRIES  (leave a separate comment for each item, each comment will count as an entry): 
2. Follow Nutritious Eats on twitter and tweet the following "Enter to win a Bestowed box from @NutritiousEats! #giveaway #getbestowed http://wp.me/p150Ow-2m7"
3. Follow Bestowed on Twitter
4. Like Bestowed on Facebook
5. Subscribe to receive emails from Nutritious Eats (top right side bar) or follow via RSS
So you can enter once or up to 5 times– it's totally up to you!
GIVEAWAY DETAILS:
Giveaway open to US residents only. One winner will be chosen at random and will be notified by email and have 48 hours to claim prize or another winner will be selected.
For those of you that don't win the giveaway, Bestowed is offering $5 off your first box if you are interested in trying one. The code is 5OFFBSTOWED01.
Disclaimer: I received one box from Bestowed to try. No other compensation was provided. All opinions are 100% my own.