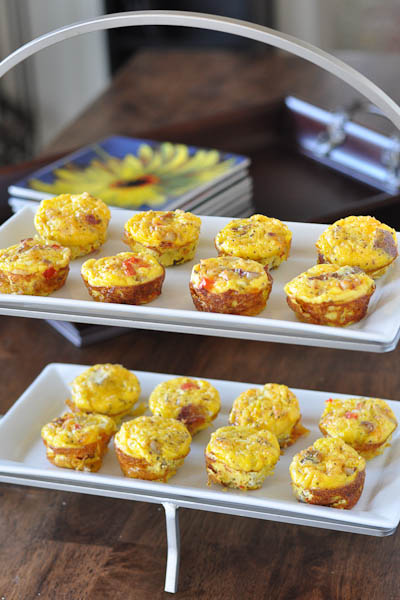 I used to make these mini egg bites ALL THE TIME. Then I took a long break. This was the first time in almost a year I decided to make them again and went with the bigger muffin size instead of the minis. I also changed up the filling. Usually when I make them to snack on in the week, I stick to something easy like canadian bacon and swiss cheese, however this time I was hosting a brunch and wanted them to be extra yummy. I made them with onion, bell pepper, bacon and potato.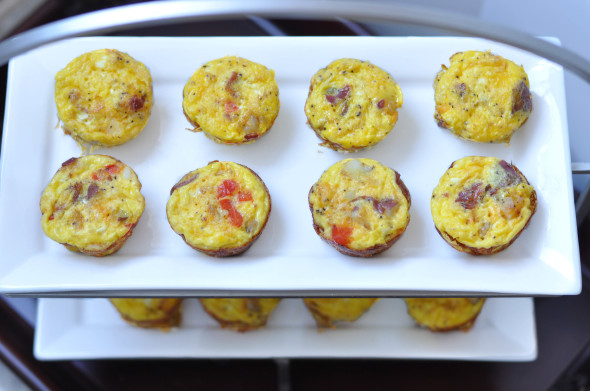 A friend requested the recipe and that always encourages me to share the recipe on the blog. Plus I like them a lot. I figure you guys would too!
These are so easy to make- this version is a bit more time consuming, but totally worth it. I think they are the perfect addition to a brunch menu, plus they are a good way to get some veggies in with your egg. You get less than half slice of bacon and less than one egg per frittata which is totally reasonable. Two per guest makes a nice serving unless you are planning on a light brunch or have several other items.
The great thing about this recipe is you can pretty much adjust all the ingredients- if you want more veggies in there, add more. More bacon? Ok. If you end up with more filling, just crack up a few more eggs, splash in some milk and continue to fill your muffin cups.
After I boil and dice my potatoes, I like to put them back into the skillet just for a little color. You don't have to do that step though.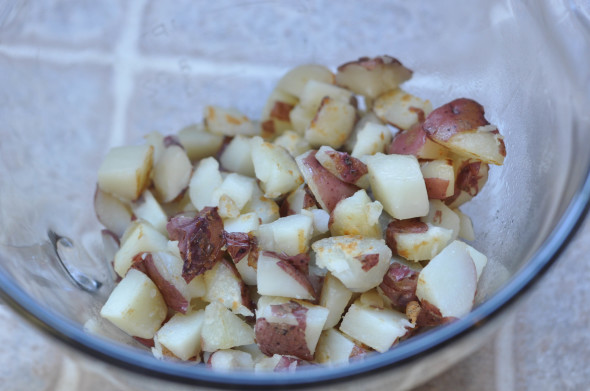 Then you just saute your onion, garlic and bell pepper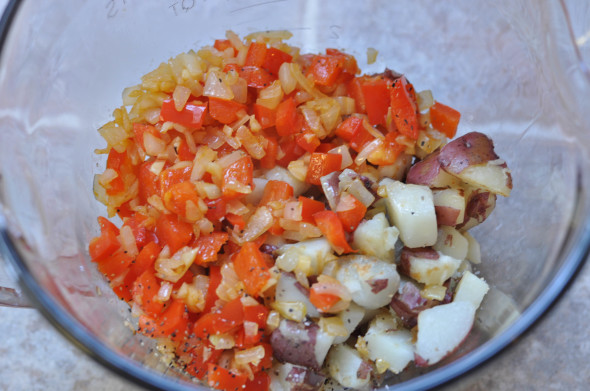 add the cheese and bacon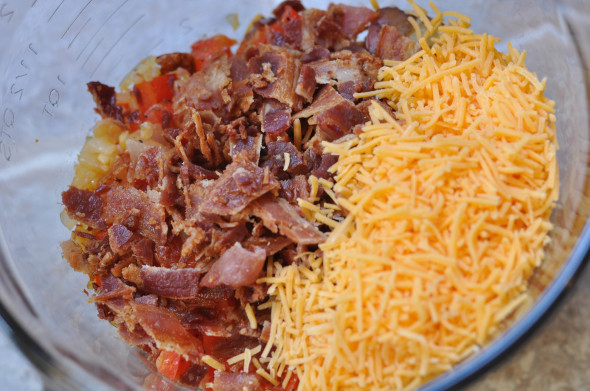 stir it together- and there is your filling!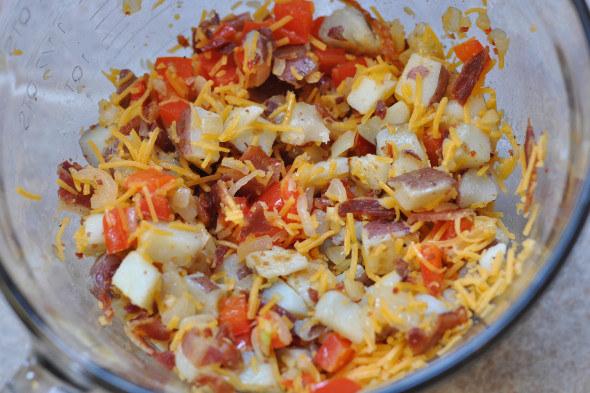 Divide it evenly among the muffin cups (you'll need two trays). Make sure to grease the muffin tray well!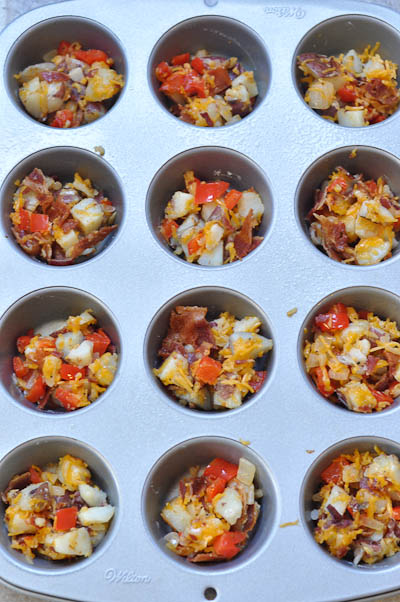 Beat the eggs with the milk, pour it evenly over the veggie mixture.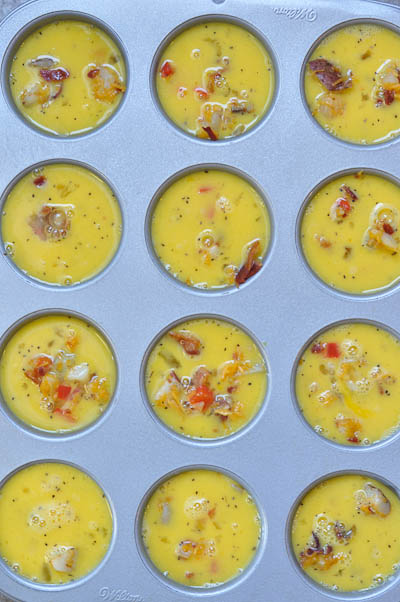 If you grease the pan well, the frittatas should come out pretty easy, however I have one muffin tray that sticks way more than the other regardless of the greasing. So I think I'm going to toss it! Just in case yours stick, they really shouldn't so buy a new pan. 🙂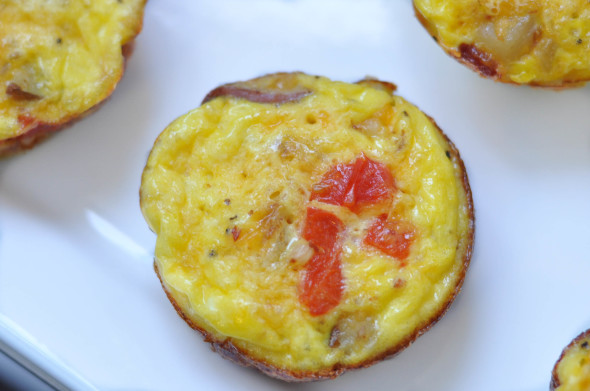 [print_this]
Bacon, Potato and Egg Frittatas
INGREDIENTS:
3/4 lb small red potatoes
1/2 cup onion chopped
3/4 cup red bell pepper chopped
2 garlic cloves, minced
6 slices bacon, cooked and crumbled
3/4 cup shredded sharp cheddar cheese
12 large eggs, beaten
1/4 cup, plus 2 Tablespoons milk (can use half and half too)
1/4 teaspoon salt
1/4 teaspoon pepper
olive oil
DIRECTIONS:
1. Place potatoes in a large saucepan, cover with water and bring to a boil. Boil for 20 to 25 minutes, until fork tender. Drain, cool slightly (can be done ahead of time). Cut into a small dice.
2. Preheat oven to 375 degrees. Grease 2 muffin trays with cooking spray and/or butter.
3. (this step is optional) Drizzle some olive oil into a large nonstick skillet. Add cooked diced potatoes and brown a little, about 5 minutes (especially good to do if potatoes were done ahead of time or refrigerated). Remove from pan.
4.  Return nonstick skillet back to medium heat, spray with cooking spray or another drizzle of olive oil. Add onions, bell peppers and garlic. Saute for 4 to 5 minutes or until tender. Stir in cooked potatoes. Season lightly with salt and pepper. Stir in crumbled bacon and shredded cheese and remove from heat.  Divide mixture evenly among muffin tins (16 muffins)
5. In a medium size bowl, beat dozen eggs with milk. Season with 1/4 teaspoon salt and 1/4 teaspoon pepper. Pour evenly over vegetable mixture in muffin tray. Bake for 16 to 18 minutes or until set. Remove from oven, run knife around edges of frittatas but leave in muffin tray for at least 5 minutes. When ready to remove, run knife or spoon around again for easier removal. Yield: ~16 frittatas.
COOK'S NOTES: step 2 is optional since the potatoes are fully cooked at this point. You can omit it and just add the diced potatoes straight to the vegetable mixture without browning potatoes in skillet. I just like a little color on them and I typical boil my potatoes the day before and/or earlier in the day and then refrigerate until ready to use. Then I cut the cold potatoes and browned them up before adding to the vegetable mix. If you are doing all at once and want to streamline the process, just saute your vegetables and add the cooked potatoes into the skillet as in step 4.
[/print_this]
I love entertaining for brunch- it's not as stressful, you can really have fun with the food. Throw in some coffee and mimosas and you're set!
Question: What is your favorite brunch food?