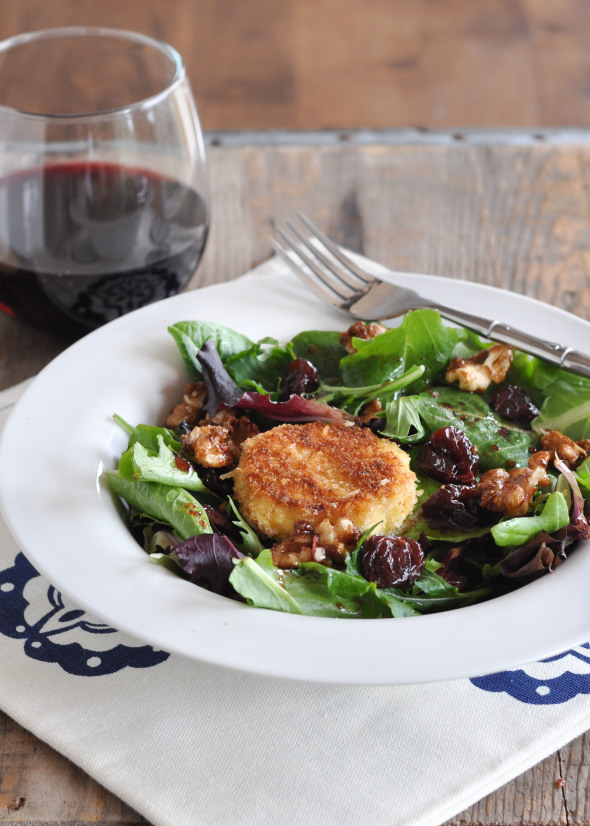 Disclosure: I was asked to participate in the National Cherry Month #GoTart Campaign as a member of the Healthy Aperture Blogger Network. I received free samples of tart cherries mentioned in this post from the Cherry Marketing Institute. I was compensated for my time. Opinions expressed are my own
Fancy salads are one of my favorite foods. Every time I go to a restaurant I absolutely HAVE to order one as an appetizer. The ones with goat cheese, dried fruits and nuts are the first ones that I am drawn to. Every time.
So when I got the chance to create a recipe for Healthy Aperture and the Cherry Marketing Institute with tart dried cherries and cherry juice I knew what I wanted to make….a simple and delicious Cherry, Goat Cheese and Candied Walnut Salad with a Cherry Balsamic Vinaigrette.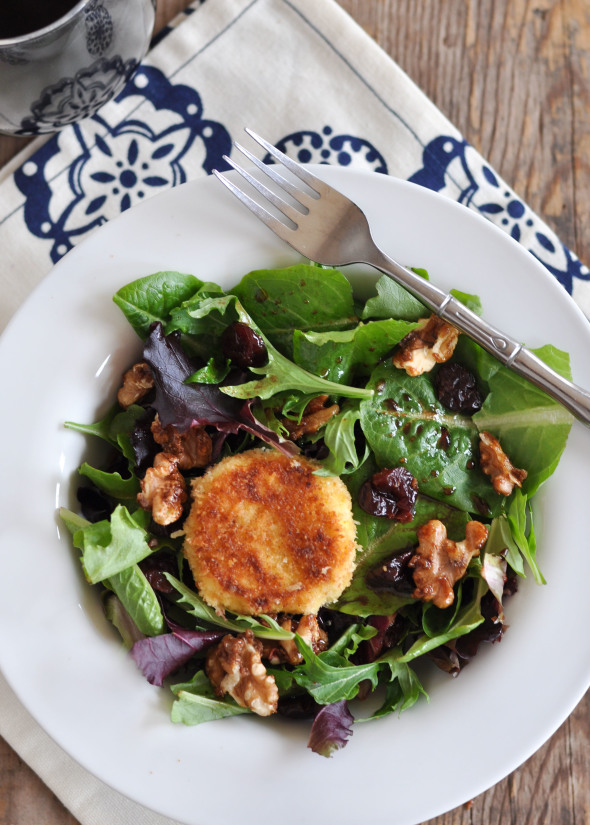 Apparently there is a new food trend going on and it turns out sour is the new spicy. That gives tart cherries the advantage! I know I've always been a fan of sour foods, especially those with a touch of sweetness to them. These tart cherries are sooooo delicious- plump, chewy, sweet and sour. Addicting actually, but the good news is that they are good for you! For fruits and vegetables, a sour taste is often an indication that there are more phytonutrient compounds inside.
Also, dried tart cherries are high in Vitamin A and contain anthocyanins, a flavonoid that contributes to the ruby-red color and distinguishing taste. Most flavonoids function in the body as antioxidants which in a nutshell prevent damage to cells.
Throwing a handful of dried tart cherries into a salad is such an easy way to make it a little special. This salad combo is perfect- a little tart, a little sweet, a little salt and a little crunch. The creamy salty goat cheese with the tart cherries and sweet walnuts really create a great balance that hit several of our five basic tastes.
Another reason I love this salad is because you can make the walnuts and dressing ahead of time so that when you are ready to eat there is little prep involved.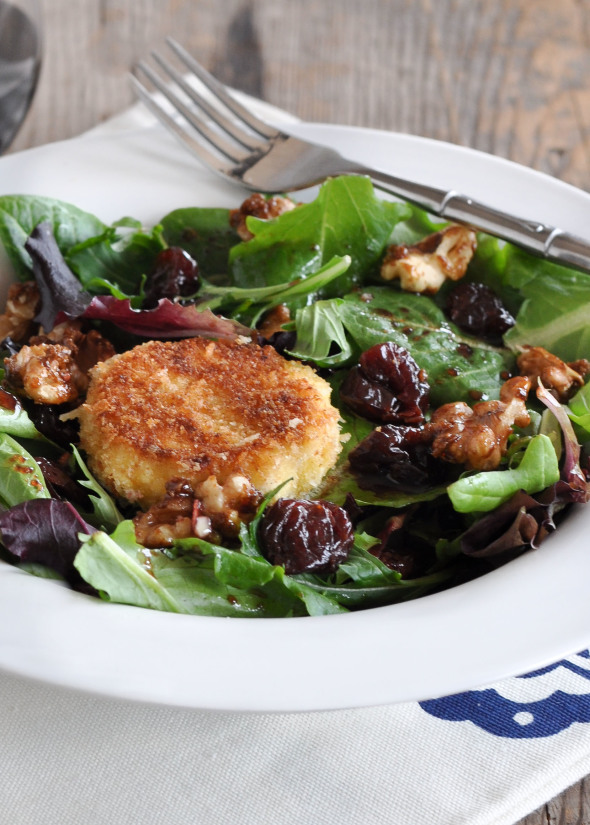 Oh and the dressing, tangy and sweet. I licked the bowl, that's how much I liked it. Did you know that reducing some cherry juice is the perfect way to intensify the flavor and thicken up your dressing? Unless that is, you forget about the juice reducing away on the stove top and come back to about a tablespoon left because it almost all evaporated. Don't ask me how I know that.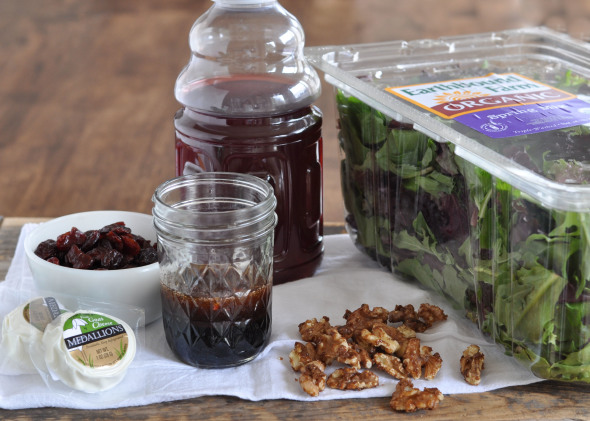 Tart cherries are available frozen, dried and in juice forms which makes it easy to enjoy this superfruit year round and in a variety of ways. Dried tart cherries are a perfect addition to your granola, parfaits, oatmeal, savory dishes or salad such as this fabulous one. To learn more about tart cherries, and to find recipes and serving ideas, visit choosecherries.com.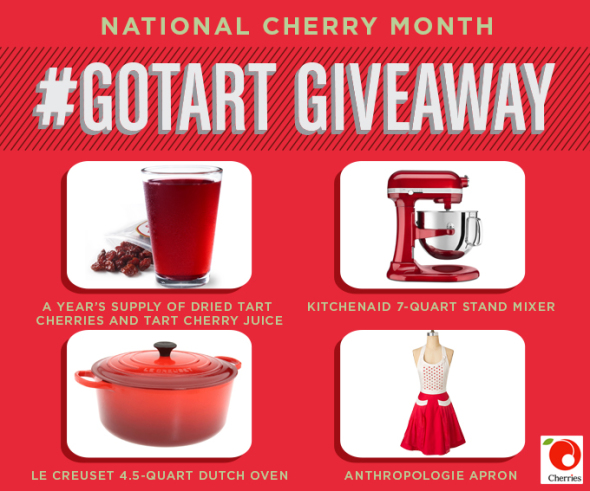 Cherry, Goat Cheese & Candied Walnut Salad + Cherry Balsamic Vinaigrette
Ingredients
8 cups mixed greens, such as green and red leaf lettuce, arugula and baby spinach
½ cup dried tart cherries
½ cup candied walnuts (recipe below)
4 crusted goat cheese medallions (recipe below)
Cherry Balsamic Vinaigrette to taste (recipe below)
For Walnuts
1 cup walnut halves
¼ heaping cup loose brown sugar
For crusted goat cheese
4 (1 ounce) slices goat cheese (see note below)
3 Tablespoons breadcrumbs
3 Tablespoons panko
1 egg, lightly beaten
3-4 teaspoons olive oil
For Cherry Balsamic Vinaigrette
½ cup cherry juice
2 Tablespoons balsamic vinegar
1 garlic clove minced
1 scant tablespoon honey
¼ cup olive oil
pinch of salt and pepper
Instructions
For dressing:
Place ½ cup cherry juice in a small saucepan over medium heat. Simmer until reduced to ¼ cup. Place minced garlic in a medium bowl, add reduced cherry juice. Whisk in vinegar and honey. Slowly whisk in oil drop by drop until well combined. Season with a salt and pepper.
For the candid walnuts:
Line a baking sheet with parchment paper or a silpat. In a medium nonstick skillet heated to medium heat, add walnuts and sugar and stir constantly until sugar has melted and coated the walnuts, no more than 5 minutes. Pour onto prepared baking sheet and spread out to prevent clumping. Once dry store in an airtight container.
For the goat cheese:
Combine breadcrumbs and panko on a plate dip 1 ounce goat cheese medallion into beaten egg and then into breadcrumb mixture. Add olive oil to a nonstick skillet, place goat cheese medallions in skillet and cook for ~3 minutes total, flipping once when underside is lightly browned.
For salad:
Combine greens, dried cranberries and walnuts. Toss with desired amount of dressing. Divide onto plates and top each serving with one warm goat cheese medallion.
Notes
If you can't find pre-portioned goat cheese medallions, slice a piece off a goat cheese log and using your fingers lightly form it into a patty. Freezing the log for about 5 minutes before slicing might help the process.
But before you go….. Check out this awesome giveaway the Cherry Marketing Institute is hosting- one lucky winner will receive the following: 
Year's Supply of Dried Tart Cherries and Tart Cherry Juice
A KitchenAid 7-Quart Mixer
A Le Creuset 4.5- Quart Dutch Oven
Anthropolgie Apron 
Yes all of that (~$1,500 value) will go to one lucky person! Just enter using the Rafflecopter below. The giveaway ends at 11:59pm EST on 2/27/14. US residents only, 18 and up. Good luck!!