A delicious Shrimp and Kale Salad that is ready to eat in less than 15 minutes. Crunchy, sweet and peppery all in one bite.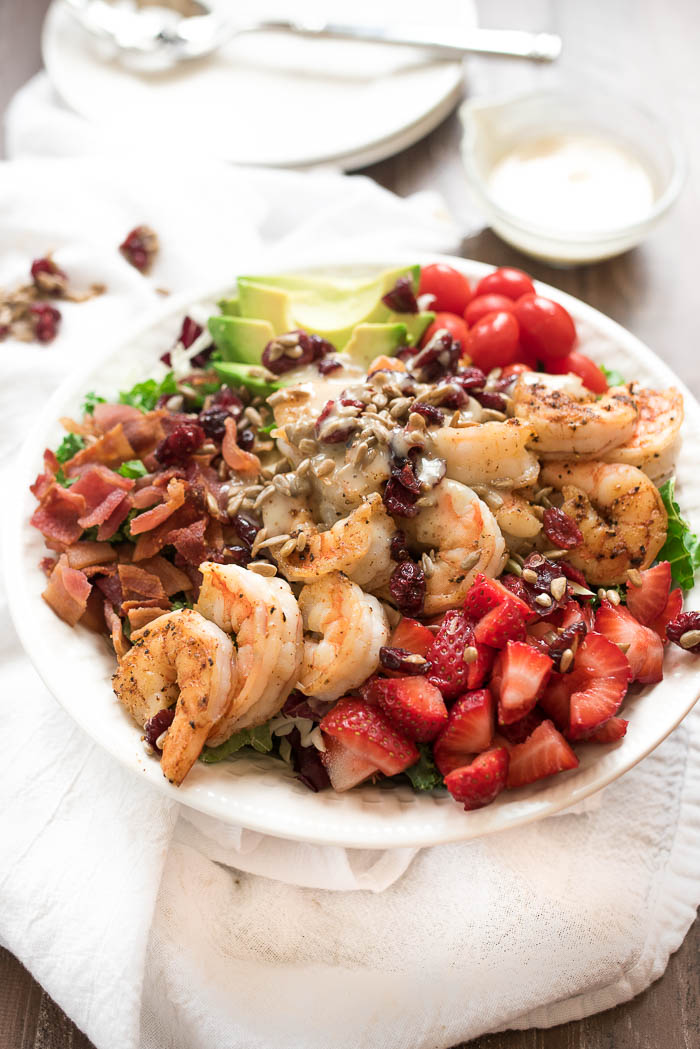 This post was sponsored by Eat Smart as part of an Influencer Activation for Influence Central and all opinions expressed in my post are my own. I received product samples to facilitate my review.
With school back in session, every week I am reminded of how challenging it can be to eat healthy. If it were just me, it would be no problem, but I have to cater to the likes and dislikes of 5 other people in my family. I think that is where a lot of people struggle. Plus the fact that our lives are packed with activities and meal planning and prepping takes time!
However, sometimes I buy food selfishly, with only myself in mind. I don't need a side of buttered noodles to prevent a melt down. I like creative, gourmet meals that don't take much time. That's not too much to ask for, right? I rely on store conveniences like these delicious Eat Smart Gourmet Vegetable Salad Kits, that way I know even if we are racing around from dance to soccer I can come home and very quickly have something healthy to eat.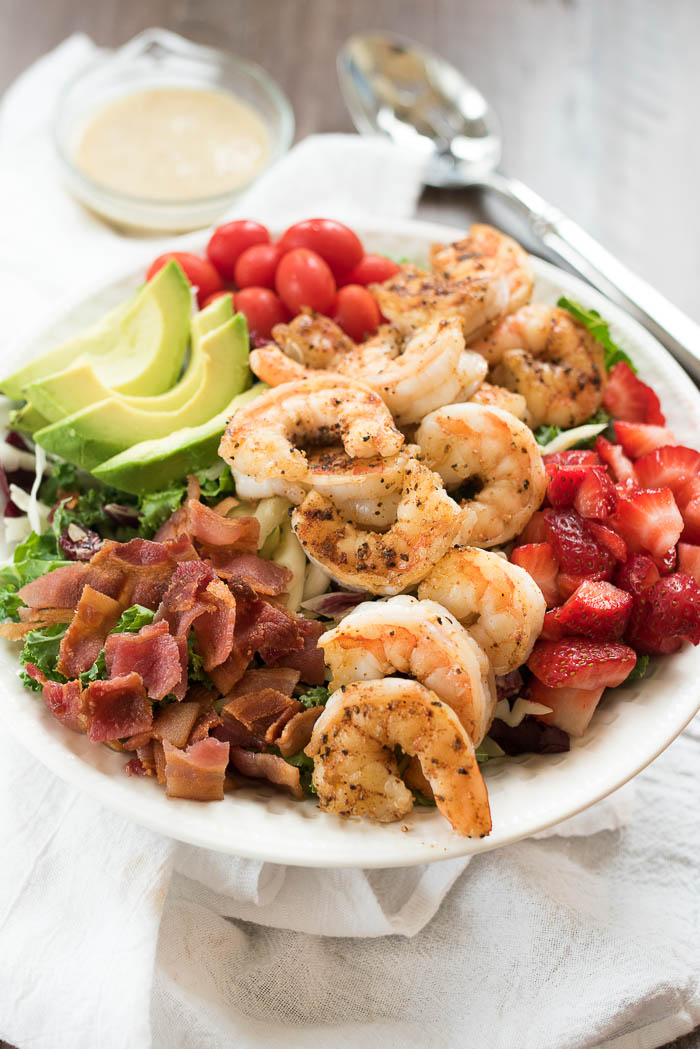 Eat Smart Gourmet Vegetable Salad Kits make healthy and gourmet choices easy by combining high-quality ingredients with flavorful dressings and vinaigrettes. I fell in love with the taste and convenience of Eat Smart Gourmet Salad Kits when Costco started selling them, and they quickly became a weekly staple in our house. They are perfect for every occasion- an appetizer salad, a busy weeknight meal side dish, a brown bag lunch or big family reunion gatherings.
I was pumped to try some of their other flavors because our Costco only carried 2 of the varieties and I now I know, I love them all!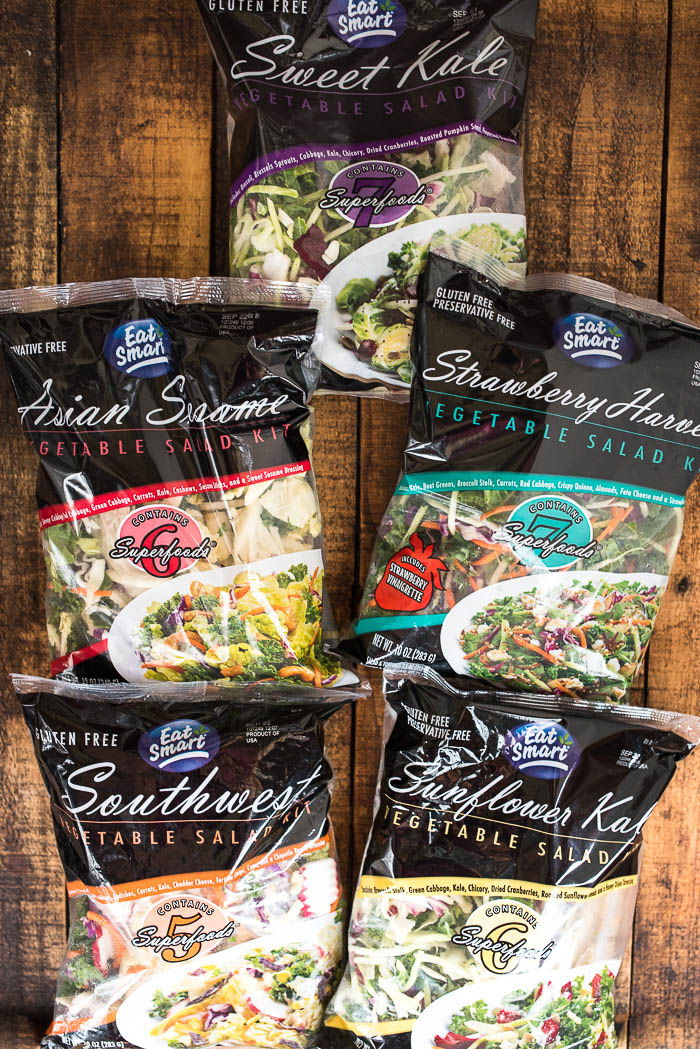 They are ready to eat as is for a simple side, but they are also a great canvas to jazz up for a more filling meal.
For this recipe I used the Sunflower Kale Eat Smart Gourmet Salad Kit which has shredded cabbage and broccoli stalk, kale, chicory, sunflowers, dried cranberries and a honey dijon dressing. I paired it with some delicious additional produce- like tomatoes, avocado and strawberries that I thought would pair great with the chili seasoned shrimp and the sweet and creamy dijon dressing.
You're getting a bowl full of Vitamins, especially high in A and C, minerals, antioxidants and fiber. But the best part….EASY!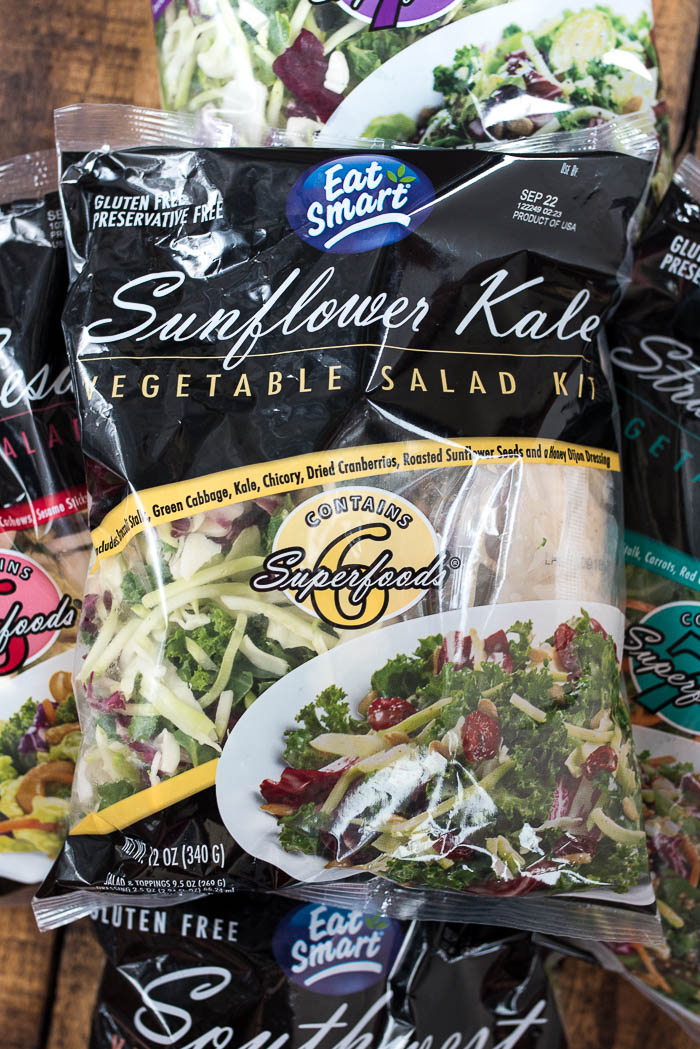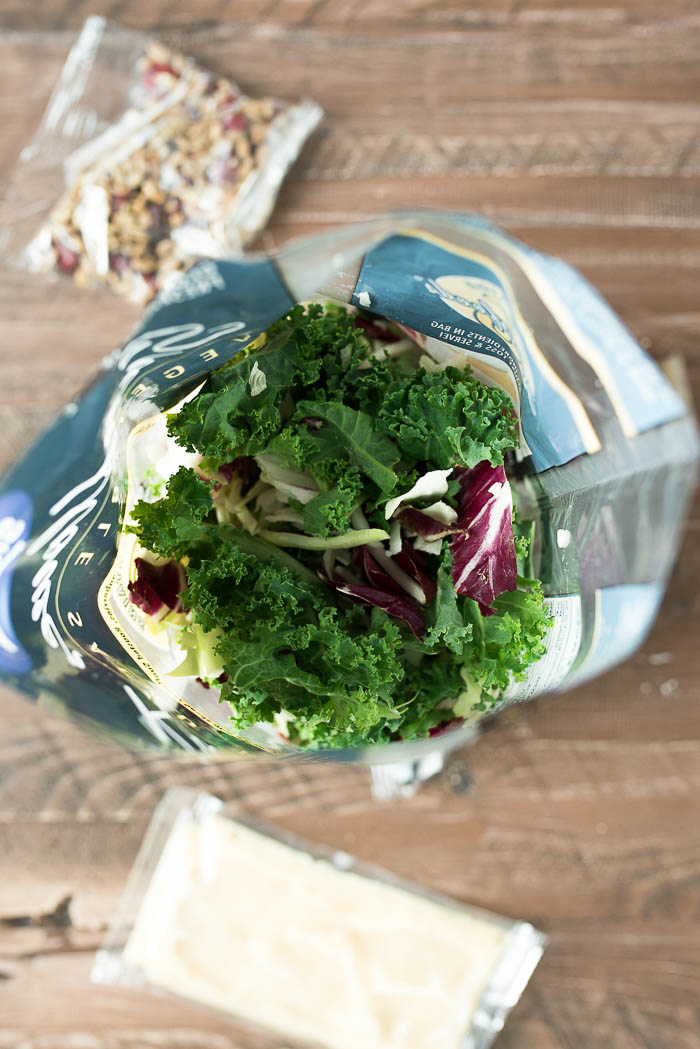 The Eat Smart Gourmet Salad Kits are gluten free, free of preservatives and delicious!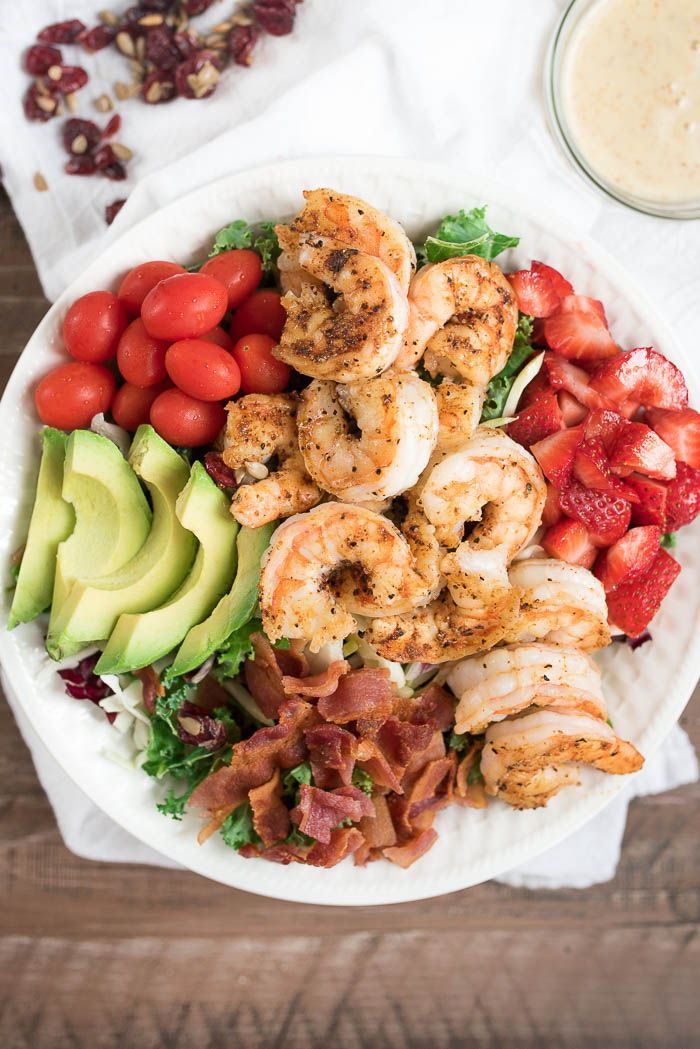 The toppings and dressing come in separate packages so use as much or as little as you want.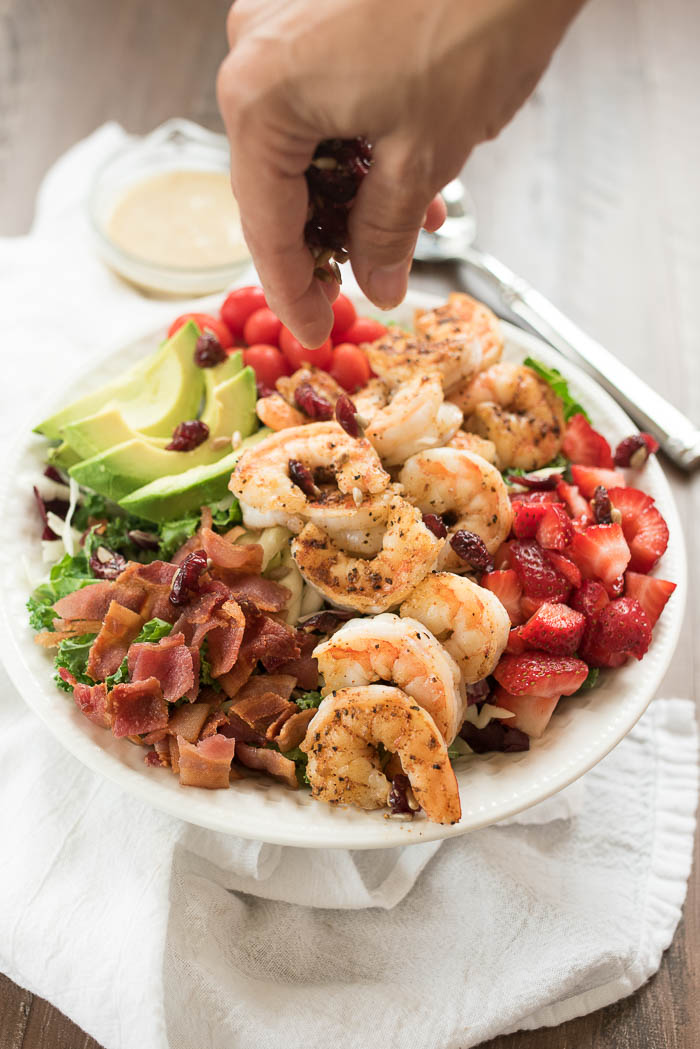 To make things easy I microwaved a few slices of bacon while the shrimp cooked, but throw them in a skillet if you have time. This delicious entrée salad took less than 15 minutes to make. Like I said, perfect weeknight meal and if you have kids, make it on a night they have some leftovers.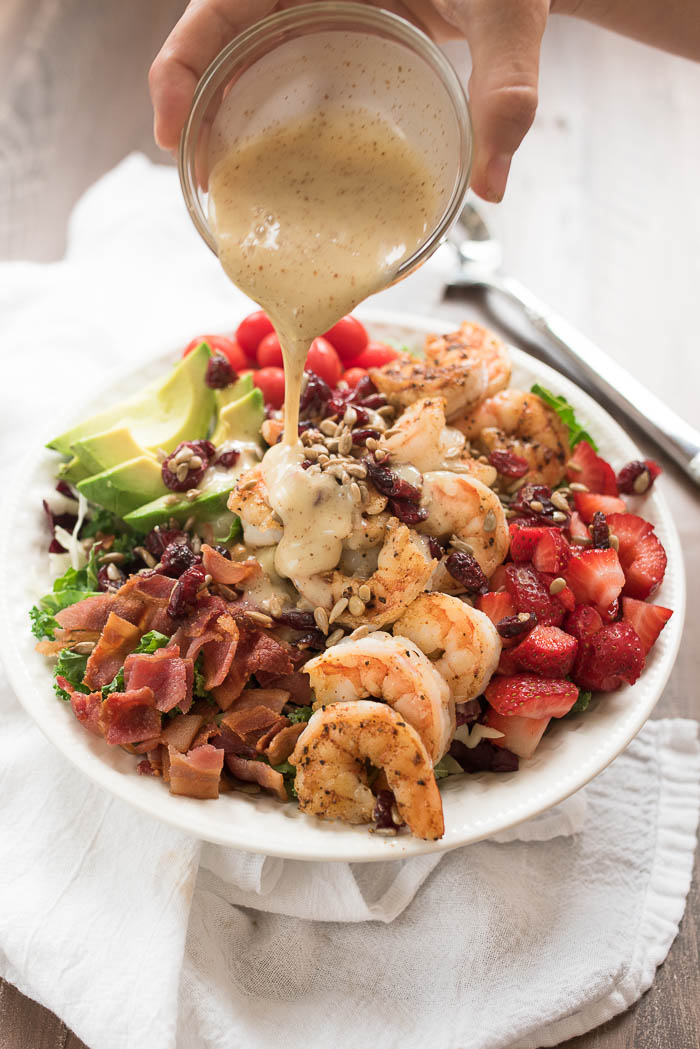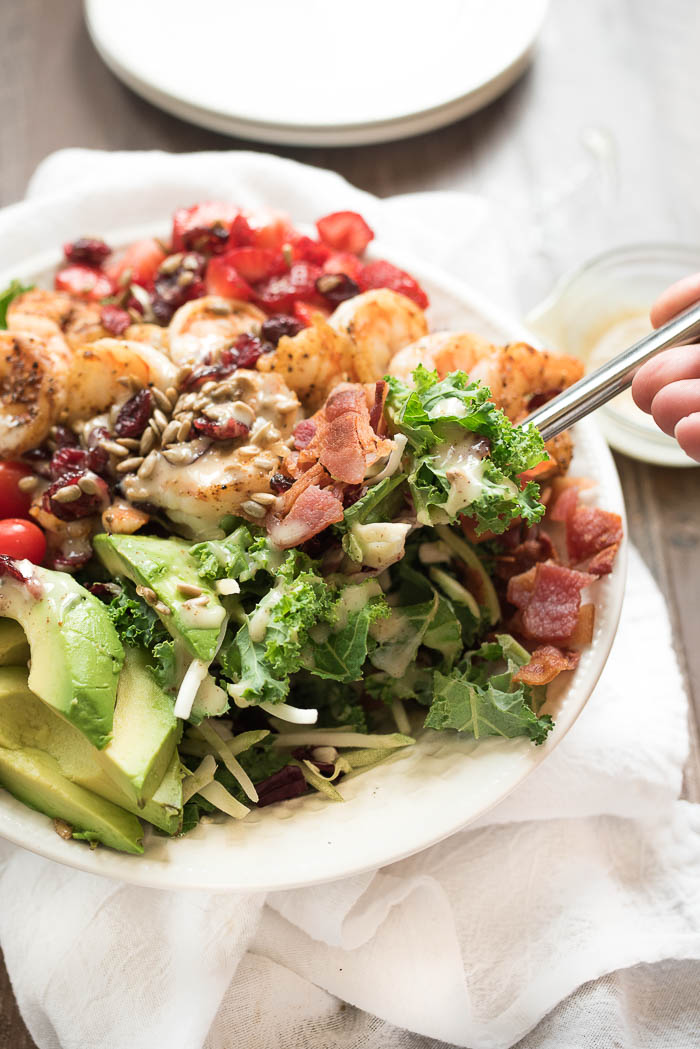 Use the Eat Smart store locator to find products near you!
Follow Eat Smart on Twitter, Facebook and Instagram and sign up for their monthly e-newsletter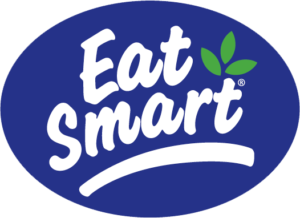 Enter to win one of these great prizes>>
Prize: Ten (10) AMEX Gift Cards at $50 each and samples of all five Eat Smart Gourmet Vegetable Salad Kits (for a total of five salads)
Dates: 9/16/16 – 10/07/16
Eat Smart Gourmet Vegetable Salad Kit Giveaway
I-C will randomly select winners from all program entries and will facilitate fulfillment of the winning prizes (10)
Chili Shrimp and Kale Salad With Honey Dijon Dressing
Author:
Melanie F. | Nutritious Eats
Ingredients
1 (12 ounce bag) Sunflower Kale Eat Smart Gourmet Salad Kit
12 ounce bag of extra large or jumbo shrimp, peeled and deveined
½ teaspoon chili powder
¼ teaspoon garlic powder
¼ teaspoon black pepper
⅛ teaspoon paprika
pinch of salt
1 teaspoon olive oil
½ cup chopped tomatoes
½ cup chopped strawberries
1 small avocado sliced
3 slices of nitrate free bacon, cooked and crumbled
Instructions
Combine chili powder through salt in a small bowl. Pat shrimp dry and season with dry seasoning. Heat a large skillet to medium high heat and add 1 teaspoon of olive oil. Add shrimp in a single layer and cook for 3 to 4 minutes, flipping once, or until shrimp are opaque. Meanwhile cook bacon in the microwave or a second skillet.
Place salad in a large bowl. Top with cooked shrimp, sliced avocado, cherry tomatoes, chopped strawberries and crumbled bacon. Top with dried cranberries and sunflower seeds. Toss it with the Honey Mustard Dijon dressing and enjoy!
Notes
Increase spice mixture if using a larger amount of shrimp.