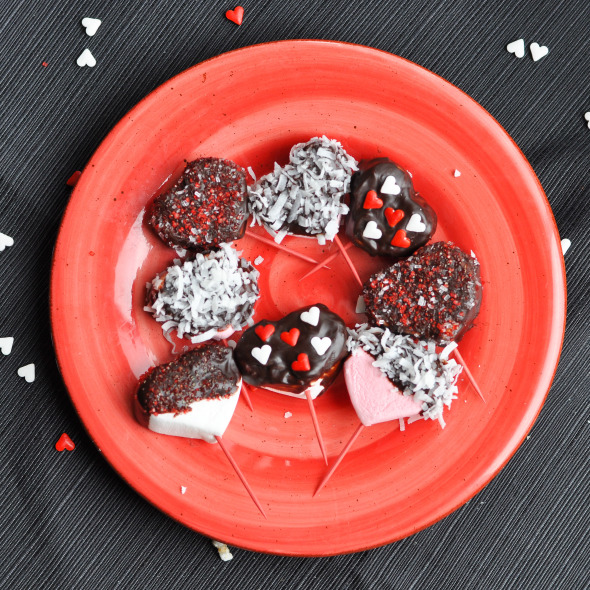 I totally on board with a little dessert splurge around the Holidays. I tend to gravitate towards chocolate but that's just me. I wanted to make an easy Valentine's treat for the kids and when I saw these heart shaped marshmallows I knew I needed to make something with them. I didn't have to think very long because as soon as I got home and looked at the back of the package I saw this easy recipe for chocolate covered marshmallows. Better than buying the store bought ones!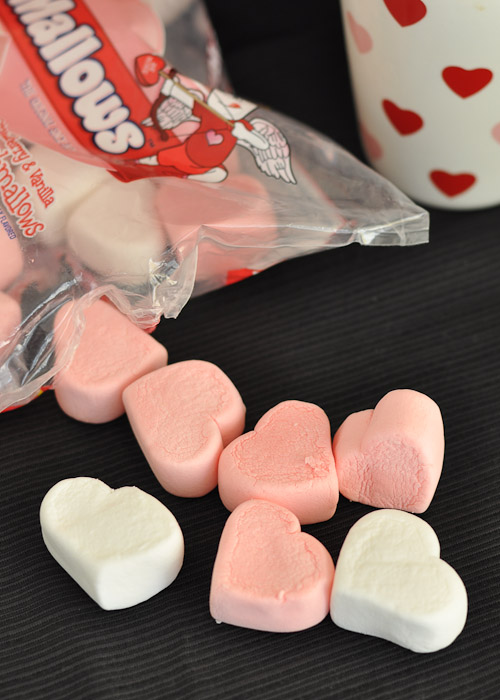 I used a few different options for toppings- sprinkles, shredded coconut and candy hearts. Use your imagination and/or whatever you have on hand. I also used the mini chocolate chips because I like how quickly they melt but regular or white chocolate chips would be fine too.
This guy in the back..the pink half dipped in coconut was my favorite. Amazing what  a little coconut can do to jazz up a dessert! I also loved the crunch the sprinkles added. These are the perfect bite of sweetness without being overly rich.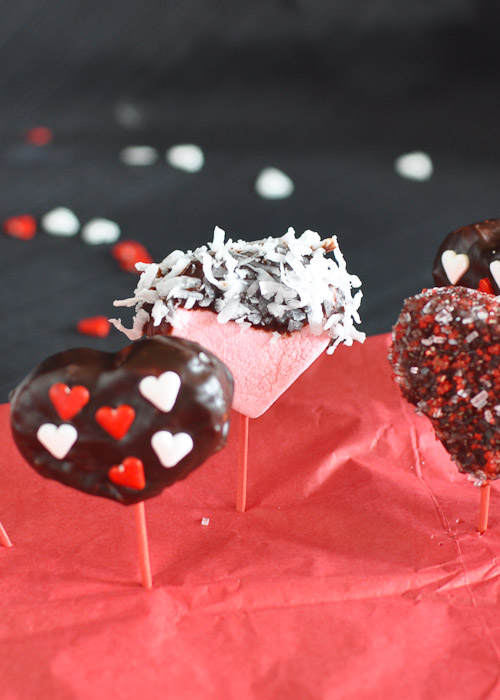 I am so not a perfectionist when it comes to stuff like that so I just slathered on the chocolate not caring if the marshmallow was fully covered or not.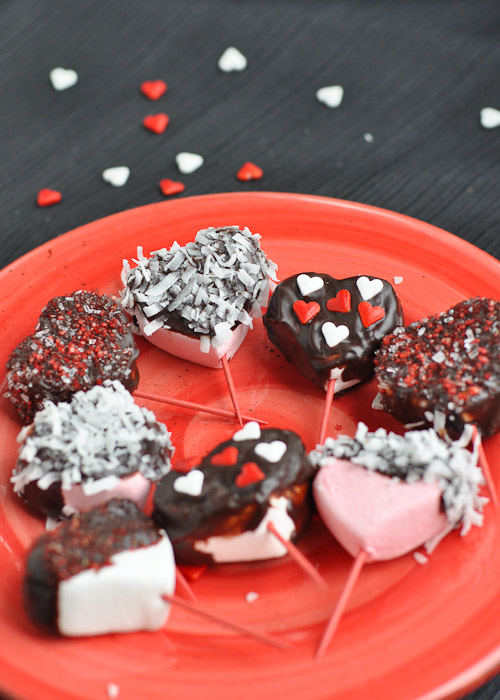 Cute, aren't they?! These are perfect if you need something easy to make for a Valentine's party.  Of course you could switch out regular large marshmallows and make these work for any Holiday.
Need a few more ideas for Valentine's Day treats?
German Chocolate Mousse from beloved Cooking Light. My 6 year old son still requests that I make this as he remembers it so fondly from Valentine's Day 2 years ago. It was sooooo good.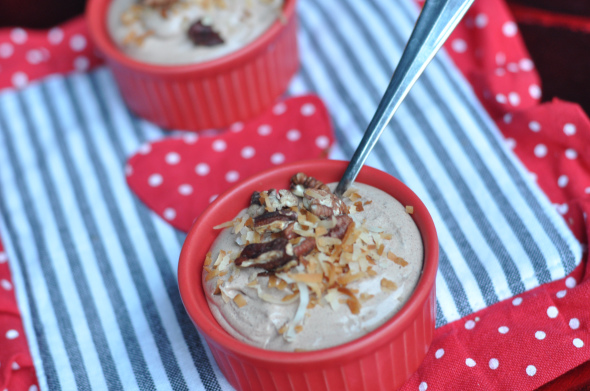 Chocolate Covered Strawberries from CopyCat RecipesBlog. Who doesn't love chocolate covered strawberries? You get a little chocolate but you're eating fruit along with it. Win win!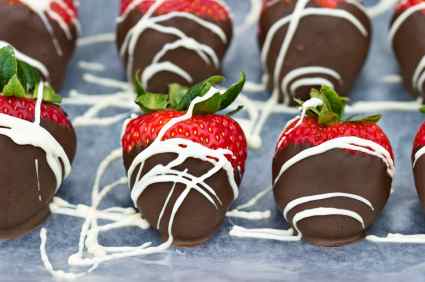 Valentine's Popcorn from Eat at Allie's is perfect for everyone! A little sweetness and some whole grains! Easy to make too!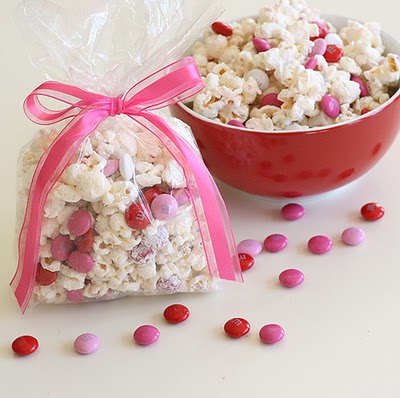 and before I go of course I have to share my meal plan. It's not very organized or complete but I am thinking some of the following:
Turkey Burgers with BBQ sauce, Sweet Potato Fries, Salad
Vegetable Quesadillas, Cilantro-Lime Slaw
Salad Bar (mixed greens, arugula, hard boiled egg, ham, assorted veggies, garbanzo beans, cheese, croutons, homemade dressing)
Valentine's Dinner (out to eat)
Steaks, Roasted Veggies, Salad (putting this on the menu for my mother-in-law who is visiting this week)
Not sure what else. I have a harder time planning when family visits because I never know if we'll be eating out but one thing I know is I can easily run to the store when I have last minute meal ideas! Yay for a free babysitter for 10 days!
Chocolate Covered Marshmallows
Serves:
~20 hearts (half of the bag)
Ingredients
1 (10 oz) bag heart marshmallows (or regular large ones)
1 cup mini chocolate chips
¼ cup milk
Toppings: shredded coconut, sprinkles, candy hearts, chopped nuts
Instructions
Melt chocolate chips and milk in a microwave safe bowl on medium power for 1½ to 2 minutes, stopping every 30 seconds to stir, until melted and smooth.
Dip marshmallows in melted chocolate using toothpick and roll in topping of choice. Set on a wax paper lined plate or rack. Place in the refrigerator until chocolate is set.
Notes
Recipe from Campfire Cupid Marshmallow Bag
Make sure to check back later this week for a great giveaway!
Questions: Are you making any Valentine's Day treats this year? What is on your meal plan?