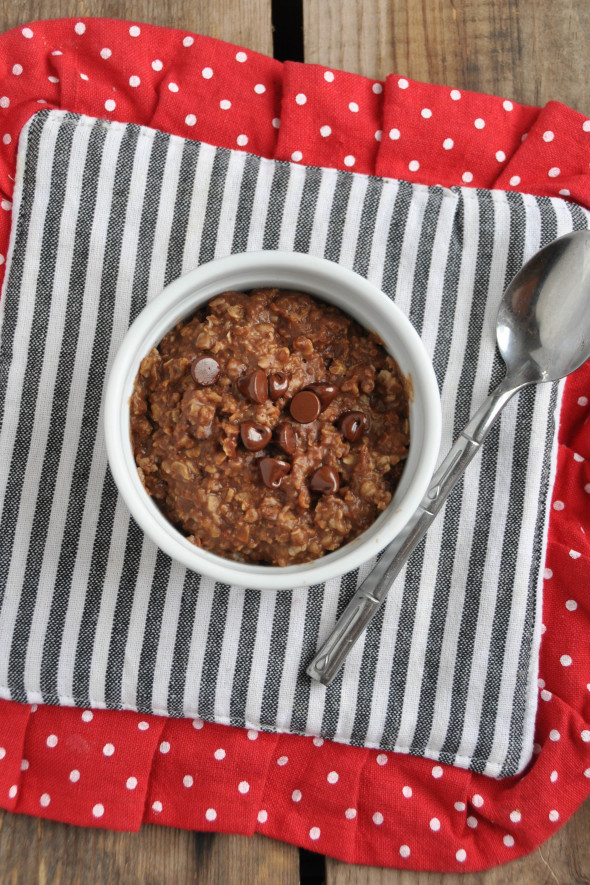 Boy this hits the spot when you have a chocolate craving. I've become a little obsessed with mixing things into my oatmeal. I replaced my favorite pumpkin oatmeal with this chocolate oatmeal. The best part is that as rich as it looks and tastes, the spoonful of cocoa powder only adds 10 calories and zero sugar to your oatmeal! Of course it would be super bitter if you didn't add any sweetener, but it doesn't take much… 1/2 teaspoon of sugar usually works for me which only equals 2 grams of sugar. Sprinkle some chocolate chips on top to make it extra decadent. YUM!
Unless you're new to this planet, I am sure you know oatmeal is good for you- it's a whole grain that is rich in soluble fiber. If you want the (nutrition) nitty gritty on soluble fiber, here you go: it's the kind that absorbs water and forms a gel, which slows down digestion. That is why you will feel more full eating oatmeal than some other low-fiber breakfast cereal. Soluble fiber also helps to lower LDL cholesterol (aka the bad cholesterol) because it interferes with it's absorption, therefore helping to reduce risk of heart disease. Another benefit of soluble fiber is it delays stomach emptying so it helps maintain blood sugars at a normal level, which is especially important to diabetics.
I love that you can dress it up so many different ways- through fresh fruit, dried fruit, spices, sweeteners, cow's milk, non-dairy milk, etc, but this chocolate version is my new favorite. My family is a big fan of oatmeal and go through it tin by tin- rolled oats, steel cut and quick-cooking….they all serve a purpose in our household.
Chocolate Oatmeal
Ingredients
1 serving cooked oatmeal (I make mine half water, half non-dairy milk such as soy, almond, coconut)
1 scant tablespoon cocoa powder
couple shakes of cinnamon
~1/2-1 teaspoon sugar
½ Tablespoon chocolate chips
Instructions
Cook oatmeal according to package directions. Once cooked, immediately stir in cocoa powder, sugar, a few chocolate chips and cinnamon. Enjoy!
Do you love oatmeal as much as my family does? Comments are always appreciated!

Pin It