These individual frozen yogurt bites are a fun way to incorporate whole grain gluten-free granola, fresh fruit and Greek yogurt. Less than 100 calories per serving!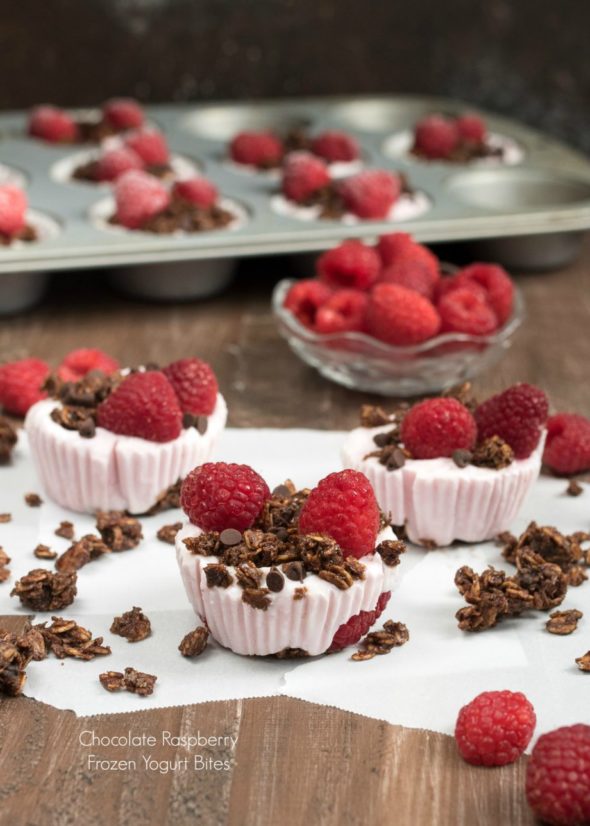 This is a sponsored post written by me on behalf of Van's Foods. All opinions are entirely my own.
One of the top food trends of 2016 is better-for-you snacking. As aRegistered Dietitian that makes me really happy.I still cringe a bit when I pass a vending food machine filled with junk. This is where employees or kids are supposed to turn for a snack during work or an activity break (there is one of these in mydaughter's dance studio) and you know what's in there? High calorie, high fat snacks that offer absolutely zero nutrition.
One way to get delicious and nutritious in the same bite is with Van's Soft-baked Whole Grain Granola Clusters. It's like a healthy soft baked cookie, crumbled up and ready to devour. Van's new granola offers 12-14 grams of nutrient-dense, gluten-free whole grains and just 120 calories per serving.
Of course they are delicious straight out of the bag, but I wanted to show you that they make a wholesome addition to your breakfast or snack. These Chocolate Raspberry Frozen Yogurt Bites are sure to please and easy to customize to your liking. Ahhh, frozen yogurt. When I was a kid I used to put my yogurt containers in the freezer until just the right moment when it was starting to freeze, but was still edible with a spoon. I loved it like that! Apparently my kids do to because they love their yogurt sticks frozen and their fruit too! I try to defrost both a tiny bit before serving to them but they insist on not thawing them out.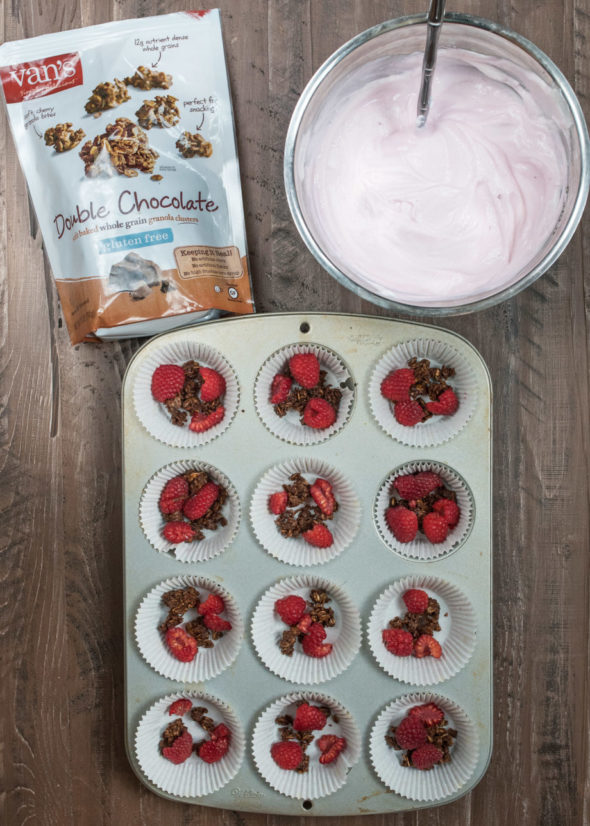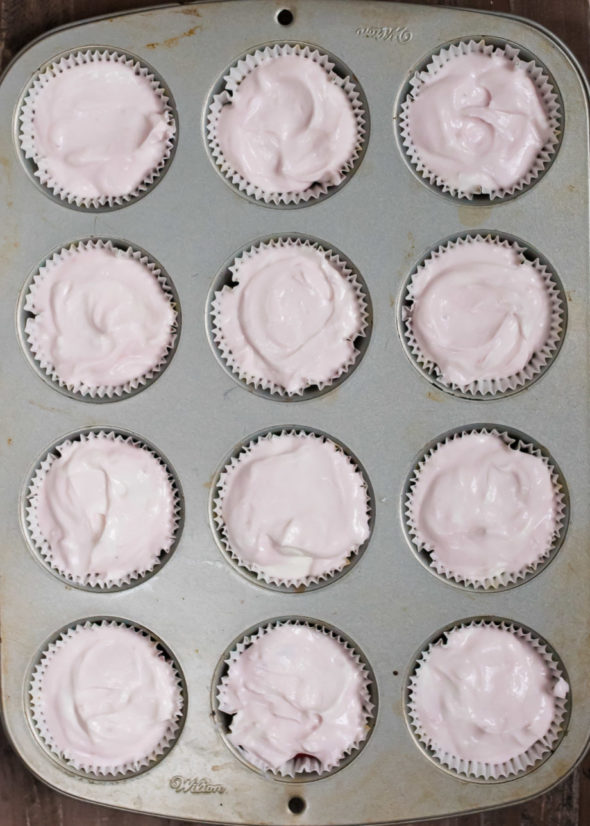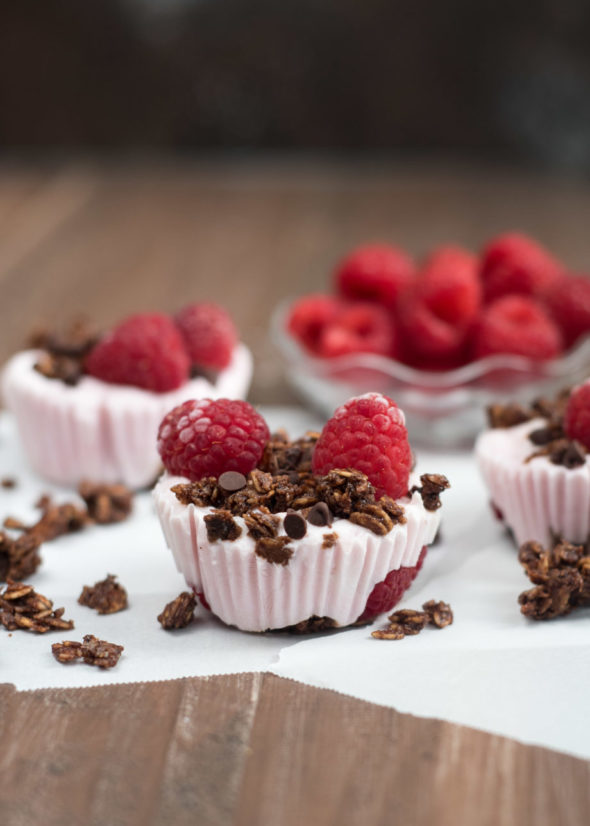 These individual frozen yogurt cups using Greek yogurt, Van's Double Chocolate Granola and fresh berries make a perfect breakfast or snack. Each yogurt cup has 97 calories, 5 1/2 grams ofprotein, less than 2 grams of fat and 13 grams of carbs and provides a good source of dairy, protein and potassium. They are super simple to make too. If you have kids, this would be a great kitchen activity for them.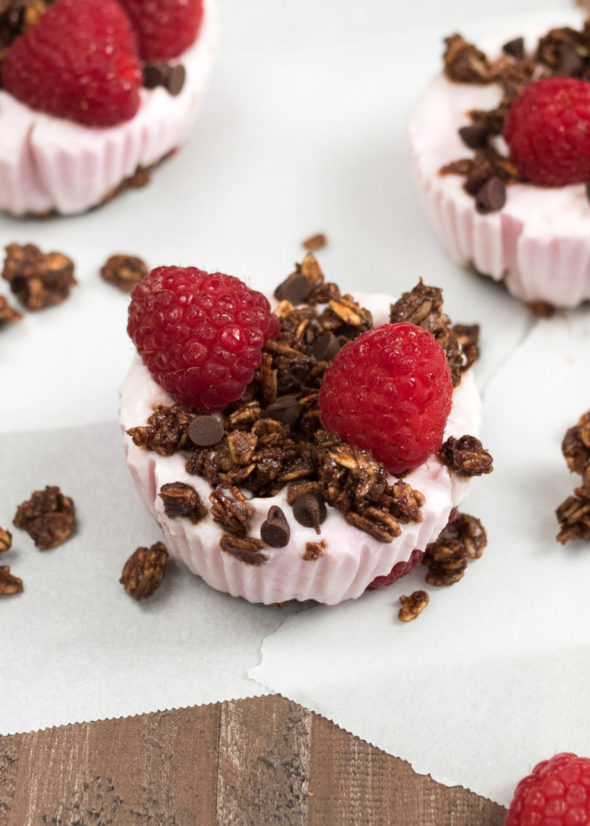 The chocolate granola clusters from Van's are super yummy and make the perfect yogurt topper! I added a few extra mini chocolate chips for an extra chocolatey flavor. You will love Van's soft-baked whole grain granola- they have 3 other gluten free flavors in addition to the chocolate: Banana Walnut, Blueberry Walnut and Cranberry Almond!
Before you go, Van's wants one of you to receive some goodies. They are giving away four free granola/snack bar coupons (up to $20 total value) and a Van's branded water bottle and tote bag.
Just enter the rafflecopter below to win
Van's waffles are available at grocery stores, natural food retailers nationwide and mass merchandisers. To find them in a store near you visit http://www.vansfoods.com/store-locator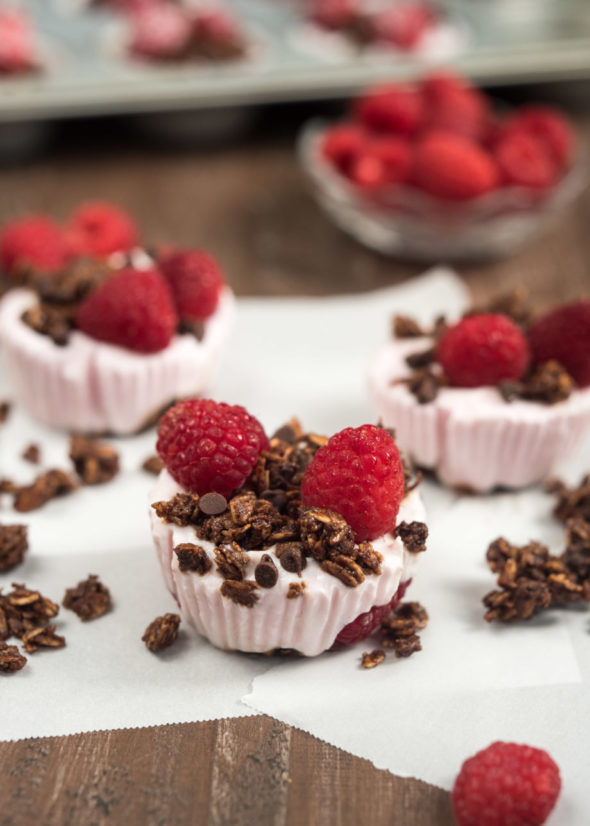 Chocolate Raspberry Frozen Yogurt Bites
Author:
Melanie F. | Nutritious Eats
Ingredients
1 cup plain Greek yogurt
3 (5-ounce) containers of Raspberry fruit on the bottom Greek yogurt
1½ cup Van's Chocolate granola clusters
1½ cup fresh raspberries
1-2 tablespoons mini chocolate chips (optional)
Instructions
In a bowl stir together plain and raspberry yogurts. Line a muffin tin with muffin liners (paper or silicone are fine). Sprinkle ~2 teaspoons of granola on the bottom of each cup. Add 1-2 raspberries (if using big ones, just break into pieces). Spoon yogurt evenly amongst cups. Top with remaining granola clusters and raspberries. Sprinkle with mini chocolate chips if using. Freeze in the muffin tray for 2-3 hours. Transfer to a large freezer zip lock bag and just microwave on defrost for 10-15 seconds when you're ready (you don't want the middle to get warm so don't overdo it) or let sit out a room temperature for about 45 minutes or until slightly softened.
Notes
You can adjust the level of sweetness by adding more or less plain yogurt. If you prefer to use all flavored yogurt, that is fine too. This is a great recipe to customize the flavors in add-ins!