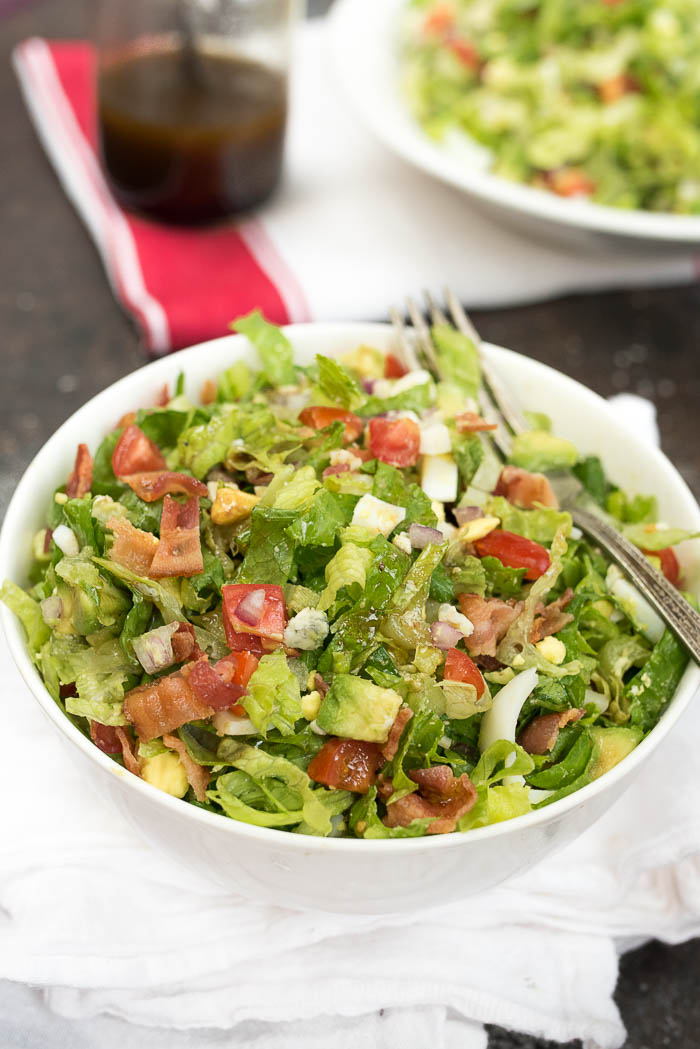 It's Recipe Redux time and we are bringing you our favorite meals from vacation.
Although Hawaii isn't exactly known for their food (pulled pork, white rice, macaroni salad), you can definitely find some incredible eats there and it was the last vacation I took… just a few weeks ago actually! The problem is, the dish I really wanted to recreate involves fresh fish that I can not get in small town Louisiana so I had to move on to plan B.
But you'll thank me because plan B is so good!
When we were stationed in Washington State, I met one of my best girlfriend in Seattle for a girls weekend. We ate at this restaurant called Purple Cafe and Wine Bar. I remember ordering a chopped salad and small pizza for lunch and told myself I had to recreate that salad. I never did! I thought it would be the perfect plan B.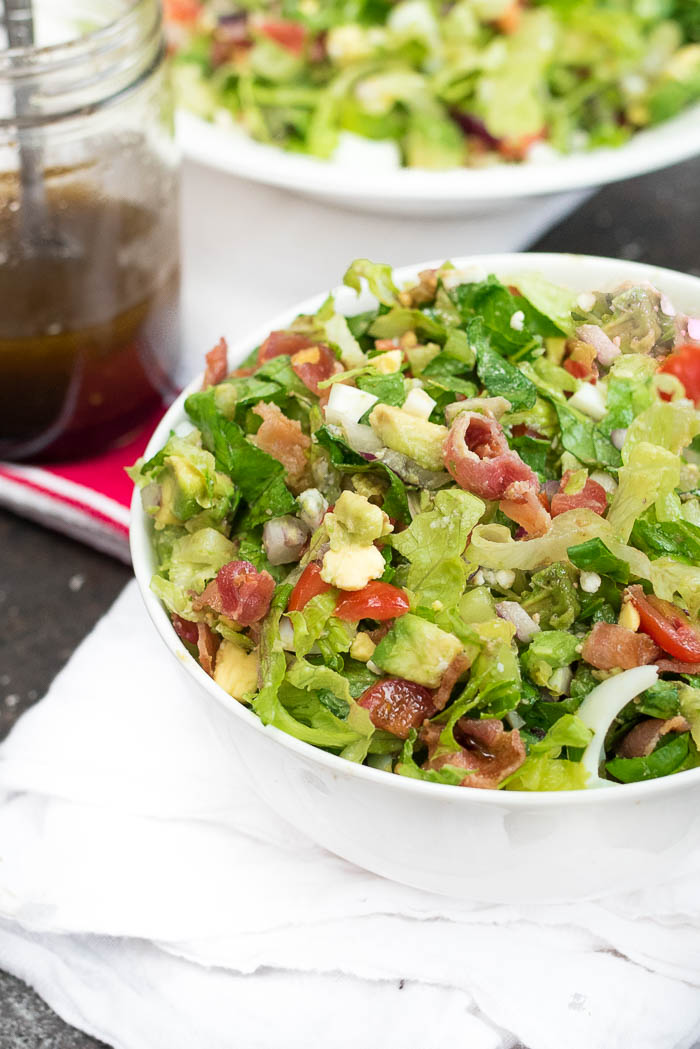 As a side note, as a family of six we rarely go out to eat (aside from our favorite Mexican joint). It's simply too expensive and the past few places we've lived there haven't been any amazing restaurants that tempted us. Also, if you've ever dined out with small children, you know that it isn't always an enjoyable experience!
But when we are on vacation we make an exception. We hunt down a few really great places and make sure to visit, even if it's a casual lunch spot, the best place to go for ice cream or whatever is known as the best.
So back to the salad, this restaurant Purple Cafe was a popular spot in Seattle and was walking distance from the hotel my friend and I stayed out. I remember a lot about our great eats during that quick girls weekend, but the memory of this salad always stuck with me.
There is something unique that happens when you chop a salad very fine versus larger chunks of ingredients. You can really taste the flavors more and it's a little easier to eat. Ever get stuck at the dinner table trying to shovel large pieces of lettuce in your mouth? Yeah, me too. Ha.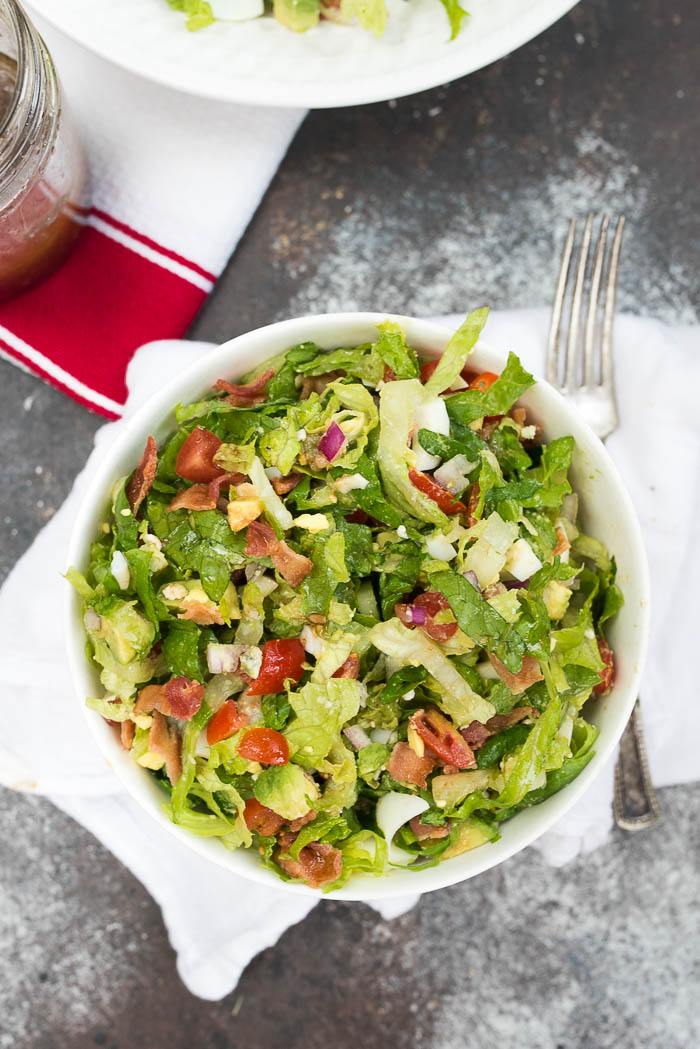 Coming from someone who doesn't love blue cheese, the small amount totally works in this salad. If you are a big fan you can always add more.
It's so neat how you always remember those really good meals
This chopped salad is bursting with flavor and perfect for a light lunch, pot luck, baby shower, brunch or any night of the week! I am already craving it again!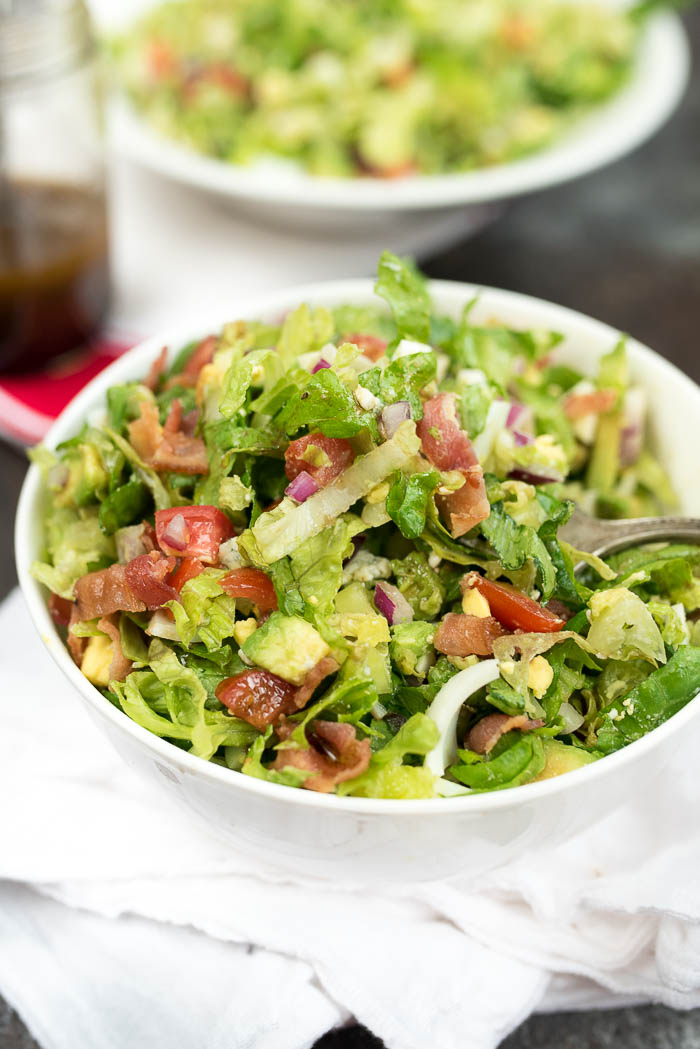 Chopped Salad
Try this delicious chopped salad full of flavor from the bacon, avocado and blue cheese and tied together with a super simple balsamic vinaigrette. Make this for dinner, brunch or a potluck!
Author:
Melanie F. | Nutritious Eats
Ingredients
2 romaine (~8-10 cups finely shredded/chopped
¾ cup finely diced tomatoes (~1 cup grape tomatoes)
½ cup finely diced red onion (~1/4 of a medium onion)
2 avocados, small dice
3 hard boiled eggs ,finely chopped
⅓ cup crumbled blue cheese
5 slices bacon, cooked and crumbled
A few tablespoons of Balsamic Vinaigrette (RECIPE HERE)
Instructions
Combine all ingredients in a large bowl (romaine through blue cheese). When ready to serve, stir in bacon and toss with dressing. You will have leftover dressing. Yield 4 good portions or 6 smaller portions.
Notes
The goal is to finely chop or dice each ingredient. This takes a little extra time, but so worth it. For example for each grape tomato, I would cut in half lengthwise, then into 6-8 cuts per half. I find the easiest way to get a small dice on an avocado is to cut it in half lengthwise, remove the seed, then scoop it out and dice it on a cutting board versus trying to score it while it's still in the peel.
If know you aren't going to eat this all in one sitting, I recommend just dressing the portion you will eat and store the leftover salad and dressing separately.