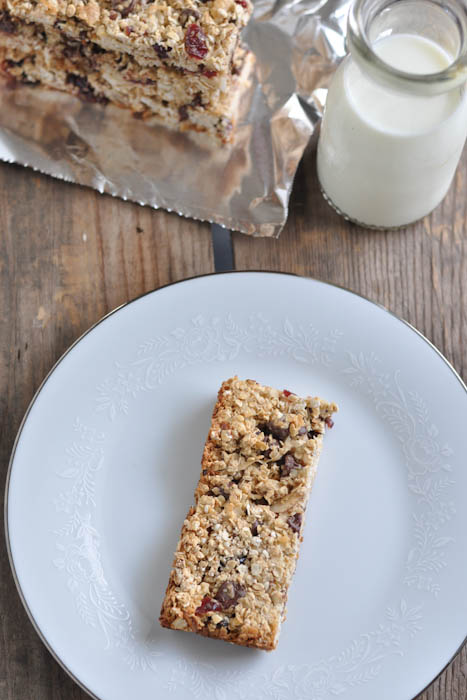 I love baking up treats to have around the house- I try to freeze at least half of the goodies in individual portions so that I can pull out a homemade snack when needed. Lately every time I pick up a box of some sort of snack at the store, I think to myself "I can make that at home". Sometimes it works out and sometimes it doesn't, but I like to try. I have made these delicious granola bars a few times. They couldn't be any easier- you literally dump all the ingredients into a bowl, stir, pour into a baking dish and bake. Your child could make these. Seriously easy.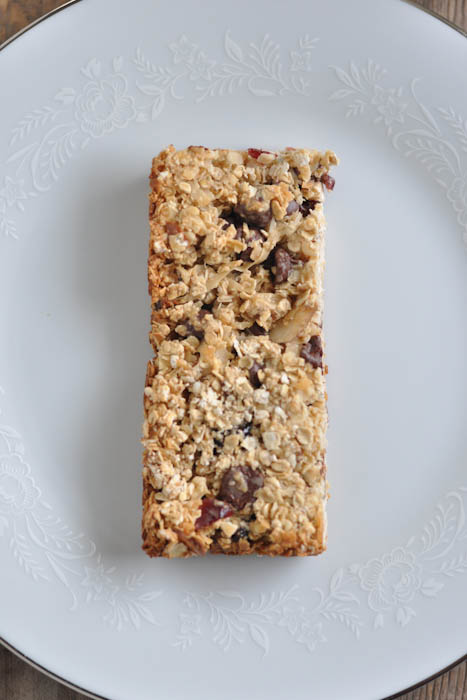 The first time I made them I had the kids help. They loved the dumping and stirring and it was a no-stress recipe for me too. You could really experiment with these using different dried fruits, nuts and seeds to your liking (pumpkin seeds, sunflower seeds, etc). Although these bars are not the lowest in sugar, they are one of our favorites and I'd much rather give my kids a homemade snack with some sugar than one full of preservatives. So much better than the boxed ones! My husband loves these too, but has requested that I come up with more of a high protein power bar so he doesn't have to buy the packaged ones that are filled with "stuff". Stay tuned- hope I can deliver!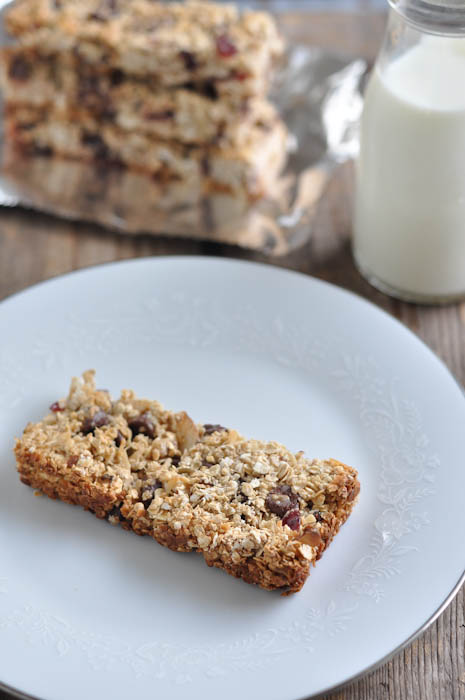 [print_this]
Coconut Granola Bars
INGREDIENTS:
3 cups quick cooking oats
1 cup shredded coconut
1/2 cup slivered almonds
1/2 cup chopped walnuts
1/2 cup dried cranberries
1/2 cup mini chocolate chips
1 (14 ounce) can sweetened condensed milk
2 Tablespoons butter, melted and cooled
DIRECTIONS:
1. Preheat oven to 350 degrees. Line a 9×13 inch baking dish with foil, coated in cooking spray. In a large bowl combine all the ingredients (oats through butter). Stir well to combine.
2. Pour oatmeal mixture into prepared dish, pressing it down with a rubber or wooden spoon. Bake for 25 to 30 minutes or until lightly browned (or longer depending on how crunchy you want them). Let cool for 5 minutes, then gently pull foil with granola mixture out of dish and onto cutting board. Cut into desired-sized squares or bars and continue to cool until firm enough to handle. Makes 14 bars or 28 squares.
COOK'S NOTES: I like mine on the firm side so I cook them a full 30 minutes. Depending on how your oven runs, check them around 25 minutes or sooner.
Recipe from Nutritious Eats
[/print_this]