The following post is sponsored by FitFluential LLC on behalf of Daisy Cottage Cheese.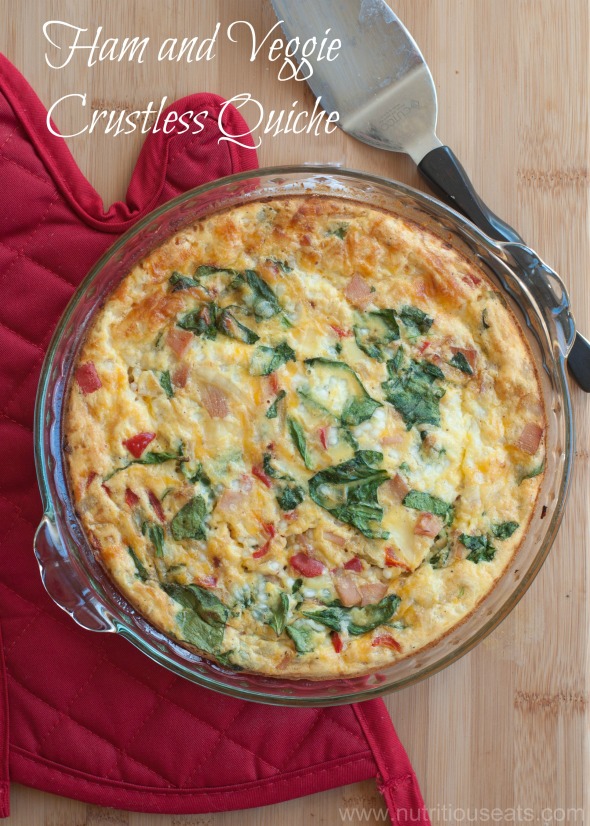 I remember the first time I made this crustless quiche, it was dinnertime and we lived in Austin. I wanted something light and healthy so I decided to make a quiche without the heavy crust (which I do love by the way but not the healthiest part of the dish). It baked up perfect without a crust and paired with a simple salad made a satisfying meal.
The secret ingredient in this crustless quiche is cottage cheese. It helps bind everything together while adding extra protein to the dish.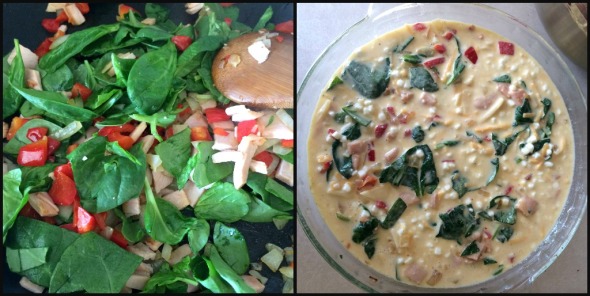 What I love about Daisy Cottage cheese, is not only the taste, but the ingredient list! Daisy Brand Cottage Cheese contains no more than four high quality ingredients, compared with other leading brands which have 10 or more. Check this out! Skim milk, cream and salt. That's it!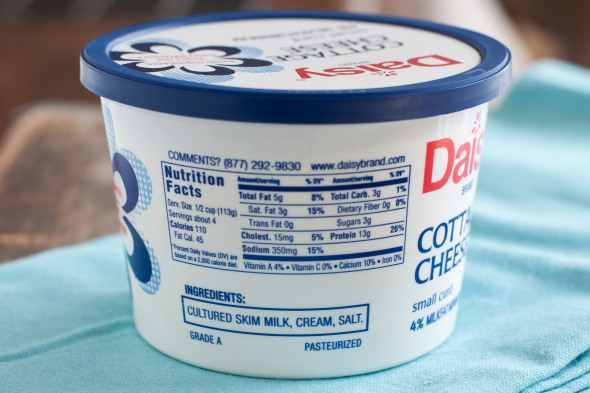 Their new packaging is great too- a bit modern but totally stands out from the crowd. I spotted it immediately as I approached the dairy aisle. I have big brand loyalty when it comes to my sour cream, Daisy it has to be, so I was excited to try their cottage cheese. I bought one regular and one low fat. They have made the rims of the lids colored to make it easy to spot- light blue for low fat, dark blue for regular.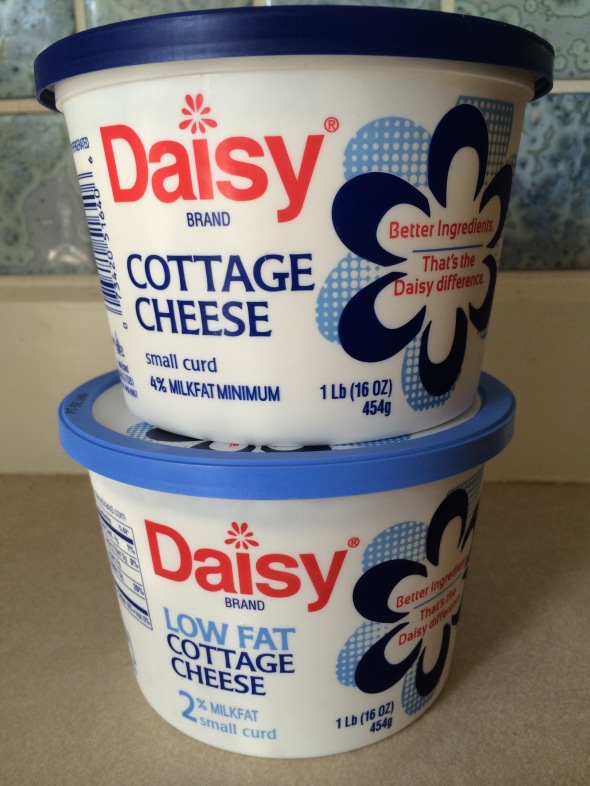 During my last pregnancy I craved cottage cheese with black pepper and hot sauce. I think it was one of my stronger food cravings which was a good thing because it's a lot healthier than the double stuffed ores I also craved.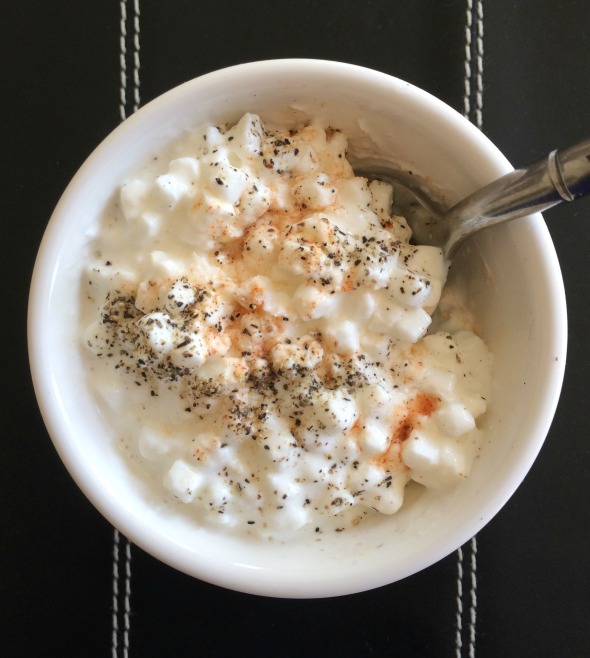 Every 90 calorie 1/2 cup serving of Daisy Low Fat Cottage Cheese is packed with 13 grams of protein, which helps you stay fuller longer.
Daisy Cottage Cheese is also considered a good source of calcium and is free of preservatives and other additives or thickeners. I love that you can enjoy it sweet or savory. Pair it with fruit, top it on crackers or turn it into something delicious like this quiche!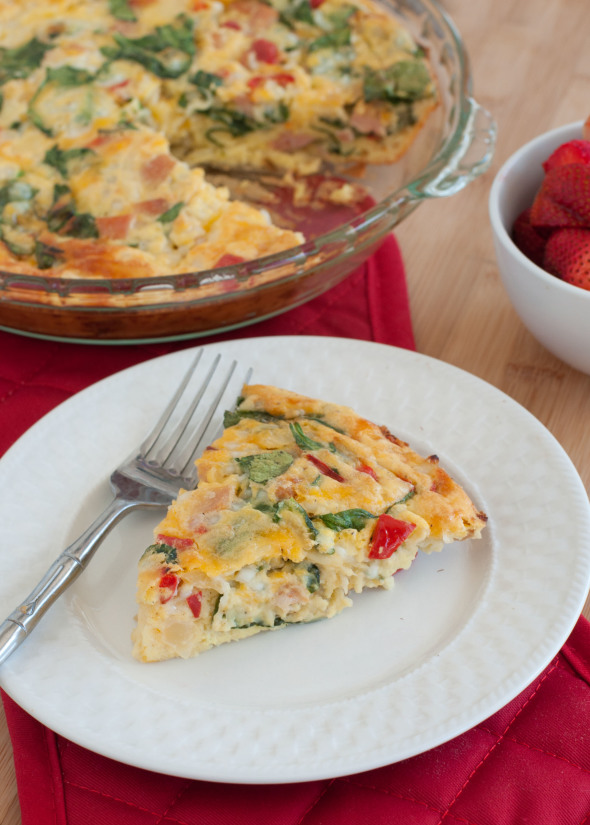 What I love about dishes like this is you can totally customize it depending on what vegetables you want to use. I have been eating mostly vegetarian meals lately but I do love this combo with ham. It's perfect to make after Easter when a lot of people end up with leftover ham.
If you're on twitter be sure to follow Daisy @DaisyHealthRD
If you want to learn more about how to power your way through the day, join the twitter chat with Daisy, hosted by FitFluential LLC! We are all busy people and need more than a cup of coffee to make it through the day. Proper nutrition and quality food, like Daisy's cottage cheese can help get you there.
What: Twitter Chat "Power Your Way Through The Day" with Daisy Brand and FitFluential LLC
Date: April 10, 2014
Time: 9:00 pm EST
Experience the #DaisyDifference!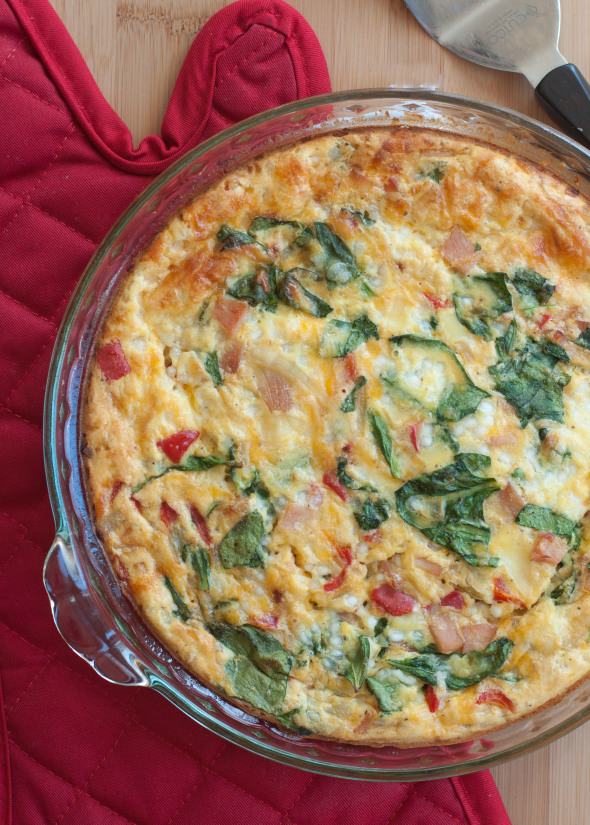 Ham & Veggie Crustless Quiche
Author:
Melanie F | Nutritious Eats
Ingredients
2 teaspoons extra virgin olive oil
¾ cup ham (leftover spiral ham would be perfect)
½ cup diced onion
½ cup diced red bell pepper
2 cups fresh spinach, roughly chopped
4 eggs
1 cup cottage cheese
½ cup milk
½ cup shredded swiss cheese
½ cup shredded sharp cheddar cheese
½ cup all-purpose flour (can substitute all-purpose gluten free flour mix)
1 teaspoon baking powder
¼ teaspoon salt
⅛ teaspoon black pepper
Instructions
Preheat oven to 350 degrees. Grease a pie plate with nonstick cooking oil and set aside.
In a large nonstick sauté pan over medium heat, add 2 teaspoons olive oil. Add onion, bell pepper and ham and sauté 5-6 minutes or until lightly browned. Stir in chopped spinach and remove from heat. Let cool slightly.
While veggies are cooking, whisk together eggs, milk, cottage cheese in a large bowl. Stir in cheeses.
In a small bowl, combine flour, baking powder, salt and pepper. Stir flour mixture into the egg mixture. Stir well to combine.
Gently stir in cooked ham and vegetable mixture. Pour into prepared pie plate and bake for 35 minutes or until eggs are set.