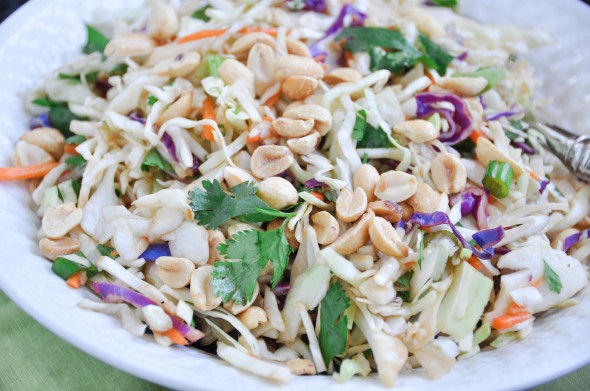 With the exception of today which is rainy, we've had gorgeous weather over the past couple weeks. The clear blue skies have me totally craving grilled food and vegetables. Love spring!
Clean the cupboards continues. I went through all my spices and seasonings, herbs, etc. and in efforts to try and use up some ingredients in my kitchen before we move, made this tasty slaw. It is the perfect easy side for the spring/summer and would compliment grilled chicken, steak, shrimp or tofu! I could definitely eat a big bowl of this- slice in some avocado and you've got a meal.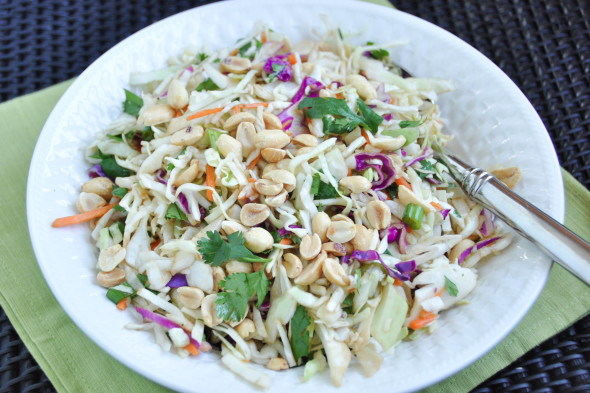 I do not like to over-dress my salads. I hate limp vegetables, plus I prefer the flavor of the vegetables and herbs to shine through. When you pour in the dressing and toss it you might think it's not enough. Just keep tossing though. Eventually every piece of cabbage will pick up some of the dressing and you'll agree it's enough. It's a little tart and a little sweet and so good. I took these pics right after tossing so you can't really even tell it has dressing, but after a few hours the soy sauce kicks in and turns the cole slaw a bit darker. If you like a lot of dressing, just double that part of the recipe. You could always use it to marinate your protein. I like how it doesn't weigh down the slaw, but it still packs a lot of flavor, trust me.
Did you know that cruciferous (or cabbage) family of veggies are super nutritious? In addition to being rich in vitamins and fiber and low in calories, they are full of cancer-fighing phytochemicals. They have been linked to lower cancer risk and have shown to have the ability to stop the growth of cancer cells for tumors in the breast, lung, colon, liver, endometrium and cervix according to the American Institute for Cancer Research.  It's best to eat these veggie raw or lightly steamed to retain most of the phytochemicals. They can also protect against cardiovascular disease by decreasing chronic inflammation. In case you don't know, cabbage isn't the only cruciferous veggie: kale, broccoli, cauliflower, collard greens, brussels sprouts, etc. are also in the family. I could eat slaw everyday and it doesn't get much easier than opening a bag of pre-shredde cabbage and tossing it with some homemade dressing! Make it a part of your routine.
I hope "clean the cupboards" continues to inspire me to cook. The movers come in less than 3 weeks….OMGee! I know I should be doing more. but life with 3 young kids takes up the day as it is. Anyone wanna come help me?!
[print_this]
Asian Slaw
INGREDIENTS:
1 lb (16 ounce) multi-colored cole slaw
1/2 cup sliced green onions
1 cup cilantro leaves, roughly chopped
1/2 cup dry roasted peanuts
Dressing:
2 teaspoons brown sugar
2 teaspoons olive oil
2 teaspoons sesame oil
1 1/2 Tablespoons soy sauce
1 Tablespoon lime juice
2 Tablespoons rice wine vinegar
1 clove garlic, grated
salt and pepper to taste
DIRECTIONS:
1. In a large bowl, toss cabbage, green onions and cilantro.
2. In a separate small bowl combine all the ingredients for the dressing and whisk together. Pour on to slaw mixture and toss well to combine. Top with peanuts and serve or refrigerate.
COOK'S NOTES: This slaw can be dressed a few hours before serving, however with additional time the cabbage loses some of it's crispness.
[/print_this]
Recipe from Nutritious Eats
Question: What is your favorite cruciferous vegetable?