Every year on Valentine's Day my husband and I put the kids to bed a little early and enjoy a romantic home cooked meal instead of worrying about making reservations at some fancy restaurant. How is it different than any other night I cook? Well for one thing, the kids are in bed. We open a good bottle of wine or champagne and eat a meal that consists of food we don't have on a typical weeknight. There is no complaining, food throwing or spilled milk. It's lovely. I even put out nice place mats, linens and our nice crystal. Plus there is dessert…chocolate to be exact, always chocolate. Chocolate is soooo romantic wouldn't you agree?
At any given time you can find my pantry well stocked with Ghirardelli baking chips and bars. They are my favorite to use in baking and are the ultimate dessert indulgence.
When I was asked to create a Valentine's Day dessert recipe using Ghirardelli baking chips or melted wafers of course I said yes. I already had the products in my pantry so it was a no-brainer!
The 60% cacao bittersweet chips are my favorite and I usually sub them for any recipe that calls for semisweet chips. Although I do always have a bag of semisweet chips on hand too (they come in 10-12 ounce bags). I also keep the 4 ounce bars on hand too for all my baking needs. I like them best in my brownie recipe which happens to be my husbands favorite.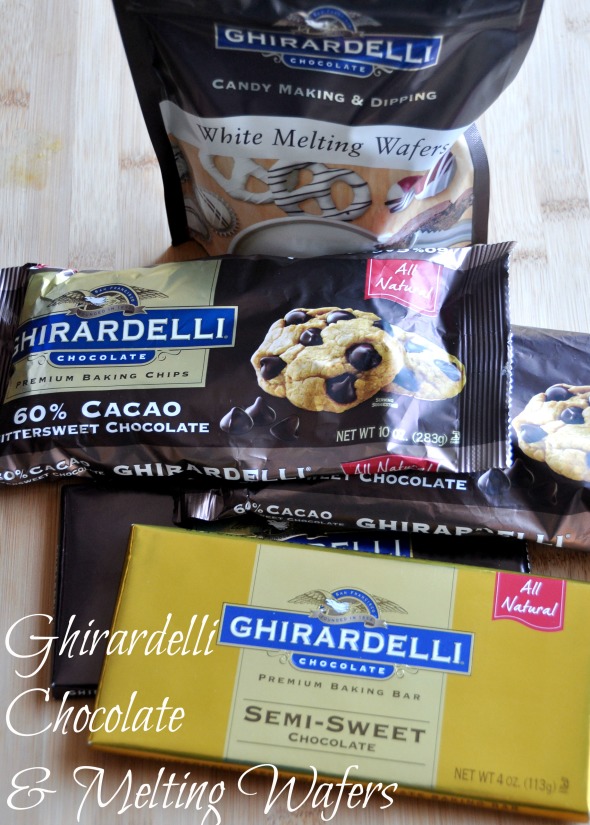 What's to love about Ghirardelli products? They are made with a proprietary blend of quality ingredients and in my opinion just carry more flavor than other chocolate chips and baking bars. The result is always rich yet smooth plus they melt so easily unlike some brands. I love the slightly larger size of chip of the 60% cacao- they are ridiculously good in chocolate chip cookies.
They also carry an 70% cocoa extra-bittersweet and 100% cocoa unsweetened baking bar in addition to the milk chocolate, white chocolate, semisweet and 60% cocoa bittersweet that all come in bars or chips. If I had an extra pantry I think I would just stock it full of a variety because I.LOVE.CHOCOLATE.
So as stared at my stash of chocolate I wondered what to make? Chocolate dipped heart shaped cookies, brownies cut into hearts, truffles…..all front runners. I thought about what I would want to eat for my Valentine's dessert and I immediately thought of two things 1) chocolate 2) cheesecake. Chocolate cheesecake it is! Not only is chocolate romantic but chocolate cheesecake is even more romantic. I love the luscious texture and rich flavor of cheesecake. What more could you want in a dessert?
What I love about making cheesecake is that it's such a great make-ahead dessert and freezes beautifully. It's actually quite easy to make if you don't care about having cracks in your cheesecake which I don't (and yes I used a water bath).
My honey won't be around this Valentine's Day to share this delicious, decadent, creamy chocolate cheesecake but my little rug rats will certainly enjoy it with me. Hope you have a lovely Valentine's Day and if you're celebrating that special person in your life, make this cheesecake. It won't disappoint!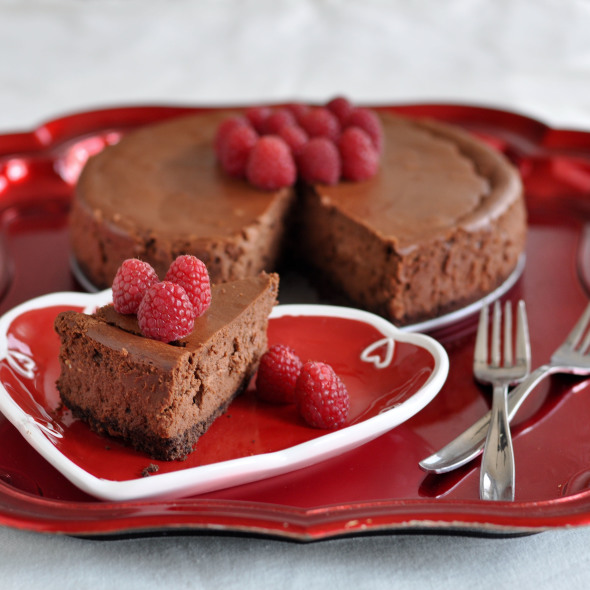 Ghiardelli baking chips, bars and melting wafters can be found at grocery, mass and club stores nationwide. For more info on Ghiardelli check out their site  HERE.
They have some pretty tasty looking dessert recipes on the site if you want additional ideas.
Double Chocolate Cheesecake
Ingredients
3 8-ounce packages cream cheese, at room temperature
1¼ cup sugar
½ cup sour cream
2 teaspoons vanilla extract
⅛ teaspoon salt
4 Tablespoons unsweetened cocoa powder, sifted
8 ounces, bittersweet chocolate melted
1 teaspoon instant coffee granules
3 eggs, room temperature
For the crust
1½ cups finely ground chocolate cookie crumbs (from chocolate graham crackers, chocolate sandwich cookies or chocolate wafers- can also sub gluten free chocolate sandwich cookies)
⅛ teaspoon cinnamon
1 Tablespoon sugar
½ stick unsalted butter (1/4 cup), melted
Instructions
Preheat oven to 350. Wrap aluminum foil around the bottom and up the sides of a 9 inch springform pan and set aside. Place chocolate graham crackers or cookies in a food processor and pulse until finely chopped. Transfer to a bowl. Stir in cinnamon, sugar and melted butter. Stir to combine. Pour crumbs into prepared pan and press down with the bottom of flat glass. Bake for 10 minutes. Set aside.
Melt chocolate in double boiler or in a metal bowl set over a pan of simmering water on low heat and stir until melted. Stir in instant coffee. Set aside to cool slightly.
In a large bowl using a hand held mixer beat cream cheese until very smooth and fluffy. Add sugar, sour cream, vanilla, salt and cocoa powder and mix until combined, stopping to scrap sides when needed. Stir in melted chocolate and mix until well blended. Add in eggs one at a time until incorporated but do not over mix.
Pour mixture over cooled crust, spread evenly and smooth the top. Place springform pan in a water bath (see note below). Bake at 350 degrees for 50-60 minutes or until cheesecake is set and middle is still slightly jiggly.
Remove from oven to a cooling rack. Let cheesecake cool (still in pan) to room temperature then refrigerate until well chilled, overnight for the best texture and flavor.
To serve, unclasp pan's ring. Run a thin knife under hot water, wipe it dry and cut into slices.
Notes
For water bath, make sure to wrap the bottom and sides of your springform pan in aluminum foil to prevent water from leaking in (heavy duty foil is best or two pieces of foil criss-crossed so that all the sides are well protected and water can't get in. Place springform pan in a roasting pan or sheet pan with at least a 1 inch edge. Place into oven and carefully pour enough hot water to reach half way up the pan. This will create a slow, moist heat that will help prevent cracks in your cheesecake.
This step is not absolutely necessary.



Do you go out to eat on Valentine's Day or stay home? Are you planning on making dessert? Are you a fan of chocolate?
I was selected for this opportunity as a member of Clever Girls Collective and the content and opinions expressed here are all my own.