Easy Green Curry with Chicken and Vegetables comes together in a hurry, is easy to customize and is naturally gluten and dairy free!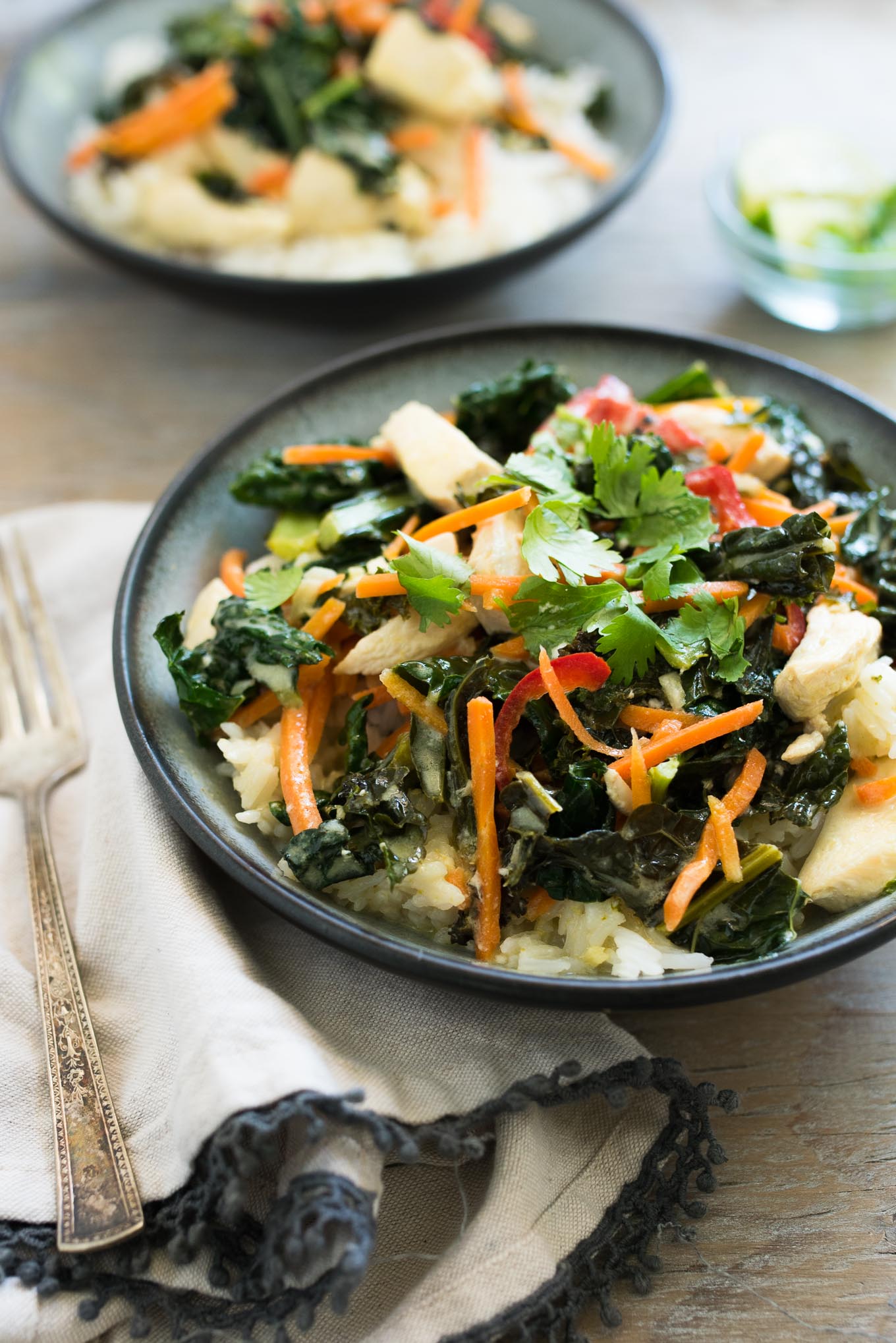 Do you get stumped around dinnertime trying to figure out what to make? If I don't plan a little on the weekend, I am serving up freezer food or cereal. I think even if you have one new recipe in mind, it helps because you can plan for leftovers then focus on some basics the rest of the week.
I am not too adventurous when it comes to authentic ethnic cuisine, but for the ease of this curry, it turned out pretty tasty! My 10 year old even ate it, kale and all. Nowadays everything I cook has to be ready in around 30 minutes as I simply don't have any more time.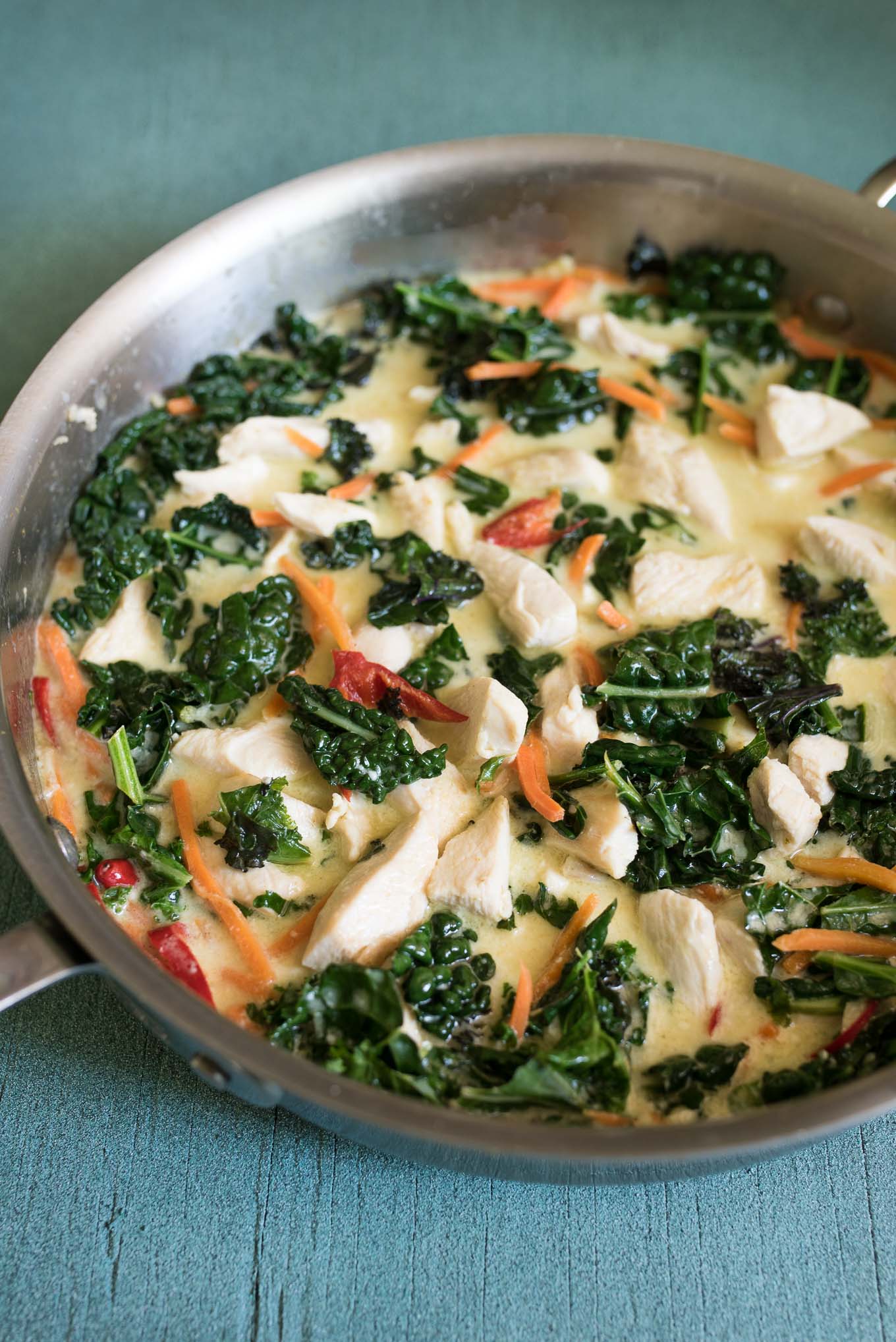 Thank goodness for all the great products we can find in the grocery store that can help speed up the cooking process- green curry paste plus coconut milk gives you a pretty authentic flavored dish (although I am sure there are some Thai experts that would disagree, ha).
The peppers are optional, depending on if you like a little heat (a painful heat has always been our preference, but I do have to tailor it to the kids).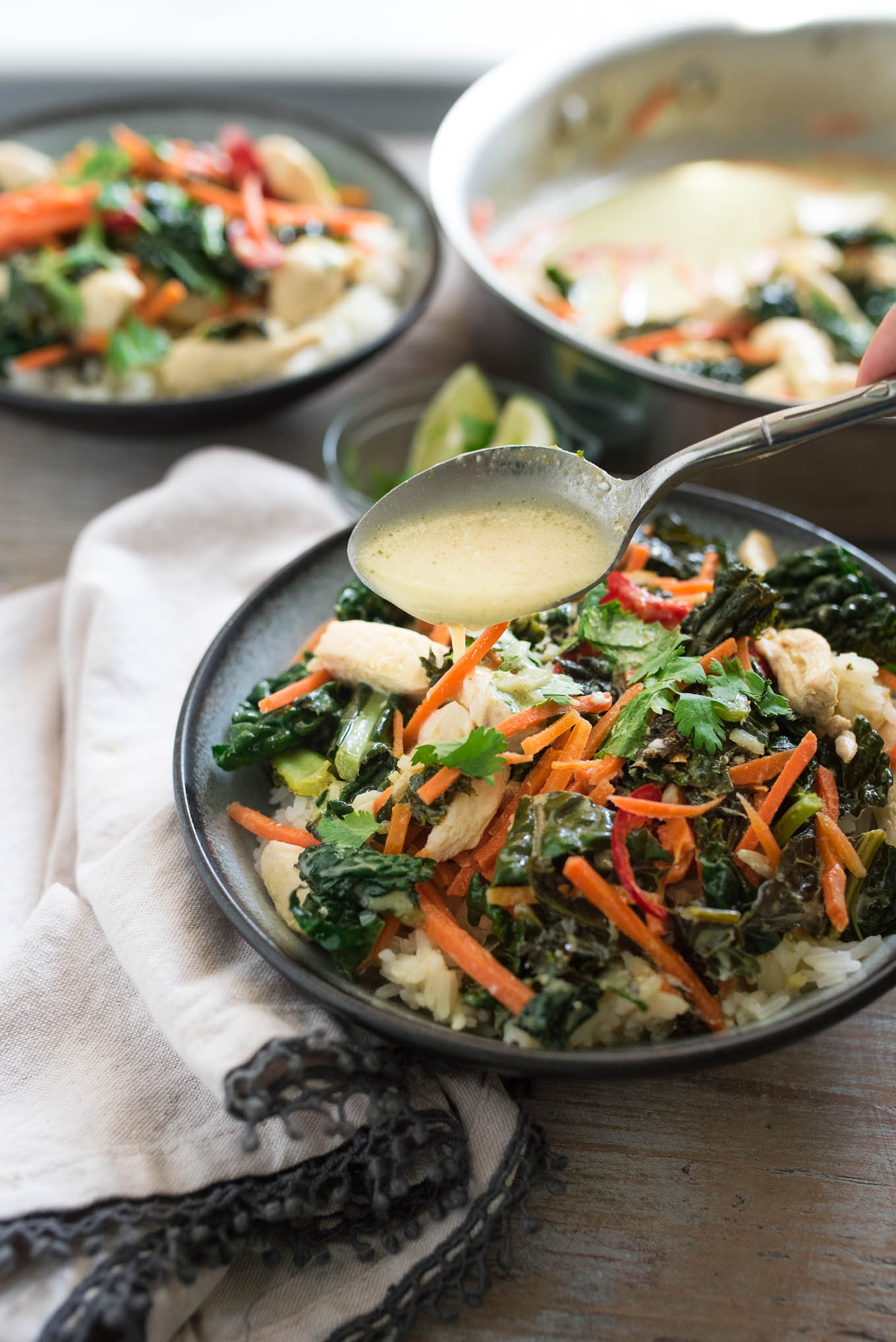 I love a recipe like this that you can easily swap with any protein; shrimp or tofu would be great or none at all. Just sub some extra vegetables and have a great vegetarian meal! If you are not into rice, serve it over some rice noodles. Yum and naturally gluten free.
This recipe is a keeper!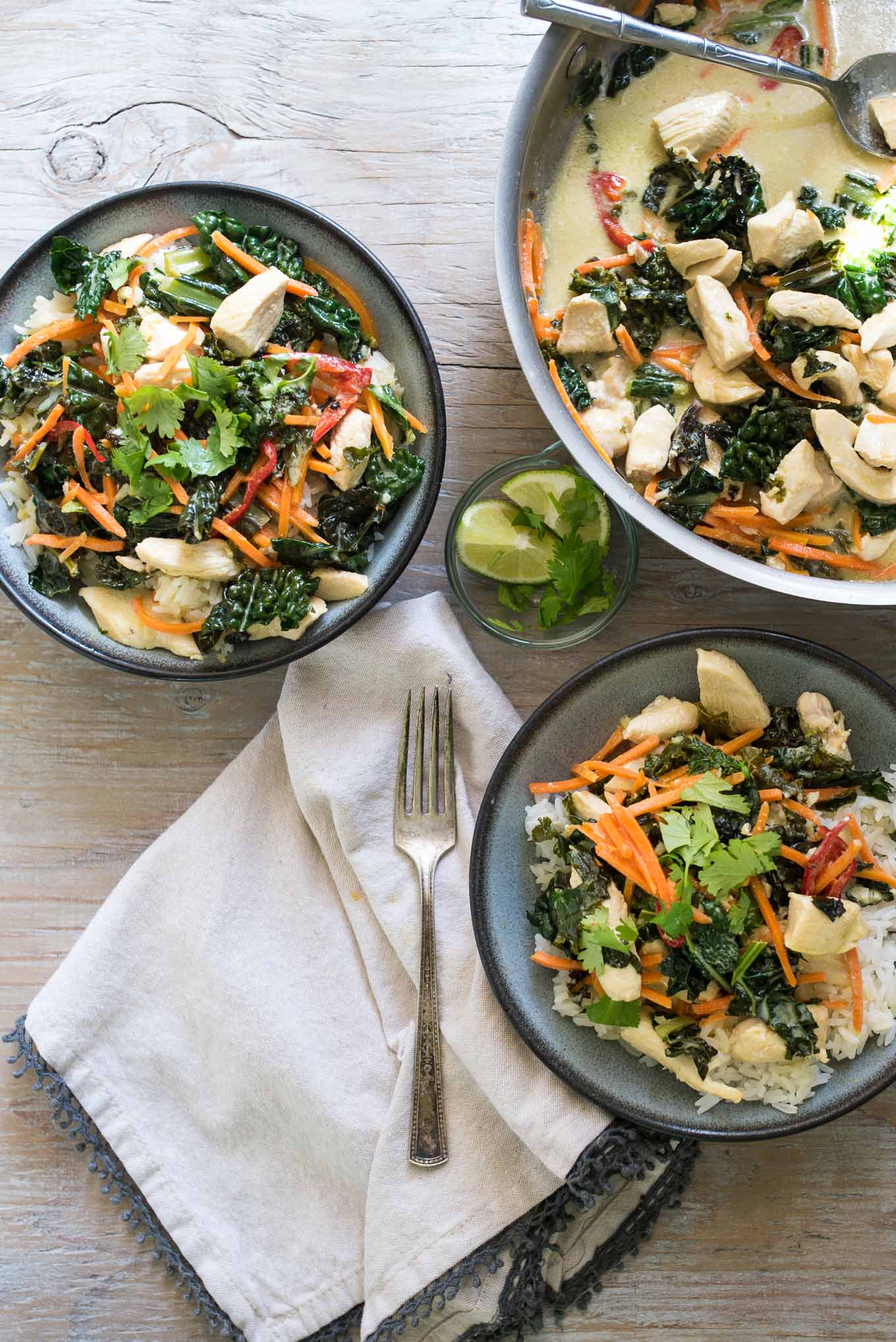 What have been your go-to, under 30 minutes weeknight meals?
Helpful Tools Used in Making This Dish and Related Links:
Stainless Steel Skillet – I got my first set as a wedding gift almost 13 years ago and they are indestructible. I love this size since it's a deeper skillet and can handle all those vegetables. Plus it's safe to cook with!
Tongs– a love using tongs for working those vegetables in, especially the leafy greens like spinach or kale.
Coconut Milk just go ahead and buy this in bulk. It's great is so many dishes from desserts to savory meals.
Green Curry PasteGreen Curry Paste– this stuff is great and authentic tasting. One little jar lasts about 3 dishes such as this one posted so it's a good one to buy in bulk.
Let me know if you try it!
Green Curry with Chicken and Kale
Author:
Melanie F. | Nutritious Eats
Ingredients
2 teaspoons coconut oil
1 lb chicken breast, cut into strips, then smaller pieces
1 tablespoon minced ginger
1 tablespoon minced garlic
½ to 1 sliced fresh red hot chili peppers (optional)
2 tablespoons green curry paste (found in the Asian food aisle)
1 can full fat coconut milk
½ cup chicken broth (can sub vegetable broth)
1½ cup shredded carrots
5 cup chopped lacinato kale
pinch of salt
juice from one lime
basmati rice or rice noodles to serve it over
Instructions
Heat a large skillet to medium heat. Add coconut oil, chicken pieces and cook for about 7 minutes (it's okay if they are still a little pink inside, but you want them mostly cooked through). Remove chicken to a plate.
Add 1 more teaspoon coconut oil, then add ginger and garlic (and peppers if using). Sauté for a minute. Add curry paste, coconut milk and use a whisk to combine.
Add carrots and chopped kale, stirring to combine. Next, add chicken broth, a pinch of salt and the juice from one lime. Simmer for about 5 minutes.
Next, add chicken back to pan and simmer for a few more minutes or until chicken is cooked through. Taste and add an additional pinch of salt if needed. Serve over basmati rice or rice noodles.

 
Affiliate links are included in this post.