Now my family rarely eats out. We limit dinners out to about 3 times a month and we always pack lunches for work or school mainly because it allows us to eat more healthfully. Honestly I have no problem eating out once or twice a week if I could, but there are two other reasons why we avoid it 1) eating out with small children is not fun 2) we have a different budget with our new family size and eating out for 5 is expensive.  Good thing I like to cook!
Although I do miss trying out great restaurants, I appreciate that I have no problems maintaining my weight and I know a lot of that has to do with the fact that I cook 95% from home. Unfortunately as healthy as restaurant food claims to be, it almost always has more fat, sodium and calories than home cooked food (of the equivalence).
However, having worked in the corporate world before I know that a lot of people eat out and they are going to continue to eat out. They have business lunches and dinners, they have events catered, they grab stuff on the go. My biggest problem with that lifestyle is not knowing exactly how your food is being prepared (and a brief description on the menu isn't what I am talking about). I like to know where things were purchased, how they were stored, handled and prepared. You don't get to know all of that when you eat out.
If you are trying to lose weight and/or just eat healthier in general think about these things before you go out to eat: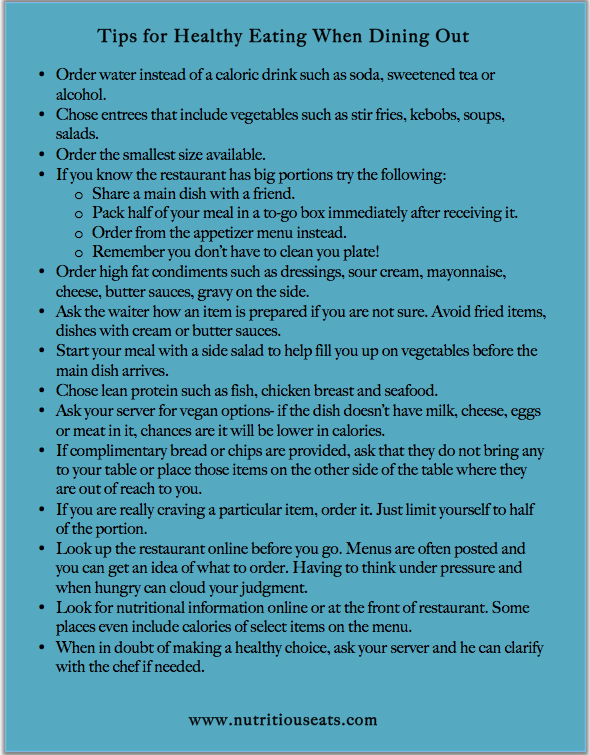 Hope you all have a wonderful weekend whether you dine out or not! Don't forget to check out my Super Bowl food ideas in the previous post if you missed it. Enjoy the game!
Questions: Do you eat out often? What are your strategies for making good choices? What are your weaknesses when eating out? What tips did I forget (I ran out of room but I'd love to hear your ideas)?!