Happy Friday! It's been a good week! I might have overbooked the kid's activities- flag football, cheerleading, gymnastics, piano, Vacation Bible School next week. I am excited about vacation and then a nice, light schedule in August.
On a personal note, I have no idea how trying to keep a blog up and running on a regular basis became so hard. I guess it was adding the forth kiddo to our brood. I am determined to get back to 3 consistent posts a week but that might not happen until after vacation.
I thought I'd bring back Friday Favorites, but this time I'm going to share more than just my favorite retail products. I thought I'd share other things too such as a favorite new recipe, a favorite post I read this week, a favorite picture I took, etc.
So let's dive in to my favorites this week, shall we?
Favorite recipe
I linked to it earlier this week but made Cooking Light's Cuban Black Beans over rice with green salsa and guacamole and a little cheese. Cooking with the slow cooker is always a win. Who doesn' want dinner taken care of earlier in the day? It's so much less stress that way and helpful since the kid's activities are in the late afternoon/early evening. This is a great affordable meal with plenty of leftovers! Now that's the way to save a little money.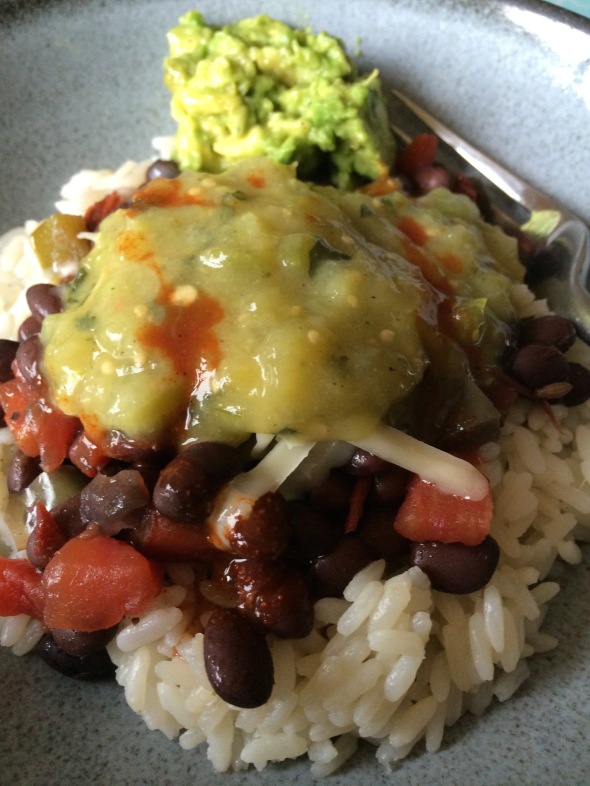 Favorite picture
Just some quick iPhone shots of the 5 month girl. I love her hanging on to that foot- such a sweet, happy baby.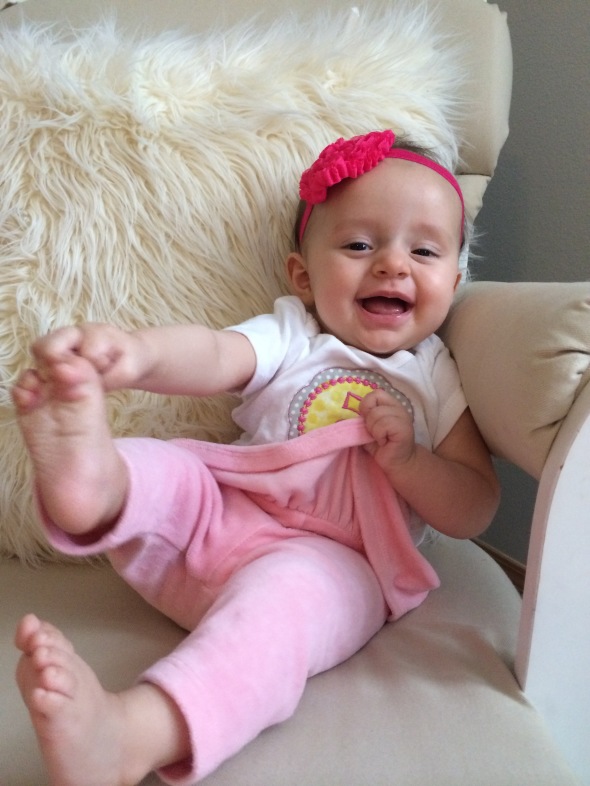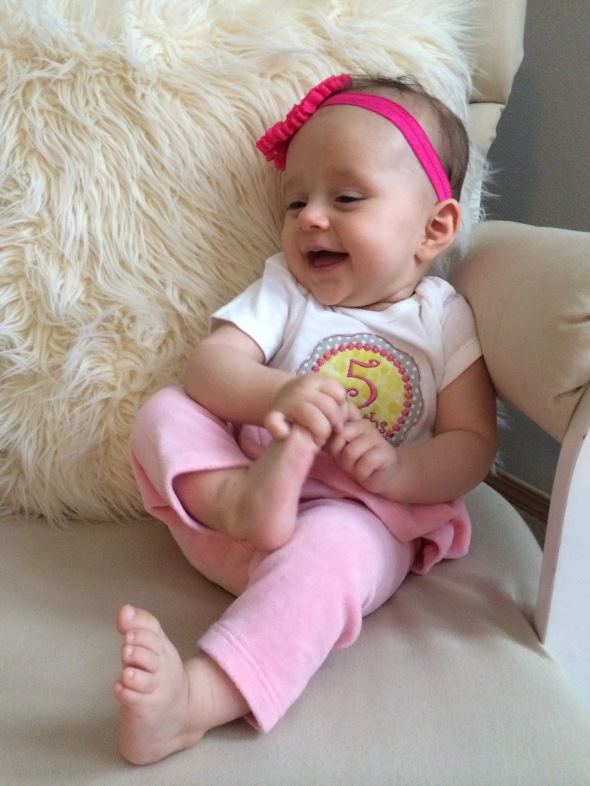 Favorite product
This delicious Puro Coffee I received from the sweet people over at Puro Fairtrade Coffee. Not only do I loooooove coffee, I love what this company's beliefs. It's organic and fair-trade, a product that comes from conscious heart by saving the rainforest. I love that.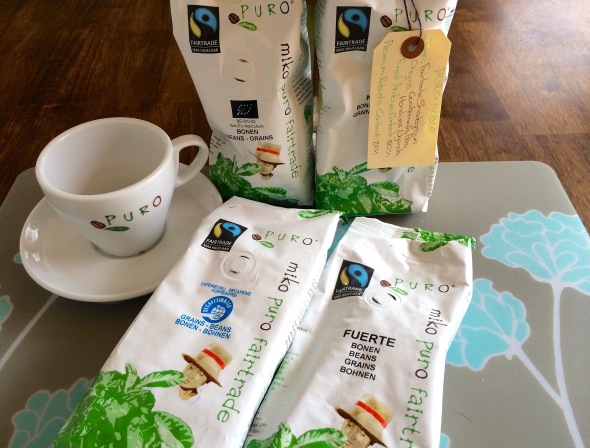 A mid-morning snack, a cup of freshly brewed Puro Noble and some nuts and apricots.
It was a perfect blend- smooth, rich and well-balanced. Puro coffee is quite popular in Europe, but you won't them in grocery stores here as they are currently looking for an online distributor.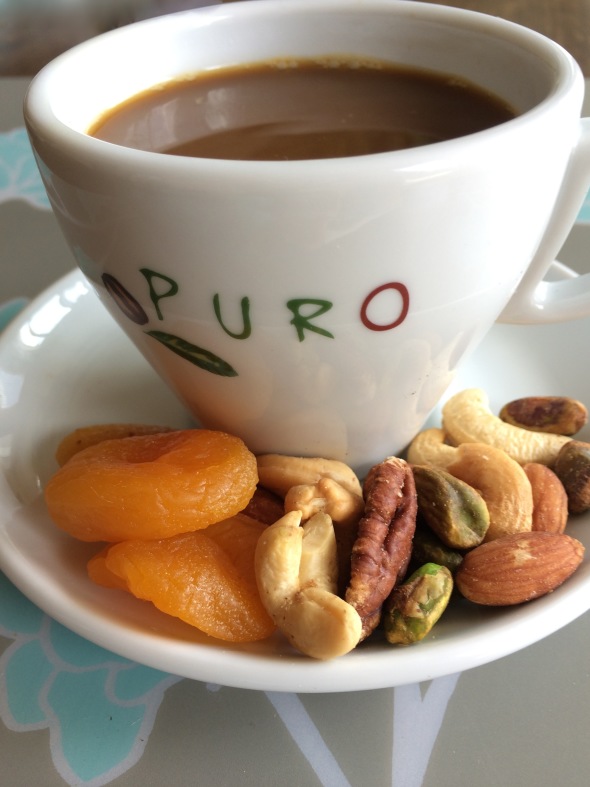 Puro was created in 2005 and since its then, has always sourced Fair trade, organic and shade grown coffee. You might be asking "what does organic, shade-grown coffee even mean?"
The folks behind Puro Coffee are at the forefront of buying and protecting rainforests and are actively working alongside the World Land Trust. For every cup of coffee sold, money is given to buy and protect areas of rainforest in South America. To date, they've saved over 10,000 acres of rainforest across 6 countries! They really stand behind the local villages and coffee farmers which is so nice to hear.
Watch this quick video to learn more about Puro- warning it might make you want to visit the rainforest and buy lots of Puro Coffee.
Puro Fairtrade Coffee from Puro Fairtrade Coffee on Vimeo.
Puro Fairtrade is looking for a US Distributor so hopefully by sharing information about this company, they will find one!
Favorite post
Are Artificial Food Dyes Safe For Kids by Real Mom Nutrition. I try to stay to away from food dyes, period. Whether or not there is a lot of research to support it, I'd rather be safe.
Favorite deal 
I scored this Old Navy dress in this pretty blue for $6.50 thanks to a friend who saw it and thought of me. I have no idea why it was on the clearance rack at the stores, but not the same price online. It can be dressed up or thrown over a swim suit. It will be perfect to take on vacation!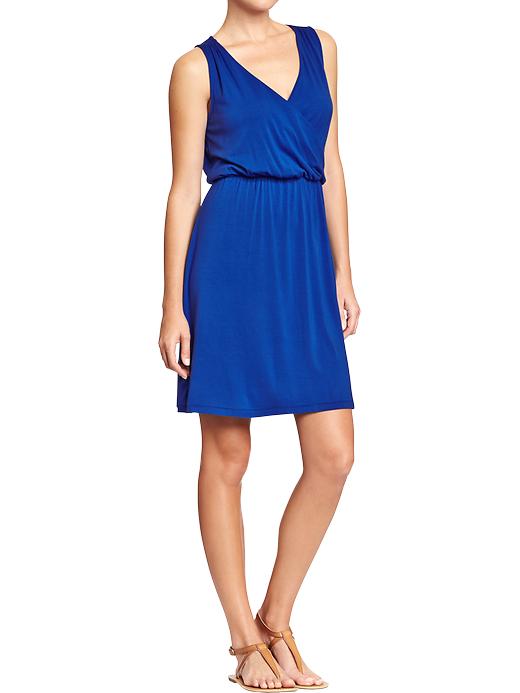 Questions: So that sums up my week. How was yours? Any new favorites enter your life this week?
Disclaimer: This is not a sponsored post. I did receive free coffee from Puro Fairtrade Coffee, as mentioned above. All opinions are 100% my own.