If you know me, you know I prefer chocolate dessert over any other kind. However, during the Holiday months I feel compelled to cook more with the traditional seasonal flavors- pumpkin, pecan, gingerbread, etc.
Enter the gingerbread cupcake.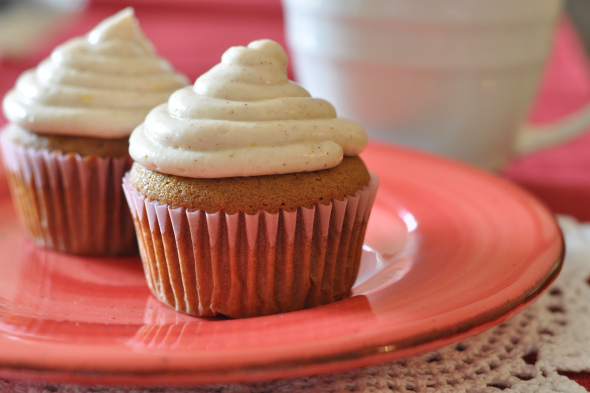 Be prepared to fall in love with this frosting. I did. I will forever keep this recipe in my cooking archives due to the delicious frosting alone. Even if you don't want to make the cake, make this frosting and slather it on anything you can find. You won't be sorry.
See those little specks in the frosting? Cinnamon. And you see that dot of yellow? Lemon zest. It is heavenly.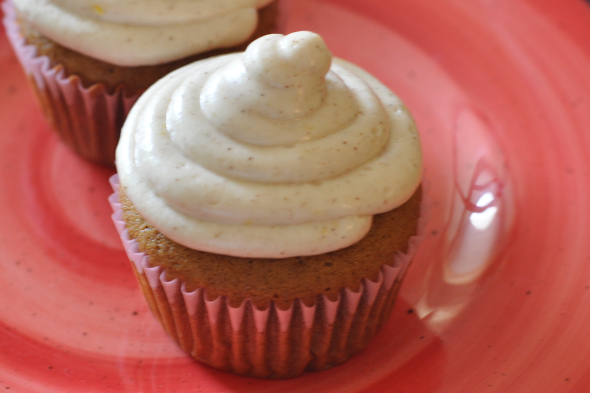 Back to the cupcake, the cupcake itself was not overly sweet; in fact it could pass as a morning muffin (it only has 1/2 cup sugar in it which is fairly low in the world of desserts).
Until you slather it in the frosting.
Keep these in mind over the next month if you need to bring any Holiday dessert to a party. BTW, these will go in my "splurge-worthy" section. If you eat a healthy diet on a regular basis, you can most certainly treat yourself to some "real" desserts or other treats during the Holiday season. Just make sure it's something that really sounds good to you. Keep up the exercise and watch your portions.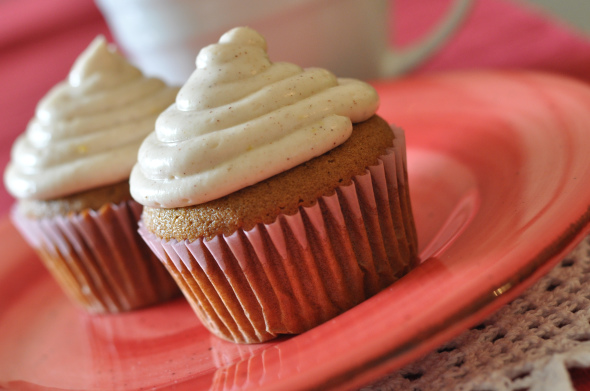 Gingerbread Cupcakes
Recipe from Betty Crocker, Fall Baking
INGREDIENTS:
Cupcakes:
1/2 cup granulated sugar
1/2 cup butter, softened
1/2 cup molasses
2 eggs
2 cups all purpose flour
1 teaspoon baking soda
1/2 teaspoon salt
1 1/2 teaspoons ground ginger
1/2 teaspoon ground cinnamon
1/2 teaspoon ground allspice
3/4 cup water
Frosting:
1 8 ounce package cream cheese, softened
1/4 cup butter, softened
2 teaspoons grated lemon peel
1 teaspoon ground cinnamon
1 teaspoon vanilla
4 cups (1 lb) powdered sugar
1 to 2 teaspoons milk
DIRECTIONS:
1. Heat oven to 375 degrees. Place paper baking cups in regular sized muffin pan.
2. In a large bowl, beat sugar, 1/2 cup of butter, the molasses and eggs on medium speed of an electric mixer. Stir in flour, baking soda, salt, ginger, 1/2 teaspoon cinnamon, allspice and water. Spoon ~1/4 cup batter into prepared muffin pan.
3. Bake 15-18 minutes or until toothpick comes out clean. Cool 5 minutes before transferring cupcakes to cooling rack. Cool completely, about 20 minutes.
4. Meanwhile in a medium bowl beat cream cheese, 1/4 cup butter, lemon peel, 1 teaspoon cinnamon and the vanilla on low speed with an electric mixer until smooth. Gradually beat in powdered sugar, 1 cup at a time, on low speed until smooth. Add milk, 1 teaspoon at a time until spreadable.
5. Pipe or spread a generous amount of frosting on the top of each cupcake. Store in the refrigerator, covered.
NOTES: I forgot to add the milk to the frosting and it was fine. It was perfect. I always use the lower fat cream cheese instead of the regular…..but not the fat free. If you don't have a microplane, buy one. It will make that lemon zesting a breeze. One last thing, if you don't have the piping supplies, here is a tip to get your frosting to look more professional. Just spoon it into a zip lock sandwich or freezer bag, work it all the way down to one corner of the bag. Snip a little tip off the corner and use it like a tube of icing to frost the cupcake.