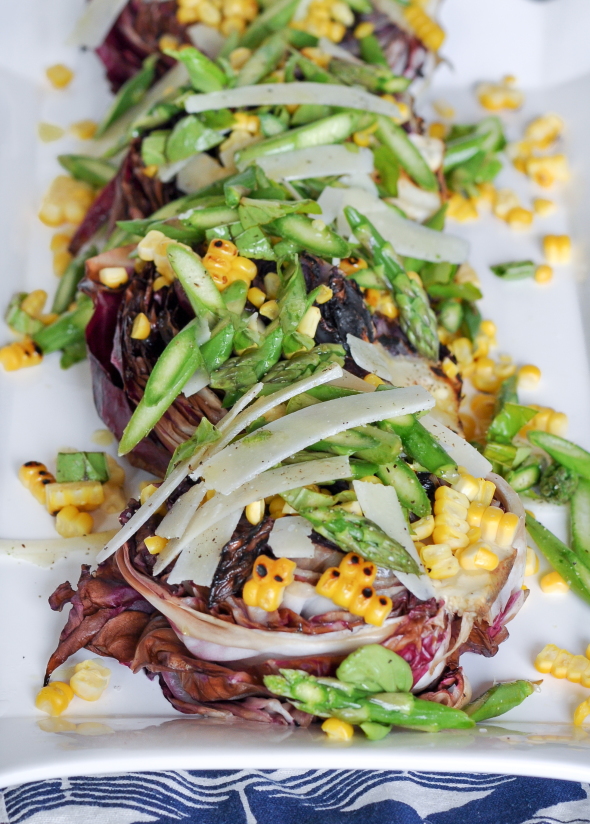 I don't get a chance to watch daytime TV very often but I do love when I am able to catch the Chew on ABC. If you're not familiar with the Chew, it's a talk show/cooking show on ABC. I personally love it because it focuses on food more than anything else. Plus the co-hosts are fun, entertaining and most importantly share great recipes.
Speaking of co-hosts, what a diverse group! I first was introduced to Carla Hall whom I love, from Top Chef and have gotten to know Michael Symon, an Iron Chef, and Mario Batali from the Food Network (who doesn't love their food??) and Clinton Kelly who you probably know from What Not To Wear. Daphne Oz was the only co-host that was new to me and once I found out she is the daughter of heart surgeon Dr. Oz, I knew she would be interesting to watch. I love her emphasis on healthy, whole food. In a nutshell, they are witty, energetic without being annoying and clearly experts in their field. They will leave you smiling for sure!
All summer-long, ABC's The Chew is your one-stop shop for everything food. From grilling and outdoor entertaining to road trips and picnics, The Chew is dishing out the most sizzling, mouth-watering meals to satisfy your summer cravings!  
In this episode Michael Symon shares his favorite BBQ dish, Smoked Pork and Peaches; Carla Hall teams with Curtis Stone, Chef and author who is guest co-hosting to make two of my favorite BBQ sides, including Mac and Cheese with Gruyre, Cheddar and Bacon and Fireworks Coleslaw. Don't you just love Curtis Stone? If you are nodding yes then you won't want to miss this episode!
I was inspired to try Daphne's grilled radicchio salad not only because it looks delicious, but because a restaurant I recently ate at in San Antonio had a grilled radicchio salad on the menu that I wanted to try but didn't. Daphne's recipe offers a simple, special and spectacular version so you get to choose how far you want to take it. She tops hers with an easy balsamic reduction that I am definitely going to try next time.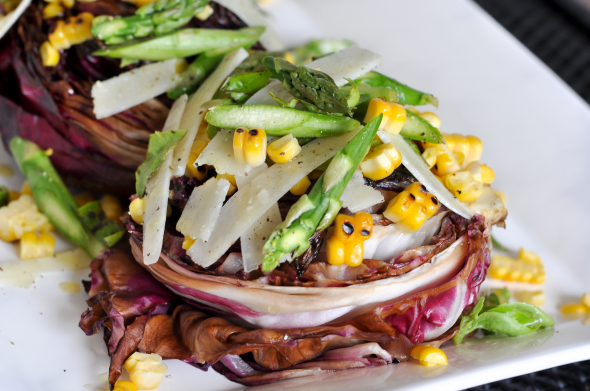 Since I love pairing salads with my lemon vinaigrette I decided to do that instead of the balsamic reduction (plus I always have my dressing on hand). I also swapped out the chives for fresh basil. This was my first time grilling lettuce and I loved the final dish. After you present it and cut it up on your plate, you can drizzle with additional salad dressing if desired. My husband and I enjoyed it with our grilled fish dinner and I was lucky to get the leftovers!
Check out this quick clip of Daphne making her radicchio salad; you've got to see her simple way of getting corn kernels off the cob safely. Then make sure to print or save to Ziplist my version of the recipe! It's healthy, unique and tastes delicious.
Note, radicchio is a bitter lettuce so I think the pairing of the sweet corn is a must. If you are not a fan you could always grill some romaine instead. 
Grilled Radicchio Salad
Ingredients
2 heads of radicchio, cut in half lengthwise, outer leaves removed
2 ears of corn
1 cup fresh asparagus, cut thinly on a diagonal
½ cup shaved Pecorino Romano
⅓ cup fresh Basil, chopped
salt
pepper
1 lemon wedge
olive oil for drizzling
For the Lemon Vinaigrette
1 teaspoon dijon mustard
2 Tablespoons fresh lemon juice
1 garlic clove, grated
¼ teaspoon sugar
⅓ cup olive oil
a pinch of salt and pepper
Instructions
Pre heat grill (or grill pan) to medium heat. Grill corn ~10 minutes or until lightly charred, rotating ¼ turns every 1-2 minutes.
Season radicchio halves with a drizzle of olive oil, salt and pepper. Place cut side down on the grill and cook for 3 minutes, flip and cook an additional 2-3 minute. Remove from grill.
Once corn is cool enough to handle, cut kernels off.
Place cut asparagus in a bowl, stir in pecorino cheese, chopped basil and season with a squeeze of lemon juice, salt and pepper.
Top radicchio halves with corn and asparagus mixture. Drizzle with lemon vinaigrette.
Serve salad with additional dressing on the table.
For dressing:
Combine mustard through sugar, slowly drizzle in olive oil. Season with salt and pepper.
Notes
Recipe adapted from Daphne Oz, the Chew
I'm always looking for new ways to spice up my Summer dishes, and ABC's The Chew serves up everything from grilling and outdoor entertaining to road trips and picnics. Watch weekdays 1e|12p|c on ABC to see what celebrity chefs Mario Batali, Michael Symon, and Carla Hall, lifestyle expert Clinton Kelly and fresh face of healthy living Daphne Oz are dishing out to inspire you this Summer.
This is a sponsored conversation written by me on behalf of ABC's The Chew. The opinions and text are all mine.