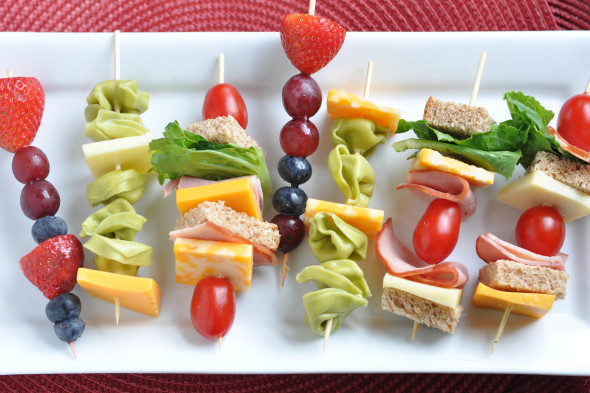 I have been brainstorming fun lunch ideas for the kids and threw these together this week. The kids loved them. I just put the big platter on the table and let them pick out what they wanted.
It was funny to watch how my kids ate these. I told them one end was a little sharp and to be careful. Then they took everything off the kebobs and used the sticks like chop sticks to eat everything. They were having so much fun using the "chop sticks" that they even ate the lettuce and tomatoes without force! Success. These might not be appropriate for school lunches depending on the age of your child (due to the sticks) but I think they'd be great for older ones, saving the use for the younger ones when parents are carefully watching.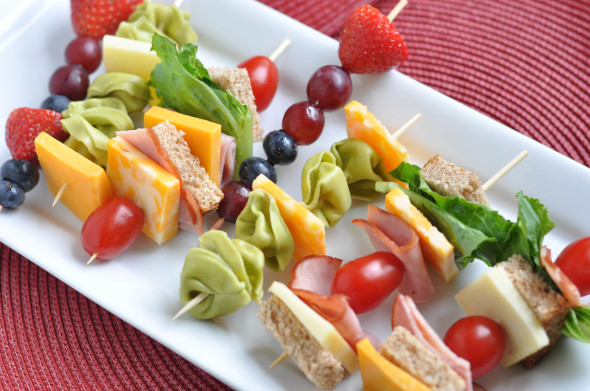 Use your imagination- you can put almost anything on a stick. It really just makes lunch more fun. Obviously any lunch meat will do, pepperoni, you name it. Here are a the few I threw together this week.

Wouldn't these be great for a kid's party?
[print_this]
Lunch "Kebobs"
Sandwich Kebobs
Whole Wheat Bread, cut into 1 1/2 inch squares
Ham, folded in half and cut into sqaures
Variety of block cheese, cut into sqaures
Grape Tomatoes
Romaine, torn into pieces
Pasta Kebobs
Tortelinni, cooked
Cheese, cut into squares
Grape Tomatoes (optional)
Fruit Kebobs
Variety of Fruit: Strawberries, blueberries, grapes, pineapple, apple, banana slices, etc.
COOK'S NOTES: You can substitute a variety of lunchmeat, cubed chicken, pepperoni in the sandwich kebob, as well as other cut veggies that will hold their shape like cucumber or bell peppers.
Recipe from Nutritious Eats
[/print_this]