There was a time that I wasn't very fond of soup. Just wasn't interested in them at all. Then I started making my own and realized soup is one of the easiest things to make and I love being able to control the fat and sodium. Sorry folks, but soup is not where I want to waste my calories and fat grams. I'd rather have fried chicken.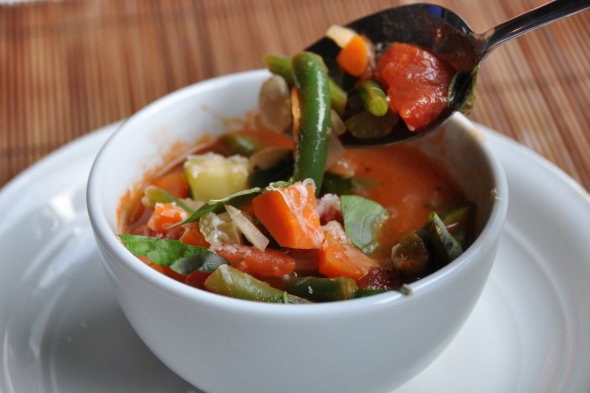 This is vegetable soup recipe from Mrs. Rachael Ray, the girl who taught me to cook. Kind of. Back when I lived in San Diego and worked the early shift (and didn't have kids) I'd get home at 3:30pm and watch back to back episodes of Rachael Ray's 30 minute meals. She has serious chopping skills and I learned a lot just from watching her cook. Then I fell in love with Ina and Giada and Bobby and well those are just different stories for a different time.
Back to the soup. It is full of veggies and beans. It is so simple yet so tasty. Kind of like a minestrone without the pasta. I started making this one back in Austin whenever one of us was coming down with a cold. It was therapeutic making this soup and sticking my head over the soup pot while the veggies cooked, inhaling the steam. Ahhh, good stuff. It seems like everyone I've talked to lately is getting over a cold, so I thought this would be a good one to share. That plus, there are Christmas cookie recipes all over the blogosphere right now so I figured someone had to keep things on the low calorie side.
If you are feeling sick, or if you are healthy as an ox, you should try this. I honestly feel better after eating this healthy soup.
Remember that our vegetable goal is somewhere between 2 and 3 cups per day depending on your sex and age. This is a perfect way to get your veggies into your diet. Please see chart to find out your goal.
Hearty Vegetable Soup
Ingredients
2 Tablespoons extra virgin olive oil
3 garlic cloves, chopped
½ teaspoon red pepper flakes
1 medium onion, chopped
2 celery ribs, chopped
2 carrots, peeled and chopped
1 zucchini, chopped
2-3 cups chicken or vegetable stock
1 15-ounce can diced tomatoes (I use no added salt with basil, onion flavor)
1 8-ounce can tomato sauce
1 15-ounce can small white beans (cannellini or Great Northern white beans)
1 10 ounce box frozen cut beans
Salt and pepper
1 cup fresh basil leaves, torn or chopped
Grated Parmigiano-Reggiano
Instructions
Add olive oil to a large pot. Add the garlic, red pepper flakes, stir. Then add the onions, carrots, celery and zucchini. Cook for 10 minutes
Add the stock (or broth), tomatoes, tomato sauce, white beans and green beans.
Bring the soup to a bubble and season with salt and pepper to taste. Simmer for ~5-10 minutes.
Turn off heat. Ladle into bowls and top with torn basil and grated cheese. Serve with crusty bread.
Notes
This soup is great because you can have it on the table in 20 minutes. Not many soups cook that fast. However if you make it early, you can also keep it on low simmering until dinner time. It is thick soup (which Racheal calls a Stoup- in between a stew and a soup). You can add additional broth if desired. Vegan option- use vegetable stock and omit parmesan cheese.

Recipe slightly modified from Rachael Ray's 15-minute Tomato and Bean Stoup
Nutritious Eats Benefits: low calorie, low fat, high fiber, Vitamin A, Vitamin C, Vitamin K, potassium, antioxidants