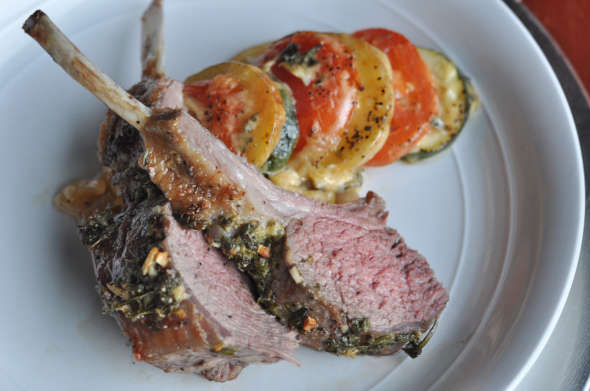 I love lambchops. I love lamb. If you've never cooked it, don't be afraid. It is very easy to prepare and has so much flavor on it's own. It is hard to really mess it up.
My family (mom and Grandparents) being Greek, know how to cook lamb. I've never been a big red meat eater, but lamb is one meat that I've been eating since I was a kid. To this day a good gyro is still one of my favorite meals! Although lamb is high in saturated fat, it does provide other health benefits such as being very high in protein, selenium, zinc, B12 and B3. Like all red meats, eat it moderation.
I have one favorite recipe I use for lambchops on the grill, but think this one is just perfect for special occasions.
I knew exactly what I wanted to put on this rack of lamb, knew exactly how I wanted it to taste. Then I just followed the directions on the package for cooking and it turned out great.
I love lamb during the Holidays. I don't do roasts and wanted something other than just turkey and/or ham. These chops would be a great accompaniment to a "tapas" style meal, like my folks are planning for Christmas Eve.
The best price on lamb is probably going to be at Costco or Sams, but they do have it at most local grocery stores.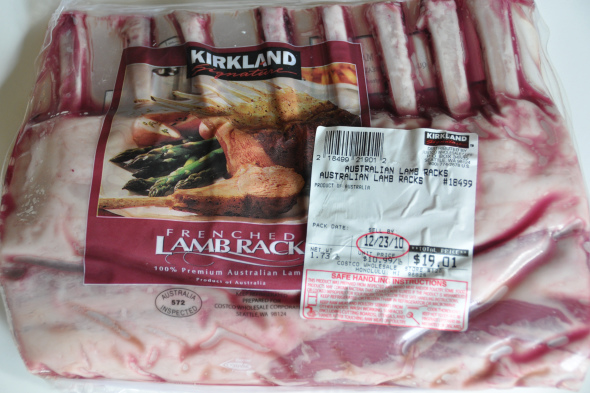 Coming out of the oven, before slicing into "chops". Sorry for the blurry pic.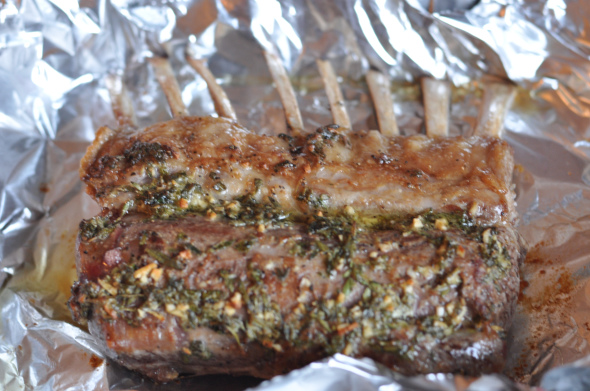 Herb Crusted Rack of Lamb
Recipe from Nutritious Eats
INGREDIENTS:
Rack of lamb, frenched (8 chops, 1. 5 lbs)
1/4 teaspoon salt
1/4 teaspoon pepper
For the herb coating:
1 1/2 teaspoon dijon mustard
2 teaspoons olive oil
1 1/2 Tablespoon mint, chopped
1 1/2 teaspoons rosemary, chopped
1 1/2 teaspoons thyme, chopped
1 large garlic clove, chopped
1/4 teaspoon salt
1/4 teaspoon pepper
DIRECTIONS:
1. Preheat oven to 400 degrees. In a small bowl, mix all the ingredients for the herb crust. Set aside
2. Heat a skillet to medium-high heat. Add a drizzle of olive oil. Add lamb (fat side down) and sear for 2 1/2 minutes. Turn over and brown other side for 2 1/2 minutes.
3. Remove from skillet and place into baking dish (I used roasting pan covered with foil). Rub herb mixture onto lamb (I put majority on the lamb and a little on the fat).
4. Bake at 400 degrees for 22-23 minutes for medium. Let rest for about 5 to 10 minutes. Cut in between bones for individual chops. Yields: 4 servings (2 chops per person).
NOTES: If you have big eaters at the table you might want to estimate 3 chops per person. My husband was fine with 2, plus this hearty side.
Tomorrow I will show you how to make the fantastic side. It is so good and I can't wait to make it again!
Nutritious Eats Benefits: protein, Vitamin B 12, Niacin, Zinc, Selenium
I linked this post to the following: