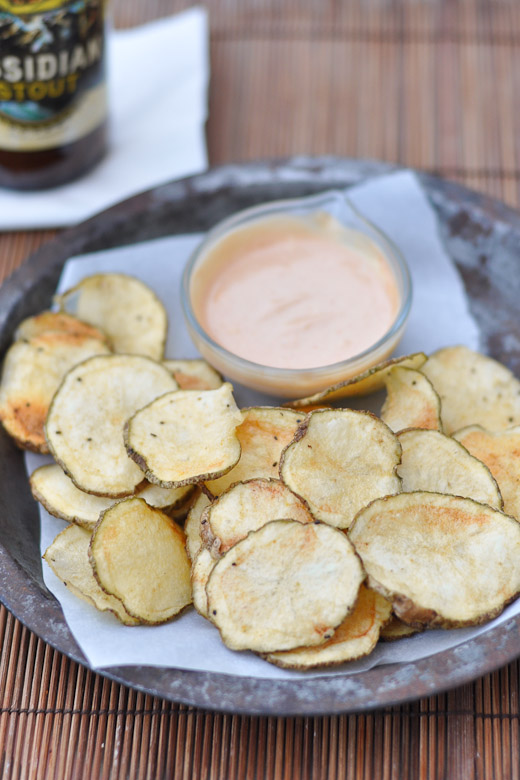 I am stressed people!  Sometimes when I am stressed I need to munch on crunchy things and I also have to run (must have those exercise endorphins flowing) so it helps balance everything out. I still feel like I haven't completely moved in, there are boxes still waiting for me in the garage, the hubs has been traveling a lot, I have about 2 1/2 weeks until family visits for Thanksgiving and then off to California. When we get back it will be close to Christmas and well I just don't want to talk about it anymore. SLOW DOWN TIME.
Ok onto the inspiration behind this recipe.
We used to have a lot of Pampered Chef parties when I lived in Missouri. A big group of us Army wives would all gather at someone's house in the neighborhood and compare "wish lists". On my wish list, among several other things, was this microwave potato chip maker. Basically it was a plastic tray with little holes in it made for turning potato slices into chips.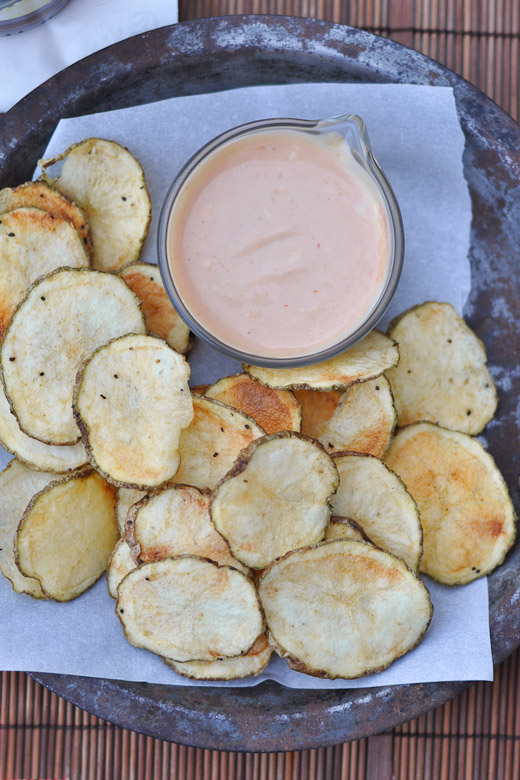 I never got around to purchasing it, but have since then read that you can just microwave the potato slices on a regular ol' microwave safe plate lined with parchment paper. I have come to report that it works great! How cool is that? You can make these beautiful chips in the MICROWAVE! When you first flip them they are still soggy but don't worry, they really crisp up in that last few minutes. Since all microwaves are different, make sure to check the chips before the end of cooking time. You can always microwave them longer if needed.
When I cut the potato I tried to get as thin of slice as possible just using a knife but some of them were really thin and others a bit thicker. If you have a mandolin that would be very helpful in making uniform thickness. Feel free to peel off the potato skin but why create more work? Plus the skin is good for you! Since I had to cook them in two batches, I put all the thin slices in one batch and the thicker ones in another, however they both cooked in about the same time ~7 minutes which I found kind of odd.
Too Thick, Too Thin, Just Right (the one on the right). It doesn't really matter how you slice them, but the one on the right is what you are striving for. The one on the left that is a bit too thick doesn't have the same light crunch in your mouth, but don't worry too much about it.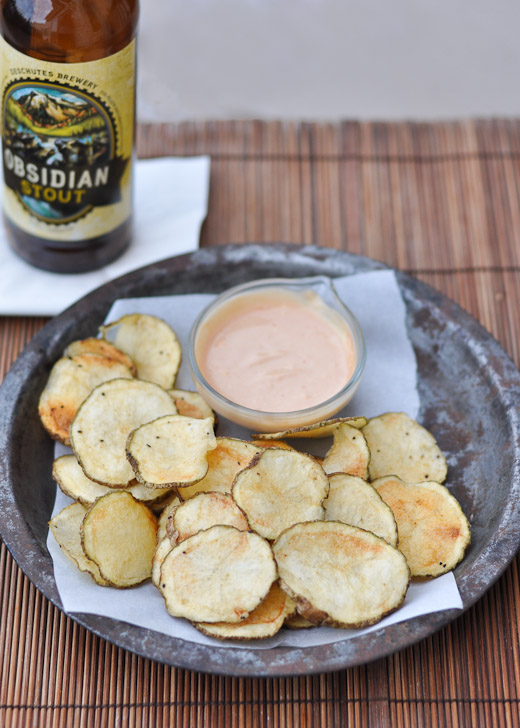 The result are these addictive crunchy healthier chips. They do not taste like processed chips whether that be good news or bad news to you. Season them how ever you like, but I enjoyed my combo of seasoned salt, black pepper and garlic powder. I thought a dipping sauce would be a nice accompaniment to these homemade chips and couldn't decide which flavor should dominate so I tried combining all three basic condiments- ketchup, mustard (dijon) and mayo! It worked and gives the chips a nice zing.
I only did one potato because it was just for me (and I did not eat them all so the rest got stored in an airtight container). My kids don't like these for some reason and I think it's because they taste more "potatoey" than processed potato chips that they have had! Imagine that! I will have to work on changing that. If you are making these for a large crowd it might take a while but it's definitely fun for a snack or side dish for a few people. Maybe your microwave will cook them faster than mine and you can get more down in a shorter time.
Enjoy munching on your "real" potato chips!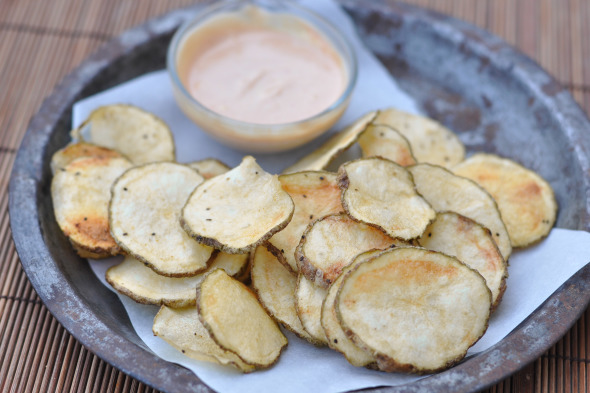 Homemade Potato Chips with Dipping Sauce
Ingredients
1 baking potato, washed, cut into thin slices (~2 cups of slices)
2½ teaspoons olive oil
¼ teaspoon Lawry's Season Salt (25% reduced sodium)
2 pinches of black pepper
Couple shakes of garlic powder
For the Dipping Sauce
Ketchup
Dijon Mustard
Mayonaise
Instructions
Line a microwave safe plate with parchment paper, set aside. Place potato slices into a bowl, drizzle with olive oil, sprinkle with season salt, black pepper and garlic powder and use hands to toss. Place potato slices on the parchment-lined plate, as many that can fit without touching.
Microwave for 4 minutes, flip potato slices and microwave another 3 minutes or until crisp and lightly browned.
Repeat with remaining potato slices.
For the Dipping Sauce:
Combine equal amounts of ketchup, dijon mustard and mayonaise. Quantity will depend on how many chips you make and how much sauce you need. Just eyeball the amount.
Notes
Make sure potato slices do not overlap on the plate or they won't cook properly. Due to different strengths of microwave, adjust your cooking time accordingly. This portion was for 1-2 people. Feel free to double or triple the recipe.
Question: Have you ever made potato chips? Did you stay up too late last night watching the elections?
Don't want to miss a post? Make sure to sign up to receive emails from Nutritious Eats. I love hearing from you! Please leave a comment, ask a question or just say hi. And if you've enjoyed this post, please pin, share, tweet or stumble away so that others can enjoy eating healthy with us! Thanks for reading!