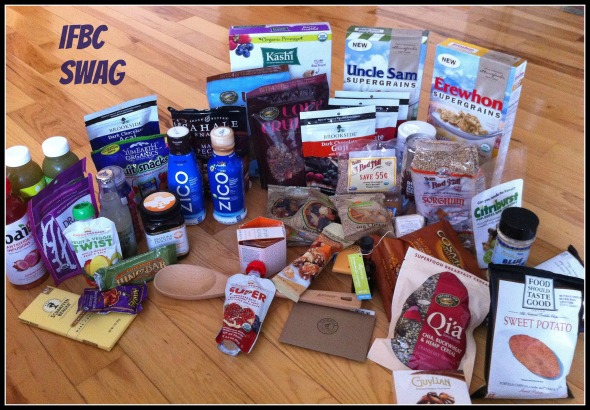 We all came home with A LOT of goodies from the conference…and this isn't even everything. The sponsors were beyond generous supplying us with tons of products, many of them full size items. I was so impressed to learn that a lot of the brands were providing us with organic, non-GMO products.
I wanted to recap a little bit about some of the things I tried and brands that sponsored the 2013 International Food Blogger Conference. In one session, hosted by Amazon.com grocery, we got to sample 15 specialty brands and tweet or live blog about them as we were trying them. The majority of products were new to me, while a handful were ones I have tried and/or currently use.  I am not going to go into all 15 but will highlight my favorites from the bag.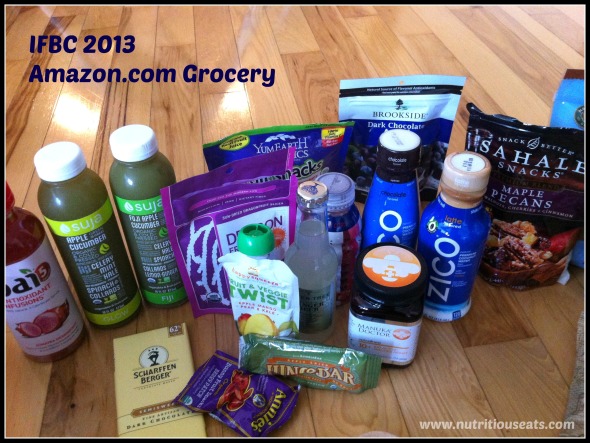 The Lindor truffles were perfection- so rich and creamy in the center. I have had them before but I don't recall them being this good. Perhaps the ones I have tried were just older. I am really savoring these.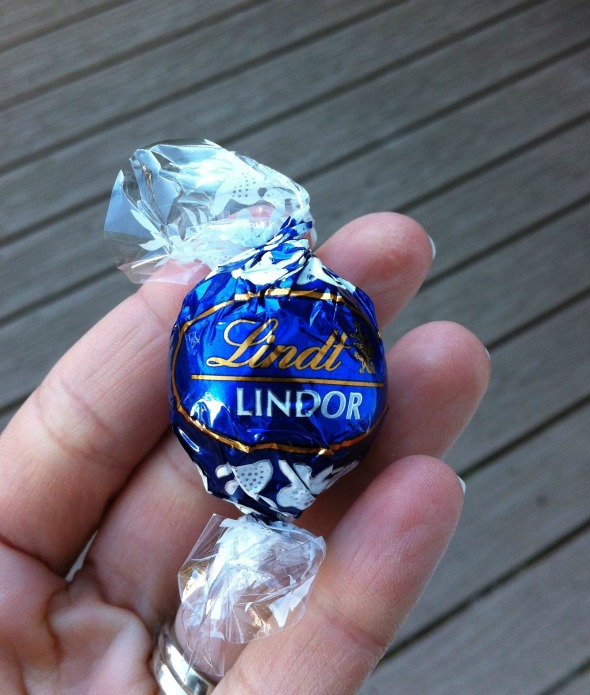 The Suja juice was really refreshing. I only tried two of the flavors but the apple-kale-lemon was my favorite. Suja juices are cold-pressed fresh organic fruit/vegetable juices that have no additional ingredients. Fresh juice without having to own a juicer and buy tons of produce? I'll take it! They are designed for a 3 day cleanse but I am just enjoying them as supplements to my meals.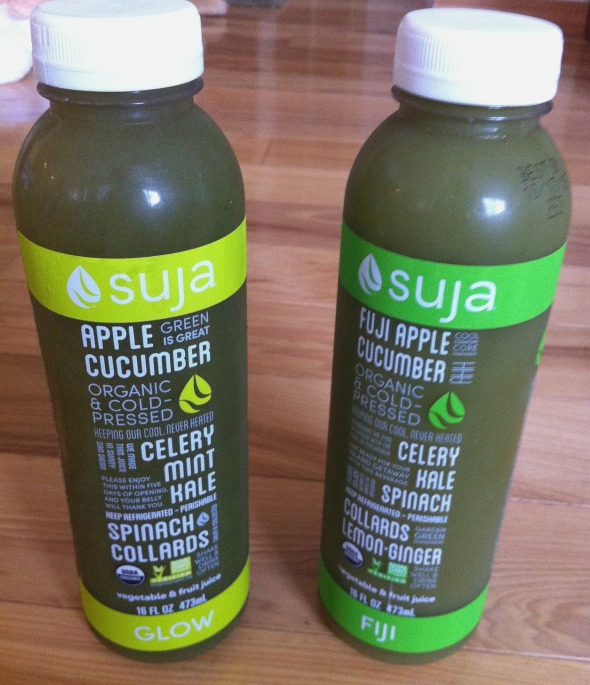 Of course who doesn't love these chocolate covered treats from Brookside chocolates? I buy the pomegranate ones from Costco but scored some other flavors.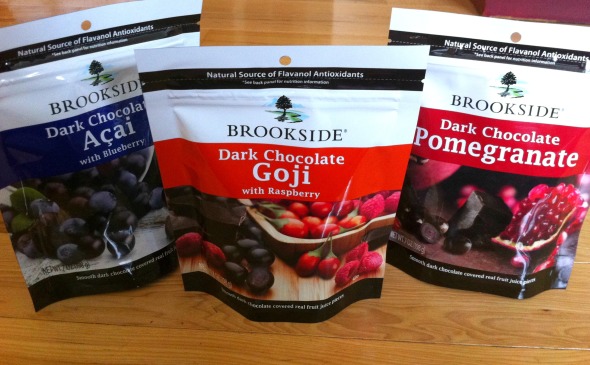 The Fever-Tree ginger beer was raved about by everyone but I didn't get a chance to try it. Excited to though!
The chocolate bars from Scharffen Berger were delicious. Just what every pregnant woman needs in her house- good quality chocolate! I got milk, semisweet, bittersweet and extra dark. Mmmm.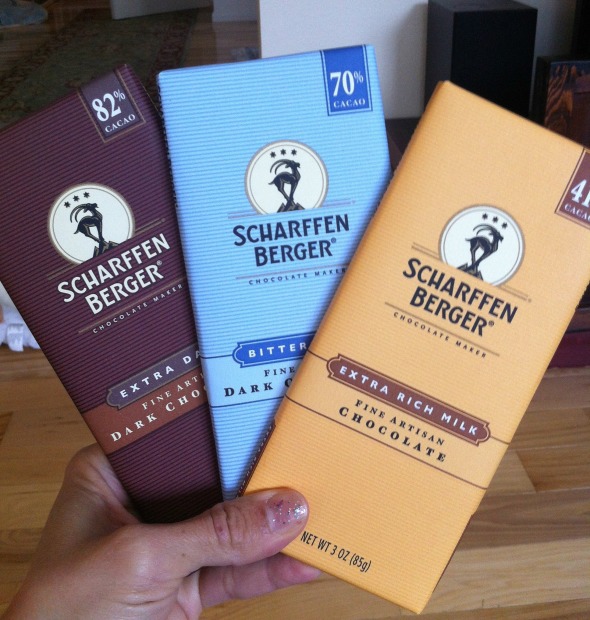 Hmm, can you see a trend here? Chocolate and beverage! These are all the brands that were represented at the Amazon.com Grocery session.
Annie's Homegrown @annieshomegrown
Fever-Tree @FeverTreeMixers
Drink Chia @drinkchia
BumbleBar @bumblebar
ZICO Coconut Water @zico
Bai5 @drinkbai
Navitas Naturals Organic @NavitasNaturals
LINDOR Chocolate @Lindt_Chocolate
Brookside Chocolate @brookside_choc
Scharffenberger @scharffenberger
Manuka Doctor @ManukaDr
YumEarth Organics @YumEarth
Sahale Snacks @sahalesnacks
Suja Juice @sujajuice
Kashi
Happy Family @HappySuperfoods
I have to tell you I haven't tried everything yet so I am sure there will be a part two of the goodies and brands I discovered.
You already know I love the Manitoba hemp hearts and I can't wait to try the new-to-me flavors of Nature Path's Love Crunch Granola (Gingerbread and Chocolate with Berries) and Attune Foods cereal but for now (out of what I have tried) my favorite product from the gift suite….
Simple & Crisp…organic, gluten free, dried fruit crisps that can be used in place of crackers. This idea is so genius- they come in apple, pear, orange and blood orange dried crisps. They had them paired with cheese at the conference but you could top them with anything you want (salad, chocolate, salmon) and let me say this booth was probably the most popular in the gift suite. So yummy and a great alternative to crackers!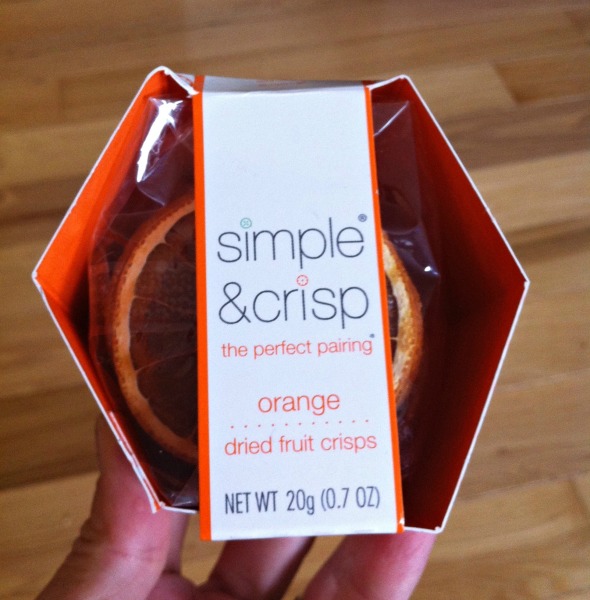 Now here is the fun part, I wanted to share a gift bag with one lucky reader! I assembled some of the samples I want to share with you and will package them up in a box along with this reusable bag from Bob's Red Mill. Don't be surprised if I throw in some other items after I properly go through my bags. Ha.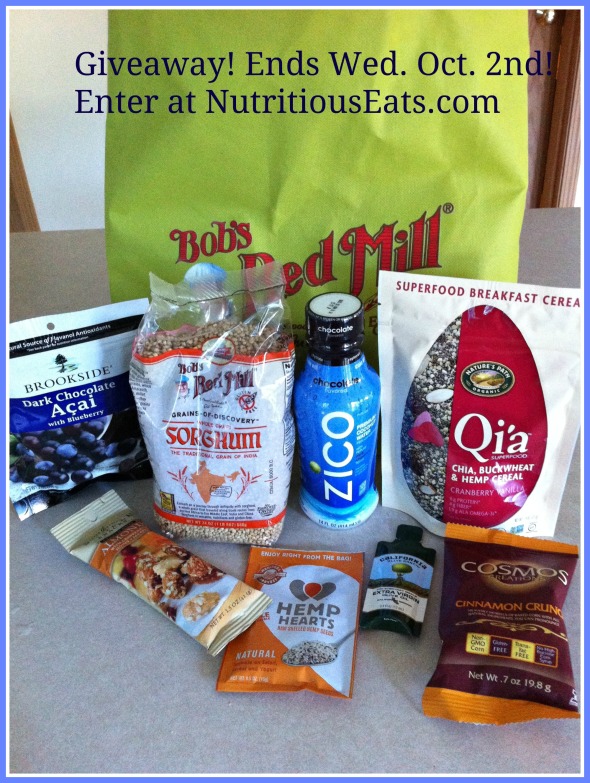 Samples include:
Brookside Dark Chocolate Acai with Blueberry
Bob's Red Mill Sorghum
Zico Coconut Water in Chocolate Flavor
Qia Breakfast cereal (Chia, Buckwheat & Hemp)
Sahara Snacks Almonds
Hemp Hearts Sample
California Olive Ranch Olive Oil Sample
Cosmo's Cinnamon Crunch snack sample
Details: Win a box of food goodies (shown above) to sample. Giveaway starts today Friday September 27th at midnight EST and ends Wednesday October 2nd at 12pm EST. 
To enter giveaway (required):    GIVEAWAY IS NOW CLOSED.

Leave a comment telling me which product you'd like to try most.
For extra entries (optional):
To the lucky winner- enjoy the goodies! I know I am!