Congrats to Joy D. the winner of the Wonderful Summer Snacking Giveaway!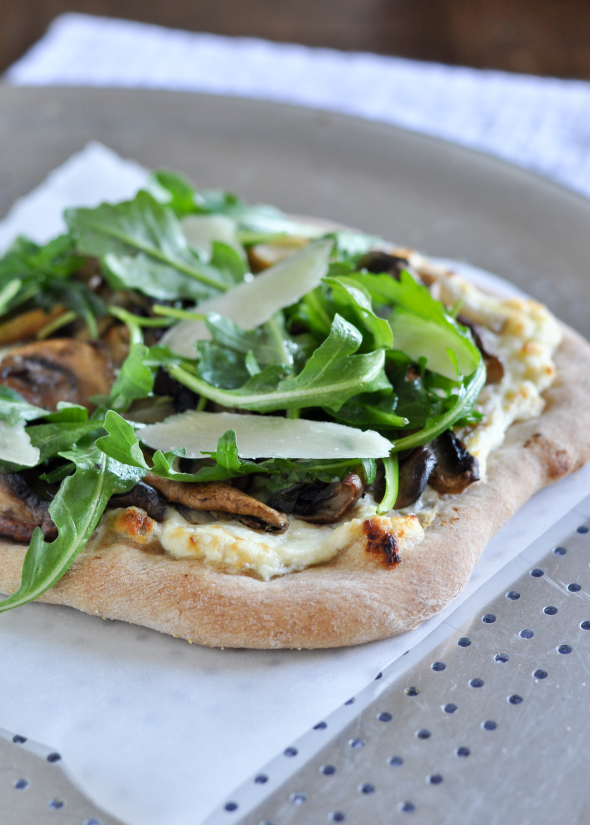 Mmm, pizza. One of my favorite foods. There is so much you can do with it- from varying the toppings to experimenting with crusts and I love that it's so satisfying. I'm typically a red-sauce pizza girl, but I branched out this time and made a ricotta based topping instead of typical tomato sauce for these mushroom, onion and arugula pizzas. I saw this recipe in one of my recent Cooking Light issues and thought it would be something different than our usual homemade pizza. It was pretty tasty, although now I have to figure out what to do with this giant container of leftover ricotta. Any ideas?
What made the pizza extra yummy were these fresh mushrooms that I was sent from FreshMushrooms.com, a variety of portobello mushroom caps and white mushrooms which are shipped straight from their farm in Pennsylvania.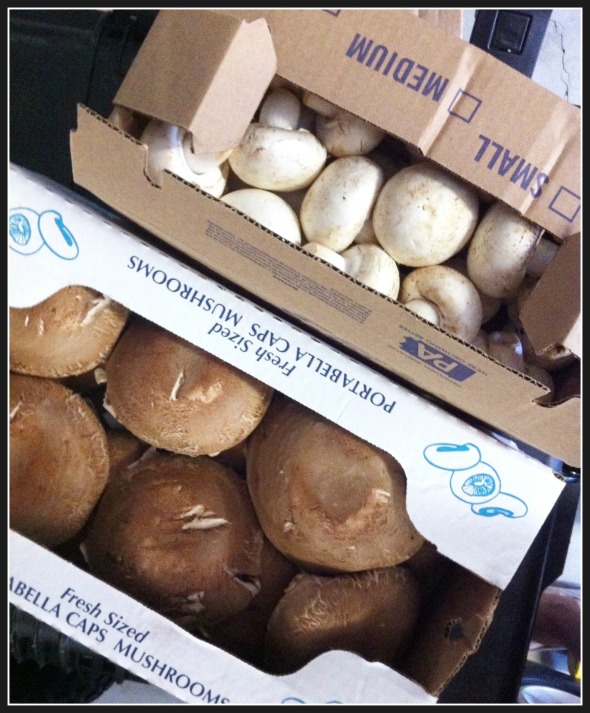 I especially love portobello mushrooms- the flavor and the fact that you can do so much with them. Turn them into a burger, saute them as a side, make stuffed mushrooms, etc. Button mushrooms are great to have around though for omelettes, to top burgers with or to use in a veggie stir fry. I used both types on my pizzas. You can order a variety of mushrooms online and they will be shipped straight from their farm to you in an insulated package.
Think mushrooms have no nutritional value? Think again. Mushrooms are low in calories, fat-free, cholesterol-free and very low in sodium, yet they provide important nutrients including selenium, riboflavin, niacin, ergothioneine (a naturally occurring antioxidant known for it's role in the immune system) and more. They are also a good source of potassium and naturally occurring vitamin D (they are in fact the only  plant based foods that contain vitamin D although the amount does vary by type).
Mushrooms are a great sub for high-energy density foods such as ground beef or steak. They add a great meaty taste and nice texture to a variety of dishes.
So back to the pizza, it was delicious fresh out of the oven- there was a sweetness from the ricotta and caramelized veggies and a little bite from the arugula and lemon juice. The wheat crust gave it a nice nutty flavor too. All in all a success and something different for us.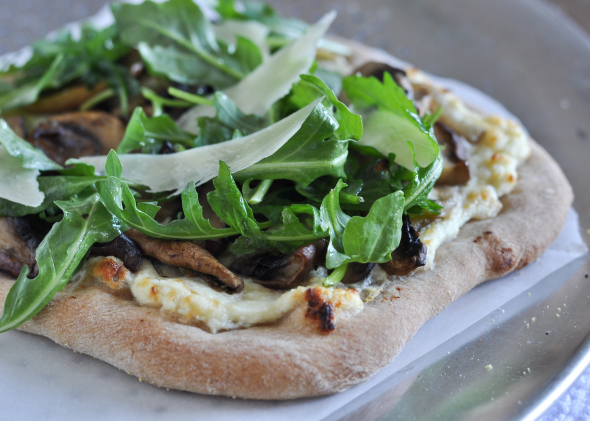 What else did I do with my 6 lbs of mushrooms? I made a chicken and mushroom dish over a wild-mushroom couscous, an asparagus and mushroom quiche and lots of sides of sauteed mushrooms with garlic and balsamic (excuse the not so great iphone pics). I still have a handful of mushrooms left which I plan on turing into a delicious vegetarian grilled sandwich.
If you want some of these fresh mushrooms delivered to your door, go check out Fresh Mushrooms!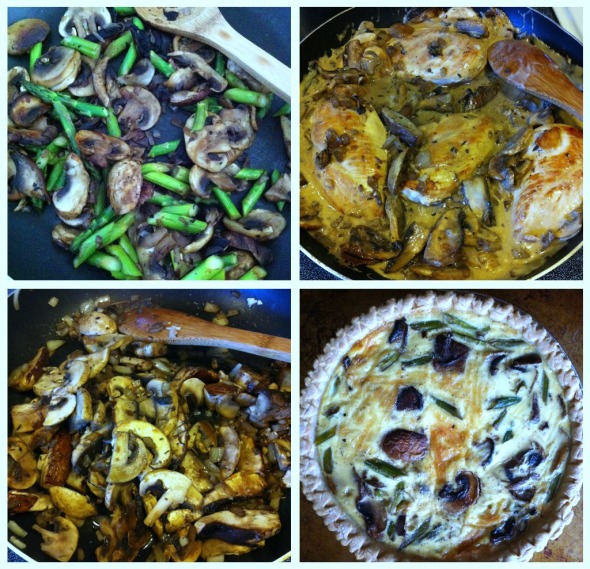 Individual Mushroom, Onion & Arugula Pizzas
Ingredients
16 ounce whole wheat pizza dough (recipe to follow) or store-bought refrigerated pizza dough
5 teaspoons extra-virgin olive oil, divided
8-10 ounces mushrooms, sliced
1 medium onion, thinly sliced
2 garlic cloves, minced
1 tablespoon cornmeal
salt
pepper
¾ cup part-skim ricotta cheese
⅓ cup pecorino Romano cheese, grated
2 cups baby arugula
1 teaspoon fresh lemon juice
Instructions
If using refrigerated dough, let stand at room temperature 30 minutes before using.
Place a pizza stone or baking sheet in oven. Preheat to 500 degrees.
Heat a large nonstick skillet over medium-high heat. Add 4 teaspoons oil to pan; swirl to coat. Add mushrooms and onion; saute 5 minutes or until slightly tender, stirring occasionally. Stir in garlic; cook 3 minutes or until lightly browned, stirring occasionally. Season with a pinch of salt and pepper. Remove from heat.
Combine cheeses in a small bowl, set aside.
Divide dough into 4 equal portions. Roll each portion into a 7-inch circle on a lightly floured surface; pierce entire surface of dough liberally with a fork.
Carefully remove pizza stone from oven; sprinkle with cornmeal. Arrange dough circles on pizza stone. Spread ricotta cheese mixture evenly over 4 dough circles, leaving a ½-inch border. Divide mushroom mixture evenly among pizzas. Bake at 500 degrees for 12 minutes or until crust is browned and crisp. Combine remaining 1 teaspoon oil, arugula and lemon juice in a bowl.
Divide arugula mixture evenly among pizzas. Top with additional shavings of pecorino Romano cheese if desired. Cut each pizza into 4 wedges.
Notes
Recipe slightly modified from Cooking Light, May 2013
Whole Wheat Pizza Dough
Ingredients
1¾ cups warm water
1 envelope (2½ teaspoon) rapid-rise yeast
2 cups whole wheat flour
2 cups all-purpose flour
2 tablespoons olive oil
1 teaspoon sugar
1½ teaspoon salt
Instructions
Measure warm water in glass measuring cup and sprinkle in yeast. Let mixture stand for 5 minutes to give the yeast a chance to dissolve.
Combine the flours, salt and sugar in a food processor and pulse 2 to 3 times to combine. With the motor running pour in the yeast mixture and olive oil into the feed tube and process until the dough forms a smooth ball. To knead continue to process for 30 seconds.
Turn dough into a floured surface and knead a few more time until the dough ball is smooth (may need to add a little more flour at this point if too sticky).
Coat the inside of a large mixing bowl with cooking spray or a little oil. Place the dough ball into the bowl, cover with plastic wrap and let the dough stand in a warm, draft-free spot until the dough has doubled in size, 1 to 1½ hours.
Punch down the dough and cut in half with a sharp knife. Place each half in a separate bowl or on a clean cutting board, cover with a clean kitchen towel and let the dough rest for 20 minutes. Use the dough as directed in any pizza recipe.
Notes
After dough is punched down and divided, it can be placed in airtight containers and frozen for up to 2 months. Defrost the dough on the counter for 5 to 6 hours before using.


Recipe slightly modified from Mom's Big Book of Baking Cookbook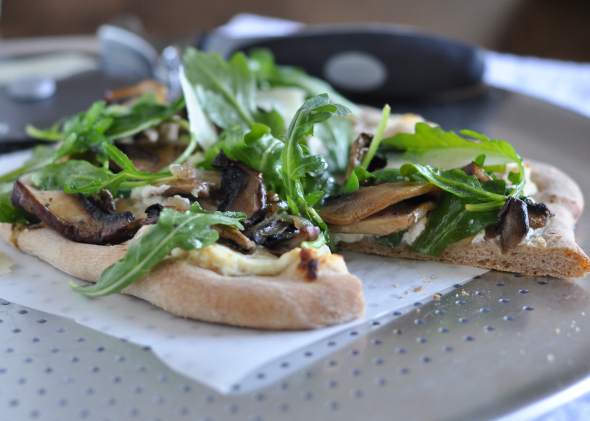 Question: What's your favorite way to enjoy mushrooms?
Disclaimer: I was sent 6 lbs of mushrooms to enjoy, I was not required to blog about it nor was I compensated.