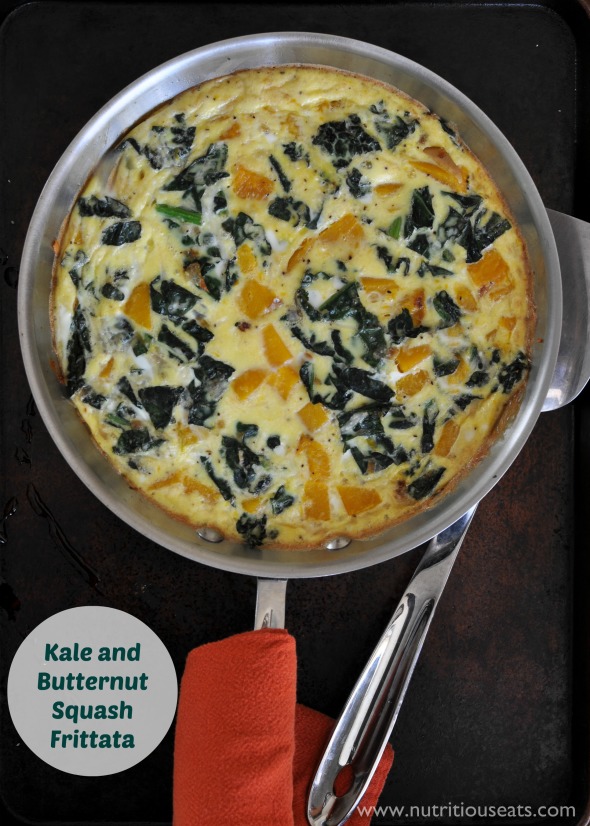 Kale and butternut squash…what's not to love? This Kale and Butternut Squash Frittata is one of those dishes that requires minimal ingredients (only 5 not counting salt/pepper/oil) and it's super easy to make which makes it perfect for a quick weekday meal (breakfast, lunch or dinner); it's fancy enough for a brunch or the Holidays too (since it's got those fall flavors).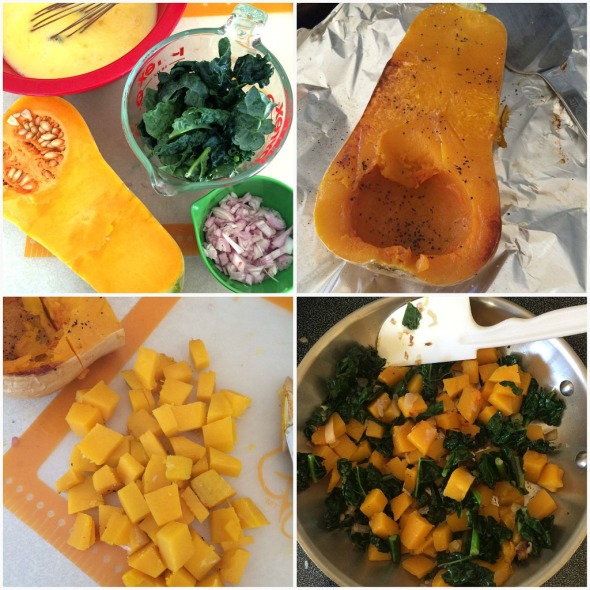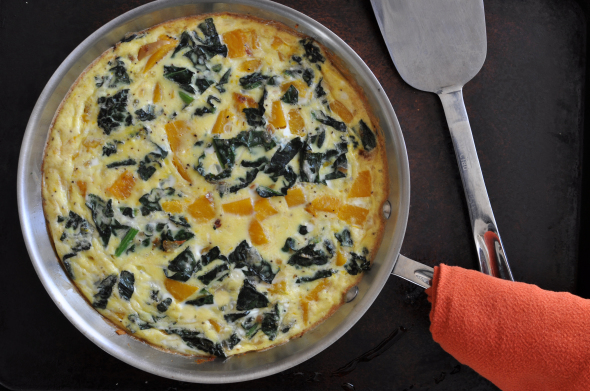 I was feeling the need to cook and had a couple hours in between picking up my daughter from preschool and my son from elementary school. I looked around the kitchen at what hadn't been used this week and the fresh bag of organic kale from Trader Joe's and a butternut squash were staring at me. Throw in some eggs, which I try to always have on hand, you've got a winning combo. You could definitely jazz this up with some fresh herbs- I am thinking some thyme would be nice but I didn't have any.
Let the eggs set for a minute or two on the stove top, then pop it into the oven and out it comes perfectly cooked…..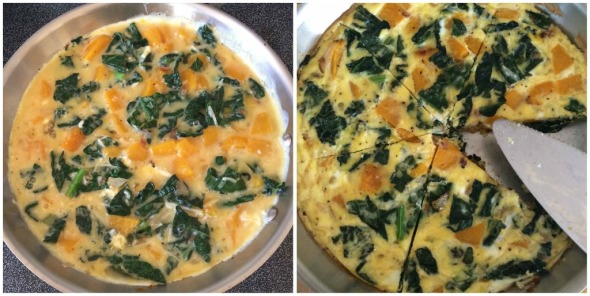 This is super versatile dish and packed with a total of 6 cups of kale and squash goodness, it's good for you too!
Kale is a member of the cabbage family and is high in Vitamin A, Vitamin C and Vitamin K, as well as minerals like calcium and iron.
Butternut squash is a good source of Vitamin A and C, in addition to potassium, manganese and magnesium and fiber.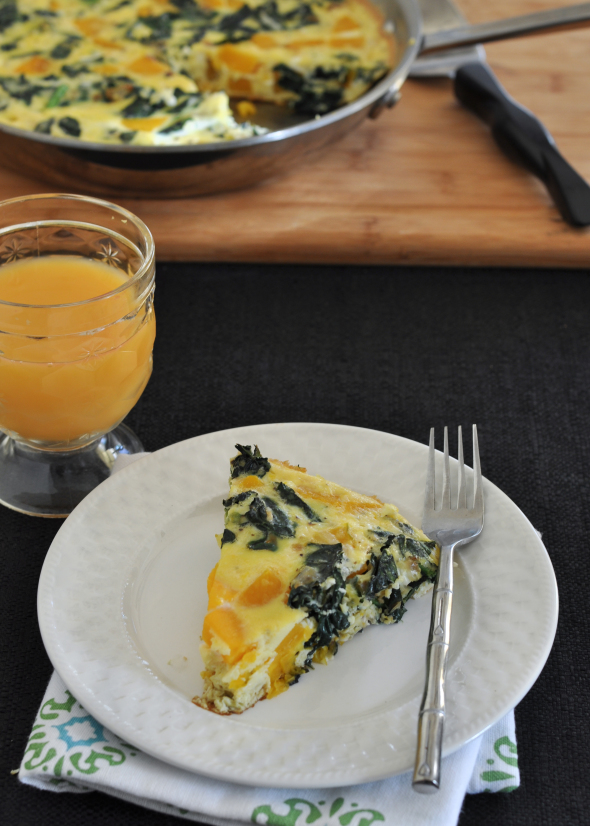 If I ever experiment with eating vegan again, I think I will have to be a vegan + eggs. Or vegan + eggs + cheese….but then I suppose that wouldn't be eating vegan would it? I just love eggs and don't plan on giving them up. Luckily Costco sells a big organic pack. I used one of my favorite cheeses in this dish, Parmigiano Reggiano. Please don't substitute the cheap stuff, ok? I think Gruyere or Fontina would also be good in this if you want to try a different cheese.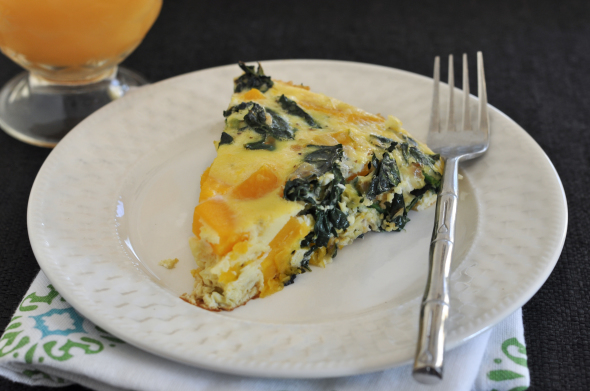 Isn't it funny how when it's the Fall season you start craving things like pumpkin, squash, fall fruit and Holiday food? Or is it just me? Let me know if you try this one!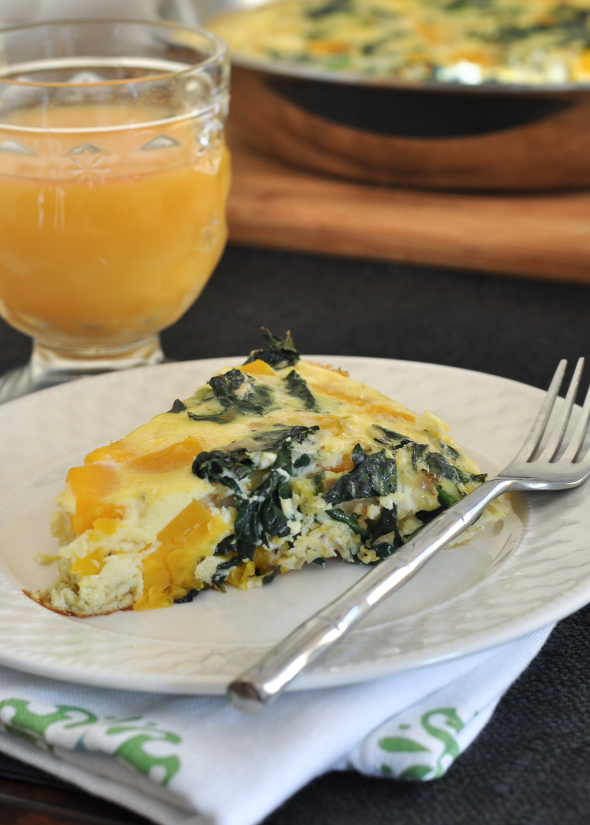 Kale and Butternut Squash Frittata
Ingredients
1 Tablespoon olive oil
½ cup diced shallots (could substitute onion)
4 cups organic raw kale
2 cups cubed roasted butternut squash
½ cup shredded Parmigiano Reggiano cheese
10 eggs, beaten with a splash of water
salt and pepper
Instructions
Preheat oven to 350 degrees. Roast ~1½-2 lb butternut squash for 35 minutes (cut squash in half lengthwise, scoop out seeds, season squash lightly with olive oil, salt and pepper, place cut side down on a foil lined sheet. Bake 35 mins or until done. Can be done ahead of time. You won't need all of the squash for this dish).
Beat eggs with a splash of water (a couple tablespoons), stir in ½ cup parmesan cheese set aside.
Heat an oven-proof skillet on medium heat, add 1 Tablespoon olive oil, add shallots and saute 2-3 minutes. Add kale and continue to cook for an additional 3 minutes or until kale is wilted. Add roasted butternut squash. Season vegetable mixture with salt and pepper.
Pour eggs into pan and gently stir once or twice to distribute. Cook for 1-2 minutes or until eggs are set.
Transfer to oven for ~18 minutes or until cooked through.
Questions: What's on your meal plan this week? Are you a fan of squash and kale?