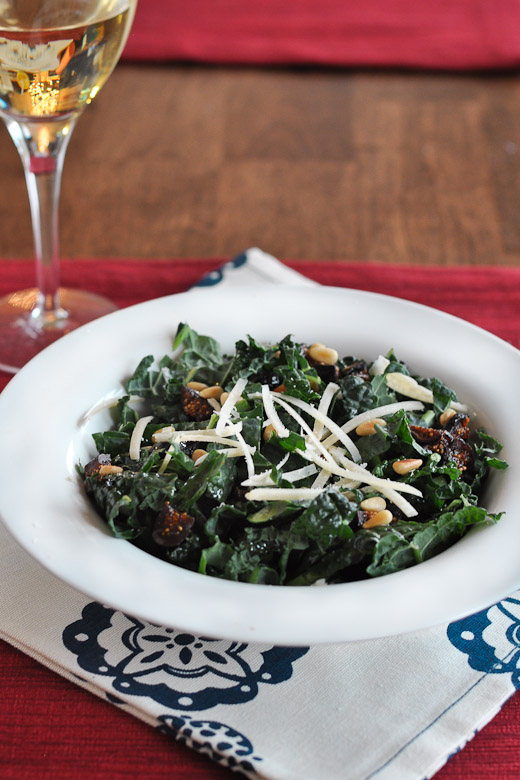 I could live off salads. I am not kidding. I just love the variety you have when creating one- from the greens you use, to the add-ins and dressing. There is no reason to be eating boring ol' tossed salads all the time. Let's get creative!
First off, kale isn't my typical green for a salad but I think I will start using it more this way. It is packed with beta-carotene and has both antioxidant and anti-inflammatory benefits. It falls into the cruciferous vegetable family so has the same cancer preventive benefits. It is much heartier and more bitter than your typical salad greens but I just love it.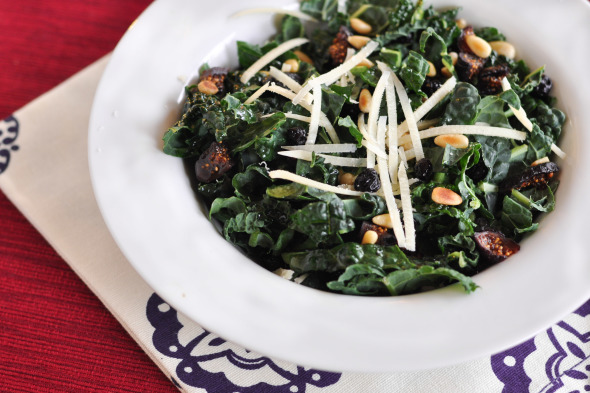 A reader I went to high school with sent me a note months ago about this salad that she tried to recreate from a restaurant in DC. She told me what was in it and it sounded great yet simple. Since I LOVE salads I had to experiment. I used my lemon dressing which I will reprint for convenience and drizzled it over finely chopped kale, toasted pine nuts, dried blueberries, chopped figs (she said they used currants but I didn't have any) and shaved parmesan. Yum! The bitterness from the kale paired with the sweetness of the dried fruit and acid in the dressing was a nice combo.
If you are already worried about the possible weight gain you might experience this holiday season, take this opportunity (at the beginning of the month) to eat as healthy as possible because you know what's coming: cookie exchanges, office parties, lots of Holiday baking, right?! I always feel like going on a quick detox after Thanksgiving but since I don't do "diets" I just try to go heavy on the veggies and that seems to work for me.
To make this salad even easier to prep, I bought a bag of Tuscan kale from Trader Joe's already pre-chopped. It still needed a little run through of the knife to get it more finely chopped, but it still saved me a lot of time. You can substitute a variety of dried fruit in place of the figs and blueberries- cranberries, cherries, currants, raisins all would be great.
Enjoy!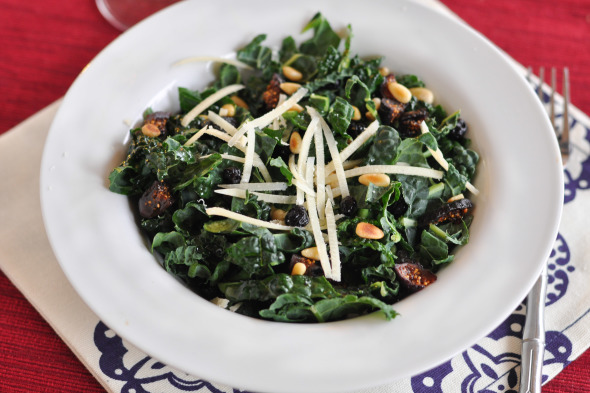 Kale Salad with Lemon Dressing
Ingredients
Measurements for 1 serving (adjust as needed):
4 cups finely chopped kale (if you are buying a bunch of kale, remove stalks and thick stems and finely chop the leaves)
2 Tablespoon dried blueberries
2 Tablespoon dried chopped figs
2 Tablespoon toasted pine nuts
Lemon dressing and freshly shaved parmesan to taste
For the Lemon Dressing
1 teaspoon dijon mustard
1 small lemon, juiced
1 small garlic clove, grated (omit if you do not like taste of raw garlic)
¼ teaspoon sugar
⅓ cup extra virgin olive oil
pinch of salt and pepper
Instructions
Combine kale with a few Tablespoons of lemon dressing (dress to taste). Combine well and if time allows let kale "marinate" in dressing for ~10 minutes to help soften leaves. Stir in dried fruit, pine nuts and top with shaved parmesan before serving.
For the dressing:
To a small bowl or glass jar add dijon mustard, lemon juice, garlic & sugar and whisk together. Slowly add in olive oil and whisk until emulsified. Season with a pinch of salt and pepper. Store leftovers in an airtight container in the refrigerator.
Notes
You will want a good parmesan cheese for shaving like Parmigiano Reggiano.
Question: How do you typically prepare kale? Do you have a favorite restaurant salad that you'd like to recreate?