Lamb and Spinach Pita Pizza uses convenient pita bread for the crust and is flavor packed dish ready in under 30 minutes.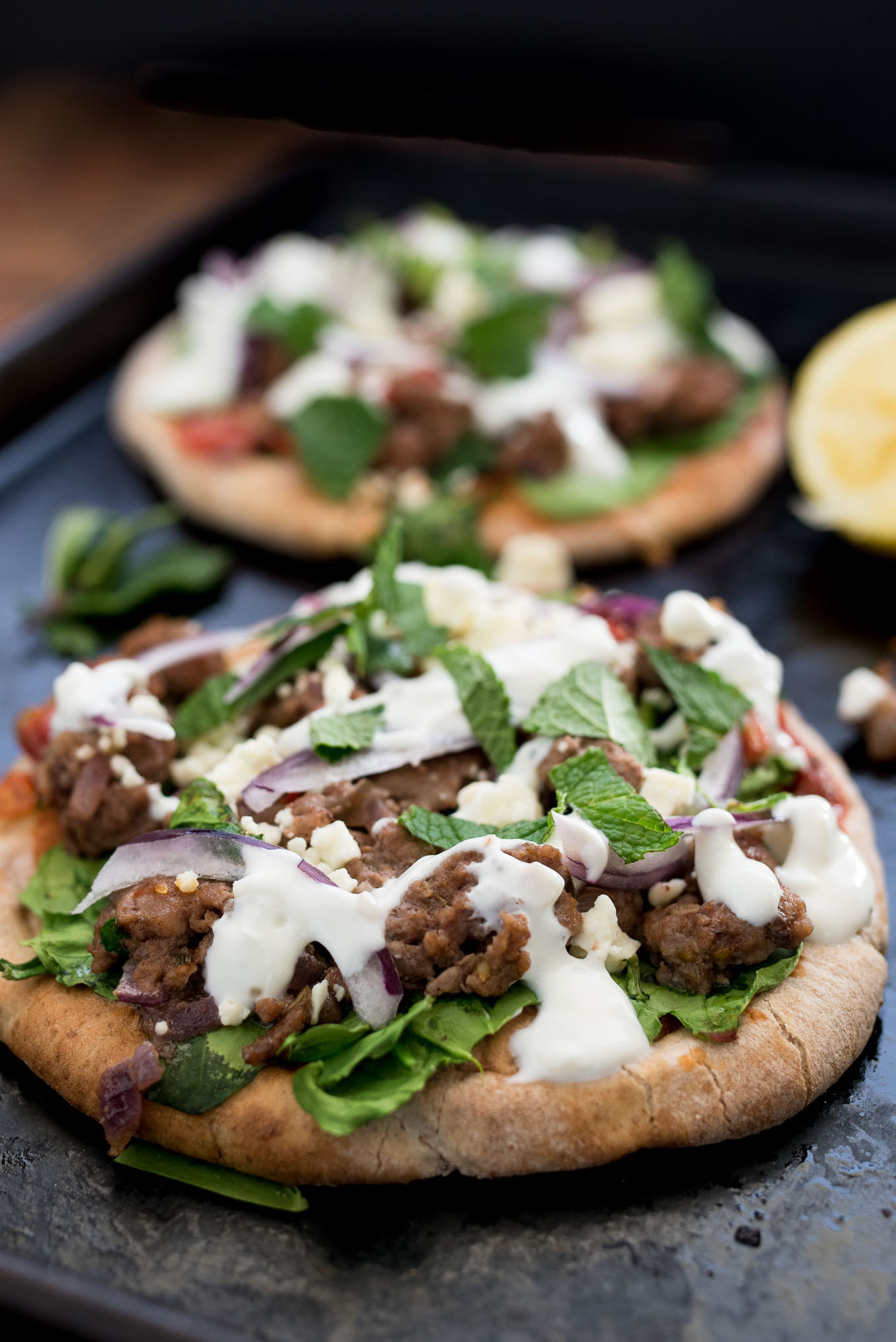 I received free samples of Toufayan Pita mentioned in this post. By posting this recipe I am enter-ing a recipe contest sponsored by Toufayan Bakeries and am eligible to win prizes associated with the contest. I was not compensated for my time.
Pita pizza is as simple as it gets and let me tell you….I am a sucker for pizza. I could eat it a million ways with a variety of toppings- New York style, Chicago deep dish, healthy at home versions. I love making homemade dough, but I don't always have the time so pita bread is my quick fix substitution.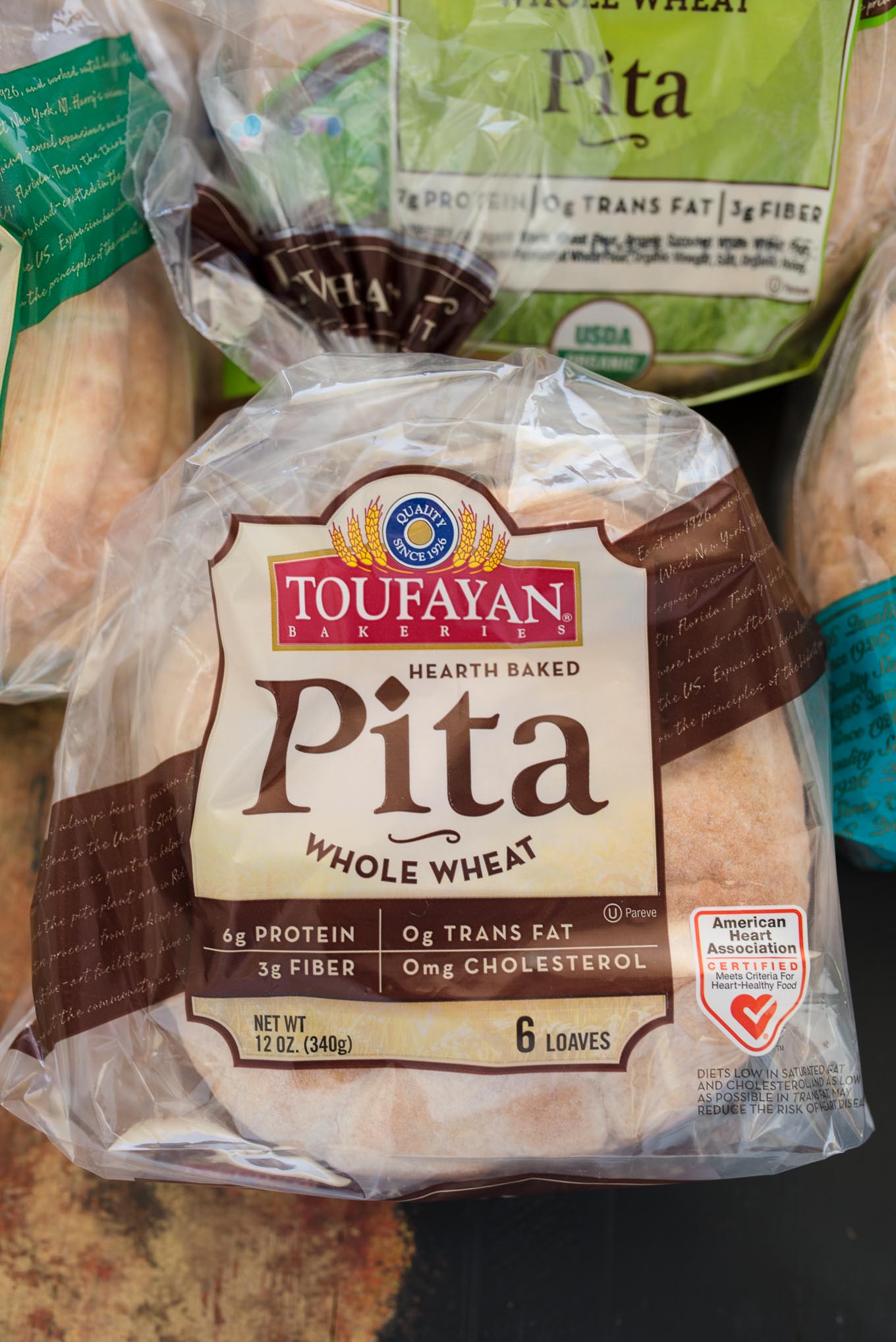 If you haven't tried pita pizzas at home, you are in for a treat! They are so simple and yummy. I like to brush them with a little olive oil and pre-toast them for a few minutes, then I put on all the toppings and broil or bake until the cheese is melted.
Subbing pita bread for pizza crust is a healthy alternative for several reasons. The convenient single serving helps with portion control. Each pita has around 150 calories and 30 grams of carb (the low carb version has 16 grams).  I don't feel as tempted to eat several servings as I do with regular pizza because I can make exactly the right amount using single serving pitas.
Plus, the brand I use makes pita that are naturally trans fat and cholesterol free, with no added junk.
Toufayan Bakeries is a family-owned bakery in the U.S. that makes more than 100 products, such as pita chips, bagels, lavash, available nationwide. It is the largest Pita company in the U.S. The reason I have always bought their pitas, is due to the top quality, wholesome ingredient list.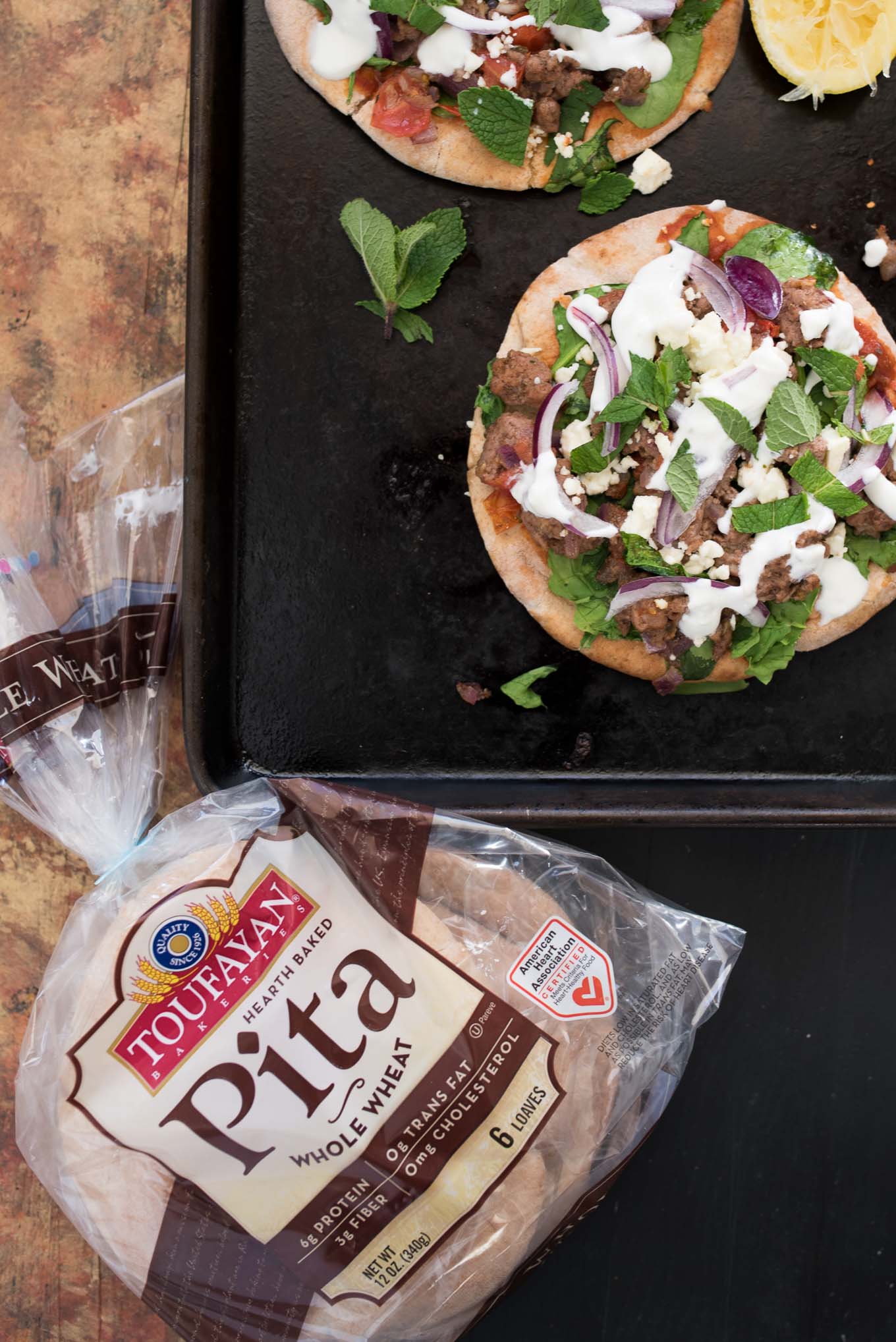 And you know how some pita bread in the store is rock hard, dry and flavorless? That is not the case with Toufayan pita bread!
They are not only a great alternative to pizza crust, but also great for wraps, tacos, sandwiches and more.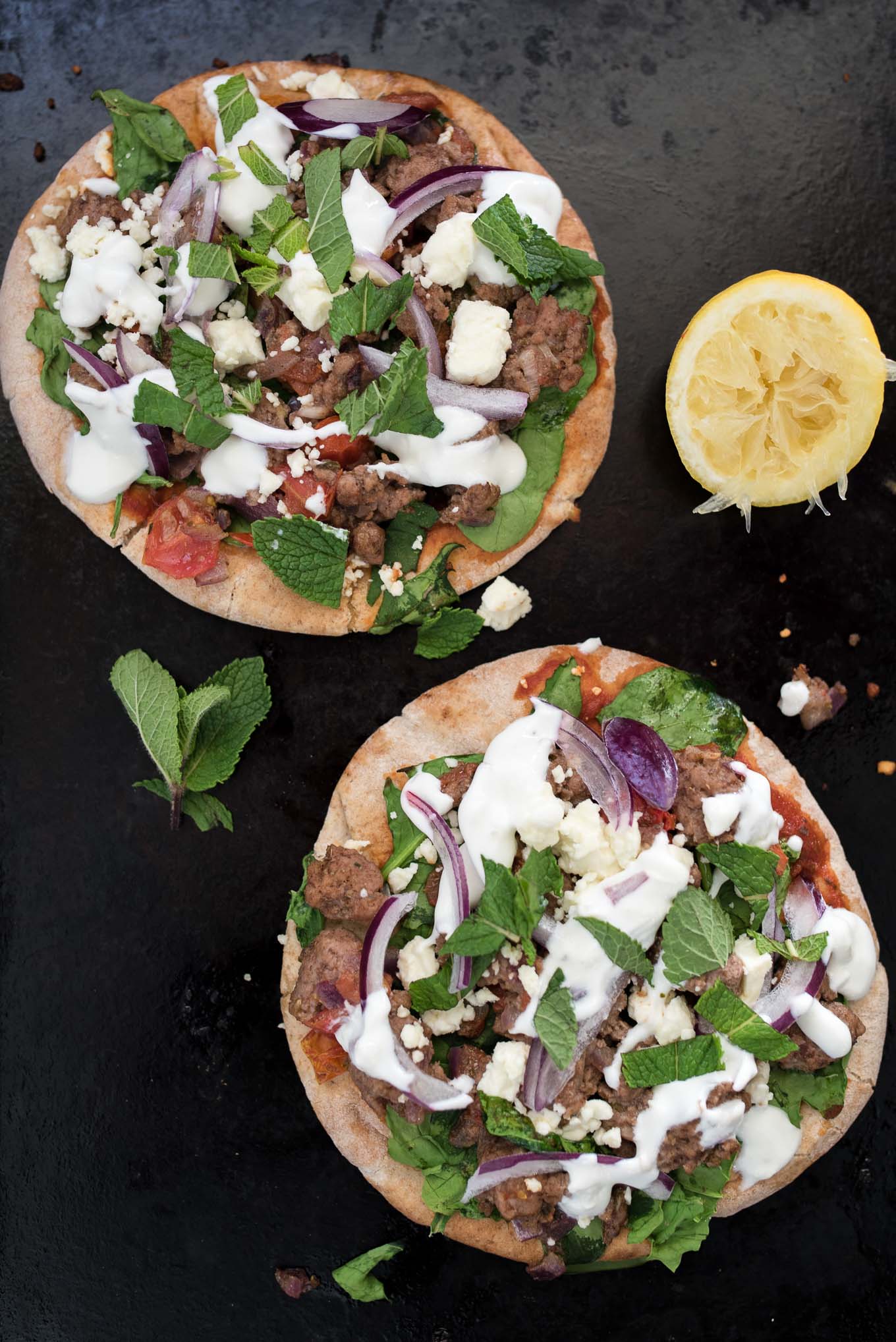 I wanted to elevate the traditional pizza that I usually make, with this Mediterranean twist. I am part Greek after all! I don't eat a lot of read meat, but lamb will always be a favorite just from having Greek blood.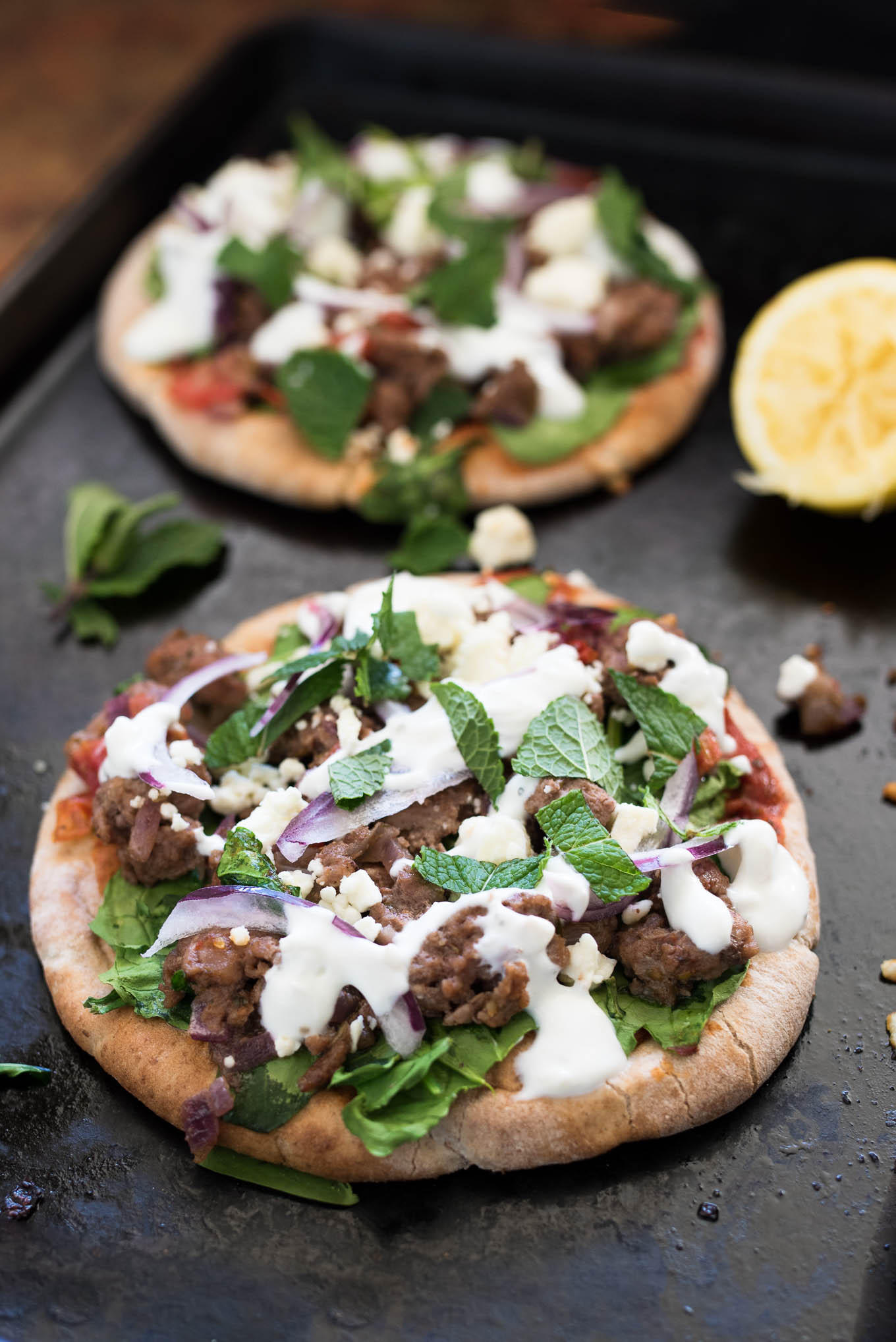 The feta takes the place of traditional mozzarella and when it gets baked and warm it is so good. I used a very light spread of marinara so that it would all stay together but you could also use hummus as an alternative.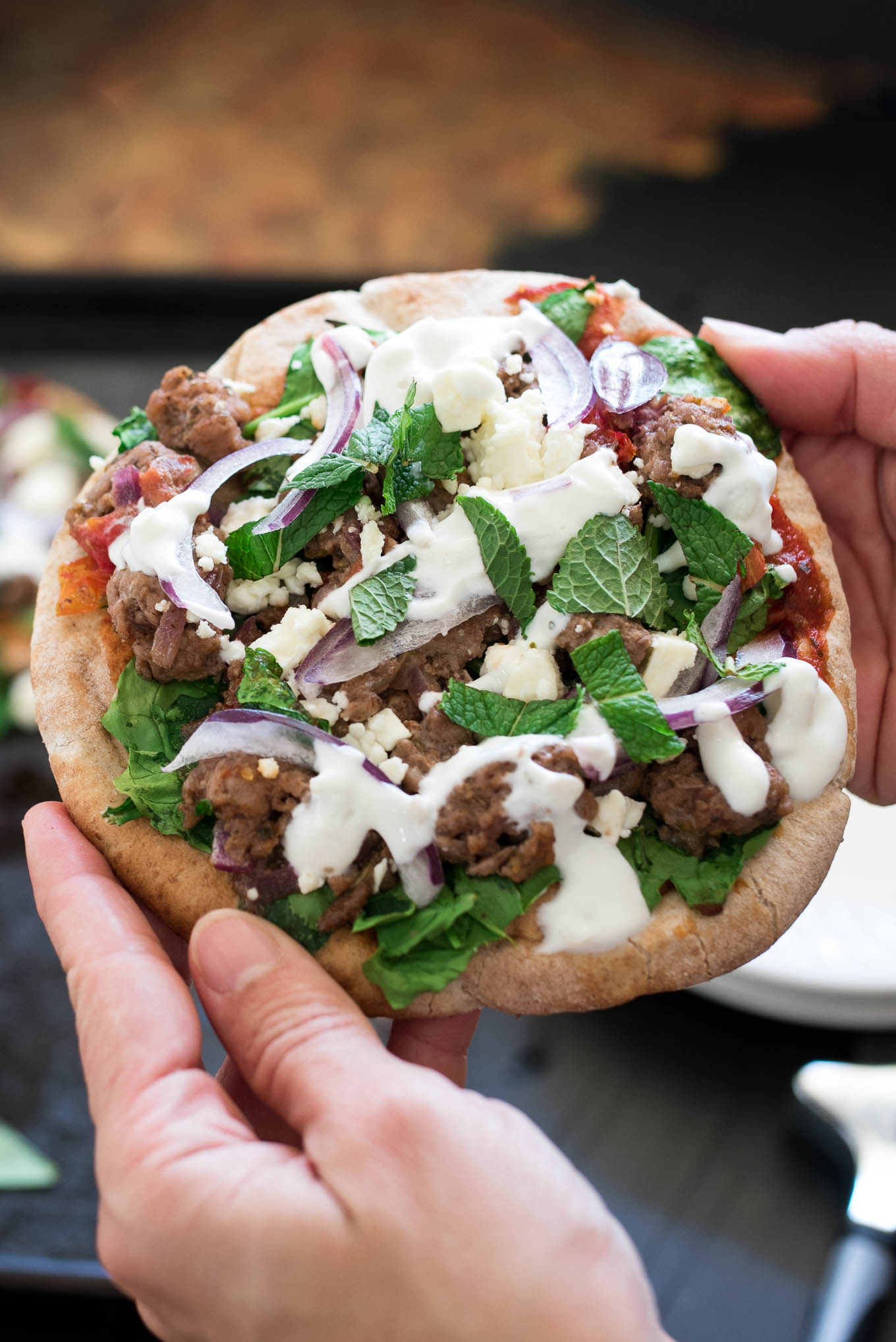 Keep your eye out for the awesome variety of pitas from Tofuyan (Low carb, Organic Sprouted, Classic White, Sweet Onion, Garlic flavored, Whole Wheat) ! Like I mentioned, they are available nationwide and to check availability go to http://toufayan.com/where-to-buy.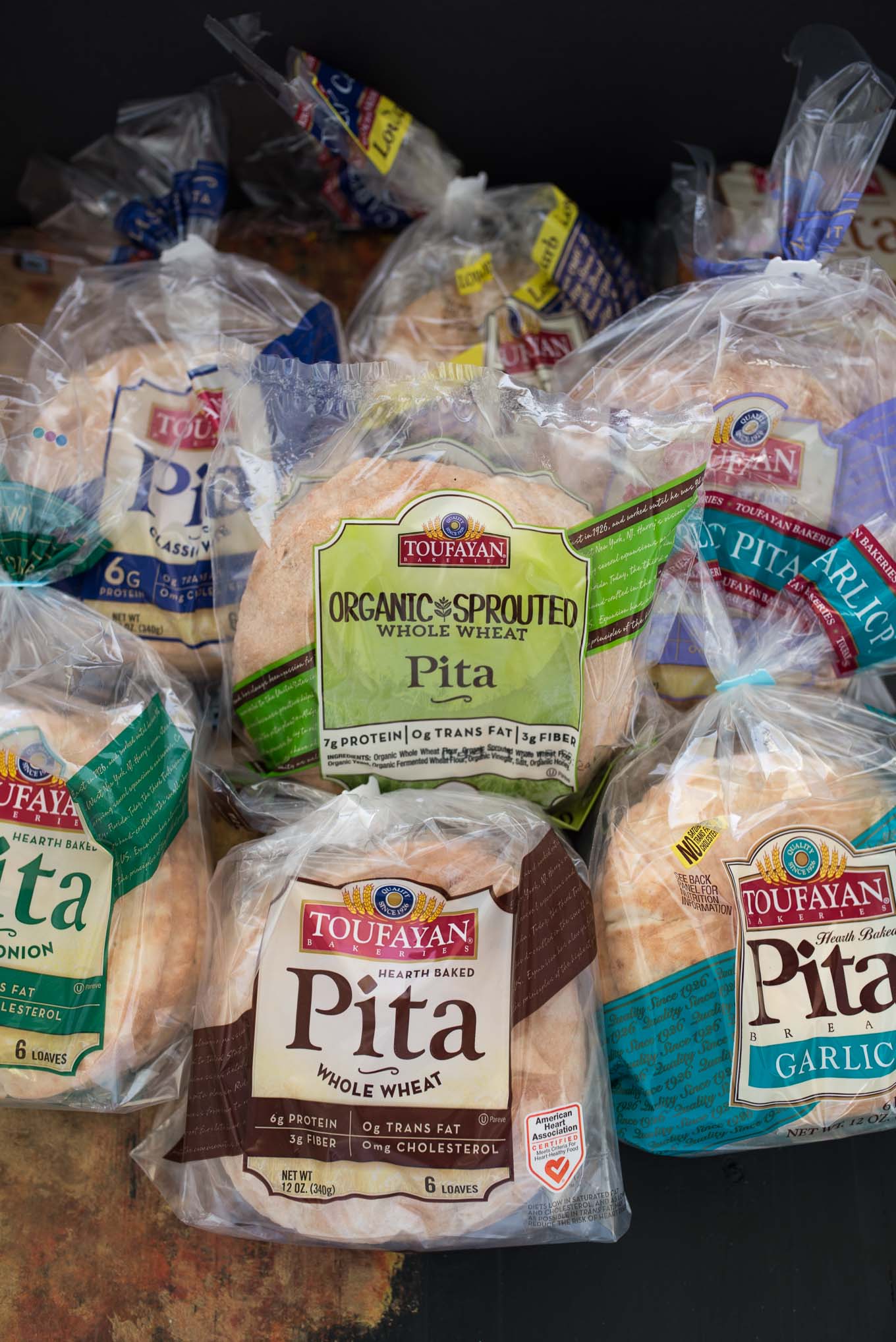 Make sure to follow Toufayan on Facebook, Instagram and Twitter.

Lamb and Spinach Pita Pizza
delicious pita pizza with flavorful ground lamb, spinach, feta and a creamy yogurt sauce.
Author:
Melanie F. | Nutritious Eats
Ingredients
4 whole wheat Toufayan brand pita bread
8 ounces ground lamb, organic if possible
½ cup diced red onion
2 cloves garlic diced (1/2 teaspoon reserved for the yogurt sauce)
½ cup fresh diced tomatoes
½ teaspoon oregano
½ teaspoon cumin
¼ teaspoon garlic powder
¼ teaspoon coriander
⅛ teaspoon cinnamon
½ teaspoon salt
Other ingredients for topping pizza:
4 tablespoons marinara sauce
2 cups fresh baby spinach
4 Tablespoons fresh mint
6 Tablespoons crumbled feta
For the yogurt sauce:
4 tablespoons plain Skry or Greek yogurt
1 Tablespoon fresh lemon juice
½ teaspoon of the reserved minced garlic
pinch of salt
Instructions
In a medium skillet, heat 1 teaspoon olive oil. Add the onions, lamb, garlic and sauté for about 4 minutes, breaking lamb up with a wooden spoon. Add tomatoes, spices and salt, continue to stir and break apart and cook an additional 5 minutes or until cooked through. Set aside.
While meat is cooking, heat pita bread in a 400 degree oven for about 5 minutes. You will want them a little firm, but not all the way toasted. Remove from oven.
Whisk together yogurt, lemon juice, garlic and salt. Set aside.
To assemble: spread 1 tablespoon tomato sauce per pita, top with ½ cup fresh spinach, divide meat mixture evenly amongst the four pitas. Top with 1½ tablespoons each of crumbled feta. Place pitas back in oven for about 4-5 minutes or until hot. Remove and top with fresh minced mint and drizzle each with some yogurt sauce.
Notes
Skyr is an Icelandic dairy product like yogurt and can be purchased in the dairy section next to the yogurt. It is creamier which works well for this recipe.