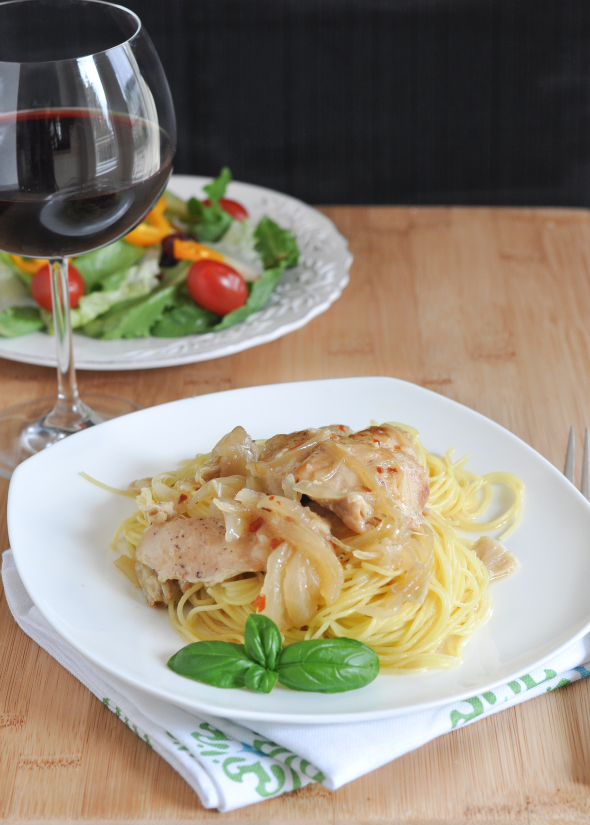 I have become a little obsessed with the slow cooker lately. It's just so convenient to start dinner in the morning but have it ready to go when the kids get hungry at approximately 5:30pm.
My dad found this Emeril recipe a couple years ago for Lemon-Garlic Chicken Thighs. We made it when I lived in Hawaii and I tried it one other time after that. I really loved how the onions and garlic cook down and take on a whole new flavor. The recipe calls for sauteing everything and then baking it for about 30 minutes. I decided this time I'd transform it into a slow cooker meal.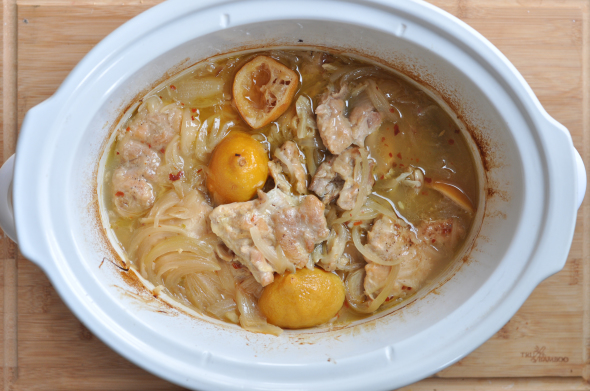 I changed a few things: I used boneless, skinless chicken thighs instead of bone-in to cut down some fat (plus it was what I had on hand, but you could definitely use bone-in if you prefer) and I cut back on the oil, salt and changed some of the other measurements.  This would be great using a whole cut-up chicken too.
I just put a quick sear on the chicken thighs and threw them into the slow cooker along with all the other ingredients.  Although Emeril's recipe calls for 30 cloves of garlic (yeah you read that right!), I cut it down to 20 and it was plenty. In about 4 hours I had the most wonderful tender, juicy, lemony dish ready to serve over pasta. Now if you don't like garlic or onion, please know that when they cook down for that long they get sweet and delicious and totally different than their raw form.
Not a fan of pasta? You could serve over couscous or rice instead, but I really recommend some sort of starch to soak up all the delicious lemony broth. Oh the broth that you end up with is.SO.good.
My kids ate pieces of the chicken over the angel hair with the sauce (minus the onions/garlic)-  but I made sure to work around the red pepper flakes.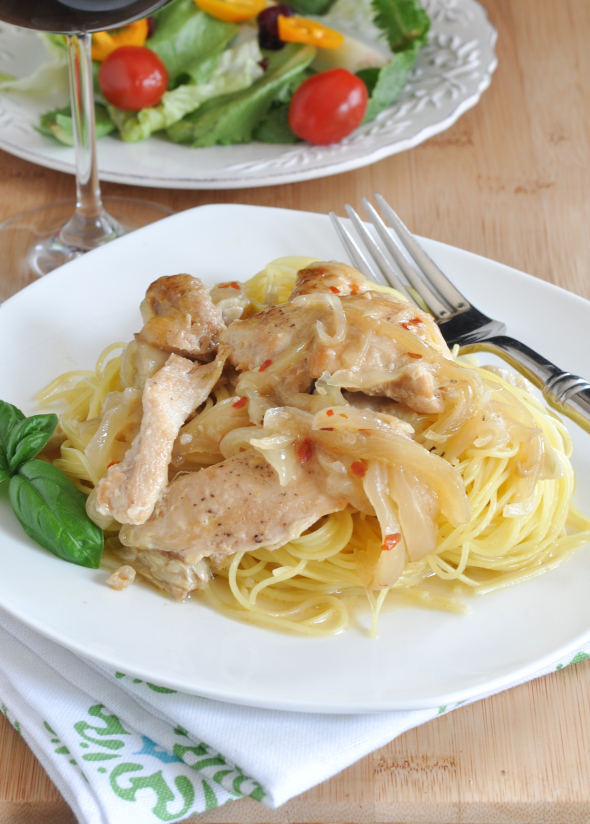 I am starting to feel human again after last week- after all the sad events happening all over the world, combined with my husband being out of town, me and my kids catching colds and my daughter catching a 24 hour stomach bug, I did not get much sleep. I am hoping to have a much better week- hope you do to!
Here our simple meal plan for the week. We went over-budget this month so I am trying to hold out on grocery shopping. Everything planned, at least the first half of the week is more by necessity and what we have on hand, than by choice.
Sunday
Chicken Tamales (from the freezer), Corn and Tomato Salad with Cilantro
Monday
Salmon, Roasted Sweet Potatoes and Asparagus 
Tuesday
Leftovers from Sunday
Wednesday
Grilled Chicken with Pesto, Sauteed Kale, ? some other side dish
Thursday
Buffalo Chicken Salad
Friday
Friend Visiting- Out to dinner!
Lemon-Garlic Chicken Thighs
Ingredients
8 chicken thighs, ~2 pound boneless or 3½ pounds with bones/skin
½ teaspoon salt, plus some for seasoning the chicken
black pepper
½ cup all-purpose flour
2 Tablespoons extra virgin olive oil
3 cups thinly sliced onions
20 cloves of garlic, peeled and smashed
½ teaspoon crushed red pepper
1 bay leaf
½ cup freshly squeezed lemon juice, reserve 4 of the halves after juicing to throw into the pot
1¼ cup low sodium organic chicken broth
1 pound angel hair pasta
chopped fresh parsley or basil for garnish
Instructions
Trim fat off chicken thighs. Season with salt and pepper, set aside.
Heat a skillet over medium-high heat, add 2 Tablespoons olive oil. Place flour in a shallow dish; lightly dredge the chicken in the flour, add half of the chicken to pan and cook for 2-3 minutes per side or until a light brown crust forms (repeat with remaining thighs).
Transfer chicken to the slow cooker. Add onions, garlic cloves, crushed red pepper, bay leaf, lemon juice, chicken broth, ½ teaspoon salt and 4 of the lemon halves (that were juiced) to the slow cooker.
Cover and cook for 3½ to 4 hours on high. Serve over angel hair pasta with lots of the broth and juices from the slow cooker. Top with fresh chopped parsley or basil if desired.
For the stovetop/oven method:
Brown chicken for 3 minutes per side on medium-high heat, remove chicken from pan. Add onions, cook for about 3 minutes, scraping up brown bits on the pan. Add garlic, crushed red pepper, salt, bay leaf and cook 1 minute. Add lemon juice, broth and browned chicken thighs to pan. Bring mixture to a simmer, cover tightly and place in the oven. Bake at 350 degrees for 20 minutes, remove lid, bake an additional 15 minutes or until cooked through and tender.
Notes
It's optional to throw in the lemon halves into the slow cooker but it just infuses the dish with more lemony flavor. If you are cooking it all day you might prefer to skip this step.


Recipe adapted from Emeril Lagasse, the Food Network
 Question: What's on your meal plan? Do you have any favorite slow cooker recipes?