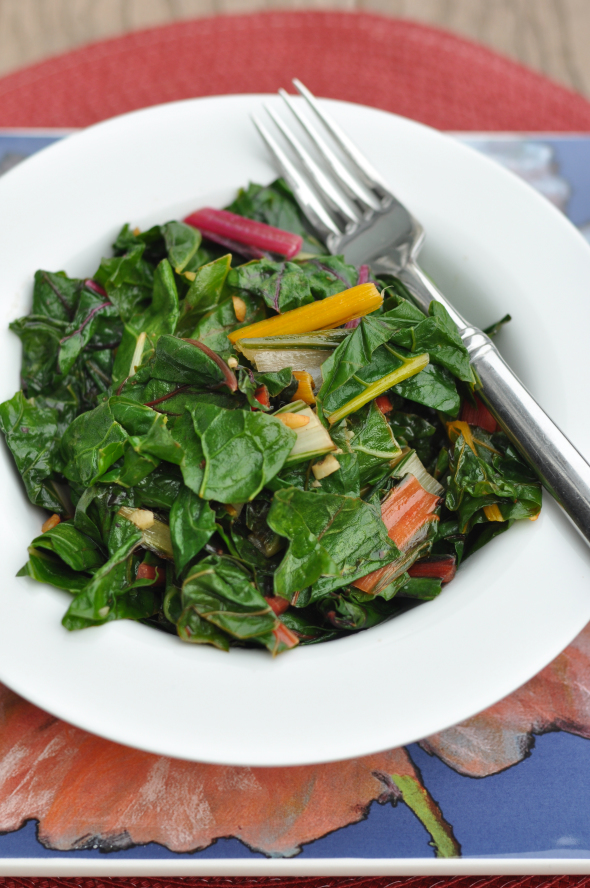 Hope all you mothers had a wonderful relaxing Mother's Day! Mine was perfect- the best gift you can give a mom is sleep so I got to sleep in for a change, then went to mass, followed by a homemade brunch and lots of relaxing down time. Just what I wanted to do!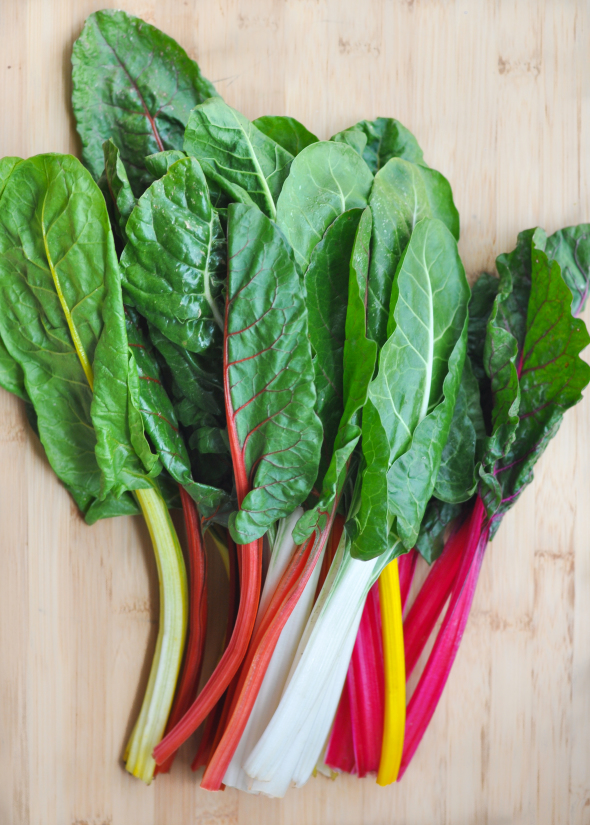 First thing my husband said when he saw this rainbow swiss chard I picked up at Pike's Place market…."did they dye that?". Shocking the the answer is no, right? Rainbow chard  is just a mix of the other colored varieties as opposed to being a variety unto itself.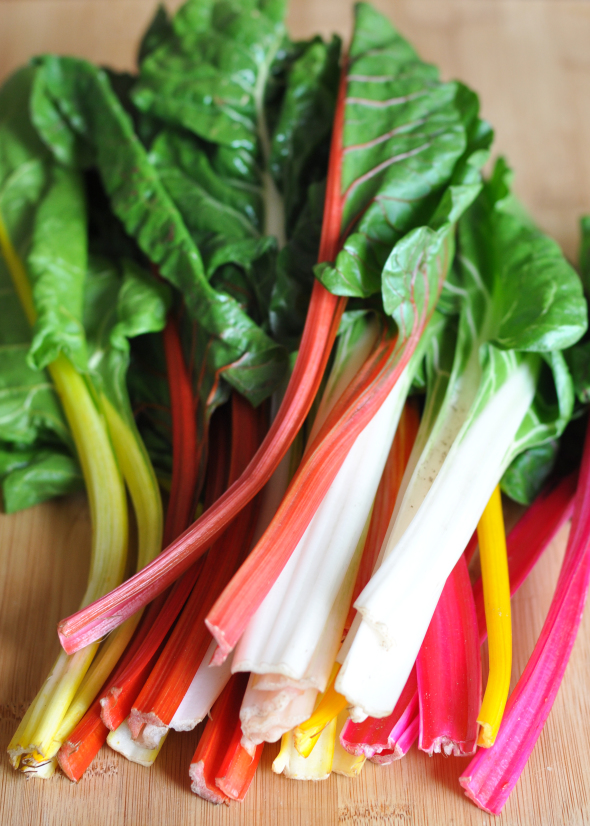 Swiss chard is a nutritional superstar with it's antioxidant properties as well as it's anti-infammatory effect. It's an excellent source of vitamins K (more than 300% of the dailyvalue in a cup), A, and C, as well as a good source of magnesium, potassium, iron, and dietary fiber. Of course like other leafy greens, it's super low calorie. The perfect side!
Side note to those that are prone to kidney stones you might want to skip this veggie, because it contains oxalates, which decrease the body's absorption of calcium and can lead to kidney stones.
Swiss chard can be used similar to kale or spinach, but it has a more earthy, slightly bitter flavor. I love it! You will need to give it a good wash and cut off the stems, but I don't worry about the stem running through the leaves. It's not quite as tough a stem as kale.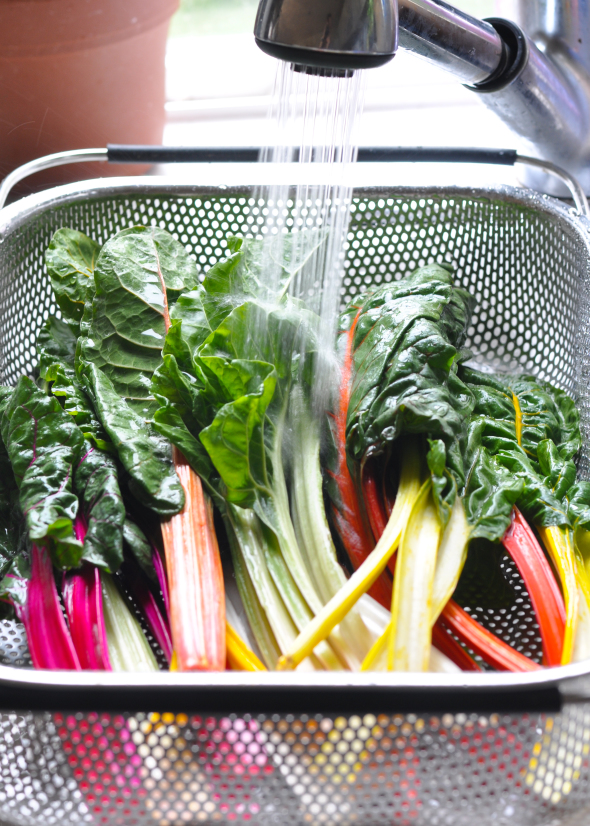 I use my salad spinner to get it nice and dry before sauteing

I seriously just wanted to admire this bunch of chard, but decided I should cook it while it was fresh.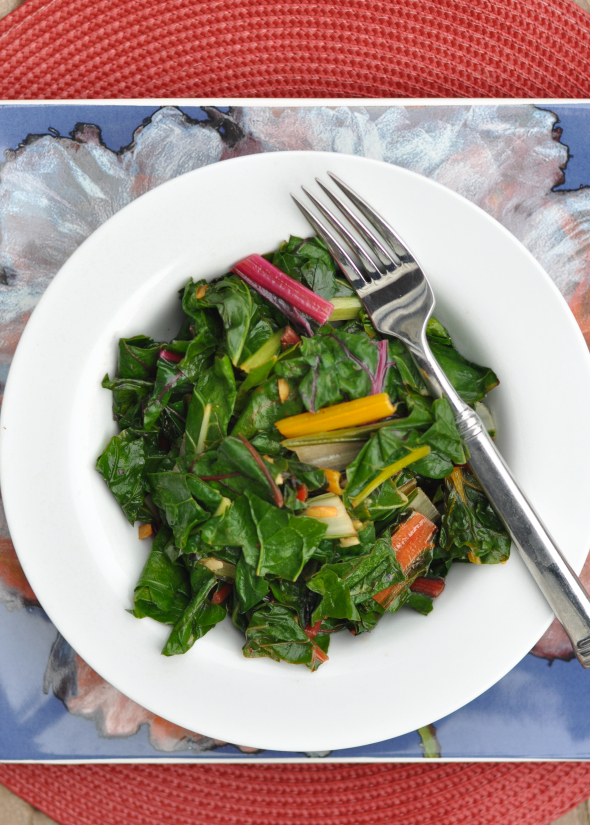 I love a simple side like this that goes with a variety of meals and takes no time to prepare.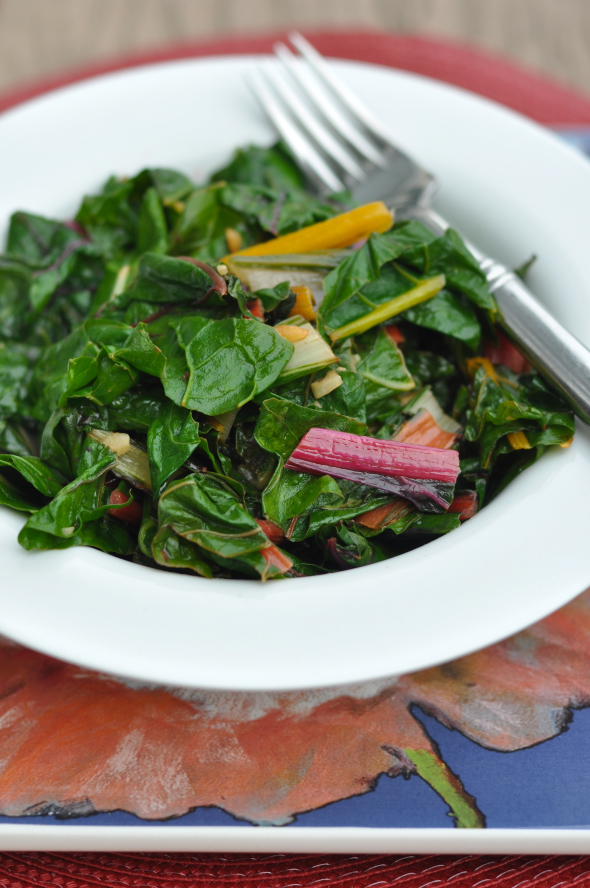 Need some more ideas on how to prepare swiss chard? I turned to my trusty recipe site, Cooking Light and found these delicious recipes.
And here is a rough meal plan for this week. As always I tend to make more mexican flavors than anything. With it getting closer to summer and our outside play hours getting longer, I put less energy into dinner since I am usually out watching the kids until later. It's perfectly fine with me to have a few months where I get to be a little more relaxed about dinner time.
Meal Planning
Sunday
Grilled Chicken, Asparagus and Sliced Potatoes, Bruschetta
Monday
Crunchy Chicken Tacos, Salad, Guacamole
Tuesday
Slow Cooker Chicken and Potato Soup with Cilantro
Wednesday
Leftovers
Thursday
Tortilla Casserole Casserole with Swiss Chard (recipe link above)
Friday
Traveling
Garlic & Lemon Rainbow Swiss Chard
Ingredients
1 bunch rainbow swiss (or regular) chard
2 teaspoons olive oil
1 large clove garlic minced, or smashed if you prefer less garlic flavor
⅛ teaspoon red pepper flakes
1 Tablespoon fresh lemon juice
salt and pepper to taste
Instructions
Wash chard leaves well, remove tough stems (reserving for another time), chop chard leaves and dry well preferably with a salad spinner.
Heat a large skillet or pot on medium heat. Add olive oil, minced garlic and saute for 1 minute. Add red pepper flakes and cook an additional 30 seconds. Add swiss chard leaves, stir and half cover with lid. Saute ~5 minutes or until tender. Stir in lemon juice, season to taste with salt and pepper.
Question: How was your Mother's Day? What are you cooking this week?
Don't forget to enter my Sunglasses Shop giveaway!