I was introduced to quick power workouts back when I worked as a Dietitian in the wellness department of Austin's transportation company. By working with (and working out with) the personal trainer there, I realized you don't need to be exercising for over an hour to get a good workout in. A couple times a week when I had a quick lunch break, I would squeeze in a workout in under 30 minutes. I started to get more toned than I ever had. I was challenging new muscles every couple days instead of getting on the elliptical for another monotonous hour of cardio.
Do you ever feel like you do the same workout routine over and over and never see results? If you've been doing the same routine, with the same amount of weight and same number of reps, it might be time to change things up. You have likely hit a plateau and will need to make changes to your diet and exercise routine.
It was at that job that I realized muscle confusion is more than a myth. It is the principle that changing your routines keeps your body guessing, therefore reducing the chance of hitting a plateau. The good news is that if you are focused, you can power through a workout in less time than ever. Your workouts should keep you moving and challenging different muscle groups. I didn't say it wouldn't be intense.
If you've ever been to a gym and observed the people working out, you will likely have witnessed this scenario: someone does a set of reps, hangs out on the machine resting for a few minutes (or more), repeats another set, rests, repeats. That is NOT the way to exercise efficiently. Instead try this: move from exercise to exercise targeting different muscle groups and perform high repetition with moderate weights; you will be getting your heart rate up and will be get done with your workout much faster. You can than repeat the entire cycle to get your desired number of sets in, but you won't need to waste precious time "resting" those muscles. This is the idea behind circuit training. Make sense?
Changing your routine will help increase your metabolism and help you burn fat. To get you motivated, I will be posting workouts to my blog occasionally- every week or every two weeks, I haven't decided yet. I will be posting ones that you can do at home with minimal equipment if any. If you can't get through the number of reps posted, do what you can.
The great things about these shorter workouts is that you can incorporate them into your day how you like. If you want to run or do some cardio first, great. If you only have 30 minutes on a break these workouts will be perfect. This time I am linking videos of the exercises you might not know. I won't always do this so if you aren't familiar with the name of an exercise posted, just google it and you will find several youtube videos.
Please note, this should not replace the advice given to you by your physician. If you have medical conditions you should be given the ok to exercise from your physician.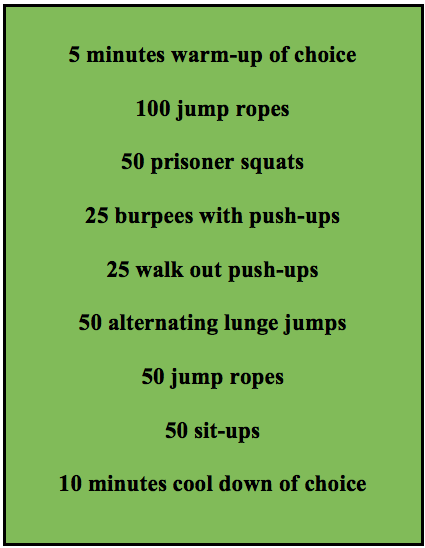 Moving on to meal planning. I've realized that with soccer practice running twice a week from 5:30-6:30pm I just don't have time to make dinner those nights so will focus on quick meals. We are having beautiful warm weather here in Missouri so it is definitely time to start grilling!
Menu for the Week of April 1st
Sunday
Veggie Lasagna, Mixed Green Salad
Monday
Grilled Fish Tacos, Homemade Pinto Beans, Lime Cilantro Slaw
Tuesday
Bean and Cheese Tacos (using leftover beans), fruit, raw veggies or leftover slaw- soccer night
Wednesday
Veggie Lasagna (made over the weekend and frozen)
Thursday
Quesadillas or sandwiches- soccer night
Friday
Pizza night (Spinach, Tomato & Garlic)
Saturday
Grilled Chicken and Veggies, Israeli Couscous
So I'd love for this meal planning to be more interactive….we can get great ideas from each other! Please do me a favor? Leave me a comment! It won't take but a minute and is much appreciated.



Question: What's on your meal plan this week?
Examples of exercises listed in workout:
Prisoner Squats
Burpees with push-ups

Walk-out push-up
Alternating Lunge Jumps