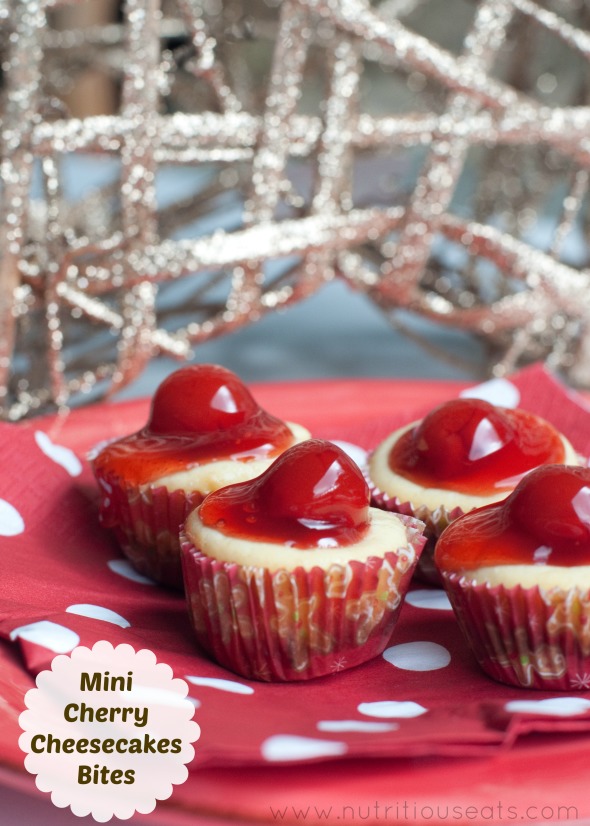 As magical as pregnancy can be, I am just about ready for this one to be over- 38 weeks, tired, uncomfortable and in need of a good workout (and a good glass of wine!). I am not even that excited about Holiday eating because there isn't much room in my belly for it. What I am saying is I don't think this will be my year of desserts. Maybe I will save the splurge calories for post-baby when I have room and am burning even more calories nursing.
I do love a good cheesecake so I might make an exception for my favorite pumpkin cheesecake….but when I was thinking of cheesecake I remembered these adorable mini cherry cheesecake bites that I made for the first time years ago. It's a quick and easy Holiday dessert recipe to have on hand so I thought I'd share with you!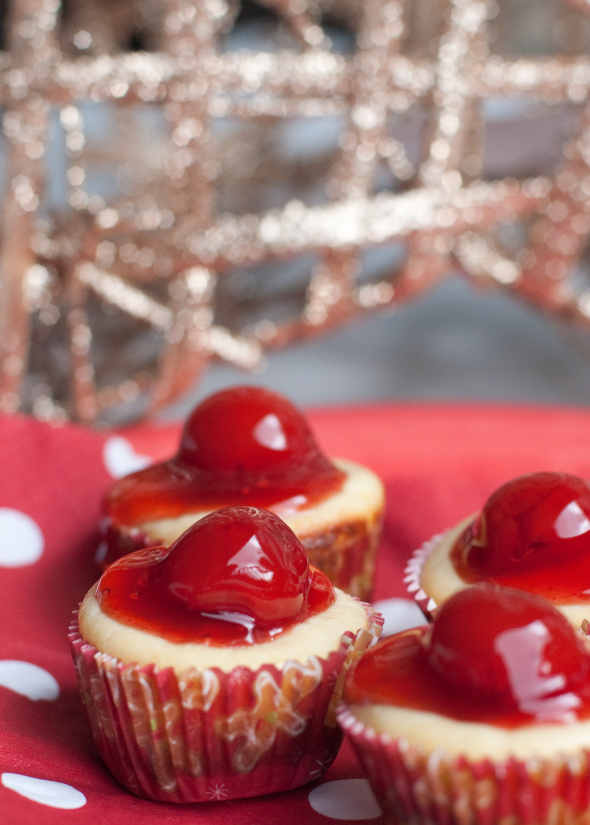 They are just so cute and festive and the recipe makes a good amount so they are perfect for a party. They make a nice addition to a cookie tray and if you are good with portion control then you're in luck!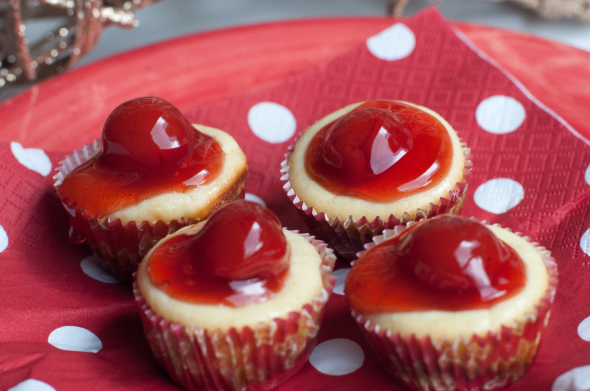 I am curious what everyone has on the menu this year for Christmas Eve and Christmas day?
Growing up, on Christmas Eve we used to do lots of appetizers and maybe rolls with a ham for sandwiches. I remember there always being a 7-layer type Mexican dip- sometimes cold, sometimes hot. Loved that as a kid!
When it's just my family celebrating we have done Mexican food on Christmas eve, like homemade enchiladas or tamales along with traditional Mexican side dishes, we have also done heavy appetizers. Then on Christmas day we usually do a similar version Thanksgiving food. This year my parents will be arriving just in time for Christmas Eve (and crossing my fingers baby doesn't come before then!) and I have put them in charge of the menu. So I really have no idea what we'll be doing this year.
Since I celebrated Thanksgiving twice this year I feel pretty content and don't feel the need to make all those dishes again.

Mini Cherry Cheesecake Bites
Author:
Melanie F. | Nutritious Eats
Ingredients
2 packages (8-ounce) cream cheese (softened to room temperature)
¾ cup sugar
2 eggs
2 teaspoons vanilla extract
2 teaspoons lemon juice
12-ounce package Vanilla wafers, mini wafers work the best
Mini baking cup liners, aluminum works best (despite the picture)
1 21-ounce can Cherry pie filling
Instructions
Preheat oven to 350 degrees.
Mix together cream cheese and sugar until light and fluffy. Add eggs one at a time, beating until well combined, stir in vanilla and lemon juice.
Place a vanilla wafer in the bottom of each mini aluminum baking cup, rounded side down (they won't lay perfectly flat).
Spoon the batter evenly over the wafers.
Bake for ~15 minutes or until edges appear set; remove from oven and let cool.
Top with cherry pie filling and refrigerate.
Notes
I have researched other recipes similar to this and some people complain of the cookie wafers not fitting into the mini cup. When I placed the cookie in, round side down, it stretched out the liner a little but ended up working out just fine. If you find the mini wafers, use those. You could also break up the wafer or crush them in a food processor or plastic bag and sprinkle a little into the bottom.
If you use the sturdy mini aluminum liners you can place them directly onto a cookie sheet if you don't have mini muffin pans.
Recipe adapted from
AllRecipes
Anyway, I'd love to hear what you are doing for your Holiday meals?! P.S. Say a quick prayer for me that I don't go into labor in the next 6 days! Thanks!