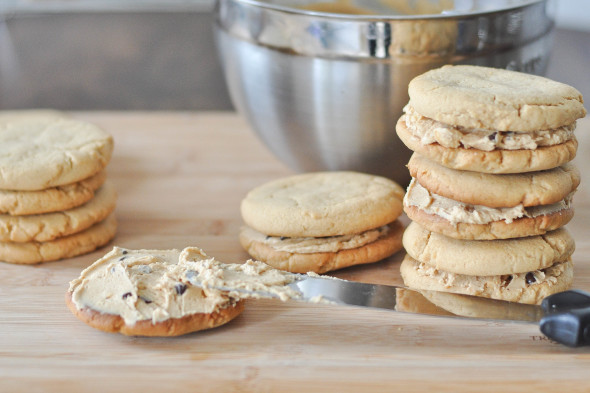 I haven't posted a splurge-worthy recipe in a LONG time so look away if you are trying to fit into a bathing suit by the summer time. Look away if you are watching what you're eating. You're going to want one of these cookies now. And you will make a batch and want to eat them all and you will hate me for it. So if you like cookies, just look away. Pretend like you never saw this.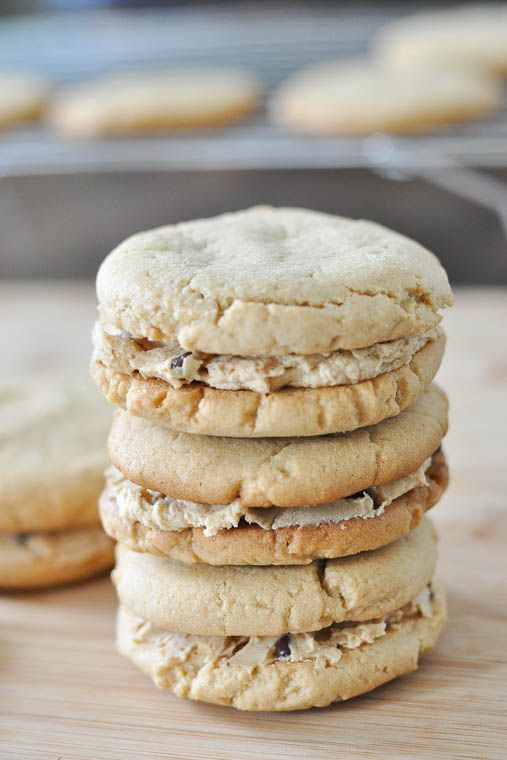 For those of you who are accepting of the splurge, these cookies were awesome. They resembled the Girl Scout Peanut Butter Sandwich cookie, only WAY, WAY, WAY better. First off, they are much bigger, the texture of the cookie is both soft and firm enough to bite into the sandwich without it breaking or falling apart and the filling is SO yummy. I was "forced" into making them because I am working my way through the pantry. Peanut butter, flour, sugar, butter, nuts, chocolate chips, etc. It all got used! Yay me!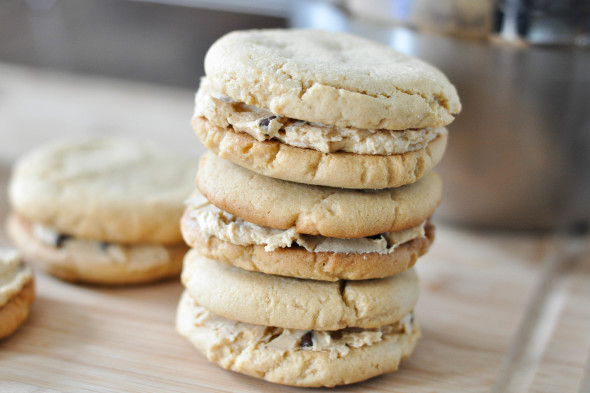 Luckily I had Bunco the following night so I was able to share with the ladies. They were a big hit and I got several requests to post the recipe. Interestingly I thought my husband would've eaten them all before I was able to package them up because he adores peanut butter. Although he thought they were "great" I quote him saying "they didn't knock my socks off". "What do you mean?!" I asked and he immediately clarified saying that he really liked them, they just didn't fall into his top 3 favorite dessert recipes I make. Whatever. I loved them and I'll make them again and eat them all. So there.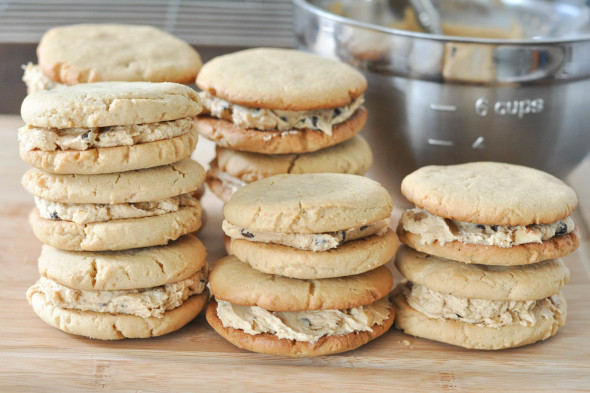 I followed the directions exactly for this one. I did, however, end up with less cookies- 13 sandwiches instead of the 18 stated in the original recipe. I used a heaping tablespoon and baked them 15 to 16 minutes (a little over) what the recipe called for since they were thicker. I ALWAYS end up with less cookies than what is stated in recipes so I guess I just have a heavy hand with the spoon, but they turned out fabulous nonetheless.
If you feel like a splurge or need to bring dessert to a party, these are a super fun, super tasty cookies! Enjoy!
Peanut Butter Sandwich Cookie
Serves:
13-18 (2½ inch) sandwich cookies
Ingredients
For the cookies:
1½ cups (6 ounces) unbleached all-purpose flour
⅔ cup (2 ounces) cake flour
½ teaspoon baking soda
¼ teaspoon table salt
¾ cup (6 ounces) unsalted butter, completely softened at room temperature
¾ cup smooth peanut butter
½ cup suger
½ cup firmly packed light brown sugar
1 teaspoon pure vanilla extract
1 large egg
For the filling:
1½ cup confectioners' sugar
6 tablespoons (3 ounces) unsalted butter, soften at room temperature
¾ cup smooth peanut butter
3 Tablespoons heavy cream
¼ cup coarsely chopped roasted unsalted peanuts
¼ cup mini chocolate chips or coarsely chopped semisweet chocolate
Instructions
For the cookies:
Heat the oven to 350 degrees. Line two baking sheets with parchment paper. In a medium bowl, sift together the two flours, baking soda and salt.
In the bowl of an electric mixer using the paddle attachment, cream the butter, peanut butter and sugars until light and fluffy. Add the vanilla and egg, continue creaming until smooth and fluffy, about 3 minutes with an electric mixer.
Add in the flour mixture slowly just until it's incorporated; don't over-mix or the cookies will be tough. Drop heaping tablespoons of batter, spaced 2 inches apart onto the lined baking sheets. Using your fingers, flatter each cookie into a 2 inch round. Bake ~12-15 minutes or until puffed and golden, rotating the sheets if needed for even baking. Transfer the cookies to a rack to cool.
For the filling:
In a small bowl, combine confectioners' sugar, butter, and peanut butter and cream until smooth. Add the heavy cream and continue creaming until smooth and fluffy.
Stir in the chopped peanuts and chocolate.
To assemble: flip half of cookies over and using a offset spatula, spread some of the filling over them (~2 teaspoons). Top with another cookie and press down lightly. Store at room temperature or in the refrigerator for up to a few days.
Notes
You can make these ahead of time. They hold up extremely well and will not get soggy even with filling. For best results, use a smooth "processed" peanut butter such as Skippy Natural to get the right texture.



Recipe from the Best of Fine Chocolate, with very little modifications
Question: What is your favorite kind of cookie?