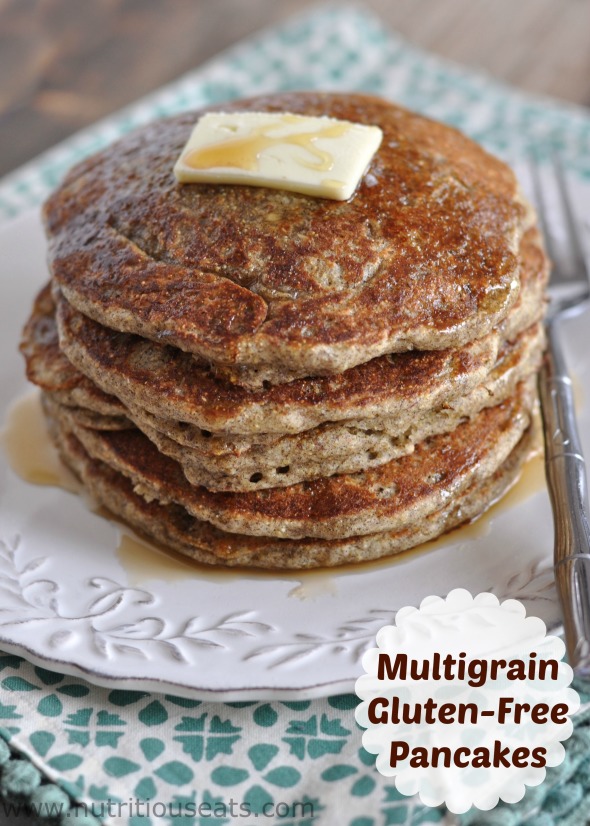 One of my favorite parts of the weekend is leisurely waking up to a big pot of coffee and cooking a nice breakfast. In fact the minute the kids roll out of bed they ask "what are you making for breakfast?" They love their weekend pancakes and  I love playing with pancake recipes. There are just SO many options when it comes to pancakes- blueberry, buttermilk, peanut butter, cinnamon raisin, oatmeal, chocolate chip, the list goes on. I always make them from scratch because they are too easy not too.
I have, however, tried a pre-made gluten-free all-purpose mix, simply for test purposes and I was not impressed. It was a generic brand that I picked up at a local grocery store. It had way too much rice and potato flour and basically tasted like nothing. Since then I've been wanting to make gluten-free pancakes from scratch that actually have flavor.
I recently discovered a grocery store not too far from us that has a wonderful bulk food section. You should have seen my jaw drop when I found it. Great prices of all the nuts, flours, grains, seeds, etc. you could want. I thought it was the perfect time to pick up some different flours and experiment.
I bought buckwheat flour, almond meal, and so much more. The great thing is that I didn't have to commit to a large package but rather could portion out the amount I needed. These pancakes were exactly what I was looking for- nutty, hearty, whole grain goodness and full of flavor! You do not have to be on a gluten-free diet to enjoy these- trust me!
I think the almond meal gave it such a nice flavor but if you are cooking for someone with a nut allergy you could substitute additional oat flour. I grind my own oatmeal into oat flour using my food processor. In this recipe I prefer the oat flour with a little bit more texture than the pre-ground one that is superfine.
Since this recipe calls for more than one type of flour I plan on making up a large batch of the dry ingredients to have on hand. That way I will have my own pre-made pancake mix for those mornings we are craving pancakes. I am always looking for ways to save time in the kitchen!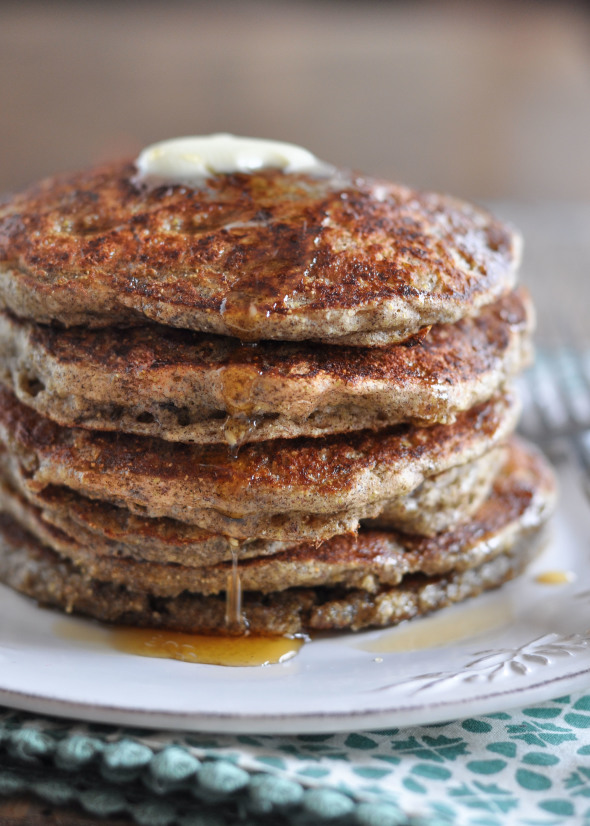 Pancakes make me happy- any kind really as long as they taste good. That's not too much to ask is it?
What's your favorite weekend breakfast?
Multigrain Gluten-Free Pancakes
Ingredients
1 cup gluten-free oat flour (I just grind whole gf rolled oats in my food processor)
⅓ cup almond meal
⅓ cup corn meal
⅓ cup brown rice flour
¼ cup buckwheat flour
1 Tablespoon baking powder
1 teaspoon salt
1 teaspoon baking soda
2 cups organic buttermilk
¼ cup pure maple syrup
1 egg
¼ cup coconut butter, melted and cooled
Instructions
Mix all dry ingredients- oat flour through baking soda in a large bowl.
In a small bowl mix wet ingredients- buttermilk through melted coconut butter. Stir well with a whisk.
Pour wet ingredients into dry ingredients and whisk until few lumps remain (it's ok to have some).
White batter rests, preheat griddle to medium heat and spray with cooking spray.
Using a ¼ cup measure, scoop out some batter onto grilled. Cook for ~3 minutes or until underside is lightly browned, flip and cook another 2 minutes. Serve with pure maple syrup.
Learn more about living gluten free! Visit http://udisglutenfree.com/community
This is a sponsored conversation written by me on behalf of Udi's Gluten Free. The opinions and text are all mine.