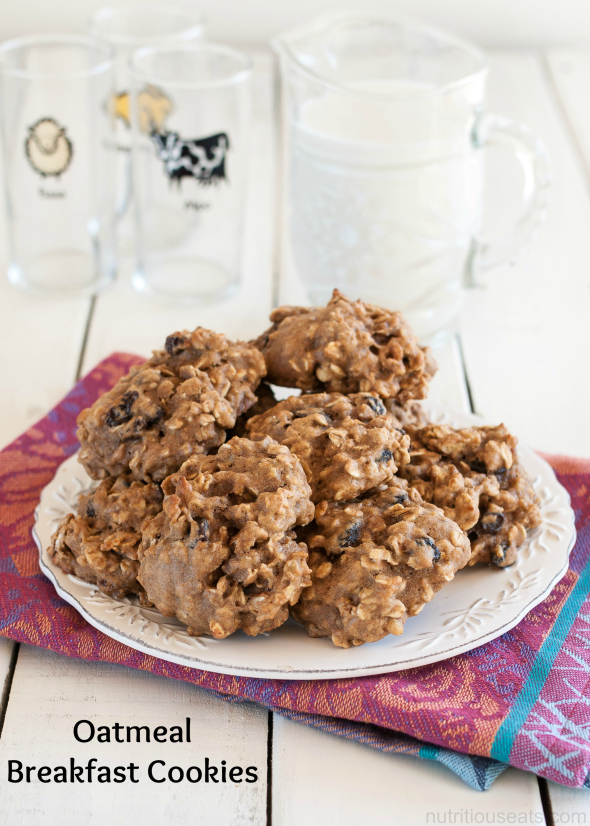 Hi friends, did you miss me on Friday? I didn't post because I was on a very special date. My hubby and I celebrated our 11th wedding anniversary and took a trip to the Washington wine country, Walla Walla. I will have to wait until Friday to tell you about it because I already have a couple post planned. But the spoiler alert is that it was a fabulous trip!
Those that voted on my quick survey said they wanted to see a vegetarian main dish and cookies next so I was happy to oblige!
Anytime you mention the word cookie, people get excited. My kids were drooling over the pan that was on the drying rack early in the morning when I created this recipe.
I said "you probably won't even like them" since they have healthy ingredients like rolled oats, applesauce, banana, nuts and raisins. You know, reverse psychology always works. So they begged and begged. Even though I really wanted all the cookies to photograph, I was a nice mom and let them have one for breakfast. They were a hit.
They were perfectly sweet with only ~1 teaspoon of sugar per cookie, the applesauce and ripe banana really add a lot of natural sugar. They stayed firm around the edges but super soft inside. The banana gave them a touch of a banana bread flavor, but not overwhelmingly so.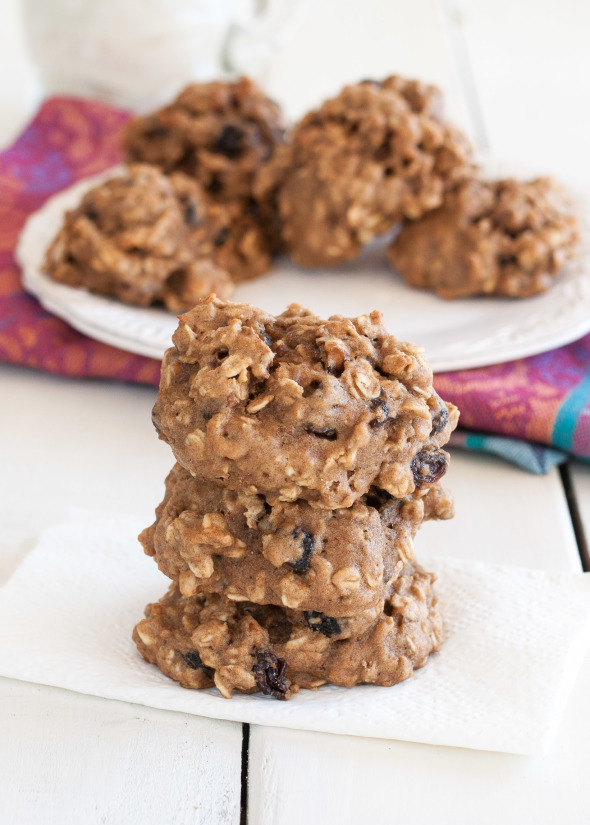 These days I haven't felt like much of a sit down breakfast, but have been gravitating towards grab-and-go quick things, so I am super excited about this breakfast cookie recipe and think I will make it often. Plus this whole grain treat packs a lot of nutrition with the oats, natural fruit, eggs and nuts.
Feel free to change the add-ins to your liking. I would've added dried cranberries but I was out of those so stuck with pecans, walnuts and raisins. And really anything with oatmeal for breakfast is usually a win in my book.
Another great thing about this recipe is that it's easy enough to whip up on a weekend morning. Although I haven't tried it yet, I am sure these would be great to store in the freezer in small portions and pull out the night before for a quick breakfast. Sadly it took about 24 hours for the batch to disappear!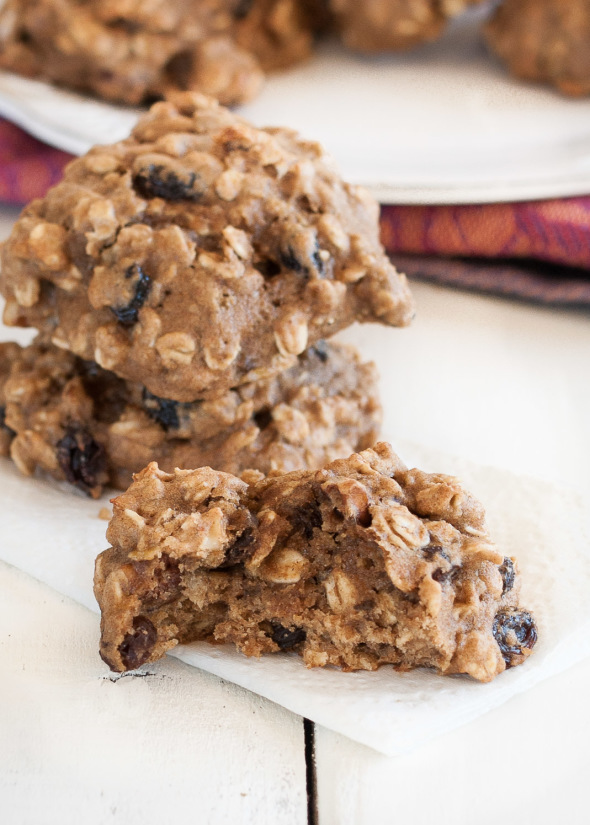 Have a great week everyone!
Oatmeal Breakfast Cookies
Author:
Melanie F. | Nutritious Eats
Ingredients
1 1 /2 cup rolled oats
1 cup whole wheat flour
½ teaspoon baking soda
½ baking powder
¼ teaspoon salt
½ teaspoon cinnamon
⅓ cup oil such as vegetable, grape seed, coconut
⅓ cup packed brown sugar
1 mashed ripe banana
4 ounce applesauce
2 eggs
1 teaspoon vanilla extract
½ cup raisins
⅓ cup chopped walnuts
⅓ cup chopped pecans
Instructions
Preheat oven to 350 degrees. Line a baking sheet with parchment paper.
In a large bowl combine dry ingredients- oats and the next 5 ingredients (through cinnamon). In a separate smaller bowl, whisk together oil and brown sugar. Add mashed banana, applesauce, eggs and vanilla. Whisk together until well blended (ok if some lumps from banana remain). Stir wet ingredients into dry ingredients. Mix until combined. Stir in raisins and nuts until combined. Using a cookie scooper, take a heaping 2 tablespoons and drop onto cookie sheet. Place dough ~1 inch apart.
Bake for 10 minutes. Cool on baking sheet for ~5 minutes, remove to cooling rack and continue to cool.