Looking for more healthy breakfast meals ideas? This toasted english muffin with veggies and creamy spreadable cheese makes a delicious start to the day. 
By posting this recipe I am entering a recipe contest sponsored by Real California Milk products and am eligible to win prizes associated with the contest. I was not compensated for my time.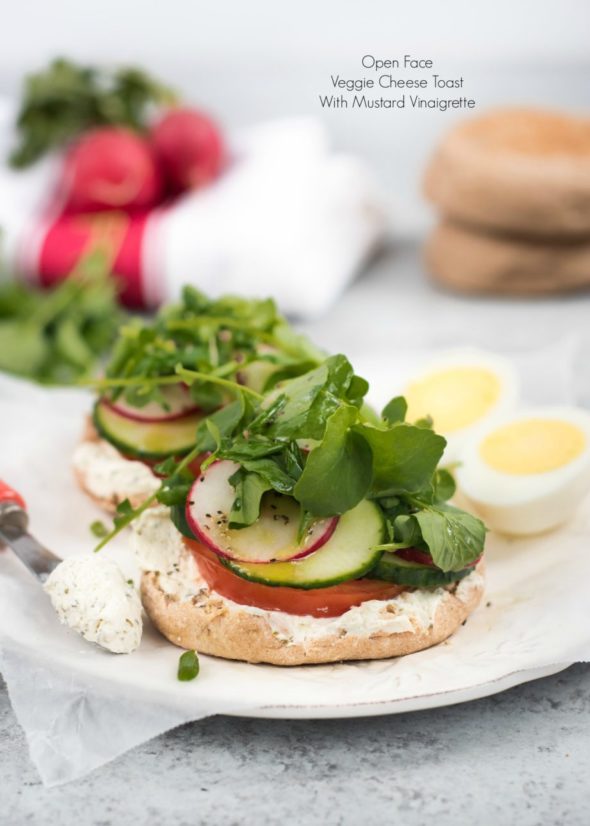 When I wake up I tend to crave something sweet for breakfast such as fruit, yogurt or muffins, but then after about an hour I want all things savory. Back in my college days, I used to stop by the bagel shop and get the veggie bagel sandwich which was vegetable cream cheese topped with all the fresh veggies. I thought I was being so healthy, but you know we finally learned bagels everyday isn't such a good choice. Ha.
Anyway, those delicious sandwiches inspired this Open Face Veggie Cheese Toast using a lighter carb english muffin instead of a bagel. I kept it simple with a delicious spreadable California cheese as the base, topped with fresh Spring veggies like radish, watercress, cucumber and tomato and chives, topped with a simple mustard vinaigrette for an extra pop of flavor. Sooooo good!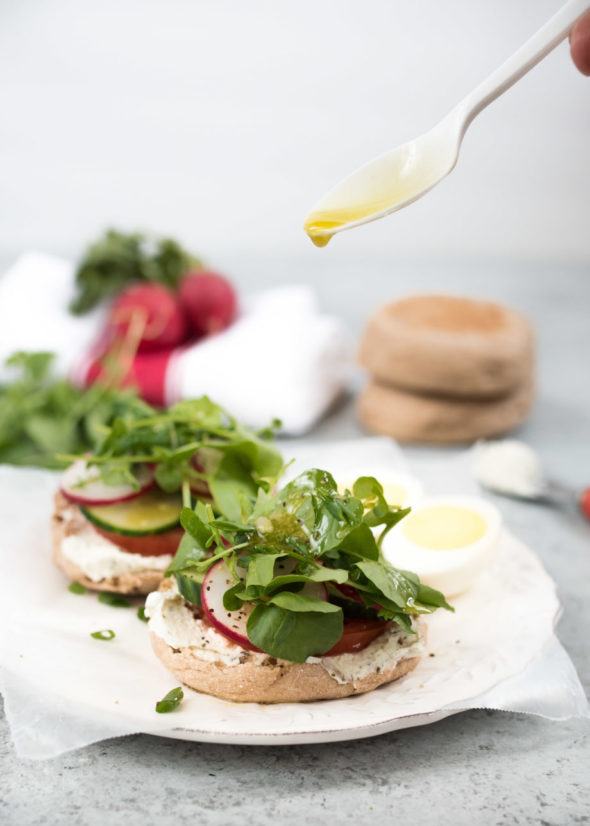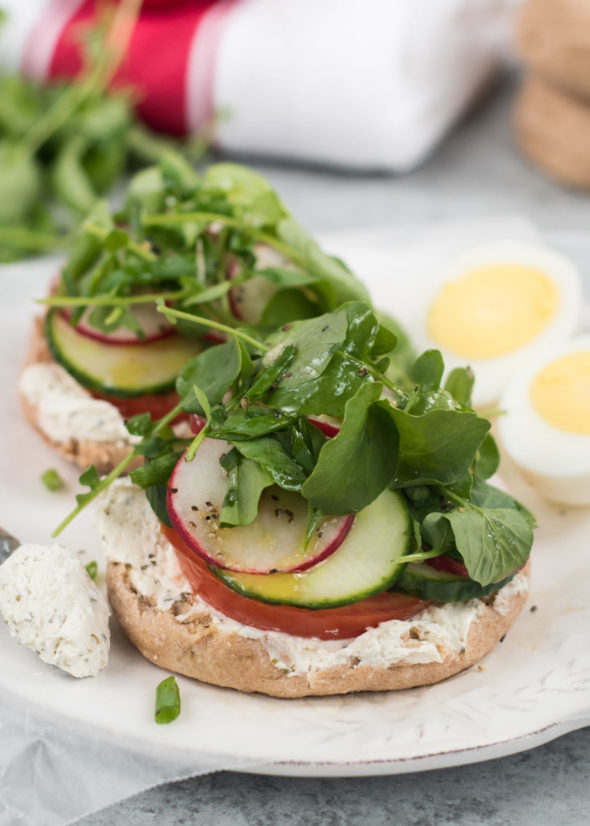 Did you know California is the leading producer of milk, ice cream, butter, nonfat dry milk and whey protein concentrate and the second largest producer of cheese and yogurt?
When you see the seal you can feel good knowing that the product is certified as having been made with 100% Real California Milk from Real California dairy families, 99% of which are family owned. I was lucky enough to have lived 5 fabulous years in San Diego, so I am always a fan of supporting that beautiful state!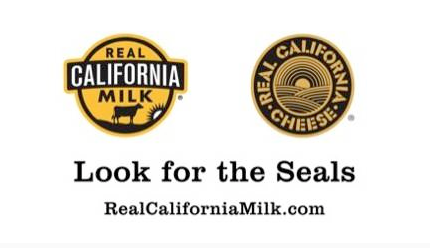 A little cheese goes a long way, especially when you are using Real California spreadable cheese. It's like a softer cream cheese with a little more flavor. Yum! However if you can't find it, a California cream cheese would be awesome too.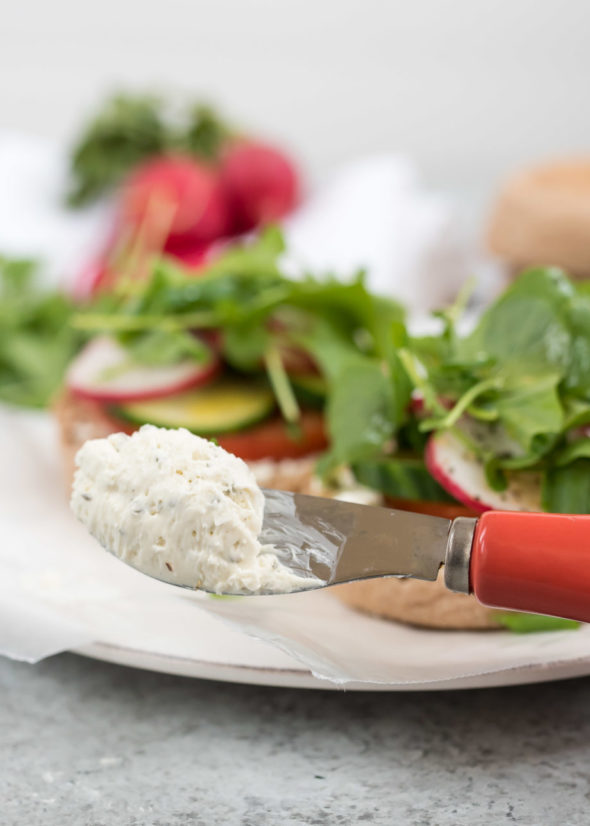 Now carry on and go eat your breakfast! 🙂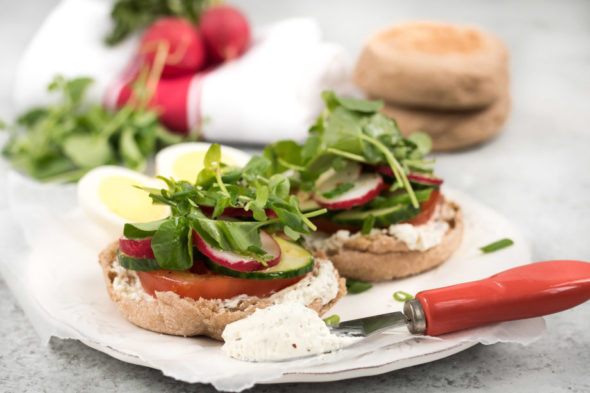 Open Face Veggie Cheese Toast with A Mustard Vinaigrette
Need new healthy breakfast ideas? Try Real California spreadable cheese and fresh veggies on a toasted whole grain english muffin topped with a mustard vinaigrette!
Author:
Melanie F. | Nutritious Eats
Ingredients
1 whole grain english muffin, toasted
2 Tablespoons California spreadable cheese
2 large tomato slices
6 cucumber slices
4 radishes, thinly sliced
1 cup watercress
1 tablespoon chopped chives
For the dressing:
1 teaspoon dijon mustard
pinch of salt and pepper
1 garlic clove, minced
½ teaspoon honey
2 tablespoons apple cider vinegar
¼ cup olive oil
Instructions
For the dressing: add all ingredients to a jar, place a lid on tightly and shake well until combined.
For the veggie toast, toast the english muffin. Spread 1 tablespoon of California spreadable cheese on each half. Top with each half with 1 tomato slice, 3 cucumber slices, half of the radishes and half of the watercress. Drizzle with a teaspoon of dressing and fresh chives.
When purchasing dairy products look for foods made with 100% Real California milk that feature the California Milk or Cheese seal.