Overnight Steel Cut Oatmeal is a simple and nutritious way to prepare your oats, fuss-free, gluten-free and ready to enjoy when you wake up!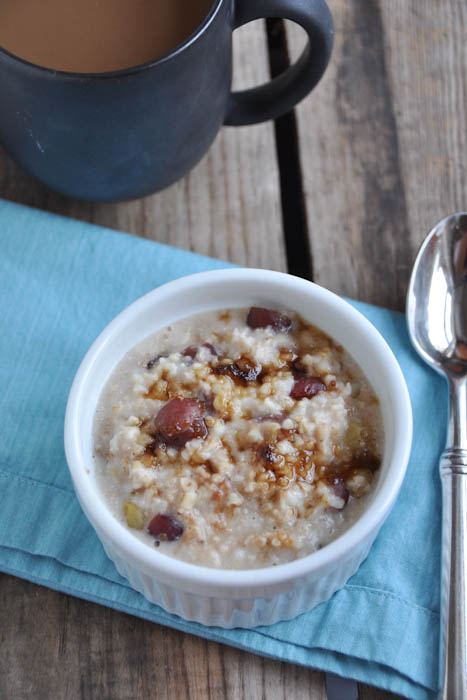 Overnight Steel Cut Oatmeal is the dish for you if you are finding little time for breakfast in the morning, but like something warm and nutritious. Setting the slow cooker the night before full of steel cut oats is a great way to have a healthy, quick breakfast during the week. Breakfast truly is the most important meal of the day. It gets your metabolism running, helps you think clearly and eat healthier throughout the day. It also allows you a good opportunity to get in some of those required food group servings such as fruits, whole grains, dairy or proteins.
Let's talk a little about whole grains shall we?  Whole grains contain protective antioxidants in amounts near or exceeding those in fruits and vegetables. They also contain unique antioxidants that you won't find in other foods. I think most everyone is aware that the fiber in whole grains can help with digestive health, but studies have shown that eating whole grains can reduce risk of cancer, heart disease and diabetes. New evidence supporting whole grains continues to pop up all the time. The minimum amount eaten should be 3 servings a day (where one serving = 1/2 cup hot cereal, rice or other grain, 1 cup dry cereal, 1 slice bread).
Oatmeal is a perfect whole grain options and a great way to eat healthy throughout the year. When made with milk and fruit, you are getting in three food groups with your breakfast meal!
We eat a lot of oatmeal around here. It's truly one of my husband's favorite breakfast foods. Steel cut oats are one of the best kinds to eat. What are they? They are whole grain groats (the inner portion of the oat kernal) which have been cut into two or three pieces by steel rather than rolled. They have a slightly chewier texture than rolled oats and do take longer to cook because they are minimally processed (don't worry rolled oats are still nutritious!).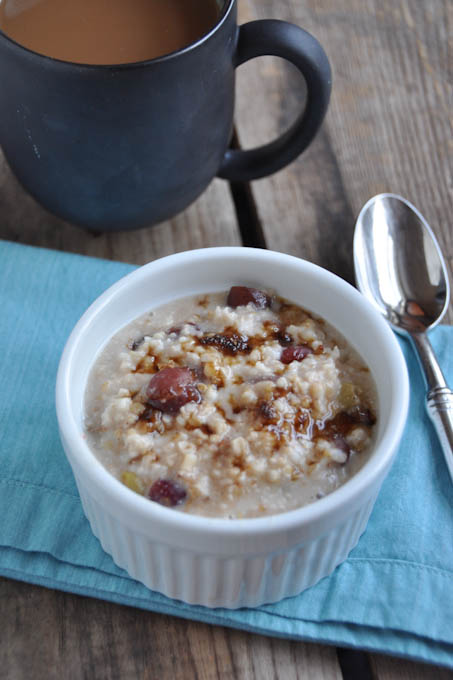 I've tried a couple different methods for the steel cut outs 1) overnight in the crock pot 2) on the stove top. The great thing is that either method can be done ahead of time and stored in the fridge so you can heat up over the course of the week. Just add a few splashes of milk/water as needed before warming up in the microwave and you have a warm, nutritious breakfast ready in 2 minutes! When you set up the slow cooker the night before, there is no excuse for not having enough time! Make it your plan to strive towards healthy eating all year round and start with breakfast.
Note: this crock pot method makes the steel cut oats much creamier. If you prefer them with more of a bite, then I'd recommend the stove-top method.
Moving on….If you are new to the blog, join us in Meal Planning Monday. Just think about what you'll be cooking this week and add it to the comments section, along with any links you'd like to share. Come give ideas and gather ideas.
Menu for the Week of August 21st
Sunday
Potluck event at church (bringing Pesto Pasta Salad and cookies)
Monday
Mexican Chicken Salad on Tostadas
Tuesday
Sandwiches and Fruit (soccer night)
Wednesday
Fish & Veggies in Green Curry Sauce with Jasmine Rice (not sure what kind of fish- depends on what store has), something leftover for kids
Thursday
Bacon & Artichoke Quiche, Salad (soccer night so will make this in the morning and reheat)
Friday
Chicken Saltimbocca, Whole Wheat Pasta, Salad
[print_this]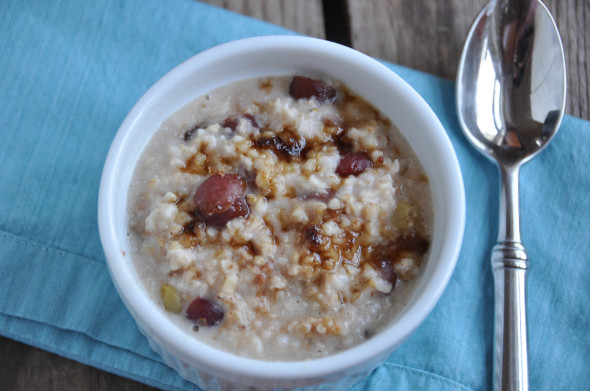 Overnight Steel Cut Oatmeal
INGREDIENTS:
1 1/2 cup steel cut oats (do not substitute rolled oats)
6 cups water
3/4 cup milk of choice
1/2 cup golden raisins
1/2 cup dried cranberries
dash of salt
1/2 teaspoon cinnamon
1 teaspoon vanilla extract
DIRECTIONS:
1. In a slow cooker combine oats, water, milk, half & half, raisins, cranberries and salt. Turn slow cooker to low (or "warm" setting) if you have a powerful slow cooker overnight. Oats should be creamy, cooked through and done in 8 hours.
2. Once cooked, stir in 1/2 teaspoon cinnamon, 1 teaspoon vanilla extract and if desired, a sprinkle of brown sugar right before serving. Makes 4-6 servings.
Note: If you want your oats with more of a bite, you will have to cook them less (use a little less liquid). The first time using the slow cooker for this you might want to do it during the day so you can monitor the time. All slow cookers are different.
Stove Top Method:
1. Cook oats according to package directions choosing number of servings you want to make. Use 1 part milk to 3 part water (the package will indicate amount of liquid needed depending on how much dry oats you use).
2. Add in golden raisins and dried cranberries, about 1/2 cup total for 2 servings oats (I add these during the last 5 minutes of simmering so that they can absorb some liquid and plump up).
NOTE: The oats typically need to simmer for 15 to 20 minutes. I watch carefully during the last 5 minutes and add splashes of water/milk as needed to keep them from being too dry. When done, add in vanilla and cinnamon. Eat immediately or let cool slightly and store in air tight container/s. Add milk/water before reheating.
Recipe from Nutritious Eats
www.nutritiouseats.com
[/print_this]