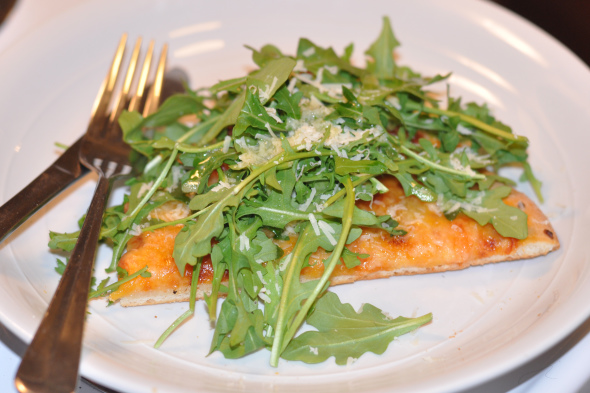 I made this pizza the other night and it was so good! I went to the store on a whim and decided to go ahead and get my weekly shopping done….without a grocery list. GASP! I rarely shop without a list. Even if I am in a grocery store and need to get groceries I'd almost rather go home just to make my list first. Otherwise I end up with $200 worth of random groceries and no meal plan. Stuff gets wasted and I feel unorganized. This time though I was very thorough with my mental list and it actually worked out! On last week's menu (that I created on the fly): a baked whole chicken, scallops w/ spinach, spaghetti with turkey sausage marinara, tostada night and homemade pizza. I was particularly excited about the pizza. I've made plenty of homemade pizzas and they're always fairly easy, but I've found from dough rising to baking it can be a little time consuming. Once the kids and I leave the house after naps we're pressed for time so normally pizza takes a little more planning. Then I noticed this "no rise" yeast in the baking isle especially for making pizza crust! Sweet. I read the instructions and figured I didn't need to rush home to get dinner started any earlier than usual! You just mix up the dough, roll it out and it's ready to be topped, baked and eaten. Pizza in under 30 minutes- yeah!
I also bought a box of arugula and was instantly craving pizza with arugula. If you haven't had arugula, it is a delicious bitter green that can be found in the salad section of your supermarket. It's a very high source of Vitamin A and Vitamin K as well as folic acid. In addition to making a great salad green, it can be substituted for spinach or used in pesto in place of basil.  I envisioned topping the pizza with a big salad and that is basically what I did. I made the pizza crust per the directions on the back of the yeast. It was so simple and took no time at all. You could definitely substitute whole wheat flour, but I ran out.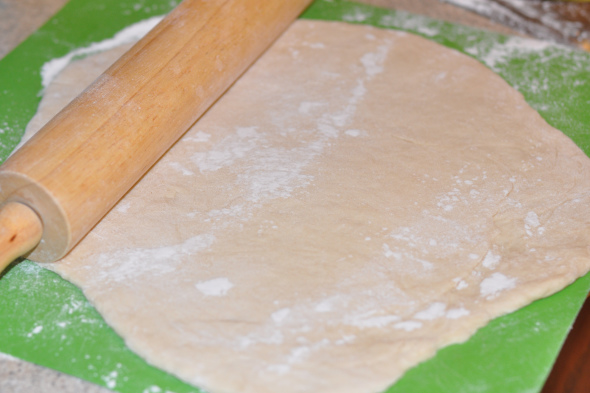 I little trick I've picked up over past pizza-making experiences is to dust the cookie sheet or pizza stone with a little cornmeal before placing the dough onto it. Not only does it give it a nice nutty flavor and texture, but helps prevent the dough from sticking. Then I topped the dough with tomato sauce, cheese (I used a combo of Italian cheeses and shredded colby jack), pepperoni & grated garlic. I left some of it plain just to see what tasted better with the salad greens- the pepperoni won! Of course this is a great vegetarian meal if you want to leave it off.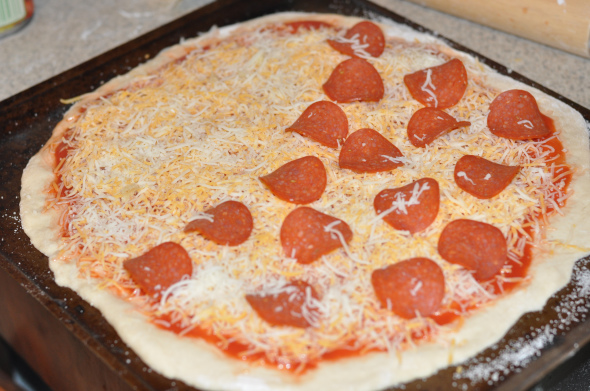 Here is the yeast and tomato sauce I used.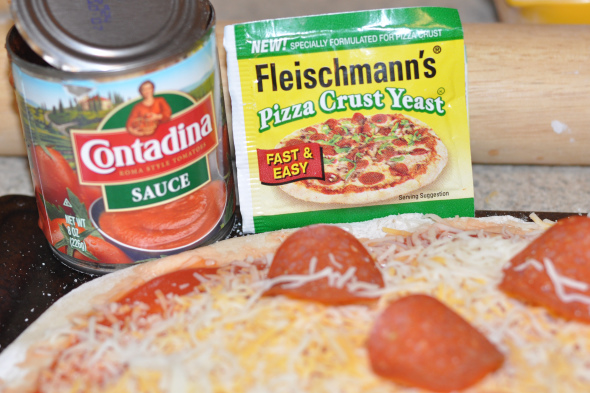 Then I baked it for 12 minutes; it was perfect.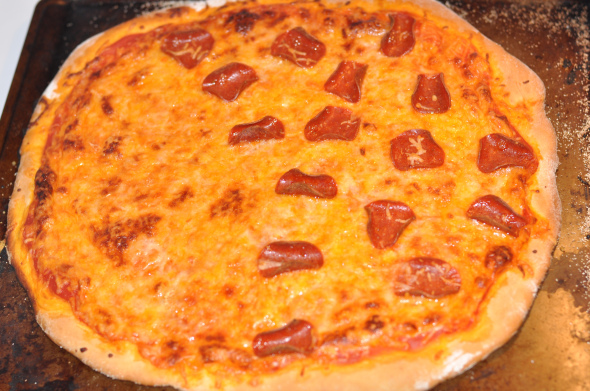 Once it came out, I cut it up and topped each slice with a mound of arugula, some freshly grated parmigiano-reggiano, then I drizzled it very lightly with my lemon dressing.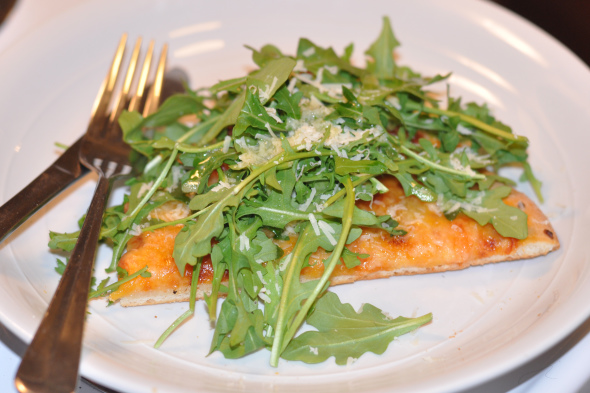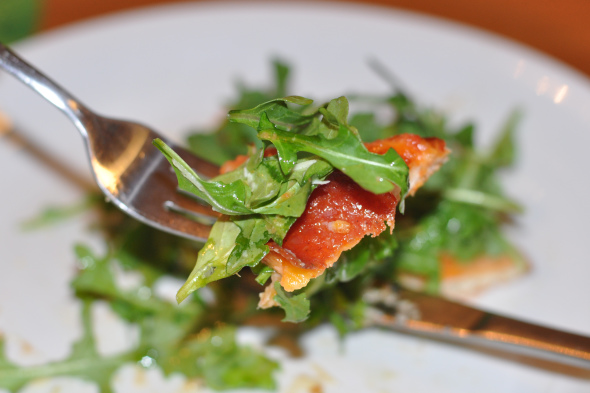 It was delicious! The kids ate theirs plain with a side of veggies. We devoured the whole pizza and I was really wishing for leftovers.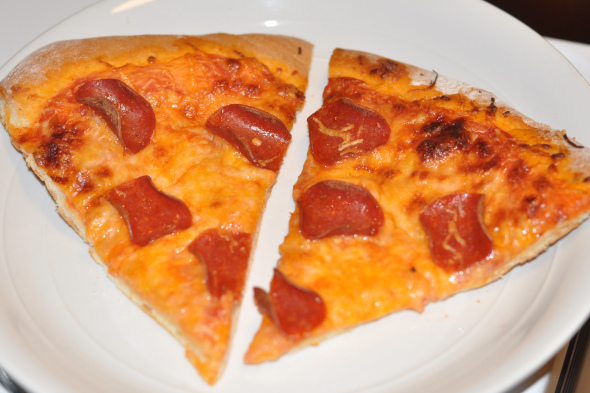 If you've never made homemade pizza, you should try it- it is so easy. Trust me. And it tastes so much better with a homemade crust. I am already thinking about the next one I'll make- caramelized onions, mushrooms, goat cheese- can't wait!
Pepperoni, Garlic and Arugula Pizza
Recipe from Nutritious Eats
INGREDIENTS:
For the Crust:
1 3/4 to 2 1/4 cups all-purpose flour
1 envelope Fleischmann's pizza yeast
1 1/2 teaspoons sugar
3/4 teaspoon salt
2/3 cup very warm tap water (120 to 130 degree F)
3 Tablespoons olive oil
1 Tablespoon cornmeal
For the toppings:
Box of baby arugula
8 oz can tomato sauce, plain
1 clove garlic, grated using microplane
pepperoni (turkey or regular)
1 1/2 to 2 cups shredded cheese (I had a bag of "Italian style 6 cheese blend" and a bag of colby jack)
DIRECTIONS:
1. Preheat oven to 425 degrees. Combine 1 cup flour, yeast, sugar and salt in a large bowl. Add water and oil. Mix together until well blended; about 1 minute.
2. Gradually add 1/2 cup flour until soft dough ball is formed; will be slightly sticky. Add additional flour if needed to form dough ball. (I only added an additional 1/4 cup resulting in a total of 1 3/4 cup flour used and I though the consistency was perfect).
3. Knead on a floured surface adding additional flour if needed, until smooth and elastic; about 4 minutes. With floured hands, roll dough to a 12 inch circle and transfer to a rimless baking sheet sprinkled with cornmeal (or you can press dough out to fill greased pan).
5. Top as desired with pizza sauce (I used about 2/3 of the 8 oz can), toppings (pepperoni and grate your garlic directly onto pizza- use spoon if needed to transfer bits of garlic to the pizza) and cheese. Bake on bottom oven rack for 12 to 15 minutes until cheese is bubbly and crust is brown.
6. When it comes out, cut into slices and top with ~1 cup arugula leaves and a drizzle of lemon dressing.
Click here for the lemon dressing recipe. I've already talked about it in 3 posts! Can you tell I like it?
Nutritious Eats: Vitamin A, Vitamin K, calcium, Vitamin C