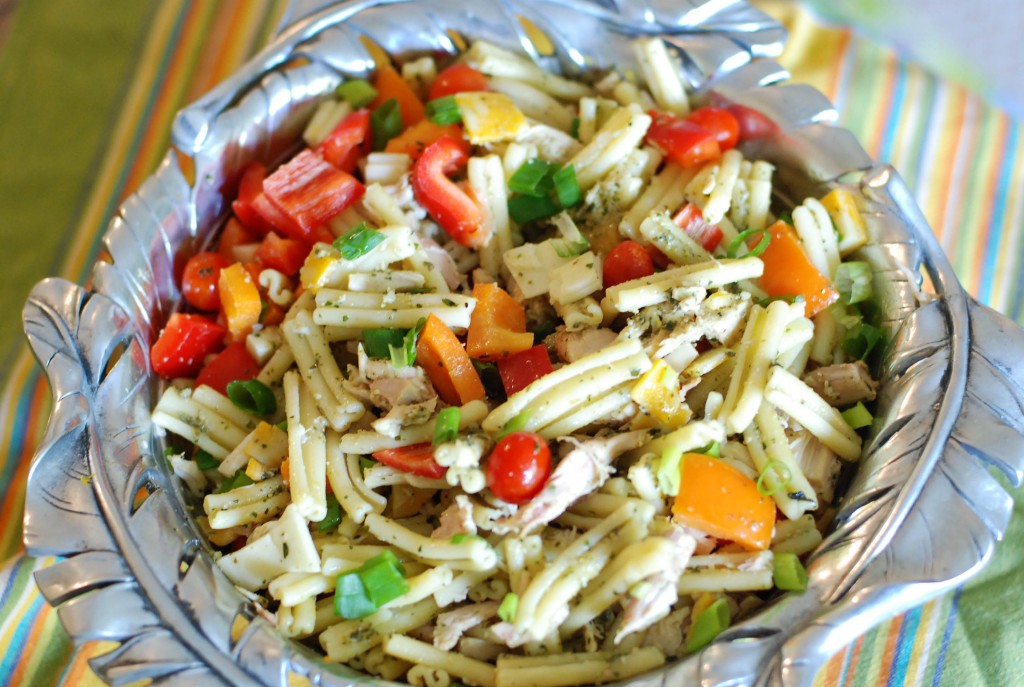 Need something to bring to work for a potluck? Want to have dinner ready early in the day? This is the perfect, simple and tasty dish to make, basically a no recipe kind of recipe. I love dishes that are complete meals- in this you have your protein from the chicken and cheese, carbohydrates from the pasta and some veggies. I would recommend serving this with a side salad to increase your veggie consumption. This is a perfect make-ahead dish because it can be eaten cold, at room temperature and can be reheated. Anything that keeps me out of the kitchen at the "witching hour" (i.e. my kids hanging off my legs, whining out of hunger) is good for me! Enjoy!
Pesto Pasta Salad
Recipe by Nutritious Eats
(makes approximately 6 servings)
1 lb pasta of choice
1 1/2 cup shredded rotisserie or grilled chicken
1/2 cup prepared pesto (see recipe below)
1 c cut veggies (red and yellow bell pepper, tomatoes, green onion)
4 oz cheddar and Monterrey jack cheese, cubed
1. Cook pasta according to directions on package
2. While pasta is cooking, chop vegetables of choice, cheese
3. Toss cooked pasta with pesto, veggies and cheese
Walnut Pesto
Recipe by Nutritious Eats
1 cup basil leaves, packed
1/4 cups walnuts
1/4 cup grated parmesan (preferably parmigiano reggiano)
1 tablespoon water
4 tablespoons extra virgin olive oil
1 clove garlic, chopped
1/4 tsp salt
1/8 tsp pepper
Place all ingredients in a mini food processor. Let it run until a smooth consistency is formed, scraping down sides a couple times. Makes ~ 1/2 cup. Toss with warm pasta.