Pineapple Coconut Overnight Oats are a simple, make-ahead breakfast that will provide you with long lasting balanced nutrition!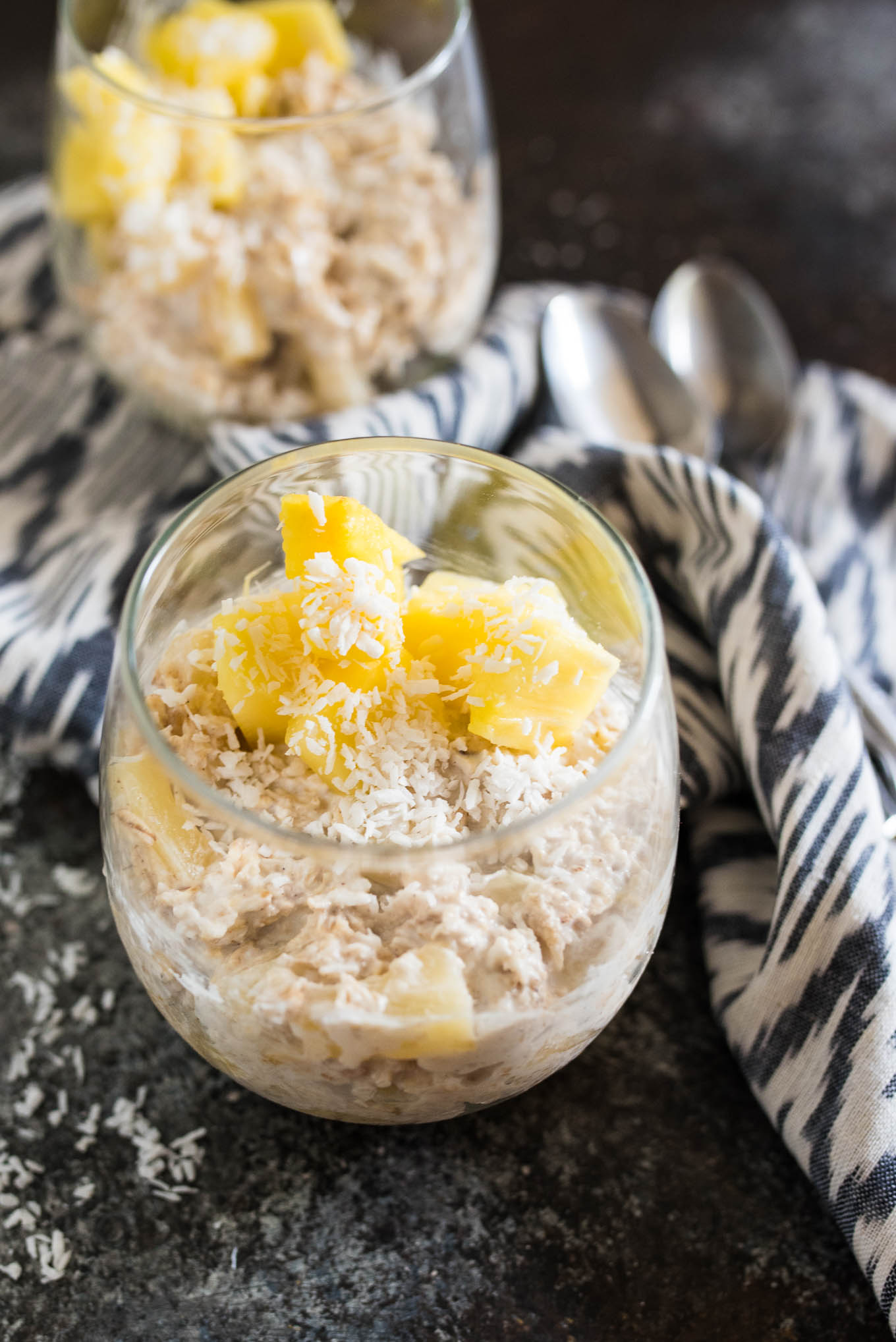 I think overnight oats might be one of the ugliest foods, especially to photograph, but I love this breakfast so much. Overnights oats can be made at night, days in advance and there are so many different variations you can try.
They are so easy that I was shocked to see our grocery store sells ready-to-buy overnight oats in the refrigerator section. I guess if you're in a hurry you don't have the 1 minute it takes to mix your overnight oats, then it might be something you'd like.
This is not something I'd typically buy, but I was really curious to see if this new product would be any different. It wasn't. It was simply oats mixed with yogurt, fruit juice, fruit and they added cane sugar. It was waaaaay too sweet that I couldn't finish it. Moral of the story- overnight oats are so popular that they are making ready-to-buy versions.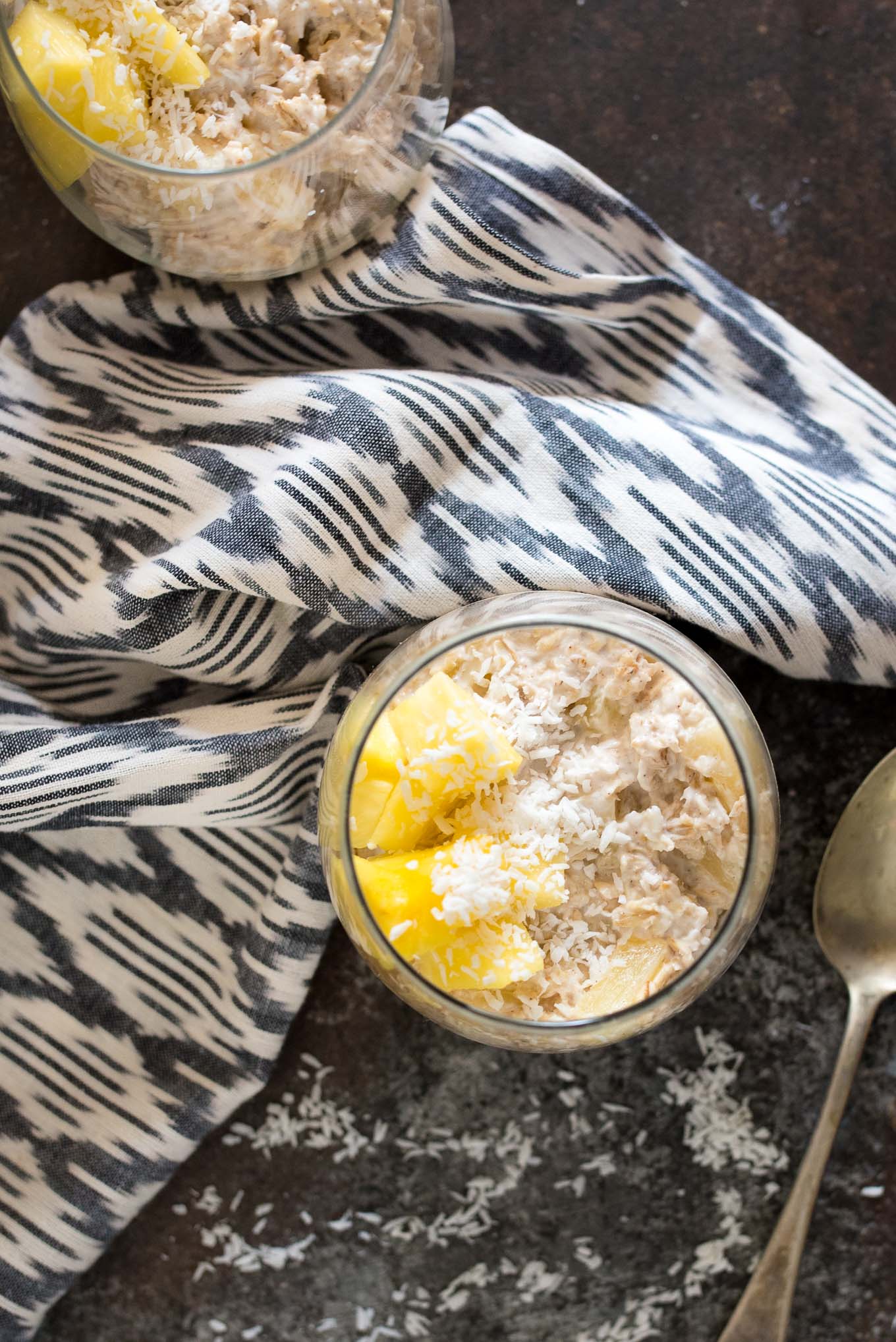 However, it's still more economical and healthier to make them at home. I don't add any sugar to mine, but usually use some sweetened ingredients such as fruit, chocolate chips, sometimes soy milk that comes slightly sweetened. Just like with hot oatmeal, you can literally add in any combination of yogurt, milk, fruit, etc. to suit your preference.
If you are struggling with what to eat in the morning, this is a great nutrient packed, naturally gluten free breakfast. You can easily make it dairy free by subbing a coconut or soy yogurt.
Oats are a great form of soluble fiber, are rich in antioxidants and can lower cholesterol levels. In this one little serving you have a whole grain, a protein packed dairy and a fruit serving. I am always looking for balance in my meals so this one fits the bill.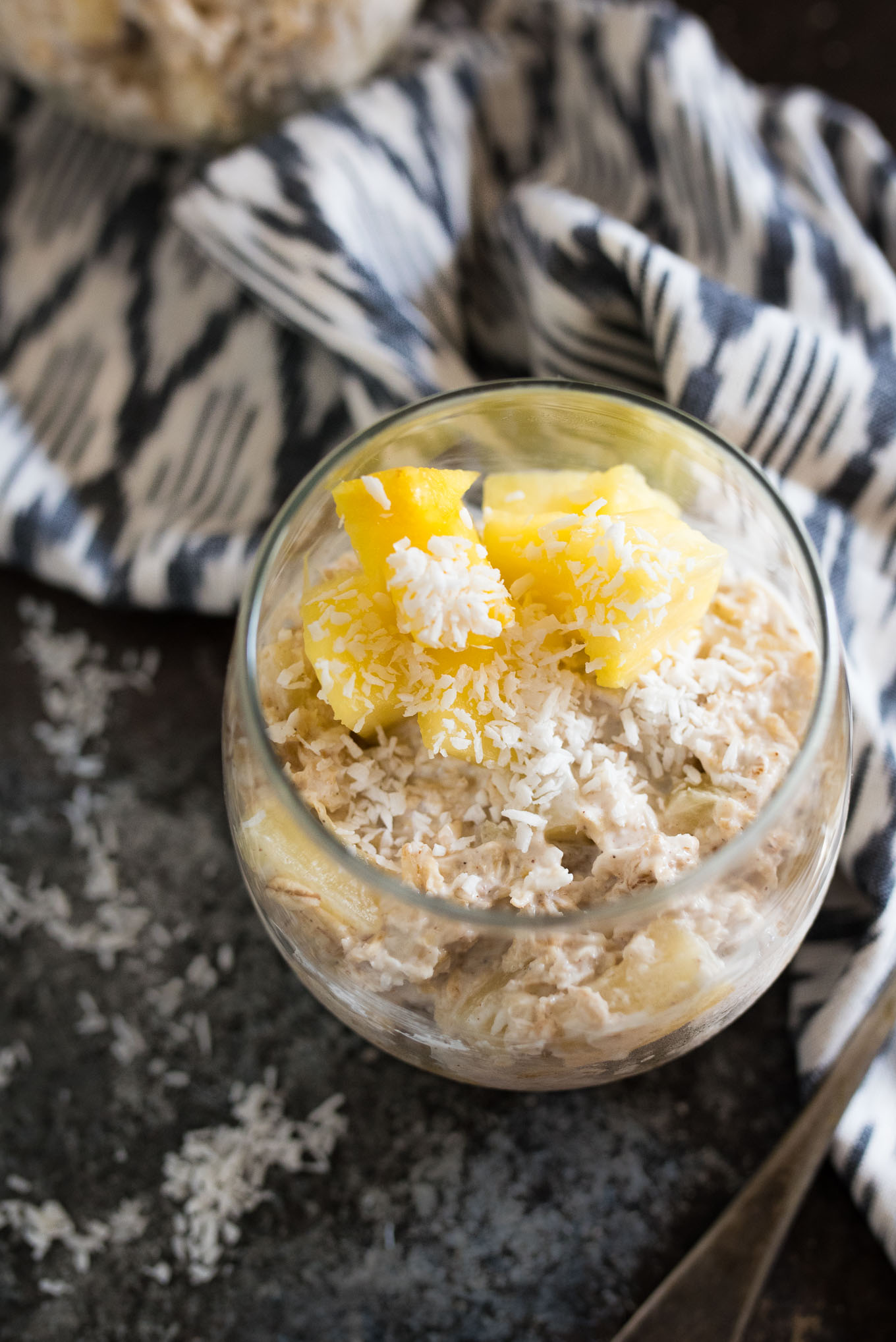 What's your favorite overnight oat combo?

Pineapple Overnight Oats
Make-ahead Pineapple Coconut Overnight Oats make a heart-healthy, protein-packed balanced start to the day.
Author:
Melanie F. | Nutritious Eats
Ingredients
1½ cup rolled oats
5-8 ounces Pineapple Greek yogurt (can sub Vanilla Greek yogurt)
1 (8-ounce) can crushed pineapple with the juice (can sub diced pineapple with juice)
⅓ cup shredded unsweetened coconut
½ cup unsweetened coconut milk
¼ heaping teaspoon ground cinnamon
For topping: Fresh pineapple and additional coconut
Instructions
In a medium size bowl, mix all ingredients together (rolled oats through cinnamon) and chill overnight. You may also divide mixture amongst individual serving bowls before refrigerating. Top with fresh pineapple and additional shredded coconut. Enjoy for breakfast for a few days.
Notes
Add as much yogurt as you like. If you prefer yours sweeter, mix in a little stevia (sugar free), agave or honey