Congratulations to the winner of the goodie food box Jessica F. you have been emailed!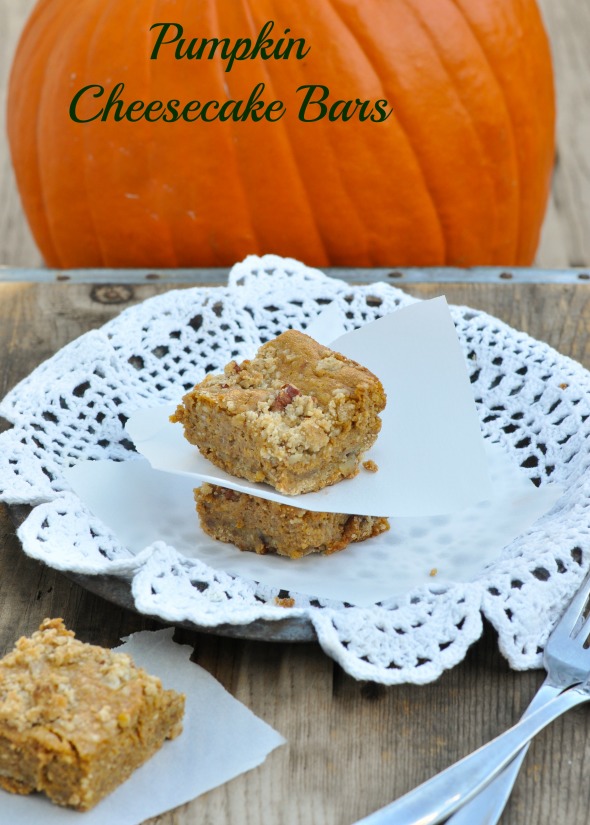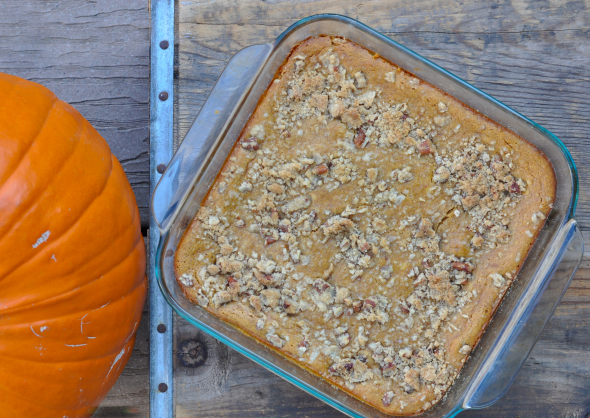 I finally busted out the pumpkin this week. I already feel like the month is off to a quick start so don't want to waste any time! Pumpkin desserts are one of my favorites this time of year- pumpkin cheesecake, pumpkin pie (of course), pumpkin swirl brownies and these pumpkin cheesecake bars.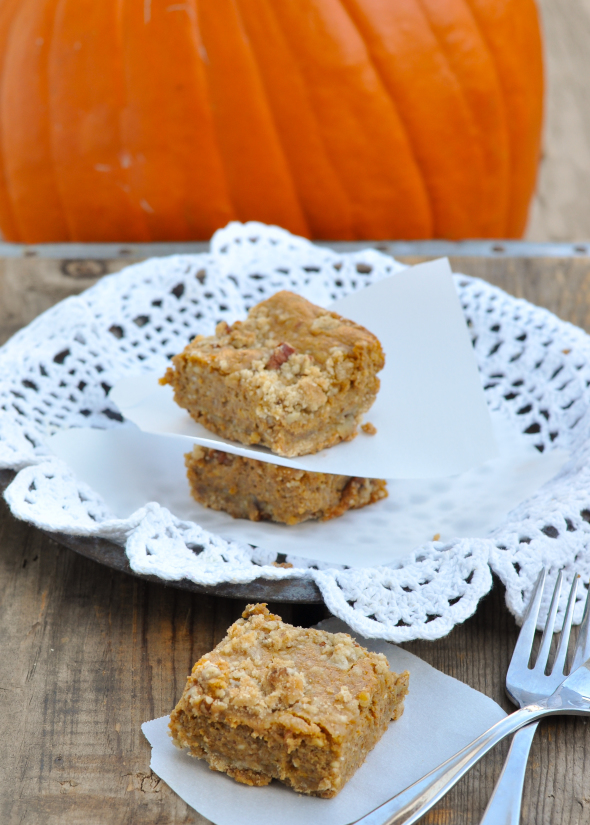 I just want to warn you that the majority of the dessert I post or will post over the Holidays are "splurge worthy" recipes. I don't do anything super crazy to lighten up desserts because I don't really favor "low fat" dessert. Don't get me wrong, there are healthy, low calorie substitutes for dessert that can help curb a craving, but for special occasions I like to enjoy a real dessert. With that being said I do try to avoid dessert recipes that call for an obscene amount of butter or sugar.
I truly find when people bake "low fat" or "clean" dessert recipes, they think it gives them the right to eat three times as much (or more!). It's not that I think they don't have their place, they do. For example if baking for a family with a Diabetic, it's great to know some lower calorie, lower sugar dessert. It doesn't mean I won't experiment with healthier dessert options over the Holidays, but personally I am a girl of moderation. Give me the real thing when it comes to dessert.
Ok now that you know that, here is the scoop on this recipe. My friend sent it to me a couple years ago during the Holidays. It's the perfect thing for a party or Holiday potluck, when cutting into pie isn't always the easiest option. You can chill these and eat them cold or leave them room temp (I favor them cold) and when they are cold they are firm enough to eat without a fork if needed. The pecans give these a lovely texture and flavor. So so yummy!
And now that I've made them and my kids and I thoroughly enjoyed one after dinner, I am going to freeze the rest. Then I can enjoy them next month when I am in the mood for a Holiday treat.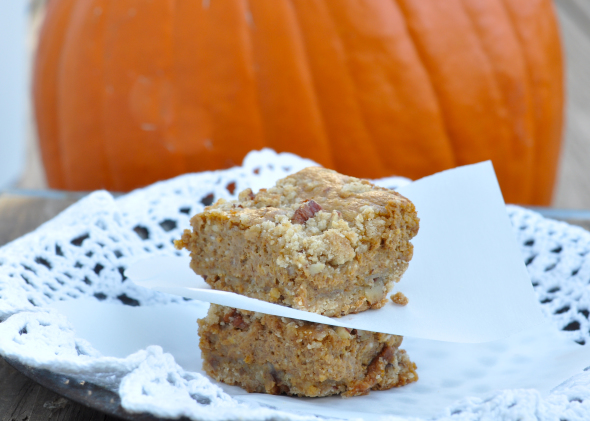 Not only are these really good, but they're also easy to make which is a bonus. The only changes I made to the original recipe was to increase the amount of pumpkin and use room temperature cream cheese so you get a smoother texture when beating.
My 6 year old said "I really like the flavors" and my daughter said "this is better than ice cream!". Dessert is always a hit in this house. Enjoy!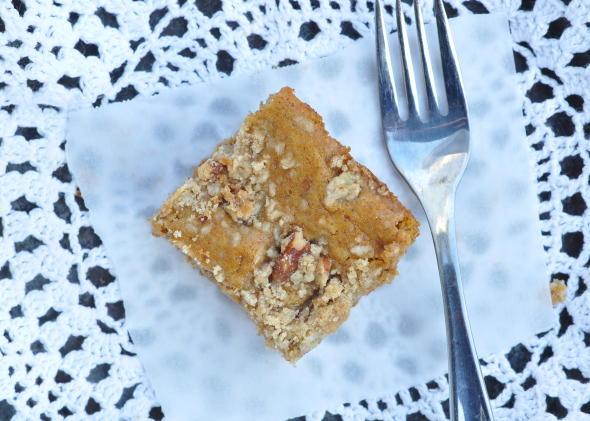 Pumpkin Cheesecake Bars
Ingredients
1 cup flour
⅓ cup packed brown sugar
5 Tablespoons butter, softened
½ cup finely chopped pecans
1 (8 ounce) package cream cheese, room temperature
¾ cup sugar
¾ cup pumpkin
2 eggs
1 teaspoon vanilla extract
1 teaspoon ground allspice
1½ teaspoons cinnamon
Instructions
Preheat oven to 350 degrees. Lightly grease a 8x8 inch square pan.
Mix flour and brown sugar in a bowl. Cut in butter until small crumbles form. Stir pecans into flour. Set aside ¾ cup for topping the bars and press the remaining mixture into the prepared pan.
Bake for ~15 minutes or until lightly browned. Remove from oven, Beat cool slightly.
Beat together cream cheese, sugar, pumpkin, vanilla extract, allspice and cinnamon, add eggs one at a time and continue beating until smooth. Pour over crust. Top with reserved pecan topping. Return to oven and bake for ~35 minutes or until topping is lightly browned and cheesecake is set. Can be served chilled or at room temperature.
Notes
Recipe slightly modified from alllrecipes
Question: Are you a fan of pumpkin dessert? Do you have a Holiday favorite? What's your take on low-fat dessert?