Hey guys! Hope y'all had a great week.
Today I am sharing a few instagram "recipes". They are more like quick-fix things that I am more likely to post on Facebook or Instagram (my peferred method of social media). Not following me there? Please do as that is where I am now going to put more focus since Facebook doesn't share much of anything from my "business page" anyway.
Ok here we go! All iPhone photos for quick fix food!
Spicy Hummus Deviled Eggs 
Want a quick deviled egg? These hit the spot!Take one hard-boiled egg, cut in half lengthwise, mash the yolk with 1-2 Tablespoons of spicy hummus (Sabra Supreme Spicy is my favorite) and mash with a fork until smooth. Spoon filling back into your  egg halves.
This makes a great protein-packed snack!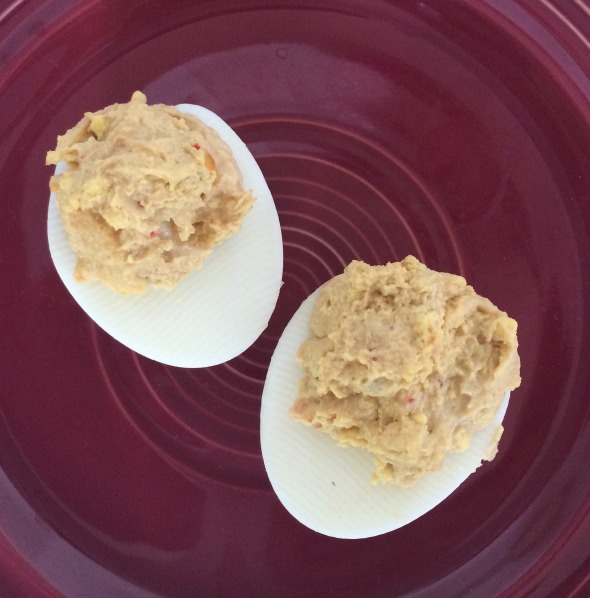 Roasted Sausage and Veggies with Marinara 
Need something quick for dinner that cooks itself while you attend to laundry, emails, etc? Preheat to 425 degrees. Place sliced chicken sausage, broccoli, onions, bell peppers (or whatever veggies you have), drizzle with olive oil and a little pepper (if you don't use sausage I would add some salt). Roast for 20 minutes, half way through add minced garlic (~2-3 cloves). Meanwhile heat up some marinara and when the roasting is done, top it with marinara and some goat cheese if desired.
This would go great over any grain such as pasta, quinoa, rice, etc. if you are looking for more bulk.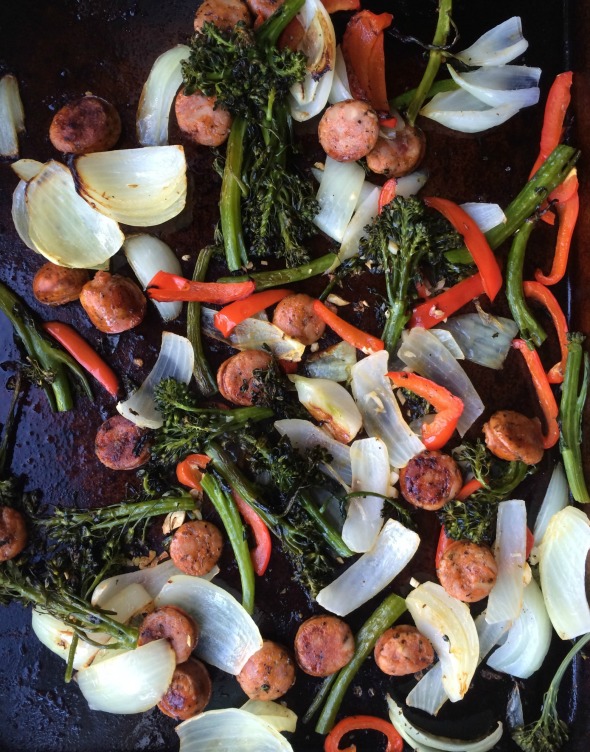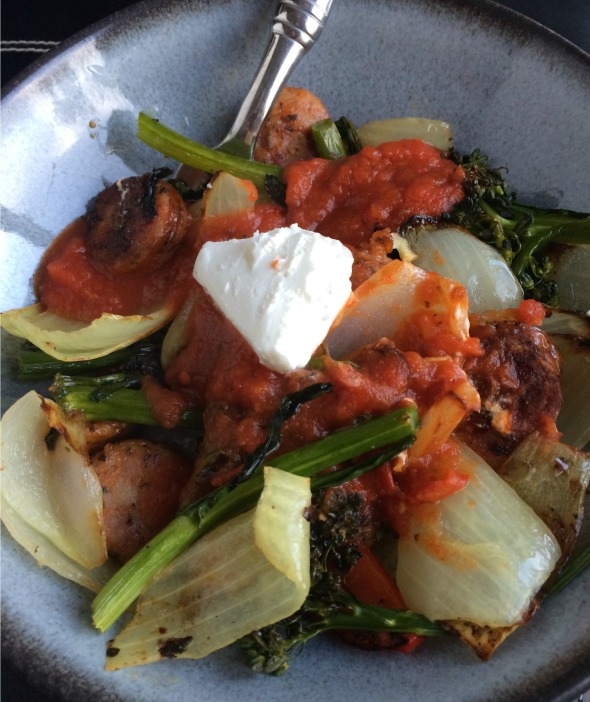 Avocado & Pico Salad
A refreshing quick salad! Make a chunky pico de gallo salad by rough chopping white onion, tomatoes, cilantro, fresh garlic. Add 1 diced avocado. Dress with salt, pepper, a little avocado oil and fresh lime juice.
Serve this as a side or over anything- tacos, salads, fish, tamales!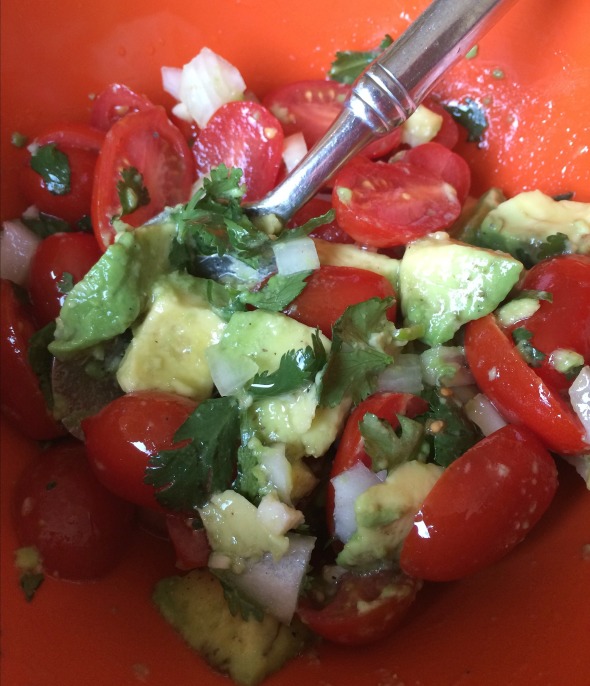 Garlic Swiss Chard
A healthy side dish! Wash swiss chard. Chop and separate the stems from the leaves. Heat a pot over medium heat. Add a drizzle of olive oil, add stems and cook for 3-4 minutes, add minced garlic, cook for another minute, then chard leaves. Cook until leaves are wilted and stems are tender, another 3-4 minutes. Season with salt and pepper and fresh lemon juice. Remove from heat.
Serve as a side or stir into your basic pasta and marinara dish.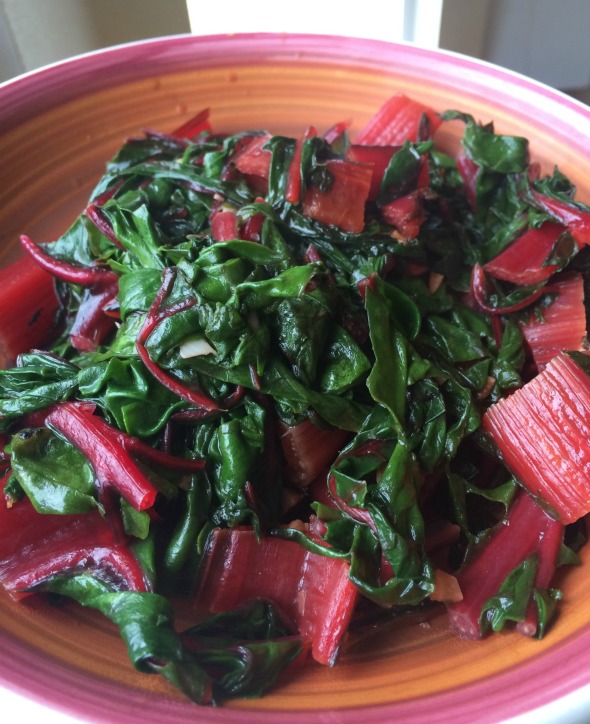 Don't you just love stress-free cooking? Where you don't have to look up recipes or measure ingredients? It took me years to be comfortable enough in the kitchen to just experiment and add what I thought would work and although these are all very simple examples it goes to show you food doesn't have to be complicated!
And here are a few quick fix food ideas from Cooking Light
Refried Bean and Cheese Poblanos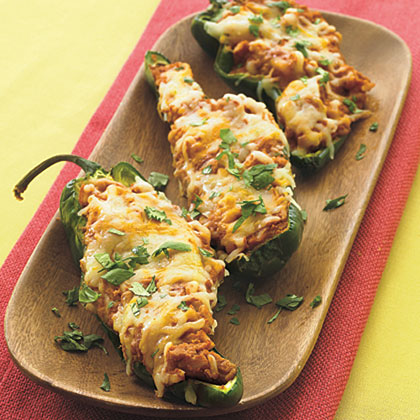 These would be great for meal-prep lunches.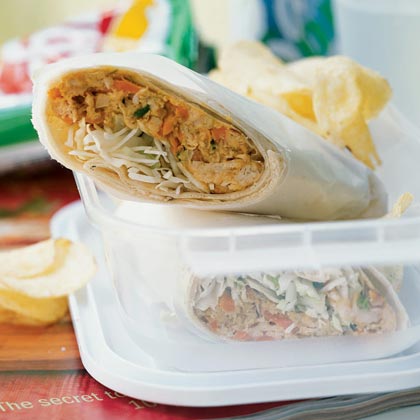 Since arugula is the lettuce used in this recipe it should be hearty enough to do as a meal-prep item too.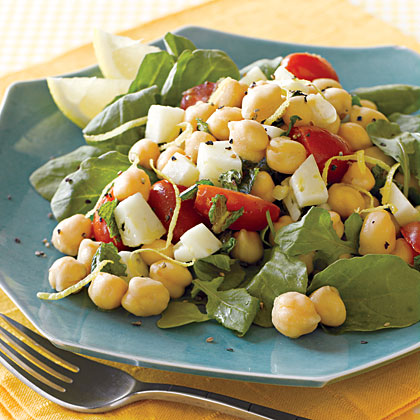 I've got an exciting new business opportunity to share with you guys on Monday so make sure to come back! I am looking for motivated people to join my team so come see what it's all about Monday! Until then, have a great weekend!
Questions: What are some of your favorite quick snacks or meals? Are you following nutritious eats on instagram?? I'll be looking for you!