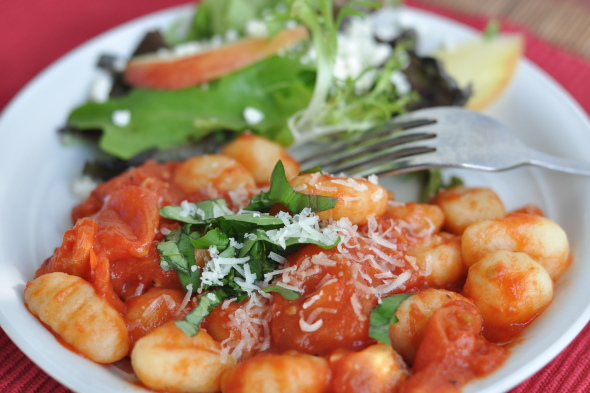 I've been wanting to post this recipe since before Christmas and somehow it got buried in my ever growing pile of recipes. This meal is so simple yet satisfying. Gnocchi is the best when you want dinner on the table in a snap. The stuff cooks in just a few minutes- DREAM! This is a perfect example of how using a few fresh ingredients can really make a dish come alive. For example, roasting the fresh tomatoes, plus the fresh basil and parmesan cheese makes this gnocchi a real stand-out. I originally thought I'd want shrimp or some other protein with this meal, but I didn't have any at the time and went ahead and made it with a simple tomato sauce. The hubby and I both agreed it was a blessing, because this is so hearty and satisfying on it's own. It's also nice to have an affordable, healthy, vegetarian meal to turn to during the week.
This is all you need by the way. Pantry basics (except maybe the gnocchi).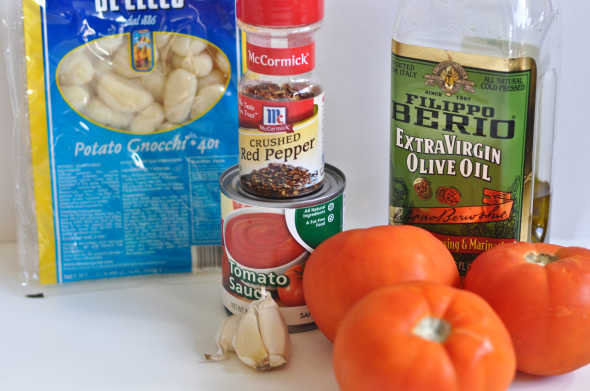 If you've never had them, gnocci are thick, soft dumplings, which have been a type of Italian pasta since Roman times. They can be made from semolina, wheat flour, potato, bread crumbs or other similar ingredients. They are widely available fresh in vacuum sealed packages at supermarkets and can be tossed with a variety of sauces, such as pesto, tomato sauce, butter sauce. Nutritionally speaking they contain about 200 calories in 3/4 cup which is about 1/4 of the package. I know that seems like a small portion and when you look at that flat gnocchi package you're going to think it's possible to polish off the whole thing yourself, but shocking as this might sound we ate this for two nights, which means we got about 5 servings out of the package (kids had a small portion). Way to stretch the dollar and the calories!
Did I mention how easy and fast this is to whip up? Just chop up your tomatoes & garlic.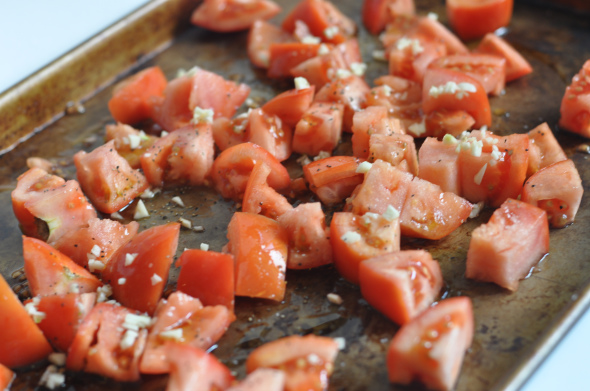 Roast them for 20 minutes and they come up looking like this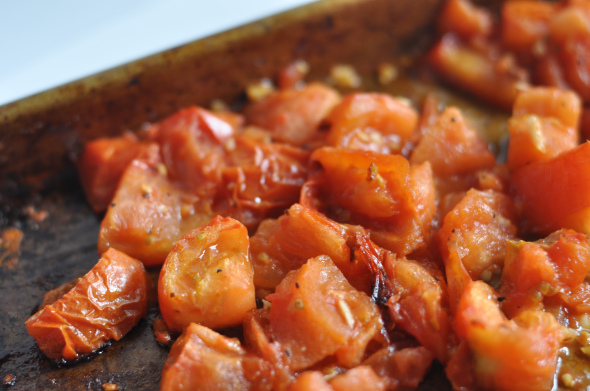 Add to a can of tomato sauce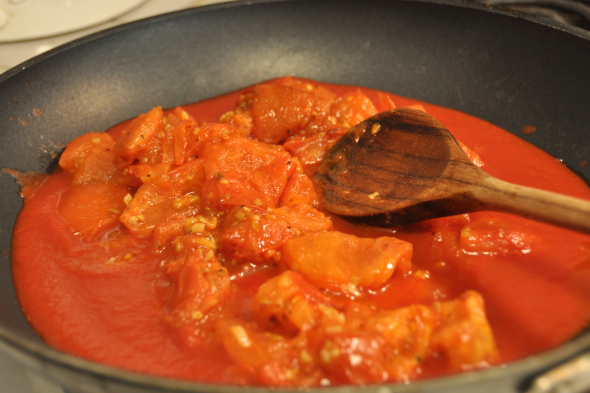 Mix together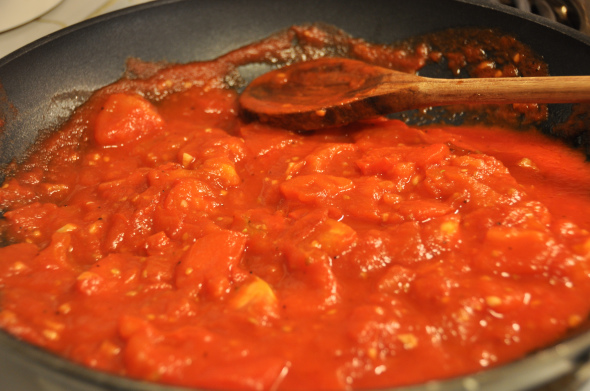 Toss with gnocchi, basil and parm. Goat cheese would be really good with this too!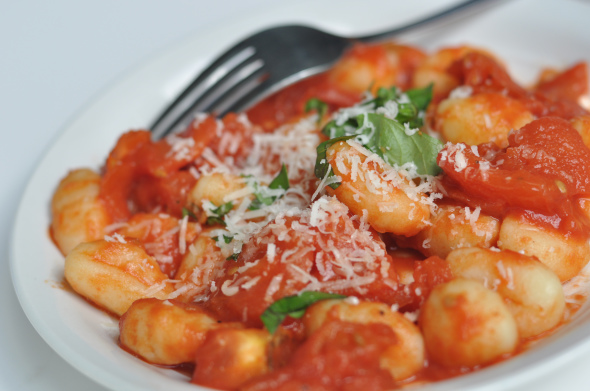 Paired with a salad this is the perfect meal.
Gnocchi with Spicy Roasted Tomato Sauce
INGREDIENTS:
1 package potato Gnocchi
3 large tomatoes, cut into 1 inch chunks
2 large garlic cloves, minced
1 1/2 Tablespoon olive oil
salt
pepper
couple shakes red pepper flakes
2-3 Tablespoons fresh basil, chopped
Freshly grated parmigiano-reggianno
DIRECTIONS:
1. Preheat oven to 350 degrees. On a baking sheet, toss tomatoes with olive oil and a couple shakes of red pepper flakes. Roast tomatoes for 20 minutes.
2. Heat 1 teaspoon olive oil in a large skillet on medium heat. Add 8 ounce can tomato sauce and roasted tomatoes. Season with a little salt and pepper.
3. Boil gnocchi according to the package. Drain and toss in the tomato sauce. Transfer to a serving dish, sprinkle with fresh basil and freshly grated parmesan.
NOTES: Red pepper flakes can be pretty powerful, but I think they are a must in this dish. I used about 3 shakes and it definitely had a kick to it. Use less if desired.
Nutritious Eats Benefits: Vitamin C, Vitamin A, carbohydrates, lycopene