The following post is sponsored by FitFluential LLC on behalf of Wild Blueberry Association of North America.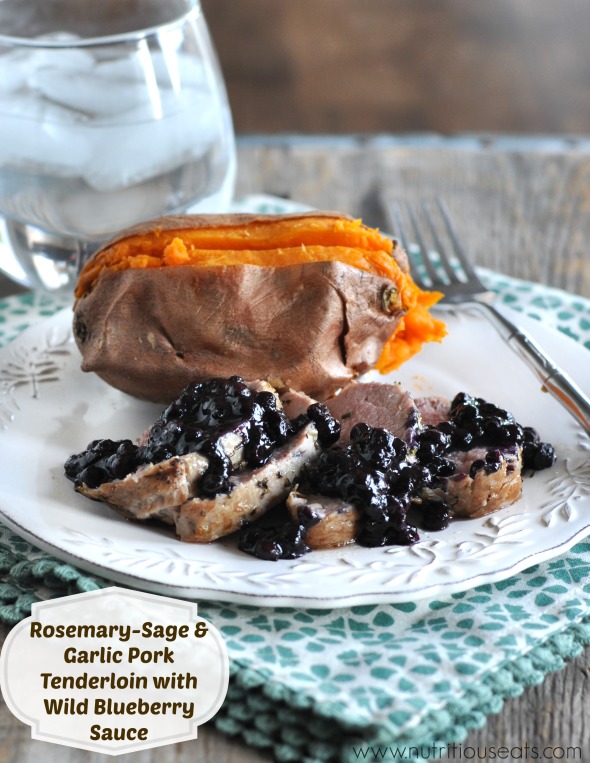 Mmm, blueberries. I am always sad when the fresh ones aren't in season and if you are too, I've got a great tip for you- try frozen Wild Blueberries!
You mightthink frozen Wild Blueberries aren't as nutritious as fresh regular ones, but by nature the little wild ones have more flavor, deep blue color and beneficial antioxidants than the cultivated regular ones. That is because of the harsh climate and thin glacial soils that they naturally grow in in Maine, Eastern Canada and Quebec.
They are frozen fresh at harvest, when their flavor and antioxidant goodness are at their peak so their nutrition is not compromised by being frozen. They are smaller and contain less water than the ones you'll find in the produce section, which allows them to maintain their shape, color, flavor and nutritional value in cooking and baking. There is nothing worse than paying a small fortune for a pint of fresh blueberries that lack the proper texture and flavor!
The FDA even backs up the data that frozen Wild Blueberries are just as nutritious and may retain their nutritional value longer than regular blueberries. Great to hear, right?
Some of the benefits of those little frozen Wild Blueberries:
Available year-round
Higher in antioxidants, making them a more powerful ally against disease
No waste or spoilage
Quick and easy prep
No added preservatives or sugar
Retain their taste, texture and shape in cooking
Less water content so they freeze better and are better for baking
These Wild Blueberries are tiny antioxidant superstars and what makes it even better- frozen fresh wild blueberries are easy to use right out of the freezer which makes them a tasty and convenient way to get those antioxidants.
They have a more intense blueberry flavor as compared to regular blueberries- if you have ever had dried wild blueberries and know how concentrated the flavor is, you will see the similar taste in this product.
Of course blueberries are great in smoothies, in baking and cereal, but they go well with savory dishes too like salads, seafood, etc. I was asked asked to create a recipe using them and I immediately thought of turning them into a savory sauce to pair with pork or fish. It didn't take much time to make this sauce which is SO delicious. I think it would be fantastic over shrimp or fish too (trying that later this week).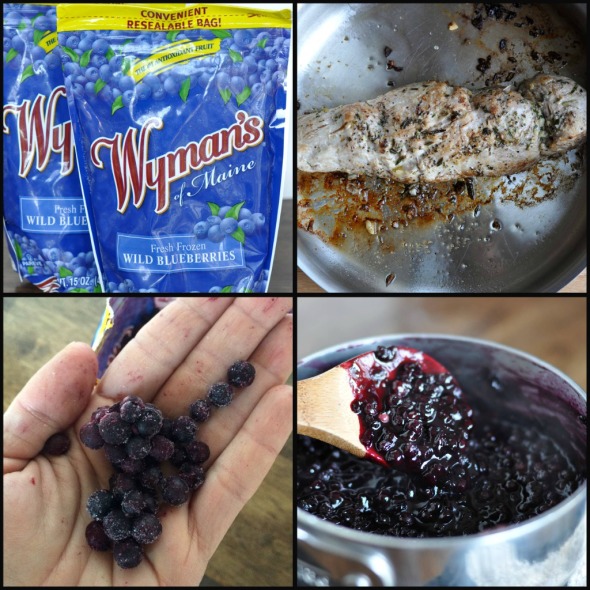 The simple ingredients I used: shallots, honey, balsamic and wild blueberries! Warm blueberries with those sauteed shallots, I could eat it all by the spoon, seriously.
The pork is simply seared then baked with fresh rosemary, sage, garlic, salt, pepper and olive oil. A super easy dinner that looks fancy and could easily be used for a casual Holiday dinner.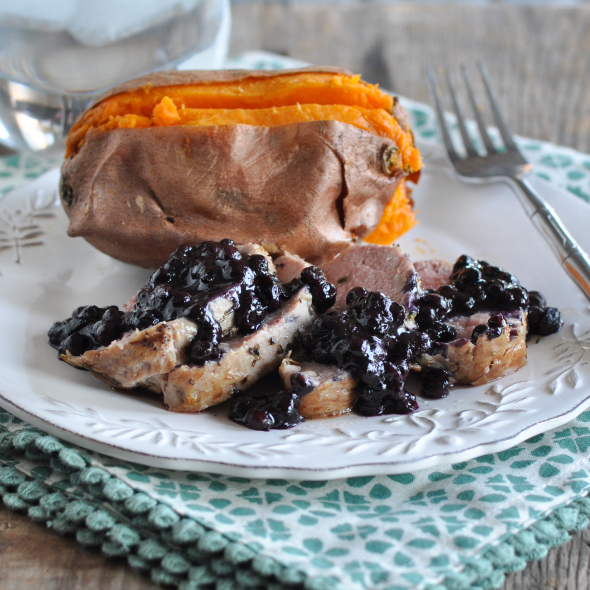 So now that you know the benefits, pick wild blueberries when you can! And make this sauce and put it over anything and everything!
Look for wild blueberries in your favorite foods and in the freezer section of your grocery store. I found my at the commissary on post, but you can look here for info on where to purchase them and you can follow the Wild Blueberry Association of North America on Facebook, Twitter and Pinterest.
Oh and one last thing, congrats to Bethany C. the winner of the Cooking Light cookbook giveaway. You have been emailed!
Rosemary-Sage and Garlic Pork Tenderloin with Wild Blueberry Sauce
Ingredients
For the pork:
1¼ lb pork tenderloin, trimmed
2 Tablespoon olive oil, divided
1 Tablespoon fresh rosemary, finely chopped
½ teaspoon dried sage
3 cloves garlic, minced
1 teaspoon salt
¼ teaspoon pepper
For the Wild Blueberry Sauce
1 teaspoon olive oil
1 small shallot, diced
1 Tablespoon honey
1 Tablespoon balsamic vinegar
½ teaspoon cornstarch
pinch of salt
2 cups frozen Wild Blueberries
Instructions
For the pork:
Preheat oven to 400 degrees. In a small bowl, combine 1 Tablespoon of olive oil, rosemary, sage, garlic, salt and pepper. Rub herb mixture all over pork. Heat 1 Tablespoon of oil in an oven-safe skillet over medium heat, add pork and sear on all sides until lightly browned, ~4 minutes.
Transfer skillet to oven and cook for 15-20 minutes or until internal temperature of pork reaches 145-150 degrees (thermometer inserted at thickest part). Remove from oven, transfer pork to a serving dish, cover loosely with foil and let rest for 10+ minutes before slicing.
For the Wild Blueberry Sauce:
While the pork is roasting, drizzle a teaspoon of olive oil in a small saute pan. Add diced shallots and cook for 2-3 minutes or until they start to soften. Add honey and balsamic vinegar and stir well. Add frozen wild blueberries and let simmer on medium-low for a few minutes until warmed. Using a wooden spoon smash half of the blueberries to release their juices. Sprinkle on ½ teaspoon of cornstarch and bring to boil. Reduce heat to simmer and let sauce thicken. Season with a pinch of salt. Once sauce has started to thicken, reduce heat to low to keep sauce warm until pork is ready.
Question: Have you tried Wild Blueberries? Do you like sweet-savory combos? Do you ever combine fruit into your dinner meals?