Congratulations to the winner of the Bestowed Box giveaway, Jessie J.!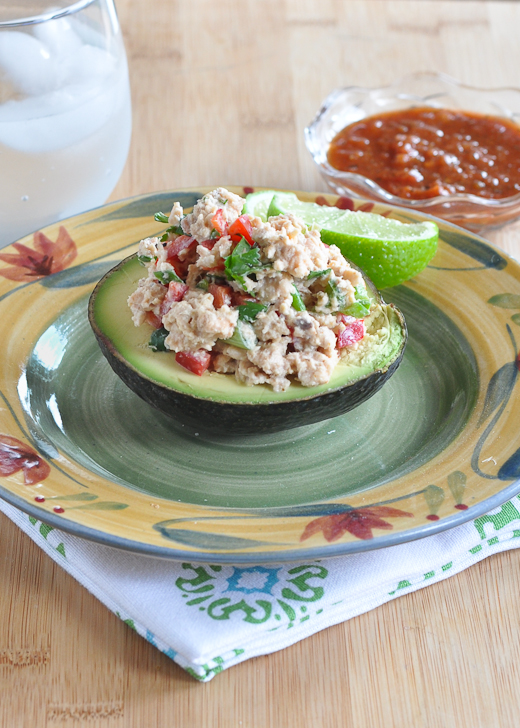 Salmon Salad Stuffed Avocado. I can't remember the last time I bought a can of salmon (or tuna). I am not sure why, but it just fell off my list of staple foods. When my mom was here visiting she mentioned that she loves the canned salmon from Costco. It got me thinking of putting a twist on the typical mayo-based salmon (or tuna) salad. I almost always have the ingredients to give things a Mexican flair so that's what I did!
I have been scaling back my carbs over the last week or so since I have had to stop running. I still have a good appetite though (as usual) so thought it would be good stuffed in an avocado instead of bread. I also didn't want to weigh the salad down with a bunch of mayo!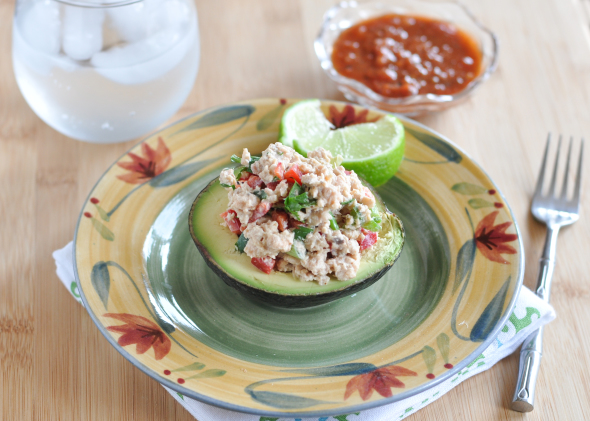 What I love about dishes like this is that you don't have to follow the recipe exactly. You can add a little more of this or that and make substitutions to your liking.
Here is what I did! I mixed the salmon with green onions, cilantro, jalapeno, red bell pepper, lime juice and spices. It almost reminded me a little of ceviche, but without as much lime.
Since I do like to keep our consumption of canned foods down, due to possible BPAs (an estrogen-like compound that is linked to health problems), I picked up a pouch of wild-caught salmon. Note: some companies use BPA free packaging so you can always research first. The salmon (canned or in a pouch) is still high in the healthy omega 3s so they make a great substitute when you can get fresh fish.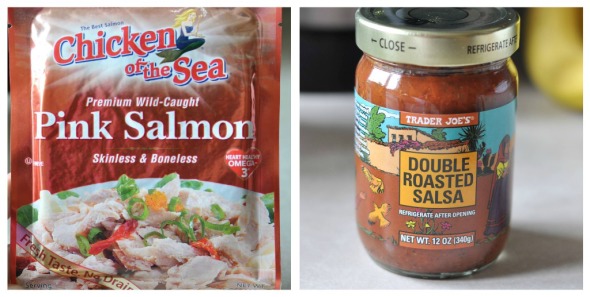 On a side note, when I don't have fresh salsa ready, this is the one I buy, Double Roasted Salsa from Trader Joe's. I really don't like the majority of jarred salsa but this one is GOOD! Here is the ingredient list: tomatoes, water, double roasted anaheim peppers, onions, cilantro, vinegar, jalapeno, lime juice, sea salt, garlic, cumin, black pepper. That is it! Can you believe it? No crazy additives- yay!
The salmon salad was light and fresh and a perfect healthy lunch. If you don't want it stuffed in an avocado, you could eat this over a bed of greens, with tortilla chips or in a tortilla wrap. Add extra heat or salsa if you want!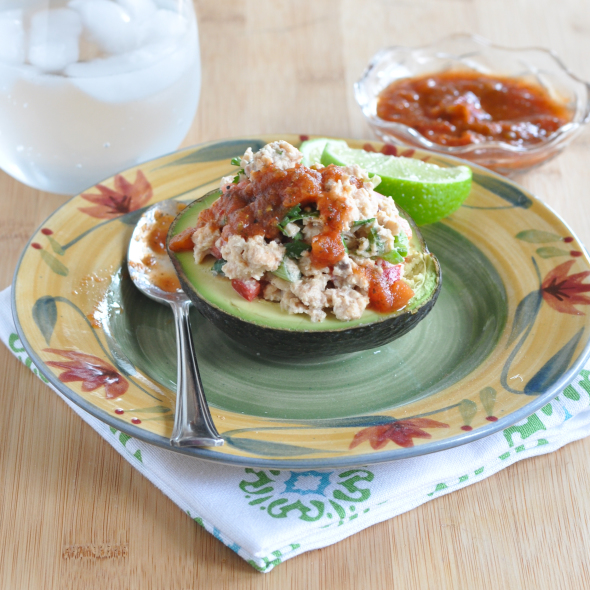 Mexican Salmon Salad in Avocado
Serves:
2-3 servings (if stuffing avocado will yield 3 avocado halves)
Ingredients
5 ounce pouch wild caught boneless salmon
⅓ cup finely diced red bell pepper
2 Tablespoons sliced green onion
2 Tablespoons chopped cilantro
½ small jalapeno (more or less to taste)
2-3 Tablespoons fresh lime juice
1 Tablespoons Greek yogurt or sour cream (or could sub a little olive oil for a non-dariy version)
¼ teaspoon garlic powder
¼ teaspoon cumin
salt and pepper to taste
salsa or hot sauce (optional to serve on top or stir into salad)
Instructions
Drain salmon of juices. Add all ingredients to a bowl and mix gently with a spoon. Season to taste with salt, pepper and hot sauce.
Spoon mixture onto a cut avocado half. Serve with salsa and extra lime wedges.
Notes
Make sure to taste and adjust ingredients to your liking. You can easily substitute tuna or fresh salmon chunks.
Question: Do you like traditional tuna/salmon salad? Have you ever stuffed your lunch in an avocado?