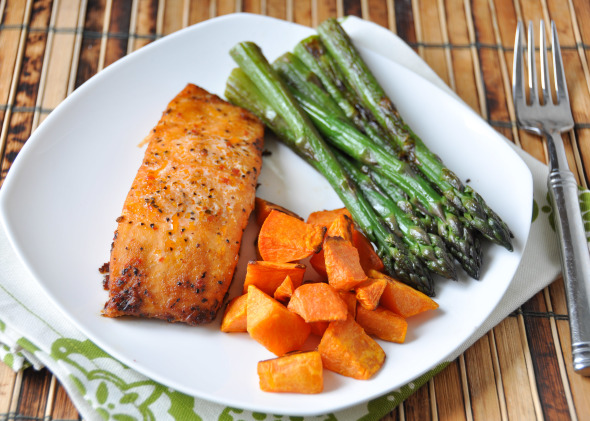 When I was in graduate school in Boston back in 2000, I experimented with grocery store delivery services because I didn't have a car for the 2 years I was there and in the heart of winter I found myself unmotivated to lug groceries on the subway. I only did it a few times but boy was it convenient! I haven't thought of food delivery since then and when I was offered to try Schwan's home delivery through my FitFluential partnership of course I jumped at the chance. Any break from grocery shopping with 3 kids works for me!
Schwans, the online grocery store and food delivery service started in 1952 delivering ice cream but expanded to all sorts of frozen food options from meats, seafood, pasta, fruits, vegetables and other ready-prepared meals. I am shocked to hear of how many people remember Schwan's coming to their home when they were kids. It's always so cool to see companies that have been in business for such a long time.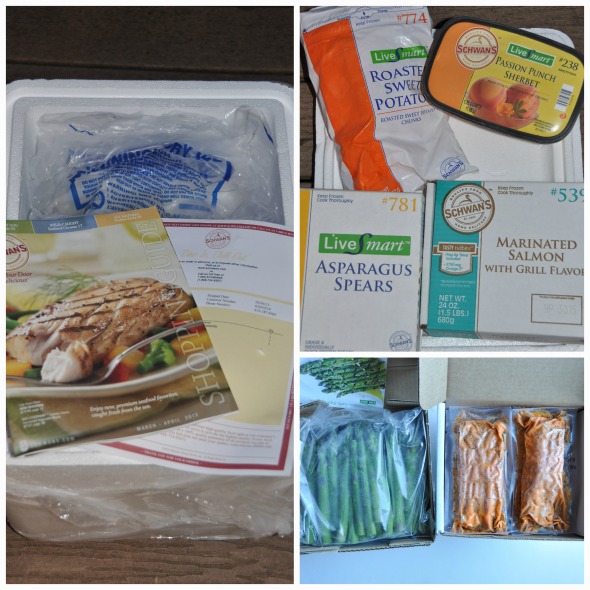 They pick fruits and veggies at the peak of harvest and then flash freeze them which is often more nutritious that "fresh" produce that has been sitting on a truck or grocery shelf for months. I gave the Schwan's rep an idea of the foods that sounded good to me and she sent me marinated salmon, asparagus spears, roasted sweet potatoes….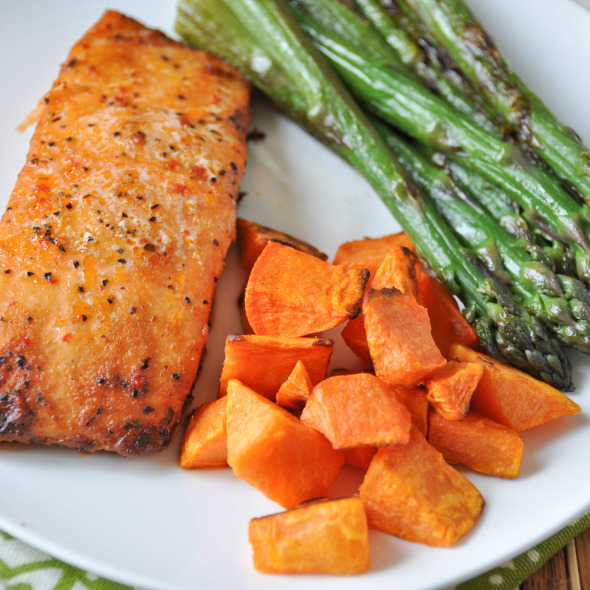 and passion punch sherbet for dessert!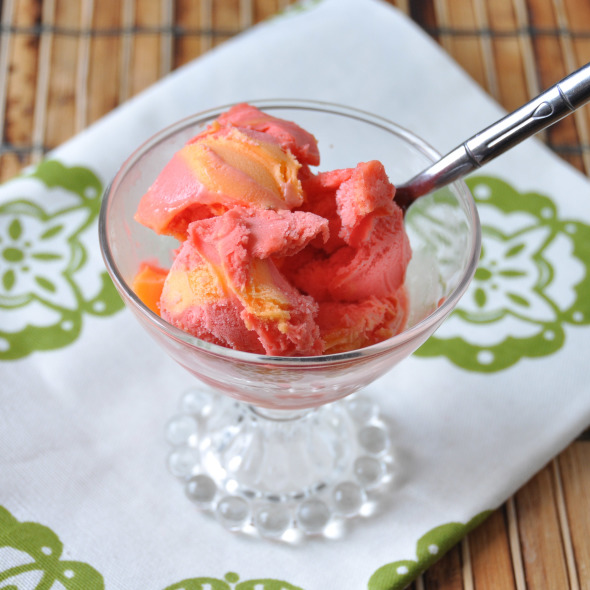 Unfortunately this particular salmon wasn't wild (they do carry a non-marinated version that is wild) but it was really good. My 6 year old kept saying "this salmon is delicious" over and over. All I had to do was unwrap it and place it on a baking sheet and pop it in the oven. I love the individual portions- no mess, not fuss. You can defrost one or several, put them on the grill or straight from the freezer to the oven like I did.
The asparagus were such a treat because I haven't bought any in quite a long time. These were prefect from freezer straight to the skillet in about 6 minutes. I just served them with some salt, pepper and lemon juice.
I loved that the roasted sweet potatoes came in a resealable bag. I followed the directions on the back of the bag and baked them up on a foil lined sheet. I expected them to be a little on the soft side but they roasted up beautifully and got a nice crust on them just how I like my potatoes.
I told my kids about how sherbet was one of my favorite flavors as a child and it had been so long since I had any. They were in love too- a little really goes a long way.
Now of course just like a grocery store not everything they carry is super healthy, but they do have a LiveSmart line which are the items that have minimal additives or preservatives and moderate calories, sodium and fat, and zero trans fat. You can view all the nutritional info on their website before making your selections.
Grocery shopping in your PJs from the comfort of your own home? Yes please!
I have already decided that when the hubs deploys I will probably order a few things from them every few weeks instead of making myself crazy trying to get to the grocery store each week with the kids. I can see myself ordering the wild salmon and frozen fruit and vegetable blends on a regular basis. Oh and maybe a pint of ice cream because that's the right thing to do.
There are different delivery options depending on where you live so your food is either dropped off by a Schwan's sales rep or by mail delivery where it comes in a insulated cooler packed with dry ice! If you interested in placing an order with Schwan's they are offering a promo for $5 off a $25 purchase using the promo code KIMH2 or save $10 off a $50 purchase for new customers using the promo code NEW.
Thank you Schwan's home delivery for opening my eyes to this service!
I received product for this campaign to review via FitFluential, no other compensation was provided. All opinions are my own.