I am so glad that the temps dropped from high 80s to the low 40s just so I could post this recipe. You never know when it's going to be a soup day.
My grandparents are Greek and there a few things that my Grandmother makes that will always remind me of her: her Greek cookies, roasted Greek chicken and avgolemono soup. This soup is so yummy and comforting, bursting with lemon flavor. This isn't her recipe but a modified version.

I am so lucky to have both of my grandparents still around and active (Gigi lives in Texas down the street from my parents and Grandpa lives in Michigan). My kids have grown to love their great-grandparents which is wonderful. If I even suggested at my grandmother's age she'd kill me, but she is a great role model for good health and still gets her butt in the kitchen to cook herself dinner.
I think what keeps her so healthy is a good sense of humor, activity, home cooked food and wine. It's my secret to you. I know 30 year olds with more medical problems and weight issues that my grandmother so it just goes to show you that we can live a long healthy life if we just take care of ourselves.
Here she is…cute isn't she?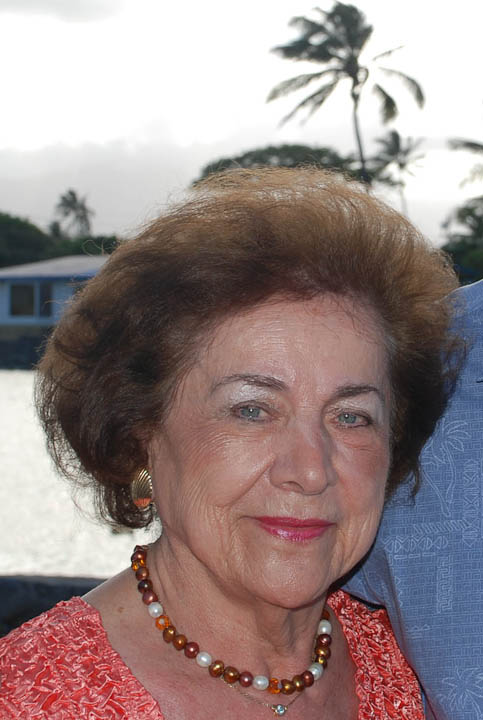 You can make it with rice or orzo and you can add more chicken broth as needed since the second day the starch will absorb a lot of the liquid. Next time you have a drop in temperatures, make this soup. It will comfort your soul.

Greek Lemon Chicken Soup (Avgolemono)
Ingredients
1 Tablespoon olive oil
½ pound boneless, skinless chicken breasts, cut into bite sized chunks
1½ cup diced onion
¾ cup chopped celery
¾ cup diced carrots
½ teaspoon dried thyme
6 cups organic chicken broth
2 cups water
¾ cup dried orzo
2 large eggs
⅓ cup fresh lemon juice
Fresh ground pepper and salt to taste
Instructions
Heat 1 teaspoon oil in soup pot over medium-high heat. Season the chicken with salt and add to the pot, cook ~ 5 minutes or until just cooked through. Remove chicken from pot and set aside.
Add 2 more teaspoons of oil to the pot. Add onions, celery, carrots and thyme and cook until the vegetables are tender, about 5 minutes. Add 5 cups of the chicken broth and 2 cups of water and bring to a boil. Add orzo and let simmer until tender, about 8 minutes. Turn heat down to low to keep soup hot.
Warm remaining 1 cup chicken broth in a small saucepan until it's hot, but not boiling. In a medium bowl, beat eggs and gradually whisk lemon juice into the eggs. Then gradually add the hot broth to the egg-lemon mixture, whisking the entire time. Add the mixture to the soup, stirring well until the soup is thickened. Add cooked chicken back to the soup and season with salt & pepper. Do not let soup come to a boil or it will curdle.
Notes
To make this gluten-free, just substitute rice for the orzo. This is a thick soup. If you want it thinner, just add less starch (rice or orzo) or more liquid (broth/water).
Question: Is there a food that recipes you of your grandmother/father?